With the tagline, It's not easy being imperfect, Tanzanian film studio, Black Unicorn releases its debut feature film out into the world. Binti, a drama, is about four women who are unknowingly connected by their ability to persevere through extreme hardships in the city of Dar-es-Salaam. Their stories intertwine in the film, which hits Netflix from Friday, January 7th. It's a coup not only for the production company, which was created by two sisters, but for the Tanzanian film industry too – since it's the first film from the country to be shown on the streaming network giant.
And it's been an imperfect journey to get to this stage. "We have dealt with so many obstacles, including post production in different countries during a pandemic, just to be seen, and this is only the beginning," Angela Ruhinda, who co-founded the production company with her sister, Alinda, told OkayAfrica.
---
Black Unicorn Studios was formed as "a film, TV and theater production company in 2018 with the goal of producing high quality content that could be enjoyed both at home and around the globe," says Alinda. Angela had sold a pilot to ABC a few years previously that had Whoopi Goldberg attached to produce. Although it didn't go on to be made, the project was her thesis project for the MFA Screenwriting program at New York Film Academy, and set her off on a solid start into the industry. Soon after that, she sold a story idea to Hallmark. But it was sharing Tanzanian stories with a larger audience that drove the move to start a production company.
Both Alinda and Angela served as executive producers on Binti, together with the film's director, Seko Shamte. "We had a screenwriting competition in late 2018 called 'Made In Africa,' where we asked Tanzanian writers to submit original stories with the theme of female empowerment," says Alinda. In 2019, they picked the winning screenplay, which was titled Her Life by Maria Shoo. "We loved the story because it highlighted contemporary Tanzanian women, and it just felt like we had never really seen it before," adds Alinda.
After choosing the winning screenplay, the sisters asked Shamte to come on board as a director – an offer she accepted immediately. She and Angela re-wrote the screenplay and shaped it into what eventually became Binti, which means young women in Swahili. "Seko is a brilliant director whose body of work we already admired – check out her first feature film Homecoming," says Alinda. "She has a sharp eye and great sensibilities. As a director, she works extremely well with first-time actors and has a specific vision. She's also a no-nonsense type of leader. She's going to get the shot no matter what! We trusted her completely."
The film went on to premiere at the Pan African Film Festival in Los Angeles last year, and has since screened everywhere from L.A to Lagos to Johannesburg. At the Zanzibar International Film Festival, it won Best Feature. And now, it's set to reach an even wider audience after the producers landed a worldwide streaming deal with Netflix. It comes as streaming giants like Netflix and Amazon continue to ramp up their interest in film and TV content from the continent.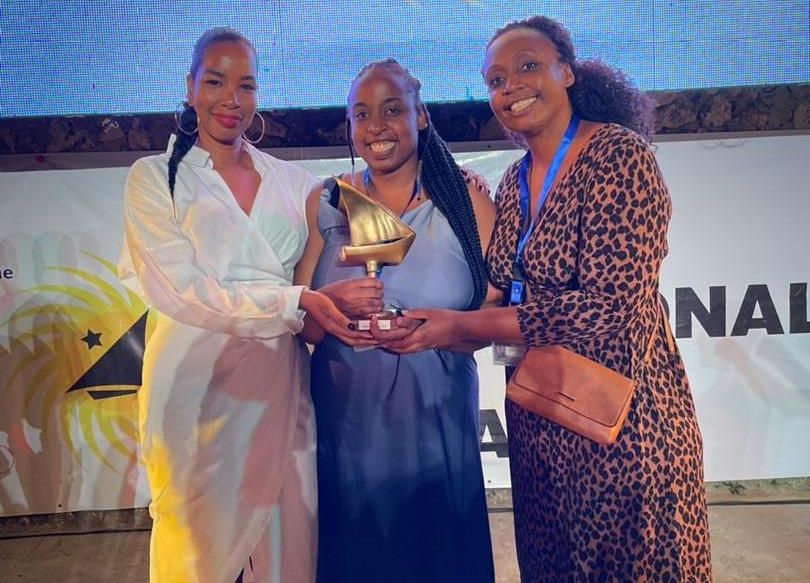 Angela and Alinda Ruhinda with 'Binti' director Seko Shamte at the Zanzibar International Film Festival, where they won Best FeaturePhoto: Black Unicorn Studios
It's a sweet victory that follows a challenging process. "Producing a film is very costly and this is something we learned while making Binti," says Angela. "We had a budget but unforeseen circumstances took us way over that budget. The pandemic affected our post-production process and delayed us by a year. Getting on to Netflix was not easy. We had to seek out a distributor who believed in our story and would take a chance on first-time producers. We were so fortunate to be introduced to Okada Media who facilitated our deal with the streaming platform."
The Tanzanian film industry is also still in its infancy and has infrastructure issues that need to be addressed. "But we are slowly making progress," adds Angela. "We do our best to work with the film board and to seek new ways to support filmmakers." She's excited about the up-and-coming filmmakers who are taking chances and putting themselves out there, and is hopeful this deal presents new opportunities for local actors and technical crew. "It's an exciting time. And now that streamers like Netflix and Amazon Prime are on the continent, we are more motivated than ever to nurture our home-grown talent and rise up to the occasion!"
She acknowledges there is still a long way to go, "but this was the case for our music industry for a long time and now we compete on the global stage," she says. For the sisters of Black Unicorn, there's another incentive too. "As an all-woman producing team we are determined to highlight new and diverse voices in our growing industry," says Angela. "We also want to be part of a generation of women filmmakers who are not afraid to go after what they want and lift each other up as we continue to make strides. It's a harsh industry to navigate but it's easier when you've got sisters in filmmaking."