Africa In Your Earbuds
AFRICA IN YOUR EARBUDS #35: DJ NEPTUNE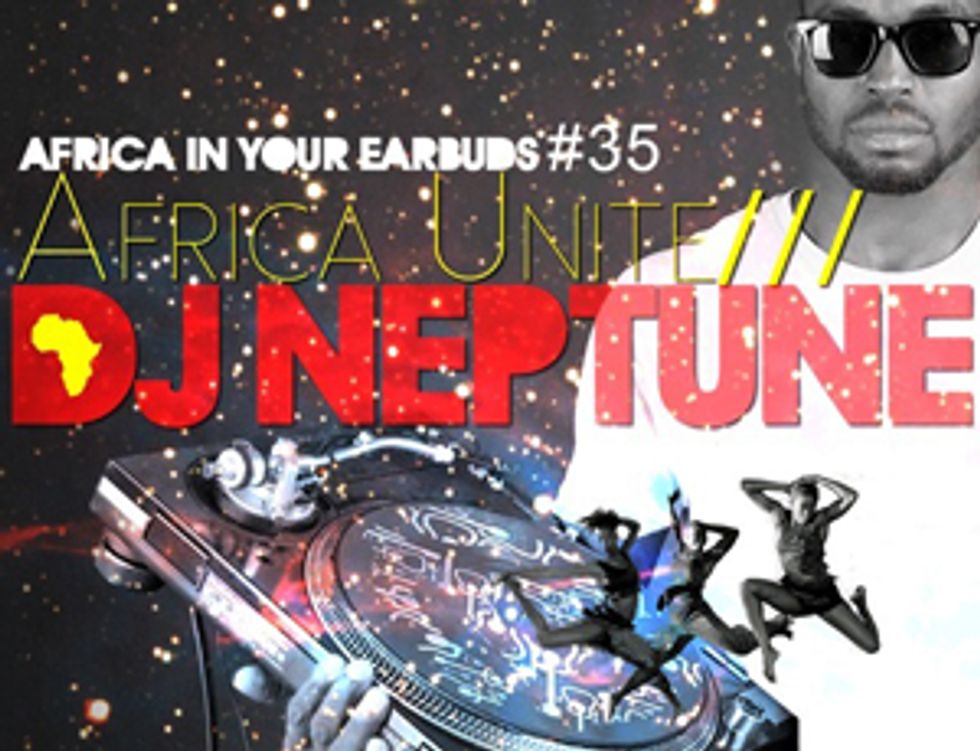 Stream a mixtape of African club bangers from Nigeria's DJ Neptune.
---
DJ Neptune is one of Nigeria's most popular and well-renowned spinners. He's released bangers with the likes of M.I., Ice Prince, Jesse Jagz, and Lynxx; and previously put in work as Naeto C's official DJ. For Africa In You Earbuds #35 Neptune teleports us to the Naija club scene for an 77-minute mixtape of dance floor scorchers from a West, East, and South Africa
Stream and download AIYE #35: DJ Neptune "The Africa Unite Mix" below — featuring a continent-wide roster of tracks from Burna Boy, Sarkodie, Brymo, Ajebutter22, R2Bees, J Martins, AKA, D'banj and more. For more tunes follow DJ Neptune on his Twitter/Facebook. Big up to Underdog for the cover artwork. Get past the (un)intentional Uranus-joke in the intro and you'll get a solid mix of bangers.
TRACKLIST
1. BURNA BOY - LIKE TO PARTY (NIGERIA)
2. WYRE - DANCEHALL PARTY (KENYA)
3. KAAKIE - TOFFEE PON TONGUE (GHANA)
4. FLAVOR FEAT. ASEM - ASHEWO REMIX (NIGERIA & GHANA)
5.MAD TRAXX - SKAMARESS (KENYA)
6. EME ALL STARS - ROLL IT (NIGERIA)
7. RAQUEL FEAT. SARKODIE - SWEETIO (GHANA)
8. BRYMO - GOOD MORNING (NIGERIA)
9. L.O.S - BAD GUY P (NIGERIA)
10. KEKO FEAT. SELOBOBO - NO LETTING GO (UGANDA)
11. DANDY CRAZY - DONCHI KUBEBA (ZAMBIA)
12. TIFFANY - FAKE LONDON BOY (GHANA)
13. VECTOR FEAT MOVADO - BORN CHAMPION (NIGERIA & JAMAICA)
14.DJ NEPTUNE FEAT. PYPE, JESSE JAGZ, LYNXXX - SKOOBI DOO (NIGERIA)
15. AJEBUTTA22 FEAT B.O.J - OMO PASTOR (NIGERIA)
16. BURNA BOY - TONIGHT (NIGERIA)
17. R2BEES FEAT SARKODIE - AGYEEII (NIGERIA)
18. D BANJ - OYATO (NIGERIA)
19. J MARTINS FEAT. FALLY IPUPA (NIGERIA & DRC)
20. OMAWUNMI FEAT. FLAVOR - BOTTOM BELLE (NIGERIA)
21. SARKODIE FEAT. E.L - YOU GO KILL ME (GHANA)
22. J.R - SHOW DEM (SOUTH AFRICA)
23. CHYDIMA - KEDIKE (NIGERIA)
24. KEKO FEAT. MAD TRAXX (UGANDA & KENYA)
25. GENERAL PYPE - GIVE IT TO ME (NIGERIA)
26.BRACKET FEAT WIZ KID - GIRL (NIGERIA)
27. SARKODIE FEAT. KESSE - AZONTO FIESTA (GHANA)
28. AKA - JEALOUSY (SOUTH AFRICA)
29. AJEBUTTA22 - SENRENRE (NIGERIA)
30. NAVIO - ONE AND ONLY (UGANDA)
31.ICE PRINCE - ABOKI (NIGERIA)
32. E.L - ONE GHANA (GHANA)
33. K9 - KOKOMA (NIGERIA)
34. OLAMIDE - FIRST OF ALL (NIGERIA)
35. 2FACE - IHE NE ME (NIGERIA)
36. DJ FRESCA & BLACK MOTION - NANKA AMAPHOYISA (SOUTH AFRICA)
37. DJ SBU FEAT. ZAHARA - LENGOMA (SOUTH AFRICA)
38. FUSE FEAT. TIFFANY - AZONTO (GHANA)
39. CHUDDY K - GAGA CRAZY (NIGERIA)
40. D BANJ - OLIVER TWIST (NIGERIA)
41. DAVIDO FEAT AKON - DAMI DURO REMIX (NIGERIA & SENEGAL)
42. NAETO C FEAT. D BANJ - TONY MONTANA REMIX (NIGERIA)
43. MAD TRAXX - ITA WAITER (UGANDA)
44. FUSE - ANTENA (GHANA)
45. P SQUARE - ALINGO (NIGERIA)
46. DJ ZINHLE FEAT. BUSISWA - MY NAME IS (SOUTH AFRICA)
47. PROFESSOR - LENTO (SOUTH AFRICA)
48. TERRY G - SEE GROOVE (NIGERIA)
49. P SQUARE FEAT. MAY D, AKON - CHOP MY MONEY REMIX (NIGERIA & SENEGAL)
50. TIMAYA - SHAKE YOUR BUM BUM (NIGERIA)
51. BUK BAK - KOLOM (GHANA)
52. GURU - LAPAZ TOYOTA (GHANA)
53. IYANYA - YOUR WAIST (NIGERIA)
54. SASHA P - ANTHENTIC (NIGERIA)
55. D PRINCE - BANANA (NIGERIA)
56. DJ GUKWA - TERMINATOR (SOUTH AFRICA)
57. PROFESSOR - JEZEBEL (SOUTH AFRICA)
58. KECHE - SORKODIE (GHANA)
59. IYANYA FEAT D BANJ - KUKERE (NIGERIA)
60. IYANA FEAT D BANJ - KUKERE DJ NEPTUNE REFIX (NIGERIA)
Like African music? Previously on Africa In Your Earbuds: SAHEL SOUNDS, BEATENBERG, M1 [DEAD PREZ], BODDHI SATVA, L'AFRIQUE SOM SYSTEME, NOMADIC WAX, THE BROTHER MOVES ON, LV, BEN ASSITER [JAMES BLAKE'S DRUMMER], JAKOBSNAKE, CHRISTIAN TIGER SCHOOL, SAUL WILLIAMS, TUNE-YARDS, MATHIEU SCHREYER, BLK JKS, ALEC LOMAMI, DJ MOMA, AWESOME TAPES FROM AFRICA, PETITE NOIR, OLUGBENGA, RICH MEDINA, VOICES OF BLACK, LAMIN FOFANA, CHICO MANN, DJ UNDERDOG, DJ OBAH, SABINE, BROTHA ONACI, DJ AQBT, JUST A BAND, STIMULUS, QOOL DJ MARV, SINKANE, CHIEF BOIMA