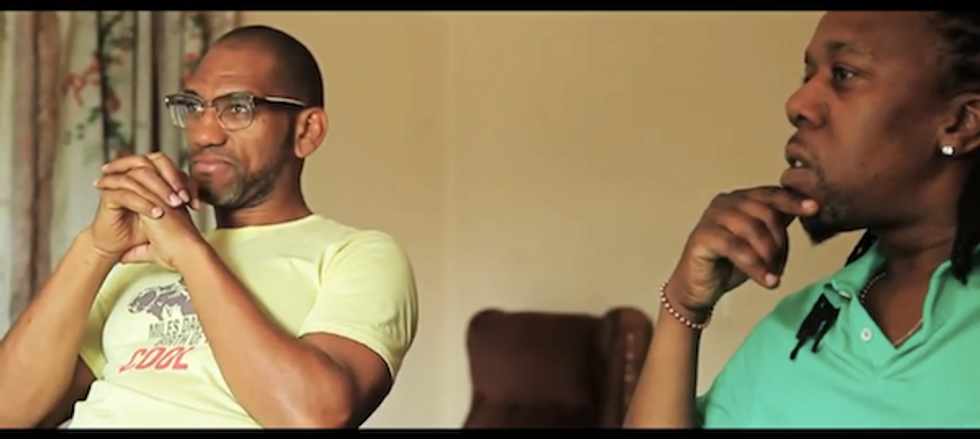 ---
You may have spotted our excited tweets about the collaboration between King Britt and Tendai Maraire of Shabazz Palaces when they released a video "12.12.12" saying that they'd "embarked on a musical journey in Zimbabwe" guided by the spirit of legendary Mbira player (and Tendai's dad) Dumisani Maraire . We wanted to know more, so when the latest video teaser dropped on 1.1.13 we probed them for details.
How did you two link up for this project?
King Britt : In 2009, I brought Shabazz Palaces to the Painted Bride in Philly for a show with Flying Lotus and my collaboration "Saturn Never Sleeps." Tendai and I connected while they stayed at the crib.  He mentioned he wanted to rework some of his dad's masters.  We went down in the studio and now its become our mission!
Tendai Maraire : As King said. We were introduced to each other by Ish [Ishmael Butler, the other half of Shabazz Palaces]. We had a good vibe right off the back. It also made it easy because King loves the creation process as much as I do. So we just started making music right after the idea was brought up.
What did you hope to find/who did you hope to meet on your visit to the Zimbabwe College of Music?
TM: I knew of a few artists such as Chiwoniso , Hope Msike , Mbira DzeMuninga & of course Oliver Mtukudzi that I wanted to work with. I had worked with all but Oliver up to that point. I also wanted to get young fresh musicians. So I went to the clubs every night and would find talent and ask them to be a part of it. It is very important to me that the world gets a chance to hear a fresh now Shona sound. And I wanted the younger generation to be a part of it.
[embed width="600"] [/embed]
We noticed the mbira player Dumisani Maraire features heavily. How and when did you learn about his work? And how is he inspiring/shaping your journey?
KB : He is Tendai's dad and the whole project is based around his foundation teachings and then melding it with the context of today's soul music.
TM : My father is and will always be one of my main influences. With this project I wanted to bring his voice and unheard creations to the worlds of hip-hop, dance & electronic music. With the advancements of technology we were able to have my father work with these new artists and keep the foundation he created present.
[audio:https://www.okayafrica.com/wp-content/uploads/04-Machekeche.mp3|titles= Dumi Maraire "Machekeche"]
>>>Stream: Dumi Maraire "Machekeche"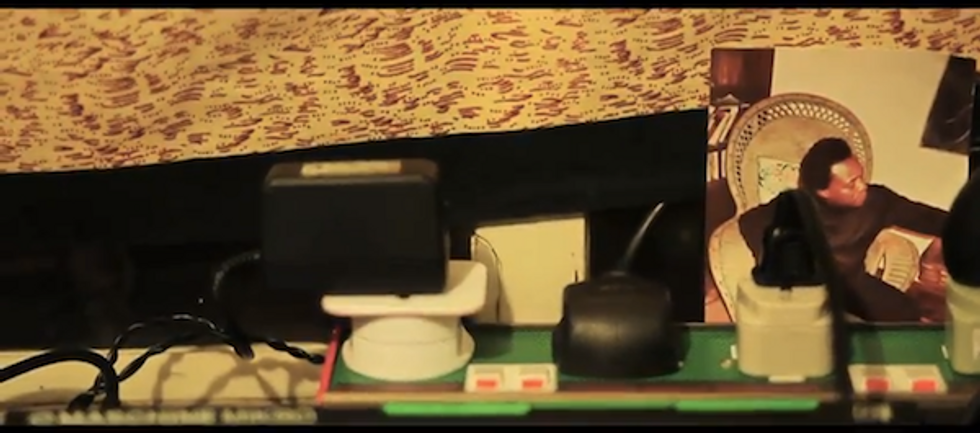 We see you holding Dumi's Mbira Manual - do you play mbira?
KB : Im learning but Tendai is the master!
TM : Haha, I wouldn't say master. Because back home is where the real players are. But I do love it. In fact I came home with five new mbira's. All different tunings.
What (aside from Dumi) inspired the project? Are you planning collaborations with artists based in Zim?
TM : Yes, we worked with some of the artists I mentioned as well as I spoke with Oliver and he's looking to be a part of it.
KB :  We just got back from there and recorded some of the top musicians and singers there. The whole experience really changed the way I look at the project now. Especially politically. I understand Tendai's personal vision for the project and together its just fire.
While you wait for the release of King Britt and Tendai's project, grab mbira godfather Dumi Maraire 's excellent album Dumi & Mizanzi III .