---
*Photo of Mário Macilau from Al Jazeera's Artscape, The New African Photography series.
The latest subject of Aljazeera's Artscape series, The New African Photography, is the young Mozambican photographer Mário Macilau. His images have been described as "alarming and provoking, arresting and engaging, public and private but, above all, utterly human."  Often portraying stunning moments that starkly reveal the social, political and economic environment of his country and beyond, he seeks both to connect with – at a seemingly divine level– as well as communicate for his often overlooked subjects. Okayafrica contributor Unathi L. Sondiyazi caught up with Mário to talk about representations of Africa and his body of work.
OKA: I understand the continent is broad and the problem of representation or misrepresentation isn't a Western invention.  Among African news networks one also finds problematic stereotypes pervading reportage, that also shape values, expectations and mindsets.  Some say we are not only victims of Western distortion but we also have been complicit in the failure to shift the center away from colonial legacies. Do you agree?
Mário Macilau: I have learned though my journey in the world of photography and the travels I've had so far, that it helped me to open my own mind and to learn about other countries and their cultures. This helped me to understand mine in particular, and Africa in general ... When you are immune to the opinions and actions of others, you won't be the victim of needless suffering.  If Africa pretends to be a victim, then we'll be the victims all the time. Before we point out the failures to others, let's look to our relations, to our problems, and try to find a way to solve them. Remember that all of us in life as human beings has a choice and a way to begin something – even though I understand that the world  is full of injustice - but this is just the way it is, so should we sing the same song all the time? If so, nothing will change, because life can only be understood backwards [in retrospect] but it must be lived forwards.
* 'Maziones (White Boy)' by Mário Macilau
OKA: Your being called a 'New African photographer' suggests that there is a new guard at the helm of African photography, both in thought as well as in practice.  Do you agree that the cultural centre in photography is shifting?  If so, who in Mozambique (and elsewhere) would you say led the way for you?
MM:  I have learned almost everything in life by myself, I have tried different things, I have talked to everyone. So maybe I'm not what people say I am, but one thing for sure is that I am a photographer ... Photography is my language and a tool to bring forward the identity of some excluded people in our society, to bring their voices that have been hidden in the darkness. I use photography to change people's minds about the world we're living in.
OKA: Why did you choose to participate in the documentary?  What were your motivations and goals, and would you say the documentary was able to accomplish those goals?
MM:  I didn't apply to be filmed, I didn't even know about the project. I returned home from a trip and months later I was called by the South African company Fireworx Media to ask for my permission to be filmed for this documentary. I said yes, and why not? I accepted because I have to explore all opportunities to share my work with the world, to share the stories of the people who are my subjects [of my work], because they must be heard by others.
*'Life Goes On (Fire)' by Mário Macilau
OKA: The question of representation of Africa and its people in Western media has been a topical discussion for over 30 years now, with various thinkers contributing  tomes on the subject.  When you started out as a photographer how important was representation for you? Do you see an improvement in the way Africa and its people are portrayed in the media in general?
MM:  I work as documentary photographer on  long-term projects, and I like to show the reality.  My work is sensitive but you can also find a glamour, beauty and dignity. To answer your question directly: [my work] is not just about Africa but about the world: too much capitalism and injustice. I was also surprised after seeing the images of refugees in Mali being used for fundraising in Madrid – personally I have nothing against it if that is the reality - but we can't be McDonalds in photography. We have to learn how to respect others, how to consider them and give them dignity as humans.
OKA: What upcoming projects do you have underway that we should look out for?
MM: I have started work on my new project based first on research about the transition of two generations in my own country, where I make works that examine personal identity and  the physical and psychological condition within a specific environment.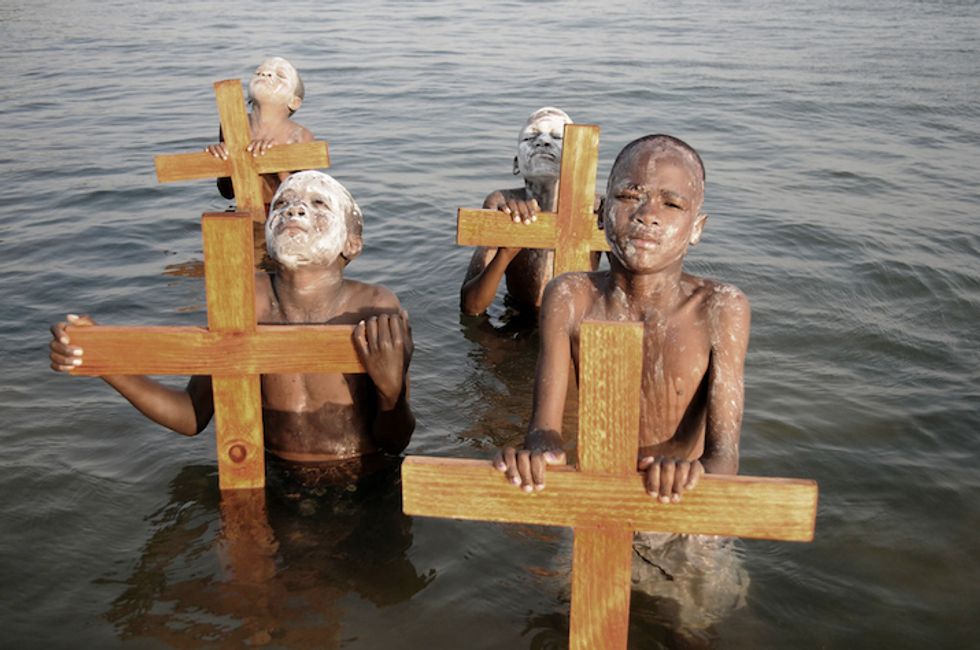 * From the series: "The Zionists" by Mario Macilau