The Bald and the Beautiful: African Women Tell Us Why They Did the Big Chop
We talk to five African women with short hair about why they decided to cut it all off.
DIASPORA—Gone are the days when "long hair don't care" was #HairGoals. Women are rocking short cuts like never before and these "bald baddies" are leaving us in awe.
---
Beautiful "bald" women are turning heads on runways, stunning on the cover of magazines, and glowing in some of our favorite music videos, and—in the process—are showcasing yet another side of black beauty. They're challenging trite beauty standards and radiating confidence stronger than Blac Chyna's plan to ruin Rob Kardashian's life.
If you want to see just how beautiful it is to be bald—we've got you covered! We asked 6 bald beauties at this past EVERYDAY AFRIQUE party two simple questions about why they decided to go ahead with "the big chop" and how rocking their bald and beautiful dos makes them feel.
Scroll down to read their responses.
Rachael Ikwuagwu
Photo by Erica Garns.
Why did you go bald?
I first started off cutting my hair because I wanted it to get healthier. And once it was short, I realized I loved the low maintenance, and to be honest I'd rather spend my money on shoes than hair. That's just it— I have to have just one vice and I picked shoes.
How do you feel being bald?
I usually don't remember I have hair on my head until I have to wash it. I love waking up and just going—I love the ease! There's 12 months in a year—8 of them I have short hair and 4 of them I have hair. I'll get braids or twists when it's winter as a protective style to keep my head warmer, and then once spring comes I'll buzz my head again and rock it until the weather gets cold.
Shernita Anderson
Photo by Erica Garns.
Why did you go bald?
Honestly, I feel like it was God. I was on my way to Six Flags with some friends and the idea just popped in my head. I had been doing my locs myself for like 7 years and it's a LOT of work. Then boom the idea popped in my head. I contemplated it for a month—I was on a job where I couldn't change my look. I prayed and also I asked my mother what shape my head was. She was like, "girl, I was rubbing that head, your head is perfect!"
How do you feel being bald?
Shaving my head has made me feel the most beautiful I've ever felt in my entire life. I no longer have days when I feel "ugly." I always feel like a snack with this hair.
Osa Ajani
Why did you go bald?
Girl, because I felt like it! It was #BaldySeason and it was just something different. This is not not my first rodeo show—I'm used to this. The last time I cut my hair was about 5 years ago, so I just felt like doing something different. Carefree. Black Girl Magic. Year of the Glow!
How do you feel being bald?
I've been getting so many compliments. I feel like my new hair cut is so well received now and I just love the love, the stares, the questions. I love it all.
Nicole Oribhabor
Why did you go bald?
I was natural for a decade and it was a lot of work, and I woke up one day really happy with my face. I was like, "Damn, I'm really in love with my face, and the hair was over powering my face sometimes." I woke up and I went straight to the barber and I cut it all off. I've been like this for a year and I love it.
How do you feel being bald?
This is the best decision I've ever made, better then picking a boyfriend, or a husband or anything! Cutting my hair off was the best decision I've ever made because 1. You wake up, brush it down and you still look fly. 2. Everybody else thinks your fly. 3. It's the most confident way to be, because there's no secrets. I'm literally revealing myself to the world and people are engaged with it as long as I'm good with it. I love this hairstyle!"
Ivy Green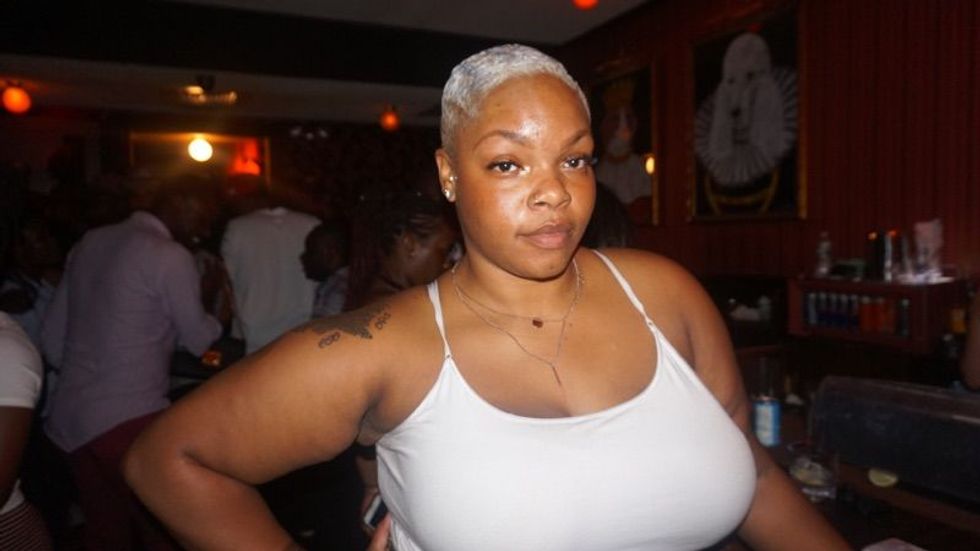 Why did you go bald?
"I wanted to go blonde and I knew I couldn't go blonde with a perm. I've been platinum since 2015."
How do you feel being bald?
"LIKE A BAD ASS B!$@&"