As many may remember, from March 20th to 22nd of this year, President Obama visited Havana, Cuba with his family. There he addressed the Cuban people in a historic speech at the Gran Teatro de la Habana. For the first time in 88 years, an American president visited the island nation. Towards the end of his speech, he said, "we want our engagement to help lift up the Cubans who are of African descent, who've proven that there's nothing they cannot achieve when given the chance."
---
Though I, personally, do not believe the dialogue between African Americans and Afro-Cubans should be moderated by governmental policy from either side, I felt in that particular moment of his speech Barack Obama, the first African-American president of the United States, was speaking directly to the Afro-Cuban population, essentially about the legacy of relations between African Americans and Afro-Cubans.
Given my almost two decades-long active involvement in facilitating a bridge of cultural dialogue between black people on both sides of the Florida Straight, I believe now is the perfect moment to highlight the work of a few Afro-Cubans in how they are engaging, via the arts and culture, the multi-sided cultural conversation taking place between Afro-descendants from both countries, as well as crossing over racial boundaries to address global audiences.
This is not a group of cultural producers working together under an organized agenda. However, their individual actions speak to the greater collective power of this new generation of Afro-Cubans artists, musicians, and intellectuals. This "group view" attempts to share the fact that what they do and represent should be seen as an index of Afro-Cuban collective capacities.
Crucially, as Cuba transitions towards a new era, after socialism, highlighting the work of those who, at present, are conducting such conversations will provide great understanding for Afro-Cubans as to which is our place amongst all Afro-descendants.
In this context of cultural dialogue between other people of African descent and Afro-Cubans, I am actually referring to those Afro-Cubans leading the dialogue, to those who are the heirs of Chano Pozo, Celia Cruz, Nicolas Guillen, and Sara Gomez to name a few others from an older generation who shaped the early stages of this dialogue that has deeply influenced many. The work of those in this new generation directly resonates with some of the current themes and concerns that are spoken of throughout the diaspora and the continent.
Lastly, I would like to note that this is but a minimal portrait of our diversity, there are definitely many more Afro-Cuban women and men doing incredible work. The purpose of presenting this group of nine individuals here is to provide the readership with multiple entry points to who we are and what we do today as people.
Ibeyi
(Musicians)
Ibeyi. Image courtesy of the artists.
The word ibeyi is the Afro-Cuban vernacular for the Yoruba word ìbejì and means, "spirit of the twins." The Yoruba prayer to one of the attributes of the ìbejì goes, "giving birth to twins brings good fortune, giving birth to twins brings abundance [...] Ase." The rise to stardom of Paris-based French-Afro-Cuban duo Ibeyi is no coincidence. Twin sisters Naomi and Lisa-Kainde Diaz's divinely beautiful music, a mixture of delicately powerful melodies, Afro-Cuban religious chants, live percussion, and an urban attitude, could easily be called Afro-Cuban Futurism, or simply "the next big thing in music." The sisters have already toured around the world at 21.
The duo recently appeared on Beyoncé's latest short film and album Lemonade. A couple of weeks ago when I was writing this segment and needed their approval, I spoke to Maya Dagnino, Ibeyi's mother and manager. This is what she shared about their appearance on Beyoncé's most recent work: "Ibeyi feel very honoured their work directly speaks to Beyoncé's awareness of women's power in connection to Orisha faith. While working with her, they could feel, just as clearly as one sees through fresh water, how much of the energy of Oshun, the Yoruba deity of the rivers, and the deity of Love Beyoncé channels. It was very powerful." Ibeyi recently opened the Chanel Fashion show in Havana.
Daymé Arocena
(Singer, Composer, Arranger, Choir Director & Band Leader)
Dayme Arocena. Image courtesy of the artist.
In the Cuban realm of the African diaspora, Yemoja, the Yoruba Goddess of Waters, is Daymé Arocena's Guardian Angel, the spiritual energy that drives her singing power and stage presence. After her induction into Santeria, Afro-Cuban's most widespread religion, Arocena, distinctively, always dresses in white in acknowledgement of the atonement she reached through her initiation. The power she has inherited by channelling her tradition through singing is as important to Daymé as honing her jazz virtuosity, rocking shows, or literally singing her heart out. She studied music at Havana's Amadeo Roldan Conservatory. During her years at Cuba's most important music school, Daymé became knowledgeable about the trumpet, the piano, the guitar, and piano; however choir directing was where she really found herself.
It was as a protégé of Afro-Cuban popular music master, arranger and composer Joaquin Betancourt, and as a member of his band that she better understood what she wanted to accomplish. Such experience helped her to put together Alami, an all-female band in Havana. It was performing with them that she caught the attention of Havana Cultura and Brownswood Records, the UK label that in 2015 released Nueva Era (New Era) her debut album to major critical acclaim. Daymé has received blessings of music giants like Wynton Marsalis, Jane Bunnett, and Ed Motta, to just name a few. Daymé performed at SXSW 2016, alongside the first Cuba-organised contingent of Cuban musicians to ever perform at the renowned festival.
Yosvany Terry
(Saxophonist, Percussionist, Bandleader, Composer & Educator)
Yosvany Terry. Photo courtesy of the artist.
An internationally-acclaimed ambassador of Afro-Cuban tradition, Yosvany Terry, was born into a family of distinguished musicians. Terry studied European Classical music at the Amadeo Roldan Conservatory in Havana and continued his training as a musician at the Cuba's National School of the Arts in Havana. He has played with major Cuban musicians like singer-songwriter Silvio Rodriguez, pianists Frank Emilio and Chucho Valdes, and Don Pancho y Los Terry, the band led by his father, violinist and chekeré master Eladio "Don Pancho" Terry Gonzalez.
In 2012, his album Today's Opinion was selected as one of the best albums of the year by New York Times' Nate Chinen. New King Throned, his 2014 release was nominated for a Grammy Award.
In 2015, Terry received the Doris Duke Artist Award. That same year he became Director of Jazz Ensembles and Senior Lecturer in Music at Harvard University; and toured the US as part of the Yosvany Terry & Baptiste Trotignon Ancestral Memoriesquartet, the Yosvany Terry Quintet, the Rufus Reid Quartet, and with George Cables.
Terry has also been awarded the Rockefeller Philanthropy Advisors and New York State Music Fund grants to develop Afro-Cuban Roots: Ye-dé-gbé, a suite of Arara music. Catch up with what he's doing, and where he's playing this year by checking his tour dates.
Victor Fowler Calzada
(Poet, Critic, Researcher)
Victor Fowler Calzada. Photography by Jessica Colarossi via The Cultureist.
Born in Havana in 1960, Victor Fowler Calzada graduated as a teacher of Spanish Language and Literature from the University of Havana. Between 1989 and 1992, Fowler went on to work at Cuba's National Library where he organised the First National Conference for the Promotion of Reading. With five published books of essays, in 1998 "La Maldicion (The Curse)," and with "Historias del Cuerpo (Tales of the Body)" in 2002, Victor won Cuba's National Prize for Critique.
He has also published ten books of poetry and won Cuba's important Nicolas Guillen Prize in 2007 with his "La Obligacion de expresar (The Duty of Expressing Ourselves)." His work has been distributed in Venezuela, Colombia, Nicaragua, England, France, Italy, Belgium, and the US. Fowler Calzada is a regular collaborator with all of Cuba's most relevant cultural publications.
This academic year 2015 - 2016, Victor Fowler Calzada is completing a year-long Mamolen Fellowship at the Hutchins Center of Harvard University where he is researching how North American blacks have perceived and understood black Cubans since last years of XIX century to the beginnings of the Cuban revolution. The video provided in this segment is part of the documentary Rethinking Cuban Civil Society by María Isabel Alfonso.
Pedrito Martinez
(Vocalist, Percussionist, Band Leader)
From left: Pedrito Martinez, Jhair Sala, Alvaro Benavides, and Edgar Pantoja-Aleman. Photography by Danielle Moir (2015).
Pedrito Martinez is arguably the living heir to the Chano Pozo's legacy with a fiery approach to percussion and also a singing style that draws from his deep Afro-Cuban roots. He began his music career at age 11 performing with Afro-Cuban rumba greats like Tata Guines and phenomenal rumba bands like Yoruba Andabo. Pedrito moved to New York in the fall of 1998, and since then has contributed to more than 75 albums; as well as recorded and performed with Wynton Marsalis, Paul Simon, Eddie Palmieri, Paquito D'Rivera, Bruce Springsteen and Sting.
His career as a bandleader began in 2005 when The Pedrito Martinez Group (PMG) was formed in NYC. With fans that include Eric Clapton, Derek Trucks, Steve Gadd, Taj Mahal and Quincy Jones, Martinez is the world's first-call rumbero, and a consummate master of Afro-Cuban folkloric music and the batá drum.
His work and his music have appeared in films like Calle 54 (2000) and Chico and Rita (2010). The first studio album by PMG was nominated for a Grammy in 2013 and featured Wynton Marsalis, John Scofield, and Steve Gadd. NPR chose the band's debut album as one of its Favorite Albums of 2013.
The Pedrito Martinez Group recorded their second album "Habana Dreams" largely in Cuba in October of 2015. With appearances by Ruben Blades, Isaac Delgado, Wynton Marsalis, Descemer Bueno, Roman Diaz, Angélique Kidjo, and Telmary Diaz, the new album release date is June 2016 via Motema Music.
Gloria Rolando
(Filmmaker, Screenwriter, & Researcher)
Gloria Rolando. Image via the director's Facebook.
Gloria Victoria Rolando Casamayor was born in Havana in 1953. She graduated in music theory, piano, harmony, music history and musical notation from Havana's Amadeo Roldan Conservatory, and received a B.A. in Art History from the University of Havana in 1976. Later that year she would begin what would be her lifelong passion for filmmaking when she started to work as an assistant director at the Cuban Institute of Cinematographic Arts and Industry (ICAIC).
Gloria has always had a stronger affinity for documentary-making than for feature films. A list of the documentaries she has made can be found at AfroCubaWeb. Titles include 1912 Breaking the Silence, a documentary series she dedicated to Walterio Carbonell, Pedro Ivonet and Evaristo Estenoz. Ivonet and Estenoz were the leaders of the Cuban Independent Party of Color (PIC).
1912 Breaking the Silence covers the history of the PIC in centennial remembrance for the massacre that betrayed and crushed the hope of the Afro-Cuban women and men who fought to create the Cuban republic during the Cuban Independence War from 1868 through to 1898.
Also on AfroCubaWeb, is El Alacrán (The Scorpion), which explores the Congolese roots of Havana's legendary carnival troupe La Comparsa del Alacrán and their dance and music, in connection to other regional carnivals like New Orleans Mardi Grass. Gloria just completed her latest documentary, Dialogo con mi abuela (A Dialogue with my Grandmother); a conversation with Gloria on how this latest project came about can be watched here.
In 2010, UNESCO awarded her with the Federico Fellini Medal which has also been awarded to Vanessa Redgrave, Gérard Depardieu, and Clint Eastwood, and the Sara Gomez Prize during the 30th edition of Havana's International Film Festival. Other awards include the Walterio Carbonell Prize in 2012.
Alexandre Arrechea
Visual Artist
Born in Trinidad, Cuba in 1970, Arrechea graduated in Fine Arts from Cuba's Instituto Superior de Arte (ISA) in 1994. He, then went on to work from 1994 until 2003 as a member of the highly successful art collective Los Carpinteros. Arrechea has participated in group exhibitions at art biennales such as Shanghai (2002), Venice (2005, 2011), Moscow and Havana (2009), and Havana (2012); and also presented multiple solo exhibitions like his 2015 Mapa del Silencio (The Map of Silence) which featured at Havana's 12th Biennial.
Compulsively, Arrechea turns the sophistication and plasticity of his epic drawings into even grander installations that range from 2005's El jardin de la desconfianza (The Garden of Mistrust), to 2010's La habitación de todos (The Room of All), a sculpture of a house that expands or contracts depending on the fluctuations of the Dow Jones Industrial Average, to 2013's No Limits, which exhibited on New York's Park Avenue. His stridently playful commentary on the damaged condition of Afro-descendants is loud in 2016's Katrina Chairs, the center art piece of this year's Coachella Music Festival. His most recent show Denied Hierachiesopened in Havana this May.
Roberto Zurbano Torres
Poet, Critic, Essayist
Roberto Zurbano. Photo via Negra Cubana Tenia Que Ser.
Roberto Zurbano was born in 1965 in San Nicolas de Bari, a municipality of Cuba's Mayabeque province. He earned a BA in Hispano-American Literature from the University of Havana, and has undertaken postgraduate studies at Casa de las Americas, the Instituto de Literatura y Linguistica, in Cuba, and the Paris-Sorbonne University, France.
A successful writer who has received distinguished awards such as the Mirta Aguirre Critics Award in 1999, and the National Cultural Journalism Prize in 2000, Roberto Zurbano has also served as editor in chief of Catauro, the Fernando Ortiz Foundation journal of anthropology, as editorial director of Casa de las Americas publishing house, and as Literature Vice President of the Cuban Union of Artists and Writers (UNEAC).
In September 2012, Zurbano along with Gisela Arandia, Tomas Fernandez Robaina, and Dr. Lidia Turner created the executive committee of the Cuban Chapter of the Regional Network of Afrodescendants in Latin America and the Caribbean (ARAC). The Cuba Chapter of ARAC is one of the recently-formed groups which like Cofradia de la Negritud constitute what Cuban-born Prof. Alejandro de la Fuente has called an Afro-Cuban movement with a consensual agenda.
Becoming a member of ARAC, Zurbano merged the visibility of his intellectual work with his racial awareness activism. In March 2013, "For Blacks in Cuba, the Revolution Hasn't Begun," an article of his was published by The New York Times causing what has been dubbed as The Zurbano Controversy. The multiple responses generated by the publication of his article in the NYT, as has been noted, allowed him to "put the debate on racism in Cuba front and center" in the news. His position as editorial director at Casa de las Americas suffered after his denouncement of racial discrimination against blacks within socialist Cuba. Zurbano's recent article on Cuba's internal colonialism can be found in Spanish here.
Barbaro Martinez-Ruiz
(African and Caribbean Art Historian, Academic)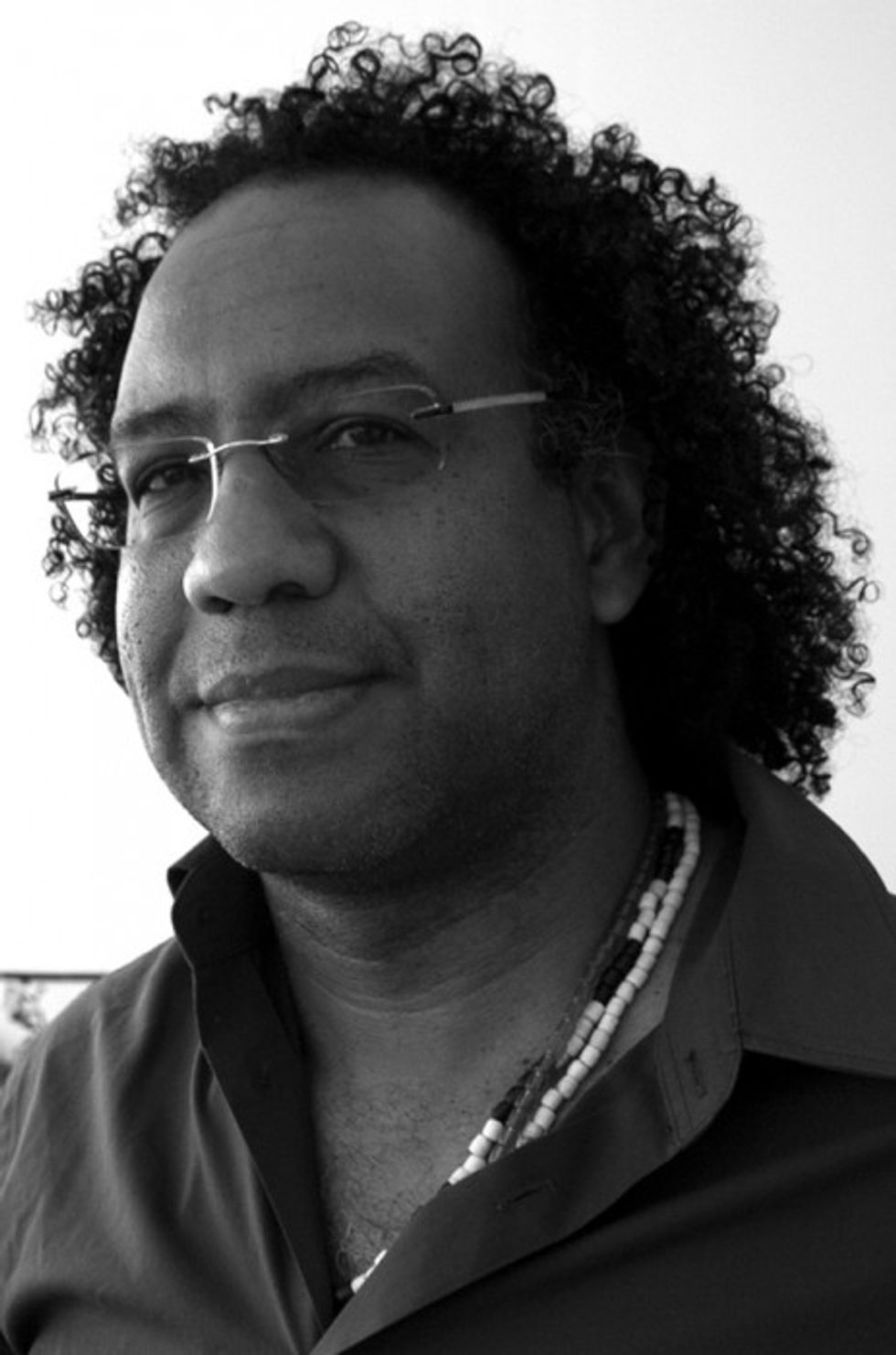 Dr. Barbaro Martinez-Ruiz. Photography by Ned Sublette via Afropop Worldwide.
Dr. Martinez-Ruiz completed BA in Art History at the University of Havana in 1994, and a Ph.D. in Art History from Yale in 2004. He has taught at Cuba's Instituto Superior de Arte (ISA), the Rhode Island School of Design, and at Stanford University's Department of Art and Art History from 2004-2013. In 2014, he joined the University of Cape Town's Michaelis School of Fine Art as Associate Professor and Section Head in the History of Art & Discourse of Art division, where amongst other projects Martinez-Ruiz is collaborating with Yasiin Bey.
His book Kongo Graphic Writing and Other Narratives of the Sign was published by Temple University Press in 2013 to major academic praise. The Spanish version of the book had been published by El Colegio de México in 2012, and can be accessed on his Academia.edu page, along with other of his recent publications. His curatorial work for Faisal Abdu'Allah: On the Art of Dislocation at the Centro Atlantico de Arte Moderno, Canary Islands, was also published by Magnolia Editions in 2012. Martinez-Ruiz is also one of the editors of Art and Emancipation in Jamaica: Isaac Mendes Belisario and his Worlds, Yale University Press, 2007, which was awarded the Alfred H. Barr Prize by the College Art Association.
Barbaro Martinez-Ruiz is the Director of the Orbis Africa Advanced Research Centre, a member of the editorial boards of Harvard's Hutchins Center's Transition magazine, the journal Cuban Studies, and a Pacific Standard Time LA/LA research fellow from 2014-2017 at The Getty Research Institute in Los Angeles, California. Information on his work and the exhibitions he has curated can be found here.