Interview
Interview: El Individuo Brings Afro-Cuban Rap to the World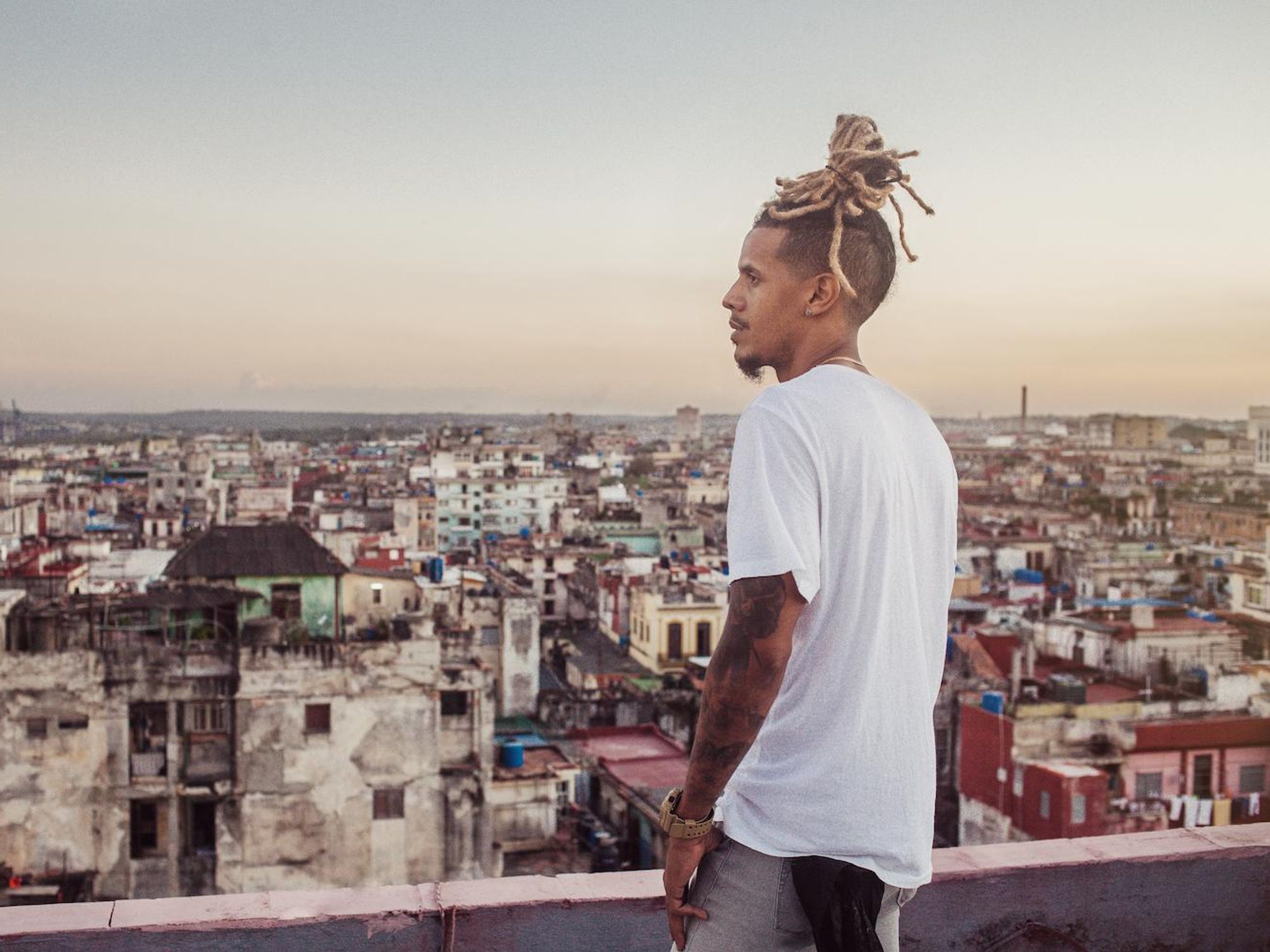 Photo: Eve North Photography.
We talk to one of Cuba's most celebrated rappers about blending local and global sounds in his latest EP, 2020 Escribo.
I got sent El Individuo's ('The Individual') mobile number in Havana over WhatsApp. With 3G internet and Wi-Fi hotspots all over Cuba, everyone's using WhatsApp inside the island and to connect with the rest of the world. It is just easier to call El Individuo, whose lay name is Rafael Bou Lemus, without worrying about the cost of a call to Cuba over cellular data or a landline.

Cuba's ambivalent neoliberalism and Cuba's connection to the world define the rate at which urban Afro-Cuban music catches up with the musical flavours circulating the African diaspora. The same happens with the presence of our music in the hottest playlists in Spotify, iTunes, Tidal, Deezer, YouTube, TikTok or Bandcamp's The Hip Hop Show. Not as world music, but as a musical idiom with the prospect of global currency.
El Individuo, one of Havana's most relevant MCs, and his smart EP 2020 Escribo weather the storm.
---
Tell me. Who is El Individuo?
I am from Luyano, in Havana. Like I say in "Piensa," "I went to school, but I am also hood." Being hood made me sort of atypical in college. I am not initiated into Orisha worship or Ifa divination. I wanted to be part of the Abakuá religion, but it was complicated. At sixteen, I was presentado in the Abakua temple Bekuri Bonda. Then, at eighteen, I could not become a junior member because I needed my parent's authorization. My mother worked at the Cuban Ministry for Foreign Affairs; my dad was a policeman.
Madness!
They would never authorize me to join an Abakuá temple. So, I drifted away from all of it when Havana's amateur Karate team preselected me for full recruitment. Sports kept me out of the hood a lot. Then, I joined the Emerging Teachers program here in Luyano for two years. But I felt like I lost everything I had. My sports career and the night classes in college had to stop because I had to join the army service. After the army, I worked at the Ministry for Foreign Affairs and graduated with a BA in Social Communication.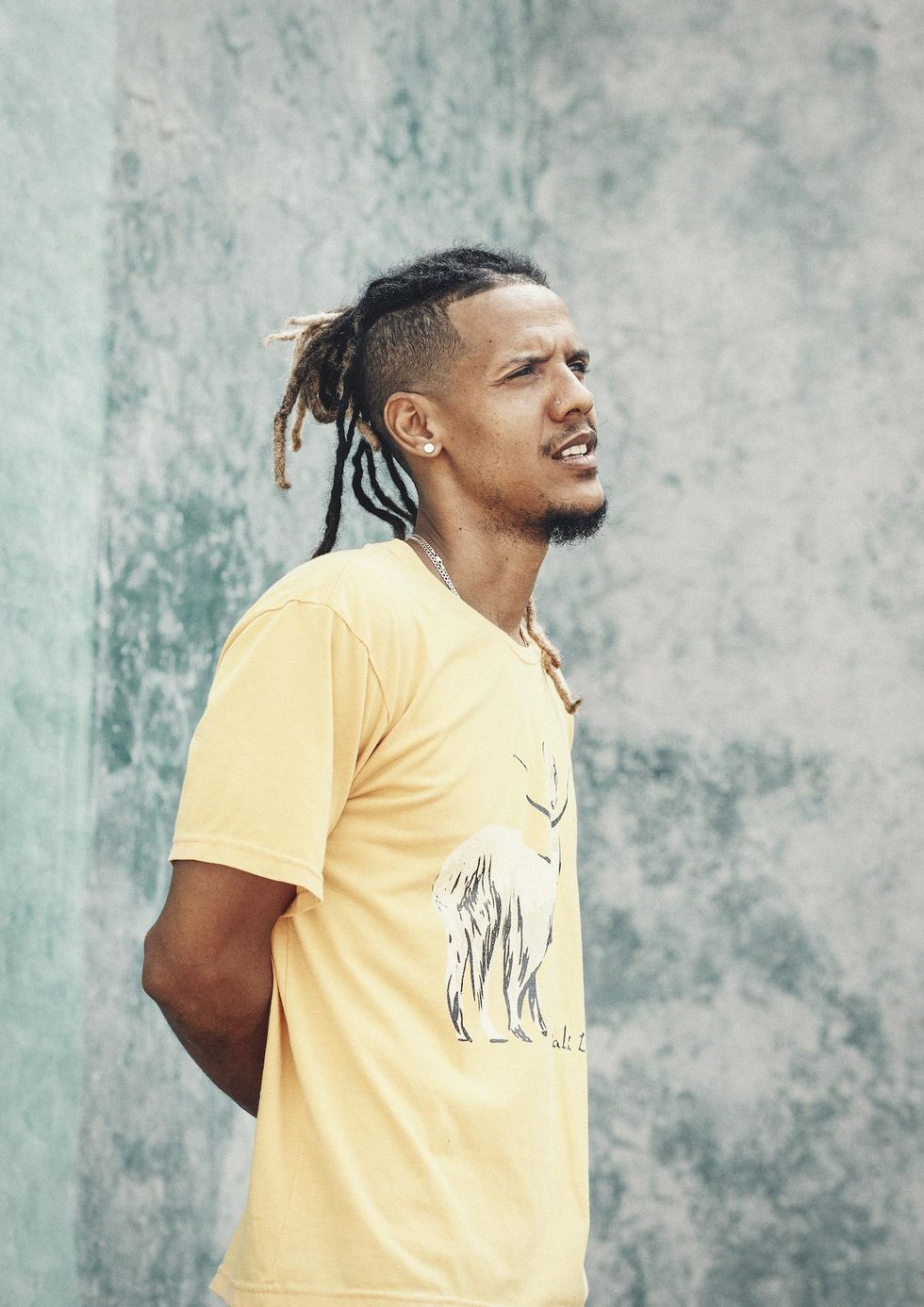 Photo: Eve North Photography.
How did you find rap music?

Rap has been my thing since very little. You know, the Parque del Policia is here in Luyano. Growing up, everyone around me listened to rap music, but when the reggaeton craze started, Luyano turned even more hood. But I stayed with rap. That is why I felt a bit atypical. Instead of hanging out at Police Park, I would go across town to check Anónimo Consejo or a Papo Record gig.
And what pushed you to start rapping?
For a while, I made my beats, wrote lyrics to them and then showed them to my friends. That's how I ended up with a couple of songs that people liked. That's how I became friends with people who had nothing to do with rap music but like what I did. I entered El Movimiento ('The Movement,' a name used to define Cuban hip-hop culture, especially Havana's underground rap scene) with my fanbase, but no one in the scene had heard about me. Con100cia, the duo I had with rapper/beatmaker JD Asere worked a regular gig at Jardines del Mella, and it became an incredible show. The day Yimi Konclase came to check us out, he said we must perform at an El Movimiento show in La Madriguera. That was my official entry into the Movimiento.
Why did you join El Movimiento so late?
I was not happy with the rap style that most rappers in Havana had at the time. Everyone sounded like Los Aldeanos to me, and I kept my distance. I was after something else. At some point, most of my audience were university students. A friend of mine studies philosophy at the University of Havana; he was a popular guy in his school. One day, he began to tell everyone that he would be my manager. Con100cia performed at every cultural event they had in his school. They are the core of our fanbase. AfroRazones was about the culture and teaching Cuban rappers how to use social media to promote our music. Since AfroRazones, our impact is greater. At El Movimiento gigs, the audience is rappers themselves. We have sort of crossed over; our audience is not necessarily the regular rap audience.
Photo: Eve North Photography.
Is it good or bad that the scene's general fanbase does not get your music?

Thanks to my music, I have managed to travel a bit and learn more about the world. I like to study rappers and study music to follow the evolution of rap and urban music. Rap music in Cuba is still years behind what's on, and so is its audience. I feel like they hold me back from what I want to do because that fanbase still wants to hear Los Aldeanos. If I don't give them that, they think that what I do is not rap music. I cannot afford to be held back by that. I have wondered if there was something I was doing wrong. I used to think it was my fault that they didn't get me. My fanbase follows me because of my work and not because they like rap music. I am not sure if it is original. But it is not the same style that you would regularly hear in Havana.
You must do something that allows you to click with them.
Someone told me once that I should do whatever works for me because someone would like it in some corner of the world. And that is what I am doing; some of those who come to our shows have never been to a rap gig.
Are those who go to your shows, mostly university students?
Yeah, but today's average university student's musical taste is not the same as the university students of your time or even my time.
In what sense?
Seven years ago, when I was a university student, the music we listened to in the hood was not what university students listened to in Havana; the gap was evident. That gap does not exist today.
Photo: Eve North Photography.
So, 2020 Escribo tries to build that bridge where the music you make is also the music your neighbour likes. A sound everyone can enjoy.

I like my voice as a rapper to become part of the rhythm of the song. This EP is a conversation with myself, with what I want to achieve. The musicians I work with come from the world of Havana's jazz music. We have a focus on musicianship and less on sampling.
This EP sounds like you are in dialogue with the urban music market today. You sound Afro-Cuban while weaving flavours like UK drill and Brazilian Baile funk. Your song "Bolerón" stands out for mixing bolero and trap music.
I realized that I had never made a song for my mother. I was mainly trying to cover those corners in me that my music had missed. My mother and my grandmother used to sing boleros when I was a kid. But my mother does not like rap. I used a bolero to get her to like my music. She loved the song; she even asked me for the lyrics.
Tell me about "Cómo quieres que sea."
Doc Daniel and Gabe Monro of New York-based Candid Music Group produced it. We met here in Havana; we clicked, and suddenly we were working. It is the first track I finished for this EP. It has the spontaneous energy of that moment.
El Individuo - Piensa [Videoclip Oficial]youtu.be
You sound much more comfortable with this EP than with other music I heard from you.

You might be right. This EP is mine. I made it for myself.
"Escribo," the title track, sounds like you mixed a few styles to make it happen.
That's who I am. I used to worry about mixing rap with other genres. Alexey (El Tipo Este) told me, 'You should just do whatever you want to do.' That freed my mind.
Your take on eclecticism sounds liberating. I like this album. It uncovers something different about Cuba. Since Barbarito, other than El Continuo and El Funky de Cuba, I had not heard anything as exciting until you released Escribo. Who has influenced El Individuo?
My biggest influences are from rap cubano: Alexey, and then Papo Record; that is my school. I discovered foreign rap later; I appreciate Kendrick Lamar, J. Cole, KAMAUU, August Greene, and Residente.
Alexey is outstanding. He is the best in terms of longevity. It's amazing to talk about rap cubano with someone who cares about it as much as I do. Have I missed anything?
We touched on everything. I want people to hear this music. That's why I have made this EP. I want to travel again. But with my band rather than just a DJ.