Popular
You Need To Hear This Afro-Dancehall Playlist From Stonebwoy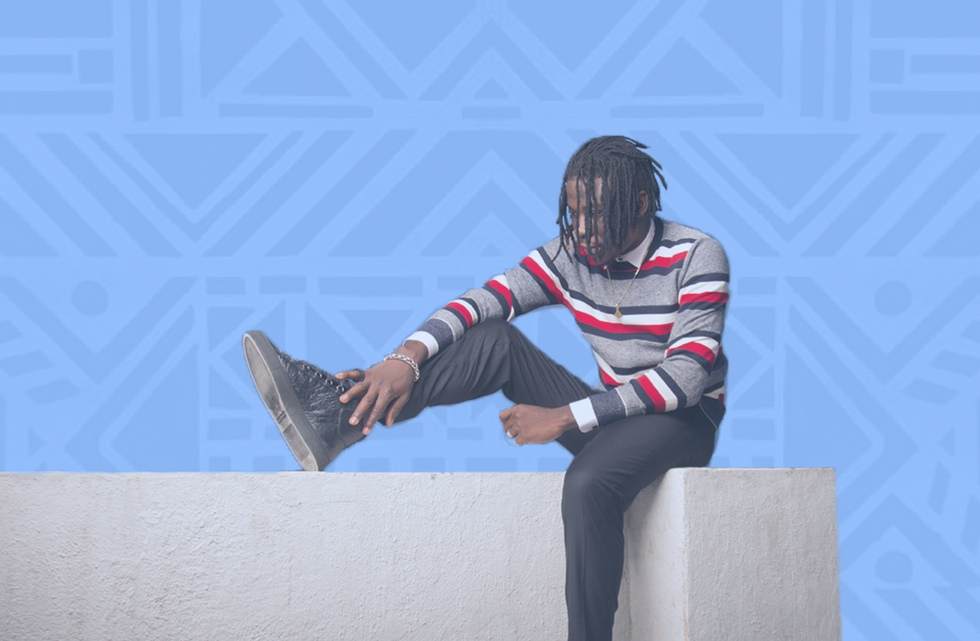 Stonebwoy.
The Ghanaian reggae-dancehall star also sits down for an exclusive interview about his album, Epistles of Mama.
Ghanaian dancehall and reggae star Stonebwoy dropped his latest album, Epistles of Mama, late last year. The extensive record is dedicated to his late mother, who was his biggest fan.
The 24-song album can be essentially split in half, as 12 of the songs live in the dancehall realm and 12 are afrobeats tracks. This infectious blend has been described by his team as "Afro Dancehall," a shape-shifting and loose umbrella term that exemplifies the ongoing musical conversations between West Africa, Jamaica and the Caribbean.
We talked to Stonebwoy about the album below and also asked him to select an exclusive Afro Dancehall mixtape for us, which you can stream on OkayAfrica's Spotify and Apple Music curator channels.
---
Tell us about the inspiration behind Epistles Of Mama (EOM).

First and foremost the album is a combination of all music genres that finds its roots from Africa, Which of which are Afrobeats, Reggae and Dancehall. The album was inspired by my mother, particularly our journey, the journey of life together as a mother and child and the process between us.
What made you decide to do 12 reggae and 12 afrobeats songs for it?
I decided to do the 12/12 on this album, which actually marks my third and fourth double studio album. All the genres of music that I represent and am inspired by had to be put to display in a unique form, which makes it a combination of dancehall, afrobeats, and reggae. So, one can find a dynamic display of the above mentioned genres.
We've had your single "Bawasaaba" blasting. What was the inspiration behind the song? What's the song about?
"Bawasaaba" actually means #NotEasy in the Hausa dialect. It's a love story of one lover, precisely the female, breaking her promise and leaving for financial reasons only to later find out that her man is now making it and wanting to come back.
On "Most Original" you collaborate with Sean Paul. How did that come about?
Immediately, when I heard the rhythm of the track I felt that Sean Paul would be best suited for the song. So we decided to put calls through to have him on the track. It was a very quick process, the video has already been shot and everything so watch out for that one.
You also have some Ghanaian heavy hitters like Sarkodie, Efya and Mugeez on the record. How do you see the current state of Ghanaian music? Do you feel competitive with Nigerian musicians that are also getting huge these days?
There's some great Ghanaian artists featured for sure. The state of Ghana music is at a growing stage still, where its competing with the super eagles of Nigeria, so to say [laughs]. But all the same it's very, very interesting because regardless of Ghana's stance on the globe when it comes to afrobeats, Nigerians always pick up an inspiration or two from us.
What's your favorite song on the album? Why?
My fav song on the album is MAMA.. because the album is for her dedicated to her and she's the inspiration behind my life and career!
Listen to Stonebwoy's Afro-Dancehall playlist on Spotify and Apple Music and check out the reasons behind his selections underneath.
Stonebwoy "My Name" Coz this song very real and tells a very vital story that we call all relate to.
Stonebwoy "Hero" It's a heart oozing out emotions and real talk in its rawest form.
Burna Boy "Heaven's Gate" feat. Lilly Allen The delivery and style is superb and the video as well.
Dre Island "Way Up" This song fires me up....After my knee replacement surgery In Hamburg this song was my spark plug.
Damian Marley "Caution" Deep lyrics with style!
Assasin "Shell" This is a real hardcore bad man tune I love it for the style and ragga vibes.
Capleton "Jah Jah City" This song is like heals me continuously. It puts me in the skanking mood.
Sizzla "Shoot Yuh" feat. Stonebwoy It's a reggae bad man song that's so cool.
Samini "Party Away" feat. Stonebwoy - Samini has a cool flow on this jam called "Party Away."
Chronixx "Likes" The reality of what the song says: Do it for the love not for the likes...deep!!