DIASPORA—From bright beads to bold prints and beautiful colors, African fashion continues to inspire the world. No one knows this better than seasoned fashion editor, Janelle Tomeko Grimmond. The Guyanese-born, New York-bred editor has spent the last decade working for major brands in fashion and media as diverse as Ralph Lauren, Vibe Magazine and Nylon.
---
What's the one fashion lesson that those experiences taught her?
"Everyone is inspired by the continent."
In fact, since as far back as the early eighties Western fashion brands were heavily looking to the continent for inspiration. From vintage pieces at Halston and Norma Kamali, to trending printed wrap dresses at Donna Karan. In even more modern times, coutouriers like Jean Paul Gaultier have paid homage to the continent with a collection, literally titled "Hommage a L'Afrique."
"Every time I visit a showroom to select pieces for a shoot, all I see is Africa," says the Guyanese native who has traveled extensively through the continent.
To celebrate her stylish perspective on African fashion. Grimmond has hand selected ten special pieces that pay tribute to Africa, available for purchase right now, by leading designers.
Take a sartorial journey through Grimmond's intimate photo dairy of each piece, as captured by Ghanaian photographer Kobina deGraft Johnson and enjoy her musings on the meaning of each as a Caribbean woman with African roots.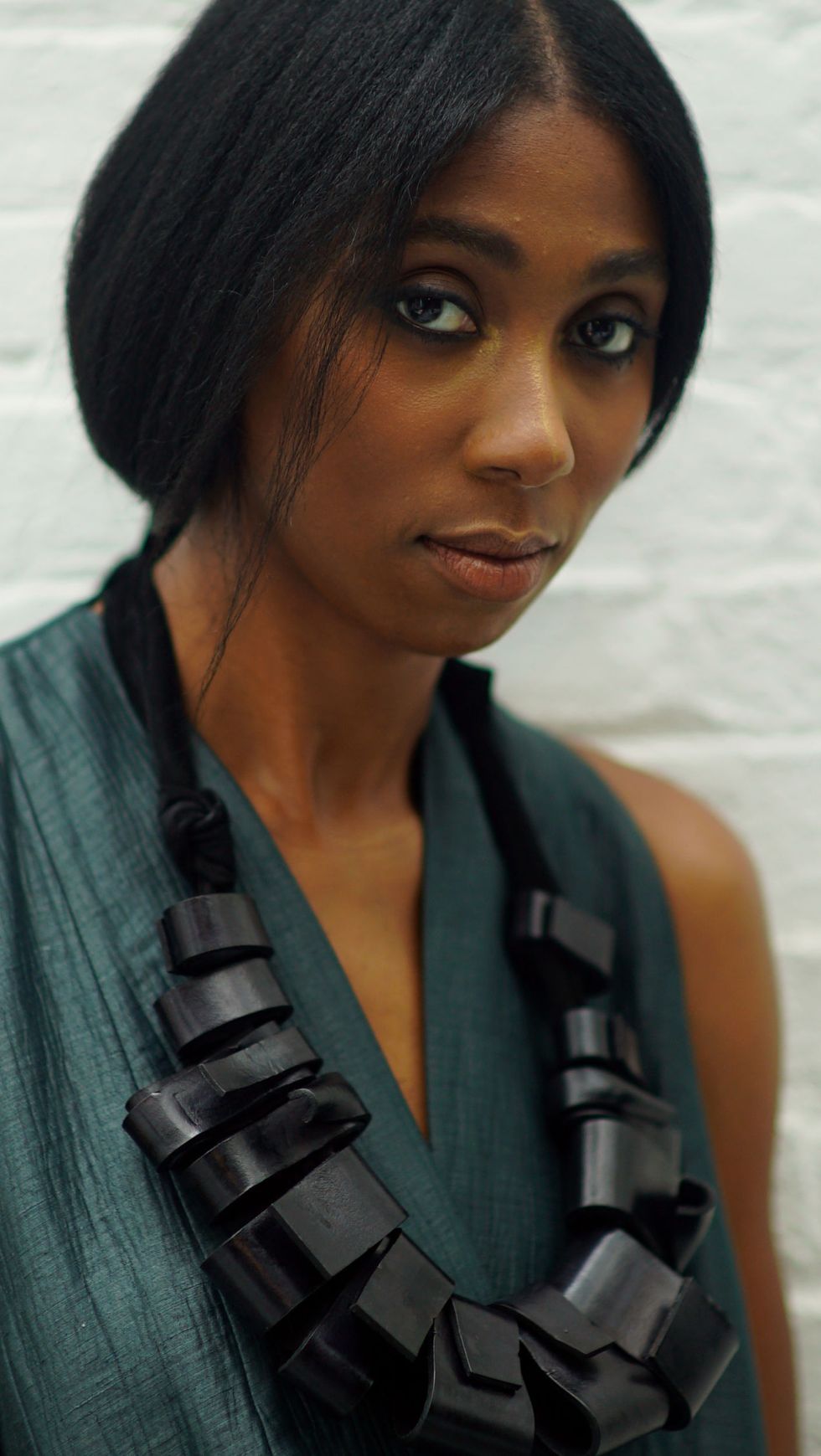 Leather elements necklace and leather beaded necklace, both from Urban Zen by Donna Karan.
"African jewelry is known for its beautiful handmade beadwork so of course this leather trimmed beadwork necklace by Urban Zen made the cut. Worn across all African cultures and based on long standing traditions, this piece is both timeless and genderless."
All-white wrap dress from Urban Zen; Metallic platform sandals from M. Missoni; Gypsy earrings from Swarovski.
"I feel good when I wear white. It's a great contrast for my skin tone. The color symbolizes transition, seeking new direction and new beginnings. When I saw this wrap and tie shirt dress it made me think of the Afro-Caribbean Spiritual Baptist churches that are tucked away all over the globe and in specific Brooklyn neighborhoods. The practice is a mix between ancient African beliefs and the American Baptist religion. At the prayer services everyone follows a strict dress code primarily of all white. The women wear white blouses, long skirts and headwraps.
I feel like i'm channeling a part of mom in this look.
Open toe sandals are preferred in the Caribbean for obvious reasons. The mix metallics and wood used to create these M. Missoni platforms are a cross between new age style and traditional function. Before becoming a trendy style everywhere, wooden platforms were worn in East Africa in places like Tanzania and the Congo. Besides adding height, it signified a high social status and helped to avoid the muck on the roads—these stacks had a purpose beyond style."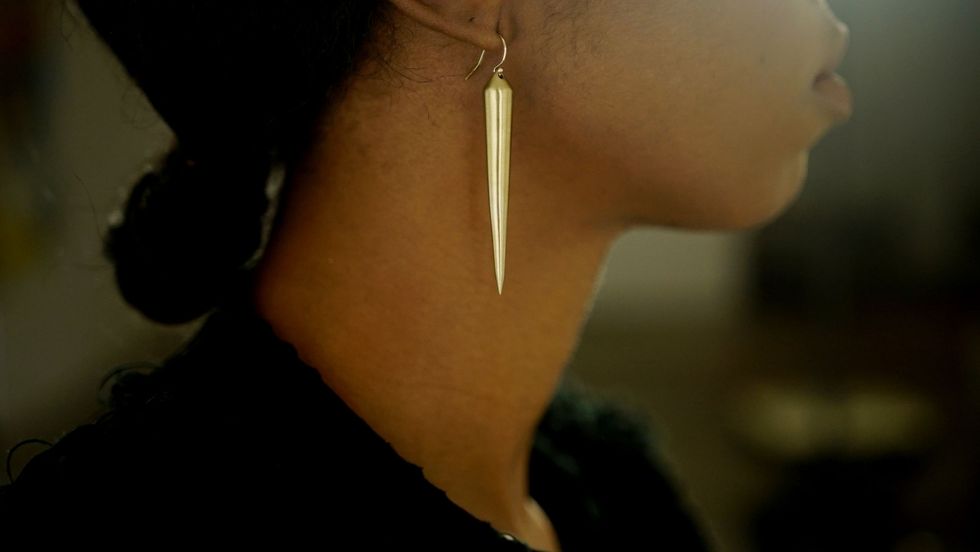 Earrings from Mehary Jewel.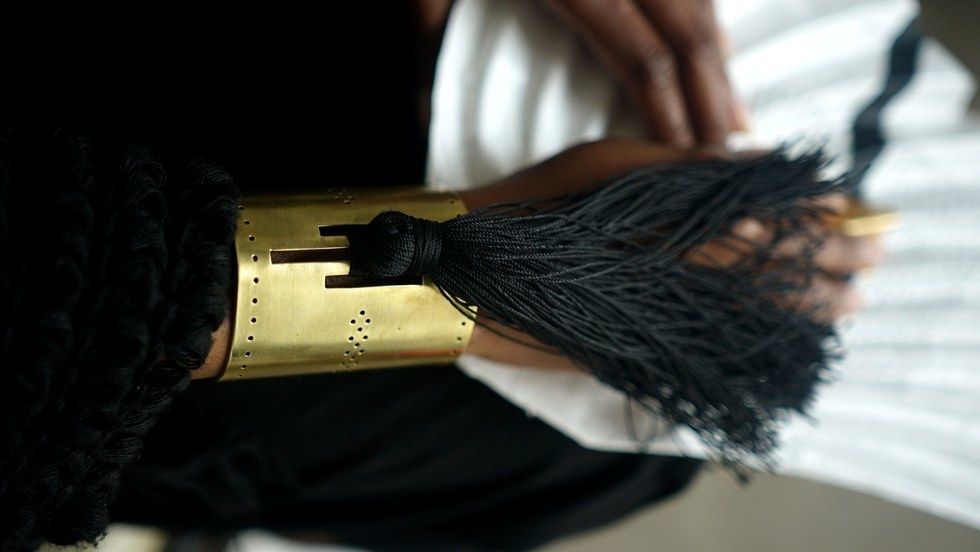 Tassle cuff from Mehary Jewel.
"Gold is my standard and Guyanese gold has always been a major part of our culture. Imagine being able to adorn yourself in your country's own natural resource. I grew up seeing people design one of a kind pieces like these deco earrings and tassel warrior cuff from Mehary Jewelry. This cuff reminds me of the style in which the Ashanti people of West Africa adorn their wrist with layers of sold gold."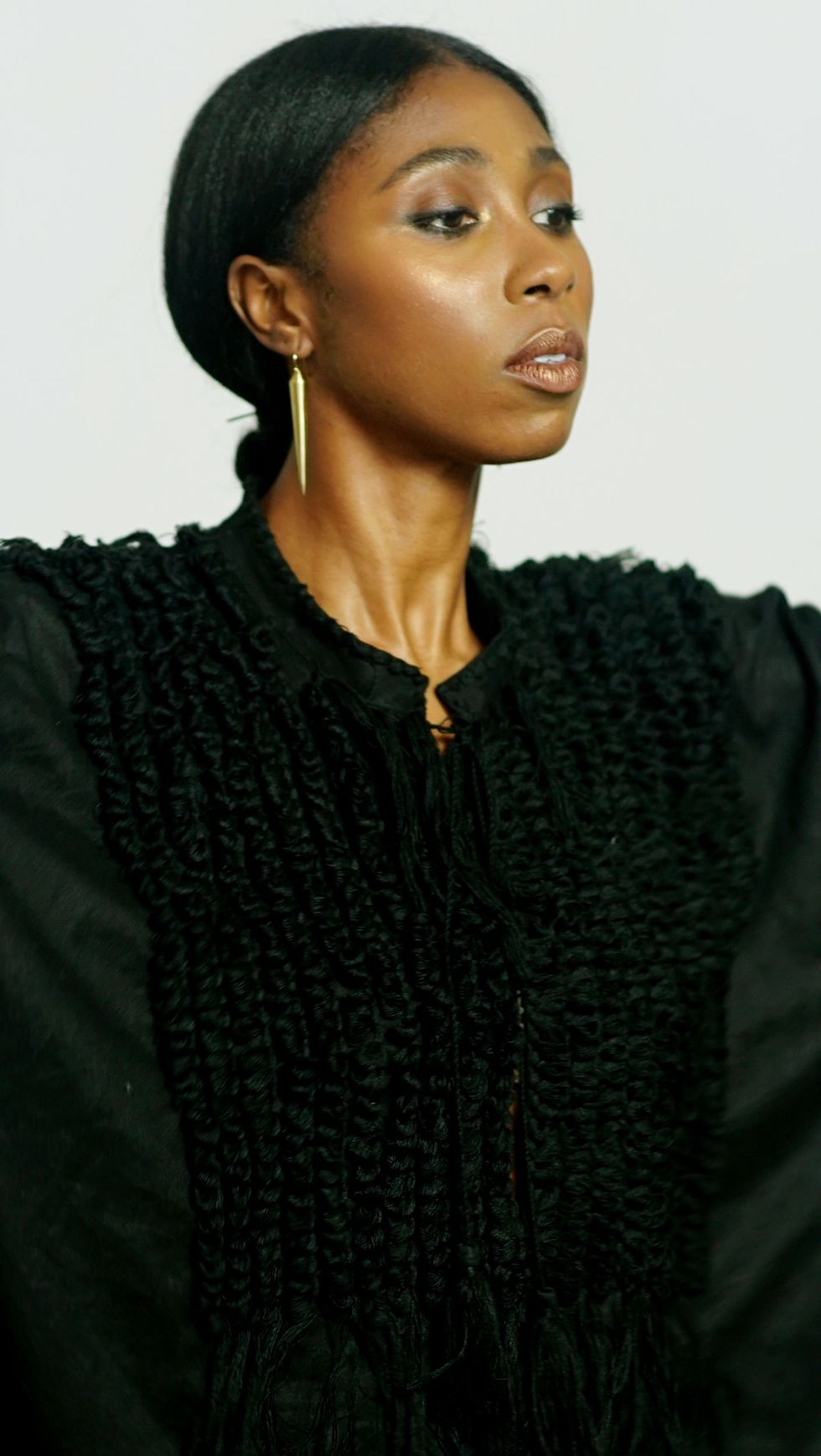 A black tassel blouse from Urban Zen.
"I'm in love with the detail on this Blouse. The Kaftan reminds me of traditional African men's attire. Made using linen, silk and other fine fabrics, the two piece set is light weight, usually designed with embroidered details and can be seen worn on gorgeous African men throughout the continent."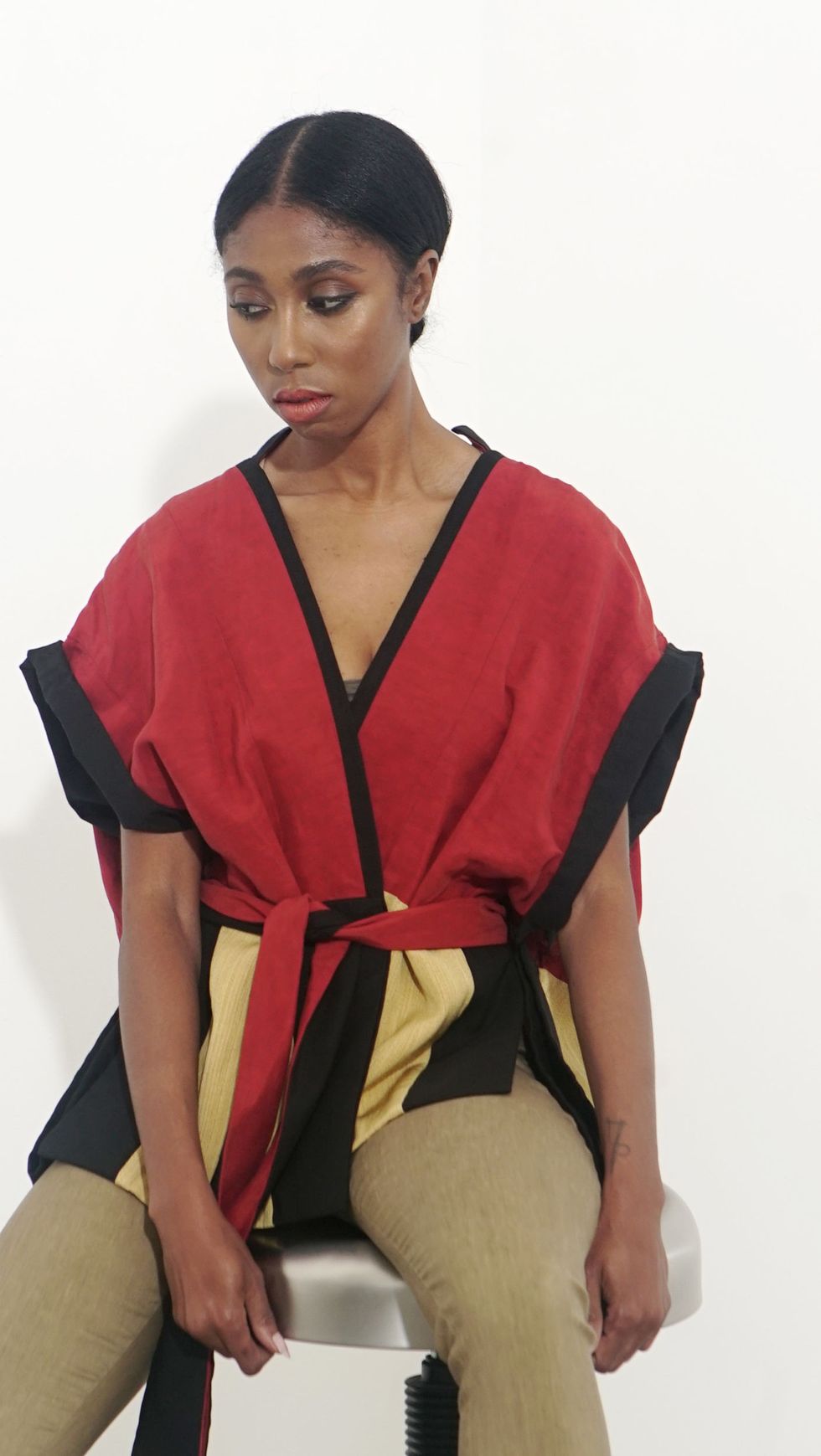 Kimono wrap from Urban Zen.
"I grew up surrounded by textiles and every piece had a story to tell. Traditional African tailors didn't make clothes simply for appearance sake—each symbol, color, and even the shape of the clothing held a specific purpose or meaning. Minus the symbols, the tricolored wrap from Urban Zen makes me think of Bògòlanfini (aka mud cloth). The handmade fabrics from Mali are dyed using fermented clay. The gold, red and black swatches used to design this piece are commonly used colors in Africa and the Caribbean."
Sheer blouse, shirt and sandals from M. Missoni
"While it may not be beads, the collar on this blouse from M Missoni makes me think of the beaded collars made by the Maasai women of Kenya. The women wear layered collars in everyday life and in ceremonies as a sign of wealth and beauty."
Inspiration comes from many sources, for Grimmond it comes from her birth place, her travels and the places where she grew up. Stay tuned this month for more features on stylish folks from the diaspora who embody the spirit of Afrofuturism.