"It's not a genre, but a soundscape," says Tommy WÁ (born Oluwatomiwa Oyakhilome Suleiman) when I asked him to define Afro indie music.
Born in Ibadan, Nigeria but now based in Accra, Ghana, Tommy WÁ describes himself as an indie folk musician who has been creating and curating music that falls under the 'Afro indie' label since 2015. I was listening to Oroko Radio when his 'Afro Indie' show came on, so I tracked him down on Instagram hoping to learn more about what defines the Afro indie music category today.
The conversation on the Afro indie label is still nascent. In 2018, Vice Portugal ran a story on a group of Black artists making their mark in the white-dominated indie scene in Brazil. In 2020, Pitchfork ran a widely distributed story on being black in the American indie music scene. Both articles spoke to the Afro indie label's power to hold Black musicians who fall outside stereotypes of what kinds of music Black people make, as well as how the label offers a defined container for music business professionals to invest in. Spotify introduced its 'Afro Indie' playlist around 2020 (the exact date is inconclusive). And yet, on global music platforms, the Africa in 'Afro indie' has been silent.
Despite this lack of African representation on the global scene, African platforms like the Ghanaian harmattan rain and the Kenyan Café Ngoma have been consistent in their underground efforts at categorising and platforming this sonic landscape. And with good reason: this is a soundscape that expands our understanding of the influences acting upon 21st century Africans and our imagination of what sound on the continent can do.
---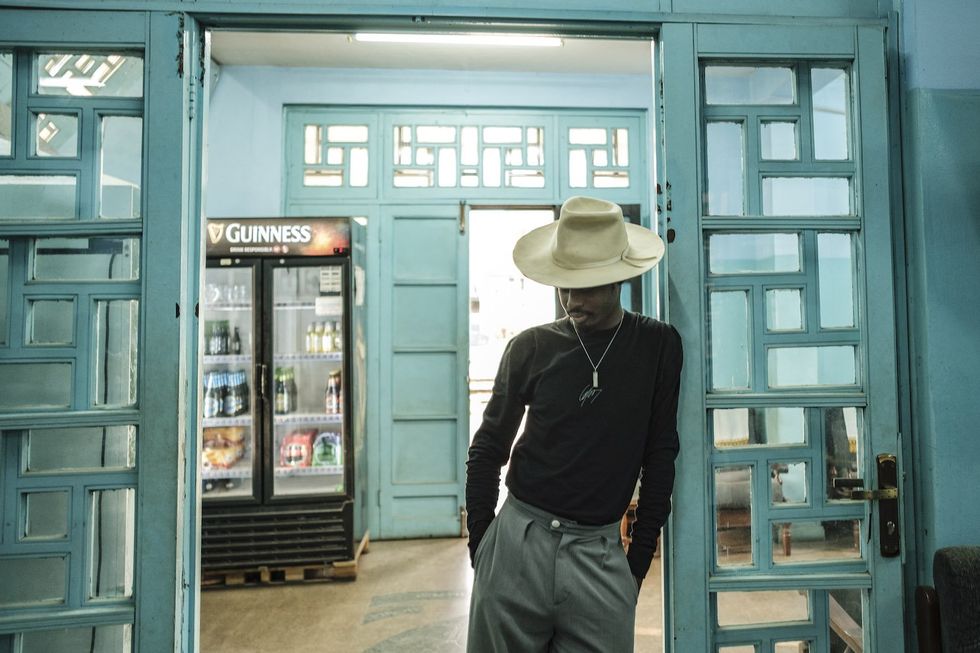 Photo : Victor Adewale.
But what really is Afro indie, given that both categories 'indie' and 'African' are decidedly contentious and ever-fluid in and of themselves? On one hand, indie music could broadly refer to independent music — music made in an autonomous, do-it-yourself approach to recording and publishing. This definition relies on the vagueness of what an outsider is, just as the only definitive quality of anti-establishment is establishment. This definition of indie music has no genre limit. But indie music has a second, narrower definition that refers to symbioses between rock, alternative, folk, and experimental music. On the other hand, Africa, of course, is a continent that is spread across the globe and all of human history. Brought together, Afro indie puts Africa and Africans on the map of global experimental music-making.
The Afro indie soundscape shares a border with R&B but it is hardly pop. In this soundscape, soul pours into desert blues, rock rumbles into coastal music, and electronic music is rooted in folk music. Lyrics are delivered in blends of lingua francas and local languages, all in the spirit of the novelist Achebe's warning: 'Let no one be fooled by the fact that we may write in English, for we intend to do unheard of things with it.'
"The more I look outside Ghana and Nigeria to the rest of Africa, I see that it's beyond just folk music. Look at how Bongeziwe sings soul, the way he arranges stuff. He adds some afro folk and electronic elements of his own," Tommy WÁ says.
Bongeziwe Mabandla - noba bangathini (Visualiser)www.youtube.com
At the time of writing, the South African Bongeziwe Mabandla was the cover artist for the Spotify Afro Indie playlist following the release of a single from his coming album. In response to my question about what Afro indie means to him, Mabandla says, "It is a statement of individuality. Afro indie can mean independent, both in terms of producing music outside of the commercial industry but also a musical philosophy that is about drawing on different genres — perhaps folk, rock, electronic — to make a sound that is your own."
Finding the Label
Tommy WÁ's first encounter with the Afro indie label was when he found a US-based band using the hashtag on Instagram in 2015. He was just starting to make music at that time, channeling the jazz music he grew up on. "But what I wanted to infuse was a little bit of the rebellious element of folk, indie. In everything. I needed it to be African — in the accents, tonality, phonetics, and vocal dexterity," he says.
As is typical of his generation of middle-class Nigerians, MTV, Channel O, and Billboard charts ruled his airwaves growing up. "That was what Splash FM played in Ibadan and it formed my appreciation of music. Even with church music, our church was a hardcore Maverick City Music kind of church. And I say this because when they say certain kinds of music will not sell in Africa, I question it, because there are many Nigerians, many Africans who share my reality, my upbringing."
Tommy WÁ fell for indie music because of how its musicians experimented with storytelling. "Listening to bands like Coldplay, they were not scared to tell any stories. An indie musician could make music about a bag or a bird or personify a bulb, or he could talk about the sunrise and sunset, and there were not so many Nigerian musicians writing that way. All I was hearing was, 'bum bum and police don scatter my house, you don hit my car oyinbo repete.' I'm not saying that was not good music but it felt limiting. Listening to indie rock artists abroad encouraged me to be like, okay, you should have the boldness to talk about anything. It reminded me of songs by Ebenezer Obey who I believe is one of the greatest African writers."
Tommy WÁ - 'Gravity' feat The Isomers [Official Lyric/Movement Video]www.youtube.com
His next step was finding other musicians on the same wavelength. "That was difficult," Tommy WÁ says, "because if you're making this kind of music today, in Africa, that means you may or may not have management, you may or may not even have media coverage." This lack of critical coverage meant that the artists that resonated deeply with Tommy WÁ were often categorised as alternative.

"Alternative to what?" he asked. "Some of the mainstream music today is what was alternative before. And I'm not against alternative music. I'm just like when it gets a bigger following, what are you going to call it?" The term 'Afro indie' presented itself as a categorical solution to the waiting room that was Alternative music.
Between the Nigerian alté movement, which emerged in 2016, and Root n Raw's Tamerri festival in 2017, Tommy WÁ started building networks with other independent and indie Nigerian artists like Cef, Lady Donli, and The Cavemen. "[The festival] was the first time The Cavemen announced themselves as The Cavemen and the first time they sang 'Osondu' in public. I was like that's what I'm talking about, Afro indie is a sweet thing, you know."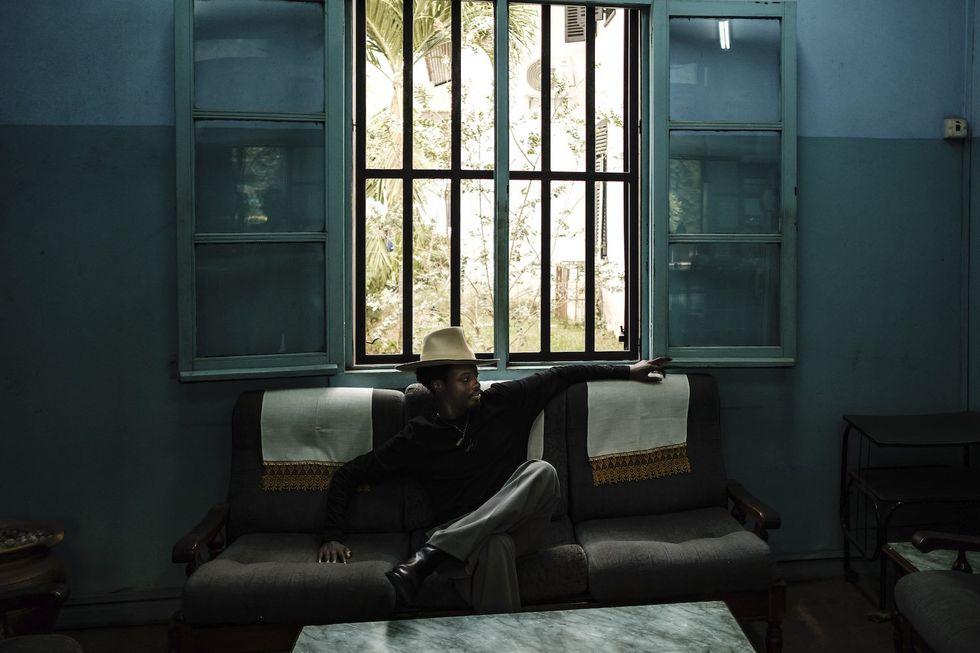 Photo courtesy of Tommy Wá.
Curating and Organising
In 2016, as an undergraduate at Kwame Nkrumah University of Science and Technology, Tommy WÁ and his friends started organising a series of performance shows called Brunei Sessions (later One Love Jam). "We were coaching people on performance. We had musicians, spoken word artists, comedians, and fine art artists. While somebody was singing, another was painting," he explained. Musicians who performed at these sessions include Gyakie and Tim Ayo. Between 2020 and 2021, Tommy WÁ used this organising experience to start a Living Room tour which ran up to 40 shows and was dedicated to exploring Afro indie music with live audiences. In late 2022, he got a gig as a curator for Sofar Sounds Accra.
Though his curation role at Sofar is not limited to Afro indie music, it is a space where Afro indie music is especially recognised and promoted. "My intention with the role at Sofar is to encourage more independent musicians to do live performances the way they truly wanted to, building a real audience and fan interaction," he says.
This kind of support and network is particularly crucial given that there is not yet a lucrative amount of money in Afro indie music. As in other parts of the world, sometimes the composers and writers behind big hits are indie artists who can't yet pay the bills. Besides multiple streams of income and support from friends and family, Tommy WÁ explains that live shows are currently the best way for Afro indie artists to make a living. "For Afro indie artists in our society, we typically look to the diasporan market, the diplomats and expats as key patrons of our music. They are usually the ones that offer grants and host programs and shows."
Shortly before Sofar in 2022, Tommy WÁ took up a residency at Oroko Radio where he originally intended to create a show for his 'Roadman and Folks' project. "But I had to rethink it," he says. "In my research for indie sound, I saw this video of Ovye for Nok audio labs and I was like, what the fuck is this guy? I knew then that I had to start Afro Indie Radio to portray what the soundscape is capable of." The radio has become a class portrait through which artists and audiences today can get to know other similar artists outside their locales, and hopefully, future Afro indie artists can map out their lineage more easily.
Afro Indie futures
When talking about the scene outside of West Africa, Tommy WÁ says: "South Africa is the only place I've gone to and I did not have to say the name Afro indie to them, they said it to me." I asked Bongeziwe Mabandla how he sees the Afro indie landscape in southern Africa now, compared to 10 years ago when he was a newcomer to the scene. He says, "I remember when I started off over 10 years ago, people did not really understand why I was not just doing house music. But that didn't stop me from following the music that I wanted to make, and then over the years developing and growing that sound. I would love to see bigger support for all music in South Africa that is not amapiano or dance music in general."
That's what Tommy WÁ wants for all of Africa.