Within minutes of speaking with Adesegun Adeosun, it's apparent that Afro Nation is much more than an urban music festival.
The Afro Nation co-founder, better known as Smade, talks passionately about connecting Africans across the globe. In less than a year since its debut edition, Afro Nation has successfully done this and gone on to establish itself as the largest festival celebrating African culture on the continent and in the diaspora.

This year, Afro Nation will touch down in Puerto Rico for the first time over spring break—from the 18th to the 21st of March—on the beach of Balneario de Carolina. Headliners will include Burna Boy, Chronixx, Davido, 2Baba, Naira Marley and many more.
As the festival prepares to make its Puerto Rico debut this spring, we sat down with Smade to talk about Afro Nation, how it all started and what the future holds.
This interview has been edited for length and clarity.
---
Smade. Photo: Michael Tubes Creation/MTC. Courtesy of Afro Nation.
What's the story behind creating Afro Nation?

Smade: It felt like the culture had been missing this kind of festival where we could celebrate our own superstars and culture. Afro Nation was created to do that, to bring Africans in the diaspora and Africans in the continent together and to celebrate our own. We did it first in Portugal, which is central to every European country, so it was very accessible. The country is also very used to music festivals, so it felt right to do it there first, especially as the government was very welcoming.
For a lot of festivals like this funding is usually a problem, how did you go around securing finances for the first edition of Afro Nation?
We've been doing this for a while. I've been throwing parties and promoting club events for about 13 years, since my first year in university. I've been able to build great relationships with many celebrities like Davido, Yemi Alade, Adekunle Gold, so it was easy to pitch to them to get them to attend and perform. Promoting it ahead of time also helped gain financial resources. Between myself and my business partner—basically my business partner is the biggest talent manager in the UK and maybe Europe, if I can say so—there was enough repertoire to put this together and make it happen.
Photo courtesy of Afro Nation.
What goes into picking the acts that perform at Afro Nation?

Honestly, it is mainly talent. We also find out who is doing well, whether they are superstars or not. We identify who needs to be onstage to be celebrated around the world. So we identify who people want to see and we reach out to them. I'm talking about people from the Caribbean, Ghana, US, Europe. For the first edition of Afro Nation, we had the legendary Buju Banton, Busy Signal, Jidenna, Femi Kuti and other superstars from Nigeria like Davido, Wizkid, and Teni, all showcasing great talent from around the world.
What where the Ghana and Portugal editions of Afro Nation like?
The excitement was on people's faces in Portugal. They all came in numbers with their family to celebrate the culture. Some people were in ankara, kwente with their flags to celebrate where they're from—and it wasn't just black people but also people from all over the world. Asians, Caucasians and people from different parts came down to Afro Nation to celebrate. With the one in Ghana, we had people who had never been to Africa so we took it upon ourselves as promoters to show that Africa is more that what they see on the television, or on social media and what has been projected. It was really great to see people come back to identify their roots.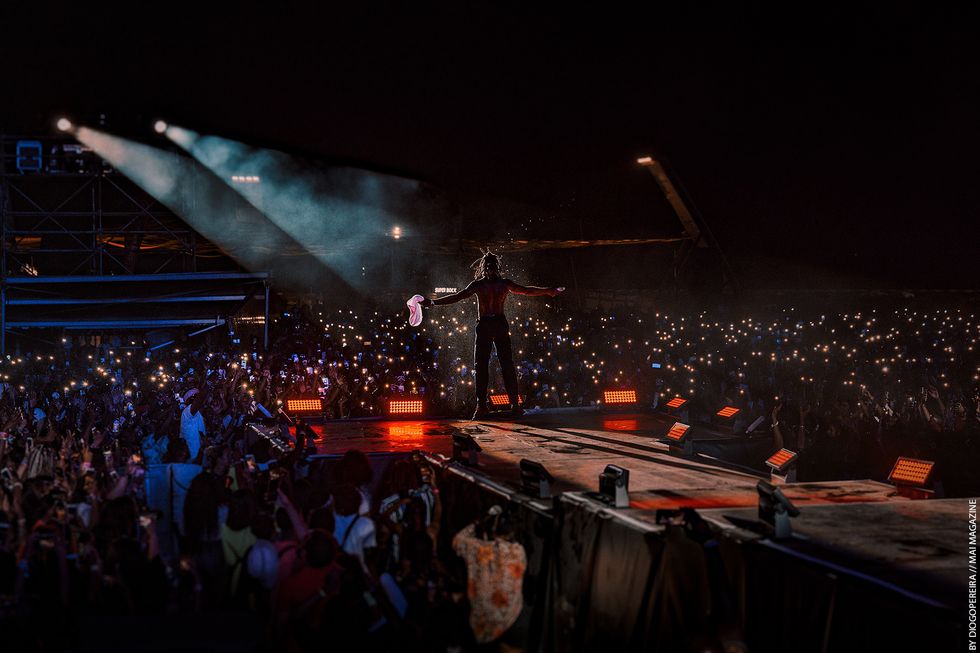 Photo courtesy of Afro Nation.
What should people expect from Afro Nation's next stop in Puerto Rico?

It's becoming like a world festival, where people from all over the world come to so they should expect something like a love festival. You come to Afro Nation to become one, to celebrate oneness, that's what we stand for. I still have people DMing me "take me back to Afro Nation" and "it was the best time of my life," people should expect to have fun and have the best time of their life and people should look forward to celebrating African culture and connecting with everyone.
What does the future hold for Afro Nation?
That's a great question. We are going to keep doing what we are doing, we are going to keep creating more superstars, we are going to bring people more, we are going to keep celebrating ourselves, we are going to keep creating more Wizkids, more Davidos, more Tenis, more Burna Boys. We are also going to celebrate the culture more, preach love and unity amongst ourselves. Afro Nation is a brand, a movement. Afro Nation is beyond just a festival, in the future we're going to have merchandise, a label, and we're going to own everything we can own to spread African culture, both in Africa and the diaspora.