Before heading to Portugal for Afro Nation, where he was billed to perform, Asake was sighted in France for Paris Fashion Week. Paris closed out the menswear outing that kicked off in London and through Florence and Milan. At the Botter spring/summer 2024 show, the Nigerian hitmaker sported a cobalt blue co-ord, silver sunglasses, and futuristic, 3D-printed sneakers with ridged soles.
At European fashion shows, Afrobeats artists are playing into the spotlight, stepping onto a vantage point as a result of Afrobeats cementing itself as a global phenomenon. Fashion brands have begun fostering ties with them, wardrobing them for red-carpet events or wearing their products at their runway shows.
The footwear Asake had worn was courtesy of Botter, a collaboration with Reebok and was first unveiled at Botter's fall/winter 2023 showcase. Asake was also at the courtyard of the Paris Mint, where Grace Wales Bonner presented her breezy coed collection. Over at Bluemarble, he sat front row with the likes of DDG, Heart Evangelista, Mia Khalifa, and Sebastian Yatra.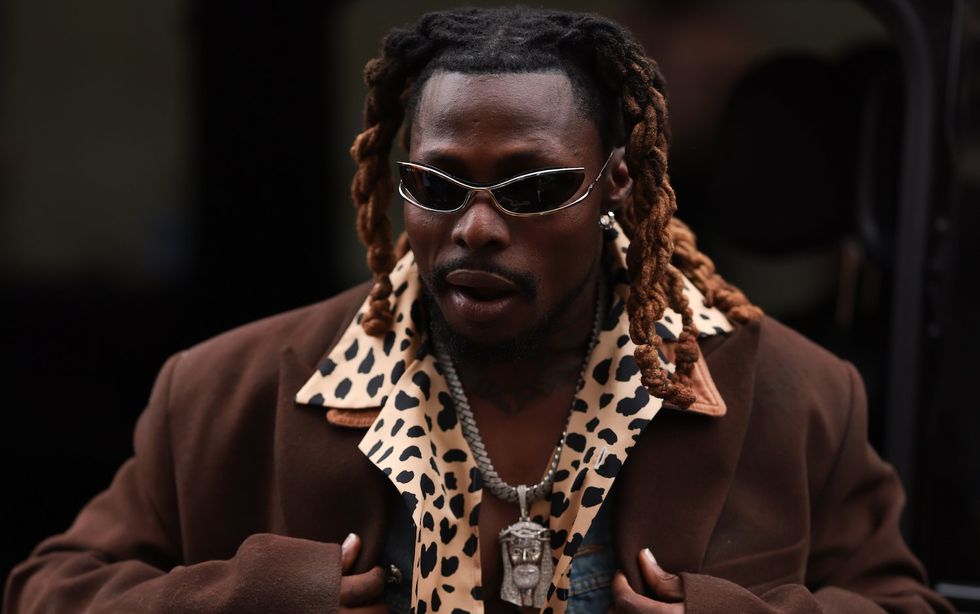 Mr. Money is seen wearing dark silver Gucci shades, brown braids, jeans trousers and a jeans jacket, a brown coat and a animal printed leotard shirt outside during the Bluemarble Menswear Spring/Summer 2024 as part of Paris Fashion Week on June 21, 2023 in Paris, France.Photo by Jeremy Moeller/Getty Images.
He was seen at the Sacai show, wearing a black tank top, slim dark gray pants, and diamond jewelry. Asake becomes the latest Afrobeats star making a guest debut at a European fashion week. It suits the blistering momentum of his career (two studio albums out, international tours, festival gigs) and interesting quirks in style (he had worn Balenciaga denim pants as a top).

Asake wasn't the only celebrity sighting in the French capital. The six-day schedule in June saw Tiwa Savage at Dior, Burna Boy at Christian Louboutin while Adekunle Gold appeared for Pharell Williams' high-stakes debut as creative director of Louis Vutton's menswear.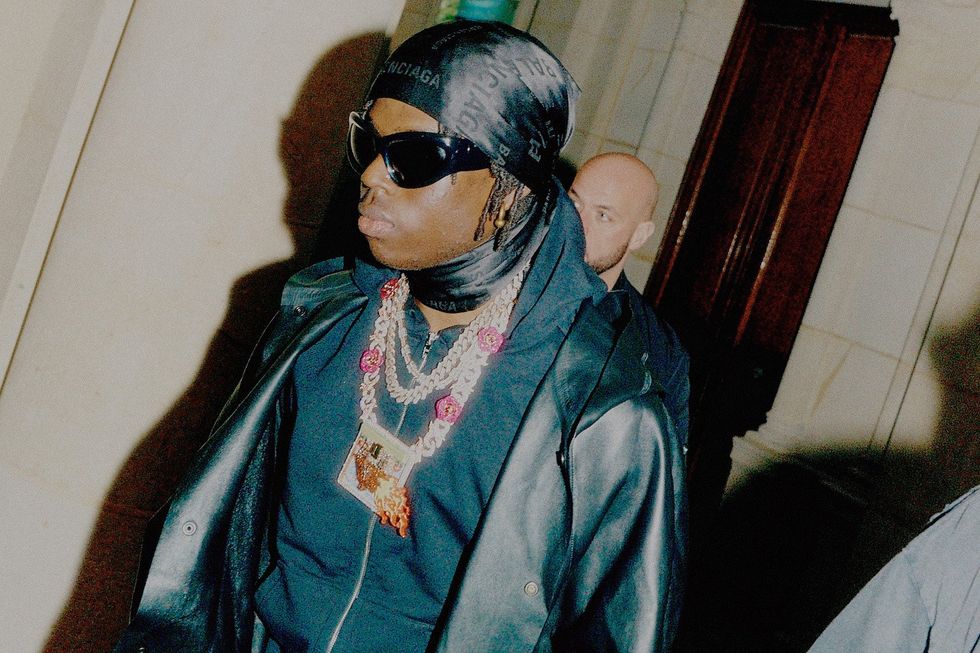 Rema attends Balenciaga on July 05, 2023 in Paris, France.Photo by Julien Lienard/Getty Images For Balenciaga.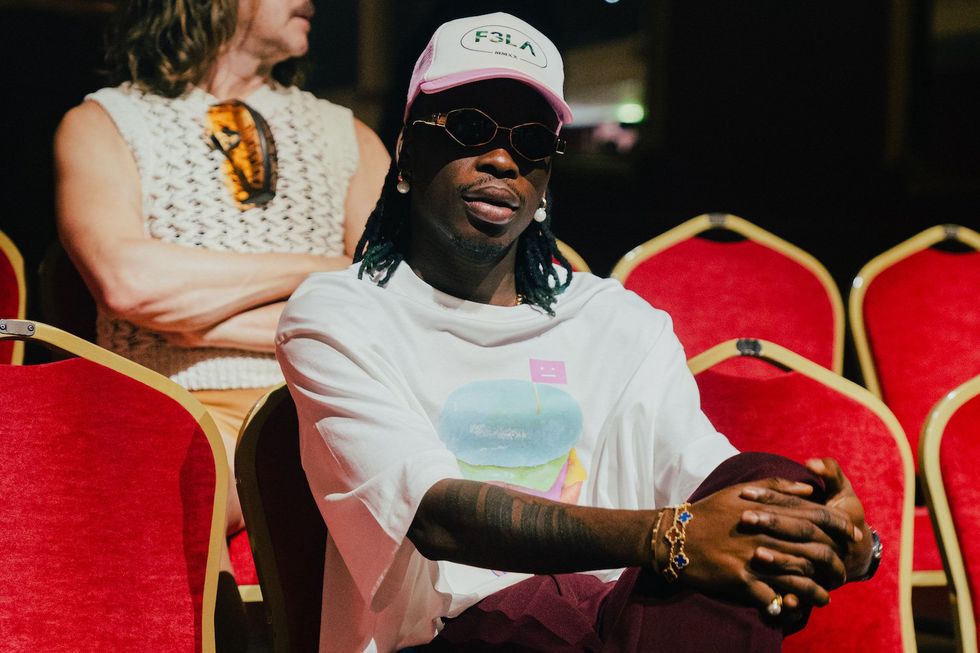 Fireboy attends the Victor & Rolf Haute Couture Fall/Winter 2023-2024 show during Paris Couture Fashion Week held at the historic Salle Wagram auditorium wearing a Viktor & Rolf ensemble.Photo by Ricky Thomason.
Fireboy showed up for Marine Serre, and when haute couture week came around in July, he was seated for Viktor and Rolf. Same for Rema, who pulled up for Balenciaga couture. The uptick of Afrobeats acts, especially top names, at these high-end events points to how far Afrobeats has come in recent years.
Afrobeats as a globe-spanning music genre
Afrobeats entered the zeitgeist due to a plethora of reasons. From groundbreaking collaborations, performing live on American TV talk shows, to a DJ merely playing a Burna Boy song in a nightclub in, say, Brooklyn. One of the most potent vehicles has been TikTok, though, which has catapulted a handful of Afrobeats artists to viral success.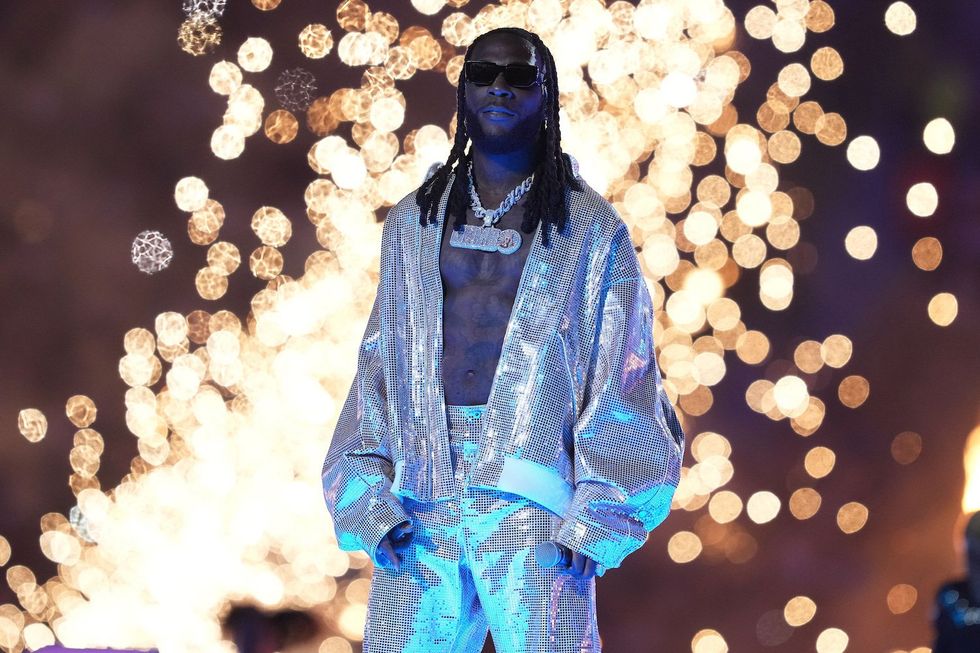 Burna Boy, Musical Artist, performs prior to the UEFA Champions League final match between Manchester City FC and FC Internazionale at Ataturk Olympic Stadium, Istanbul, Turkey on June 10, 2023.Photo by Franco Romano/NurPhoto via Getty Images.
CKay's "Love Nwantinti" became a globetrotting, chart-topping hit after it found love with new audiences on the platform. Wizkid and Tem's "Essence" was deemed song of the summer in 2021. Together, they remain foolproof examples of the dizzying heights Afrobeats has attained.

Even domestically, in Nigeria, a sonic awakening has ensued amongst fans and new listeners. And more than before, global markets are taking notice of Afrobeats artists as the new music royalty as they continue to sell out tour venues and win prestigious awards.
Why fashion shows?
Fashion shows already exist as rigorous, lavish productions backed by conglomerates like LVMH and Kering. As such, it pulls an exclusive crowd who often wield buying power.
While fashion brands aren't all helmed by multimillion-dollar empires, they still retain exclusivity and elitism. It's a gathering of industry power brokers, fashion editors, buyers, influencers, and celebrities. It's where brands unveil new collections, set new trends, and end with afterparties that are equally exclusive.
It stands to reason that the world of Afrobeats and fashion would collide. In 2018, Wizid not only attended the Dolce & Gabbana spring/summer menswear show in Milan, but also became the first African artiste to walk a European runway.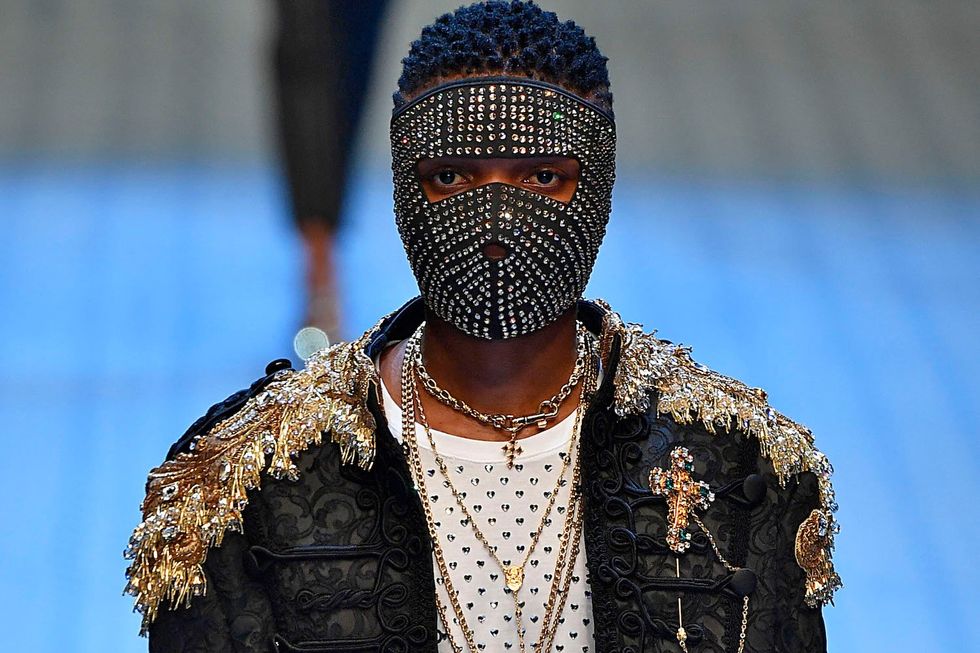 Wizkid walks the runway at the Dolce & Gabbana show during Milan Men's Fashion Week Spring/Summer 2019 on June 16, 2018 in Milan, Italy. Photo by Victor VIRGILE/Gamma-Rapho via Getty Images.
Wearing a gold-appliqued and embellished ensemble, with a studded balaclava, Wizkid's runway debut was a viral moment. About a month prior, the Afrobeats megastar sold out London's 20,000-capacity O2 Arena, making him the first African artist to do so. In 2017, he was the first Nigerian artiste to sell out London's Royal Albert Hall.

A career omnipresence made Wizkid one of the boldest avatars of Afrobeats. It's an acclaim that penetrated the forcefield of fashion. And Wizkid arguably paved the way for what's possible with Afrobeats and fashion. Davido, another heavyweight, walked for Puma at NYFW this year.
Wizkid's iconic runway appearance is still leveraged as bragging rights by fans, and it's shaping conversations about which Afrobeats star is fashionable. Further, fashion shows intersect many more axes of pop culture than movie premieres, album release parties and sporting events. In a landscape obsessed with personal image and online virality, attending fashion shows can earn one cool social points.
In the lead-up to runway presentations, streetwear has drawn mass-scale attention for welcoming all range of personal expression. It's a segment of fashion week that is relatively more public-facing — a democratization that's here to stay.
The new brand opportunity
As brands constantly look to expand their retail footprint, convert activations into sales, and broaden their overall appeal, Afrobeats stars are slowly making their way into the value chain. They aren't just attending fashion shows (which they are invited to), but also seen in the brand's merchandise.
A similar thing has happened to K-pop artistes, who are seemingly ahead as they have become the muses of luxury brands like Dior, Chanel, and Louis Vuitton. An Afrobeats star who is closer to fitting this category is Tiwa Savage, who has been quite a fixture at fashion shows.
At NYFW in 2019, she was seen at Pyer Moss spring 2020, wearing an athleisure matching set from the brand's latest collection. She attended the LaQuan Smith show wearing a sensual, body-fitting dress with a polaroid mugshot print from the brand.
She has been to Alexander McQueen twice: the SS23 showcase in 2022 and AW23 in 2023. For the latter, she sported the brand's slashed, Hieronymus Bosch thigh-high boots and bag, taken from the SS23 collection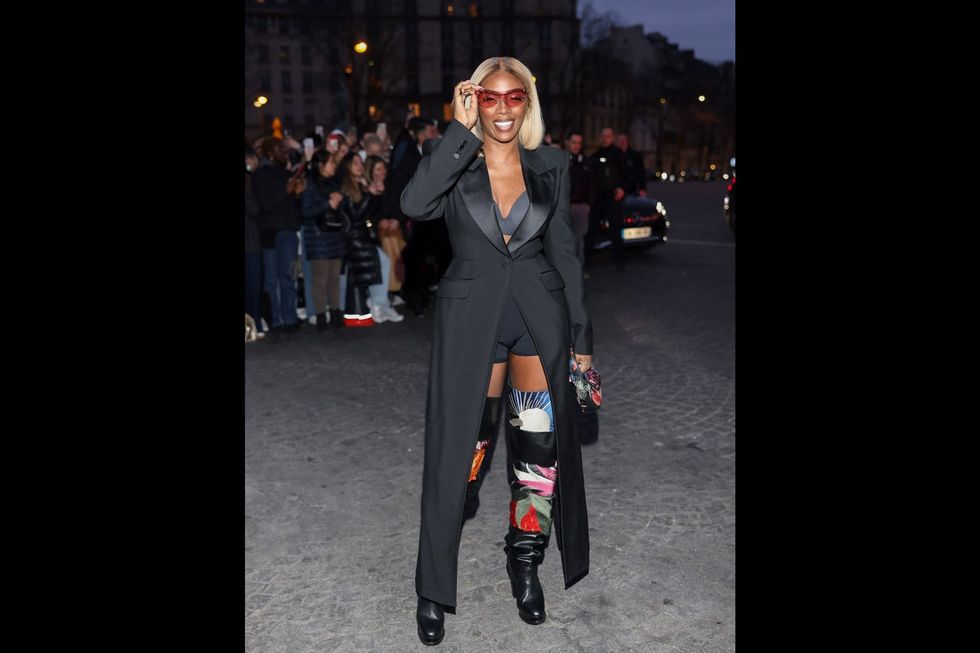 Tiwa Savage attends the Alexander McQueen Womenswear Fall Winter 2023-2024 show as part of Paris Fashion Week on March 04, 2023 in Paris, France.Photo by Arnold Jerocki/Getty Images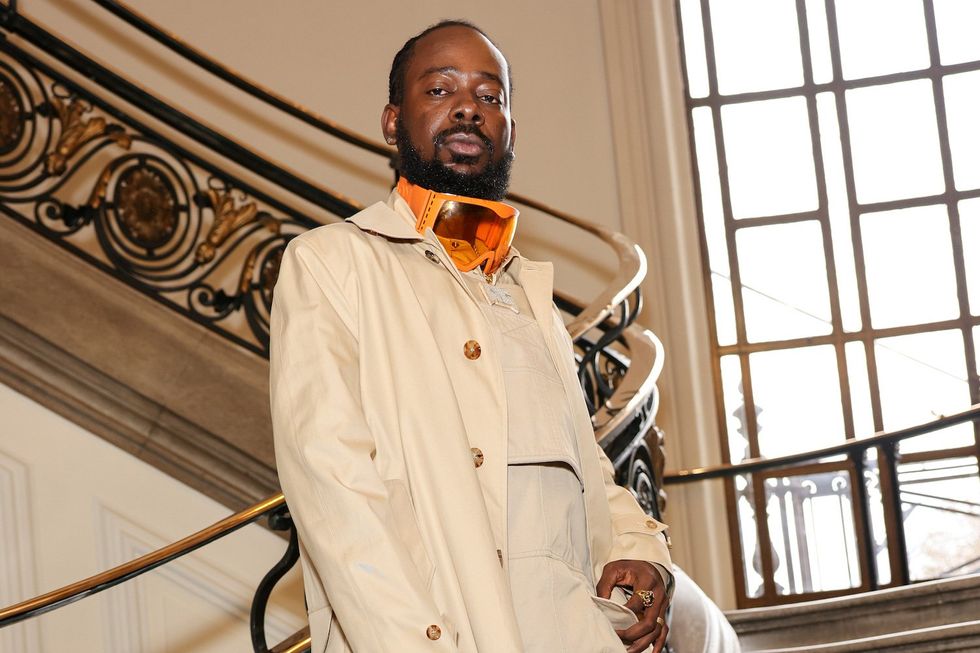 Adekunle Gold attends the Burberry Autumn/Winter 2022 Runway Show, the brand's first live runway for over 2 years, at Central Hall Westminster on March 11, 2022 in London, England. Photo by David M. Benett/Dave Benett/Getty Images for Burberry.
Adekunle Gold wore a green Louis Vuitton jacket to Pharrel Williams' debut show. In an Instagram video, the star flexes around wearing denim Hakama pants from Kenzo. This isn't Gold's first rodeo. He attended the Burberry's AW 2022 show in a beige Burberry two-piece, alongside Davido.

Outside the arena of fashion shows, brands are cultivating relationships with Afrobeats stars in a way that signals to the public that they are aware of the cultural pulse. Tems and Burna Boy are new muses for Robert Wun, the rising Hong Kong designer who stunned the fashion world with his couture debut early this year.
At Burna Boy's historic stadium tour show in New York, the designer reworked his "burnt bride" couture look for the powerhouse. The scorched details were there, but the outfit was updated for more practicality. This is the third time Burna Boy has been in Robert Wun.
It's clear the presence of Afrobeats stars at fashion shows runs deeper. At the barebones, luxury brands are concerned with meeting their bottom lines and maintaining top-of-mind awareness. A progression from here is installing Afrobeats stars as brand ambassadors or face of their products. There's a feeling that this is already in motion.