A lot has happened since afrobeats rose to global fame near the end of the last decade. Multiple sellout concerts, Grammy awards, and critical acclaim have become common occurrences as popular music from West Africa has maintained a ubiquitous presence across the world. However, the narrative around the genre has been centered around talking points raised by corporations, agencies, and individuals who don't often possess a contextual understanding of its origin, rise, and evolution.

For years, critics, historians, and academics have raised concerns about the continued absence of African voices on frontline platforms documenting popular African music, its key players, and landmark moments. Most of the criticism that has emerged is predicated on the subtle attempt of western institutions to interpret, contextualize, and classify our music through European-American lens that has often left important stories and key details adrift.
Attempts to have African voices documenting the progression within the genre have reached a crescendo in 2022 with a slew of documentaries following the rise of afrobeats from a scattergun industry of talented music producers, recording artists, video directors, and choreographers to global pop powerhouse.
Netflix's Afrobeats: The Backstory — helmed by filmmaker, manager, and lawyer Ayo Shonaiya — offers an intimate take on the development of the genre. The other docuseries, a 10-part Showmax original titled Journey of the Beats, was produced by creative entrepreneur Obi Asika and takes a complex approach to documenting the genre, situating the rise of afrobeats in the wider context of black artistic expression, starting from slaves forcibly taken away from Africa during the transatlantic slave trade.
Both documentaries credit the golden age of R&B and hip-hop in the 1990s as an undisputed creative influence on afrobeats. "When the likes of The Remedies and Plantashun Boiz came out, we were just happy that we had our own version of what we saw in America," Ayomide Tayo, a respected music critic and executive, says. "It was hip-hop but it was local to us. It had a lot of slang, and a lot of local languages put together, and the instrumentation wasn't just pure hip-hop, they were fusing indigenous Nigerian records into it. To us, we felt like that we were at the highest [point] we could get."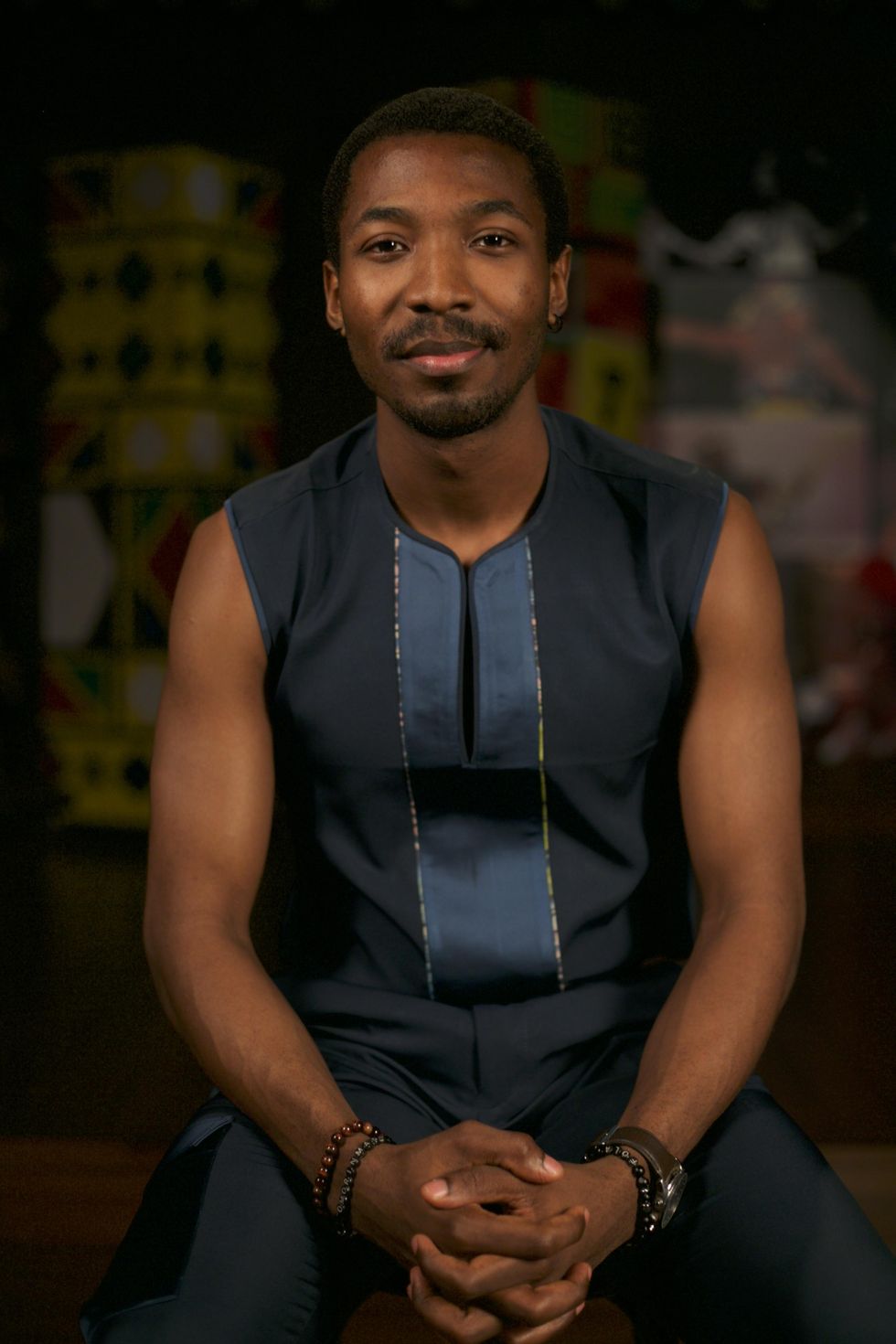 Made Kuti being interviewed for Showmax's 'Journey to the Beats.'
Courtesy of Showmax
Asika also agrees that the infusion of Nigerian language and slang over hip-hop instrumental, explored in the second episode of the docuseries, was a game-changer for the genre. "I would say I knew [we were creating something new] as far back as 1989, but I knew definitely when we had Junior and Pretty back in 1991," he says over a Zoom call with OkayAfrica in mid-August. "We were the hip-hop generation and were not making traditional music in that sense, not like Femi Kuti and all those guys were doing. We knew we were doing something different, the question was if we had the talent and will to bring it to the world. I'm happy that we did because once we infused our own language and expressions into the music and changed the beats to our own music — it became afrobeats."
A significant part of the early exchanges in both documentaries is dedicated to investigating the etymology of "afrobeats" with a straight line being run through Fela Kuti's Afrobeat — an electric fusion of jazz, highlife, and soul — and DJ Abrantee coining afrobeats as a catch-all term for popular music coming out of Africa. Jide Taiwo, a writer on both documentaries and the author of History Made: The Most Important Nigerian Songs Since 1999, believes that the name is a misnomer. "I was privileged to be around when 2face, Tony Tetuila, and people like that were making music and what they did at that time wasn't called Afrobeats," he said. "We all know that afrobeats is just a portmanteau term that somebody just came up with. The nature of Nigerian music is very eclectic and very varied so it is impossible to just put all of them under one umbrella term. But again, that's the name that the world has come to adopt in the last five to seven years that we've had mainstream global appeal, so I'm a reluctant accepter of the term even though I might not used it myself."
For Asika, the need to start documenting what was happening in the genre started to crystallize in his mind a little over 10 years ago, even if he didn't necessarily have the tools for it then. "By ten years ago, it was already necessary to document what was happening on the scene because a lot was going on," he said. "We had to ensure that the right information was being presented to the world as our music was going global." According to Shonaiya, the idea to create Afrobeats: The Backstory came after watching Davido's headline show at the O2 in 2019. "The day I actually decided I was going to start this documentary was when me and my friend and partner, Abass, were at the O2 watching Davido. It was absolutely crazy. Idris Elba came out and Davido came from the sky. I looked around and saw over 20,000 people at the 02 Arena."
According to Taiwo, Afrobeats: The Backstory leaned heavily on Mr. Shonaiya's work in the industry. "He's been a lawyer, he's been an exec, and he's been a producer. He's done all of these things and this documentary is his way of telling his experience of meeting certain people, doing certain things and trying to find all of those connections," Taiwo said. "If you look closely, there are always connections. One of the stories that he told is that he met Freestyle first who then introduced him to eLDee and the rest of Trybesmen and that's how he got to know that they were not just three people but about 10."

On Journey of the Beats, Taiwo worked as part of a team — led by Nigerian historian Ed Keazor — to investigate the history of afrobeats from pre-colonial times. "Ed Keazor led that team but there were a bunch of writers who got involved at different times," he said. "I grew up in Ibadan, so how I saw it coming out of that area was different from Ayomide Tayo who was born in Lagos and broke the story of Da Grin's death. So, we just came together to join our views of the culture and filter it to give the most accurate representation of our music." Tayo believes that this approach to making Journey of the Beats is important to understanding afrobeats' current trajectory. "It's about heritage. You can't celebrate Nigerian music without celebrating what came before because doing that leaves a huge vacuum," he said. "It would feel like today's singers just fell from space with their music. That's why the documentary is taken in decades, which allowed us to properly navigate how a Joeboy or Rema is just the modern reincarnation of a pop singer from the '80s."
Asika believes that Journey of the Beats is a historical effort that contributes to the body of knowledge about African culture. "What we did is not Obi's opinion, it's our history, documenting what has been happening in African music since pre-colonial times," he said. "Our documentary tracks what happens since pre-colonial Africa to the essence of who we are in relation to our music and how the music has travelled because hip-hop is us, rock is us, and R&B is us. That's what happened when we arrived in the new world 500 years ago, we impacted music and music changed. Then there are the last 200 years when Africans have been coming back to Africa and, as they have come back, they have brought new things and that has also affected us here. The Journey Of The Beats was about that journey that many people had not acknowledged and it's important we tell it from our perspective because the world has been hearing the perspectives of others for so long it's time they heard our perspective too."
Journey of the Beats also takes in the point-of-view of actors like journalists, fashion designers, academics, intellectuals, and show promoters, giving a rounded edge to the journey of the genre. "I think the key takeaway of this documentary is that in a way we are not seeing anything new but you have to respect the stage and level that the Wizkids, Davidos, and Burna Boys are playing at, we cannot take it for granted because it's not easy and there was no roadmap for what was possible," Asika said. "The impact that these guys and others like them have is what I'm excited about because afrobeats is no longer just about music, there's an entire culture around it."
Following the release of these documentaries, there's been some criticism for some inaccuracies with veteran musician Dare Fasasi, aka Baba Dee, pointing out the lack of credit for his efforts. "The poor attempt to change the narrative of the evolution of the Afrobeat Music genre by latter participants who took the narrative from their own perspective while disregarding important events and players is not a true representation of Afrobeat back story," he wrote in an Instagram post. Others have pointed out that both documentaries place a heavy focus on Lagos, London, and Accra, smudging the influence of regional hotspots like Enugu and Port Harcourt.
Still, there's a belief that this is only the beginning of an archiving effort that has been years in the making. "The immediacy that technology enables makes it criminal if we have all of these tools now and we're not the ones telling our story," Taiwo said. "You can bring out your phone right now, record a podcast, and send it out right now, that's the advantage that we have these days. It's criminal if we're not doing it now and all of them do not have to be Netflix exclusives or Showmax originals."