News
A New Afrofuturist Mixtape & Essay Project Explores 'Black Mythocracy' Through Music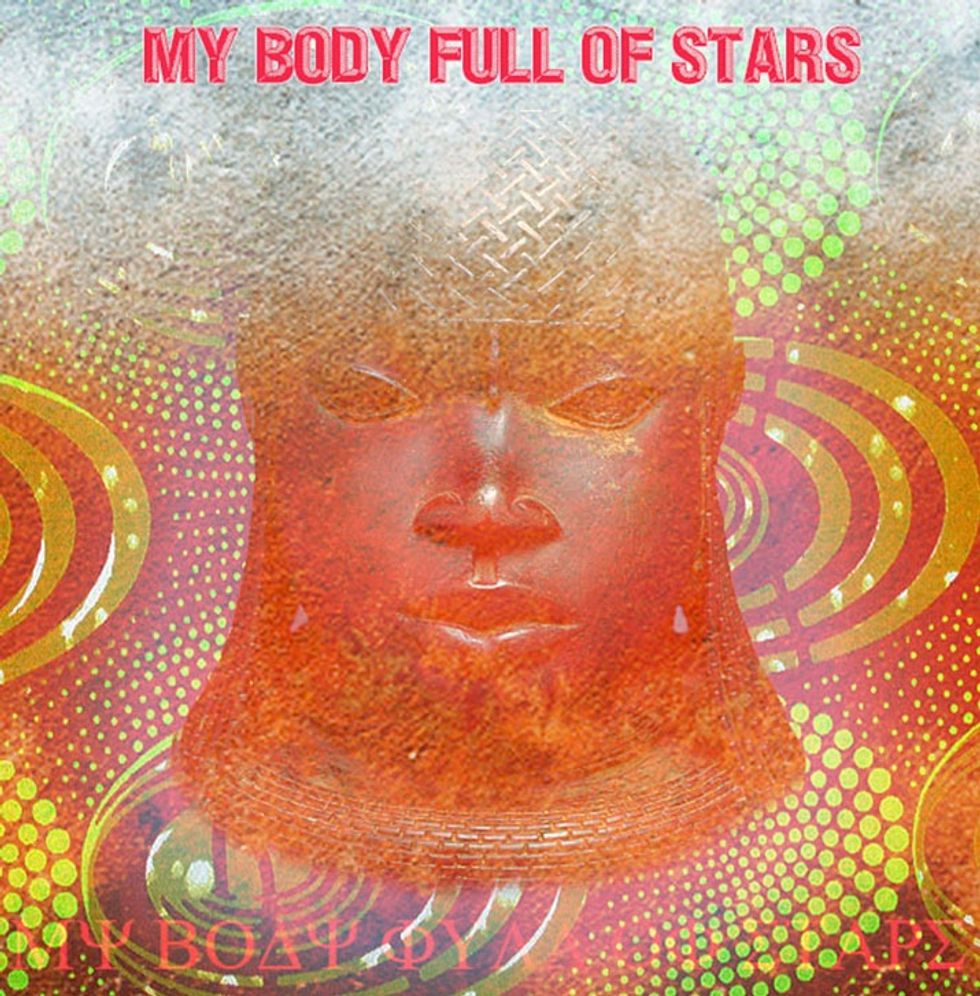 Emma Dabiri and Ian McQuaid's Afrofuturist mixtape/essay project 'My Body Full Of Stars' explores Black Mythocracy through music.
---
Irish-Nigerian writer and sociologist Emma Dabiri recently reached out to us with a new project she's been working on about Afrofuturism. The multi-media piece, My Body Full Of Stars, explores the use of Afrofuturist aesthetics in music as a tool for rewriting history and imagining the future. Consisting of an essay by Dabiri and an hour-long mixtape curated by music journalist and producer Ian McQuaid, the project presents a sonic framework that allows for Afrofuturist readings of music from the continent and across the diaspora. In her essay Dabiri explains:
"Afrofuturism carves out a space for black people to write ourselves into speculative pasts and futures, to reimagine our identities beyond and before human history and form. The necessity of such philosophical work, in the face of what might be considered more pressing, material demands, should not be underestimated. Martin Luther King urged us to realize that nobody else could provide us with liberty or freedom, reminding us that no document can do this for us...no emancipation proclamation... no civil rights bill can do this for us….nobody else can do this for us…if the negro is to be free he must move down into the inner resources of his own soul and sign with the pen and ink of self asserted manhood his own emancipation proclamation.

What more effective way to facilitate accessing the soul than through the alchemy of music, which exists primarily in indigenous African cultures for such purposes. Throughout Africa, music, song and dance, have never been reducible to entertainment alone. These art forms were devised in order to bridge the gap between temporal planes; the present and the eternal worlds. From the mbira of the Shona, to the kora of the Mande, the bata of the Yoruba, and the ngoma drumming found throughout eastern, central and Southern Africa, music has always been a tool for societal transformation.

Whether used to petition ancestral spirits, to document histories of rebellion and resistance, as narratives of intergenerational memory, to promote psychosocial healing, or a combination of all, music has remained central to African civilizations. The reason that music of African origin provides the foundation for almost all contemporary popular music is because of this ability to channel the divine, providing a depth, a soul so often missing in this neo-liberal moment."
McQuaid's accompanying mixtape is divided into three movements, and features selections from a wide range of artists, including  Jimi Hendrix, DJ Cndo, Okmalumkoolkat's Dirty Paraffin, Shabazz Palaces, Azealia Banks, Missy Elliott, Ghana's Bryte, Laura Mvula, Le1f and the London Lucumi Choir. Peppered throughout the mix are speeches and interview snippets from noted jazz icon Sun Ra, who first mentioned the concept of a black mythocracy in his 1971 lecture "The Black Man In The Cosmos." Though not all the artists featured on the list present overtly Afrofuturist themes in their music, Dabiri points out that their work "embod[ies] the musical innovation that drives the concept." McQuaid also shed some insight into the mixtape's structure with his own playlist guide:
"The first songs offered are the soundtrack to the dancing steps of the Earthbound. These are club songs, dance tracks that have the future nagging in their blood.[...] The second movement opens with a clear switch. Tension builds. Reality tightens the screws. A speech, culled from UK dystopian sci-fi show Black Mirror signals the dawning of a realization that on Earth, in this history, in this time line, the odds are stacked. The lyrics take a turn[...] The third movement starts. The Earthbound begin the search for other spaces, riffling through time, myth and parallel worlds."
Read Emma Dabiri's 'My Body Full of Stars' essay in full here and stream Ian McQuaid's accompanying mixtape below. For more, follow Dabiri and McQuaid on Twitter.