AKA was by no means the first South African hip-hop artist to become a crossover superstar. HHP, PRO, Teargas, Khuli Chana and the likes before him were massive, but they moved with a kind of humility that you couldn't associate with AKA. Some called it arrogance, he and his fans called it confidence, knowing and believing in yourself.

His double superlative "Supa Mega" moniker emphasized just how highly AKA thought of himself. The man was larger than life; he spoke with a natural conviction and walked in surefooted strides. In the early 2010s, AKA shattered boundaries when he became the first SA hip-hop superstar to rap exclusively in English. Rappers like ProVerb, Stogie T and Zubz before him were successful niche artists that catered to staunch hip-hop heads, but AKA was huge. His debut album, Altar Ego spawned hits such as his breakout, "Victory Lap," "I Want It All," "All I Know" and "Bang."
He was impossible to ignore. He swept the Metro FM Awards in 2011, giving pop star Zahara a run for her money. From around that time, he became known as The Prince of SA Hip-Hop.
Levels
With his platinum-certified sophomore album, Levels, AKA decided to go even bigger. Sampling dance music when every rapper was sampling kwaito in the mid-2010s, AKA created an album with a sound so expansive he started performing with a live band. The records on Levels were extravagant and had a pop sheen that made his music even more palatable to the non-hip-hop fan; songs like "Congratulate," "Sunshine" and the pan-African pop juggernaut "All Eyes On Me" which featured Burna Boy, Da L.E.S and JR.
But rap bangers like "Run Jozi," "Sim Dope," "Kontrol" and "Pressure" kept him tethered to hip-hop and made sure no rapper wanted the smoke from him. 2015's "Composure," a vicious diss track aimed chiefly at his arch enemy Cassper Nyovest, proved to those who still needed convincing that AKA was one of the best to ever rhyme in Southy.
---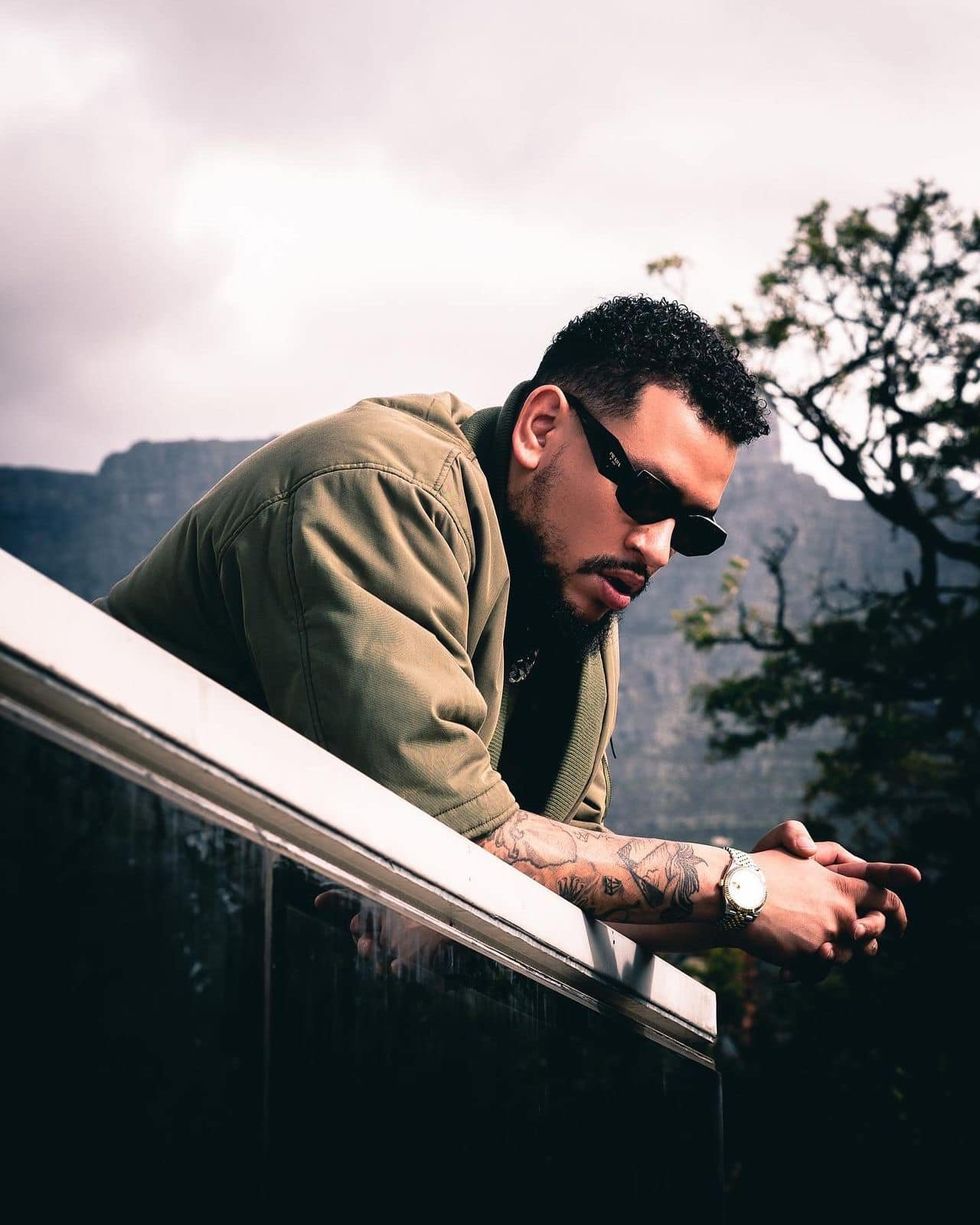 AKA's press image that accompanied "Lemons (Lemonade)" single.(AKA/Vth Season)
For the rest of the 2010s, AKA remained untouchable; taking time to spar with the likes of K.O, Stogie T and Reason, and making pop hits with the likes of Tresor, MiCasa and Yanga Chief.
The Levels era has to be AKA's best. Once again, he broke new ground when he forged his way into Nigeria and other African countries. It was around this time when he adopted the moniker Supa Doro Mega, which later became simply Supa Mega. AKA led the movement that gifted the continent with a slew of Mzansi-Naija collaborations, an era that was unfortunately short-lived but while it lasted it was a marvel to witness. It included era-defining hits like "All Eyes On Me," "Khona' by Mafikizolo and Davido, Ic Prince's "N-Word Remix" featuring a ferocious verse from AKA, "Rands and Nairas" by Emmy G and AB Crazy, DJ Maphorisa, DJ Bucks and Wizkid's "Soweto Baby" and several others.
By the end of the 2010s, it was clear AKA was unstoppable. He had been an A-grade hitmaker for a decade, a feat only him and K.O have achieved in South African hip-hop. Towards the end of the decade, he released hits like "F.R.E.E" and "Energy" at a time when amapiano seemed to be the only genre South Africans listened to and extremists were going as far as declaring that hip-hop was dead in SA.
Controversy
Then, in April of 2021, AKA's fiancee Anele "Nellie" Tembe passed away after falling from the 10th floor of a hotel where the couple was staying in Cape Town. The country was in shock and sympathized with AKA whose family described as "inconsolable." But when images and footage depicting the couple's troubled relationship surfaced online, it sent the message that AKA could have abused Nellie and was partly responsible for her death.
An interview he did with news channel Bar Leader a month since Nellie's passing further strengthened the masses' suspicions. Apart from looking grief-stricken, AKA wasn't coherent. Asked about the footage and images, AKA responded, "I regret and it's not something that I am proud of but I am not an abuser. I would not abuse Anele, I treated her like gold."
He would take some time off from the public eye only to resurface about a year later. He released an album titled You're Welcome with young rapper Costa Titch. You're Welcome hardly moved and remains one of the Megacy's, as his fanbase is called, least favourite AKA projects. Mega was just not ready.
Mass Country
Released a year later, his collaborative single with Nasty C, "Lemons (Lemonade)," would become a serious hit, proving one more time that AKA had hit-making down to a tee. He was still chopping dance music samples as the song was built on Stardust's "Music Sounds Better With You." Producer Christer used amapiano's log drum instead of 808s to give the song a new age South African flavour. Nasty C's verse is still one for the books. AKA came through and asserted his place as an unflinching legend of SA hip-hop.

"Lemons (Lemonade)" was the first single to his comeback album Mass Country, in which AKA promised to incorporate even more South African sounds into his hip-hop and pop. His last Instagram post before being gunned down in Durban on Friday night was an announcement of the album's release date. The hype was crazy. Supa Mega was releasing an album after a dark period marked by controversy around his life and music that didn't live up to fans' expectations. His family and team have now revealed that the album will still come out as planned February 24, to honour and respect AKA's legacy.
AKA had been able to live past Nellie's sketchy death. He maintained his innocence, but some people weren't convinced as, upon seeing fans mourning his death, they made reference to her passing which they felt he needed to take responsibility for. No one will ever really know what happened between AKA and Nellie. Seemingly no one will know who is responsible for AKA's death as well; it happens a lot in South Africa.
The killers of amapiano and nightlife powerhouse DJ Sumbody who was gunned down in November 2022, are still out there, and so are the killers of countless South Africans who weren't public figures. South Africa has a long history of gun violence and celebrities being victims of it only reignites the conversations.
Like everyone, AKA had his shortcomings as a human being. He was never shy to show the world his imperfections and he expressed himself fully even when his views went against the masses. But, one thing is undebatable; musically, he was one of the best to ever do it in South Africa. Long live, Supa Mega, live long.