While he was studying drama at the University of Cape Town during the mid-90s, Akin Omotoso realized he didn't really like acting. He liked it enough, but he didn't love it. "I was like, 'I better find something else to do, because this is gonna be a problem.'" He enjoyed writing, like his father and sister (Kole and Yewanda Omotoso) who both became novelists, but didn't have the patience to go that route. What he did love, he knew for sure, was telling stories. "The idea of being a filmmaker, a director, where you're telling a story using different tools was very attractive to me." So he borrowed the drama school's VHS camera and took it to shoot basketball practice.
The Nigerian-born filmmaker came full circle when his Disney feature film about NBA star Giannis Antetokounmpo, Rise, debuted in June this year. Filming his basketball sessions all those years ago laid the foundation for his filmmaking career, which began in earnest after he graduated, when he continued to act but used the money he earned from it to fund his directing pursuits. His captivating dramas from God is African to Man on Ground and Vaya dealt with themes of migration, home and familial bonds; themes he'd go on to explore in Rise – his first major studio production. He may have been in the game for a while now, but Omotoso's only just beginning to show us what he's got.
He spoke to OkayAfrica about working with streaming networks, holding onto his dreams and what's still to come.
Interview has been edited for length and clarity.
You directed Rise for Disney, The Brave Ones series for Netflix, which comes out on the 16th of September, and are producing Gangs of Lagos and LOL for Amazon Studios' first foray into original Nigerian content, so you have a great overview of what's happening in terms of the demand for African film and TV content. What has your experience of the big studios and streamer interest in Africa been like so far?
In terms of all the streaming platforms coming to the continent, I think that you can see they're doing the work. Some of them are new, some of them have been there longer; Netflix has been there a little longer. As someone who started in 1997 – who's been in this a long time – I can definitely see the commitment to storytellers and stories. I always tell people, the stories have always been there, the filmmakers have always been there, but sometimes the outlets of distribution were not there. So what this time has afforded a lot of people is the fact that now you can watch this stuff.
In the past, a film may be at a film festival that you might never see or some distributor will tell you, 'nah, these films don't work here.' Netflix drops the stuff and it's in 190 countries. That's really the thing I'm tracking, because the work has always been there. Same with the music. The music has always been there. It's like at some point somebody went, 'Oh, hello!' but we've been listening to the music. We've been watching the movies. Now these platforms allow the rest of the world who weren't watching before to watch. That, for me, is the exciting part.
For you, personally, has that meant getting to explore more genres, like The Brave Ones, a sci-fi?
There was nothing in the way we were going that made me feel like I could pitch that story to any of the regional [studios]. Those sci-fi stories have always existed, look at, for example, Jean-Pierre Bekolo's work in Cameroon. But Netflix provided the platform, the right place, for this part of my life, which I like, to explore it. So kudos to them. They've been so supportive. It has been very encouraging. I've always wanted to do this but there was just never the outlet to do it. That's the thing again; all these things were so far and few between but if you look at a lot of the cinema, a lot of people have done this stuff, it's just like no one really saw it, or it didn't reach a wide audience. So I feel very lucky. That dream met the platform, and you get to see more.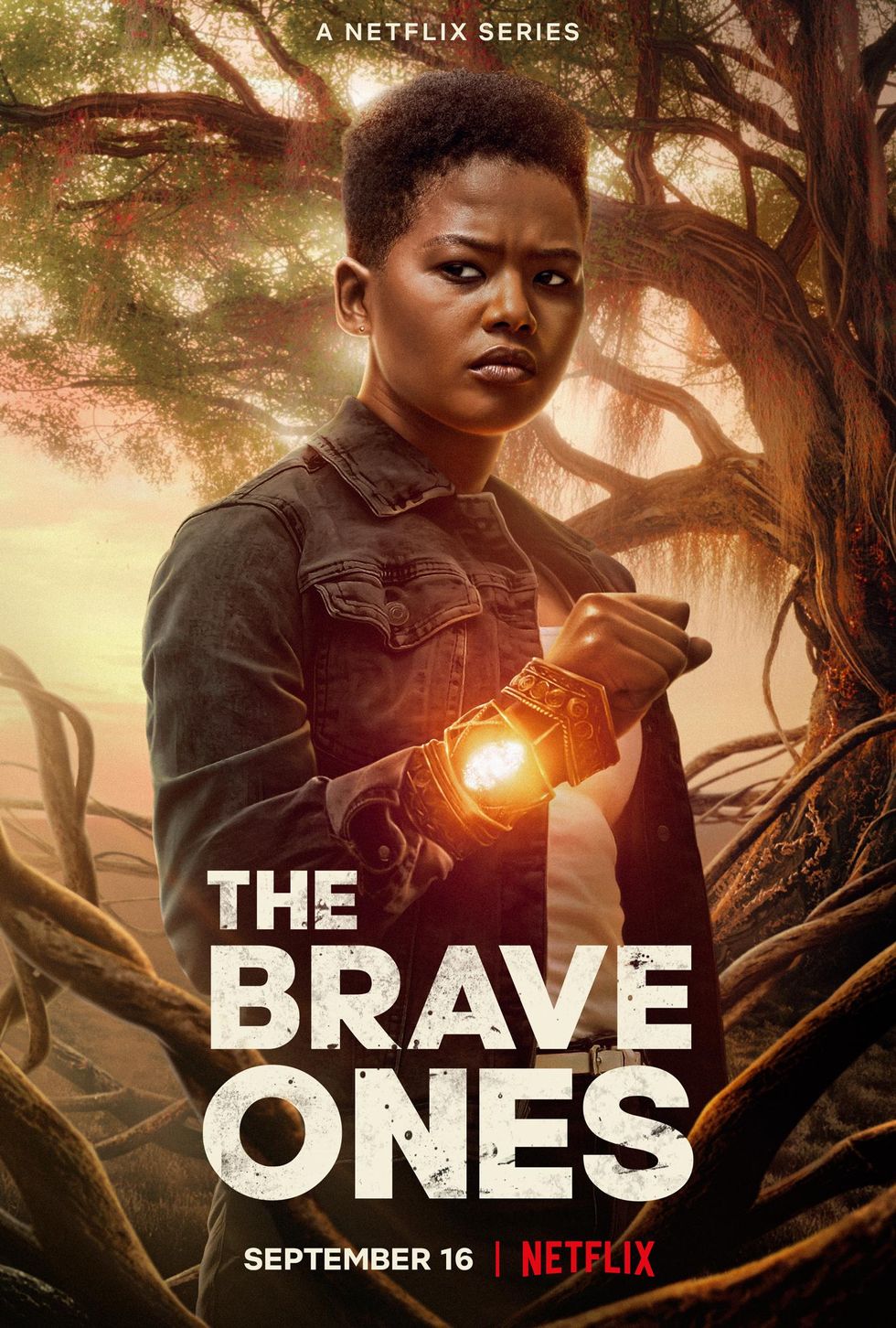 The Brave Ones is director Akin Omotoso's chance to play in the sci-fi world, while serving up unique African content for Netflix.
Photo: Netflix
You pitched The Brave Ones to Netflixin 2018, when they first reached out to creatives in Africa, and it was green-lit in 2019 -- was working on it how you'd envisioned it would be when you first thought of it?
I've had the idea in my head for many years, the idea of African gods and African spirituality, even though at the time I didn't know that's what it was gonna be called. It was sparked in my imagination when I was 12 years old and I've been collecting images and ideas for it since then. So when you now have the opportunity to do it, then you have to go, 'Okay, well, what does this actually entail? What does it mean to create the worlds? To have somebody lift someone off the ground? So you learn and you bring in different partners and you start understanding the VFX world a bit more, and understanding action, and all the stuff that, traditionally, with how we were working, we just didn't have the budget to access. So it was great.
Everybody buckled in to the challenge even as we navigating the pandemic to do it. But every day, I was constantly reminded, 'Everyone is gathered round to do something you dreamt about for so many years.' And who doesn't want that? It's the same thing as it was for Rise. It's like keeping that article in Sports Illustrated about Disney [making a Giannis Antetokounmpo film]and saying to my agent, 'Hey, please get me in that room,' and keeping that magazine by my bedside, and then a year later, they watch Vaya and say, 'Okay, cool, you can come pitch us.' So it's also the work, your track record, the stuff you've done. This is what I dreamt of doing. And the same thing with The Brave Ones. I've always wanted to do this. I'm just really fortunate, and I feel very blessed.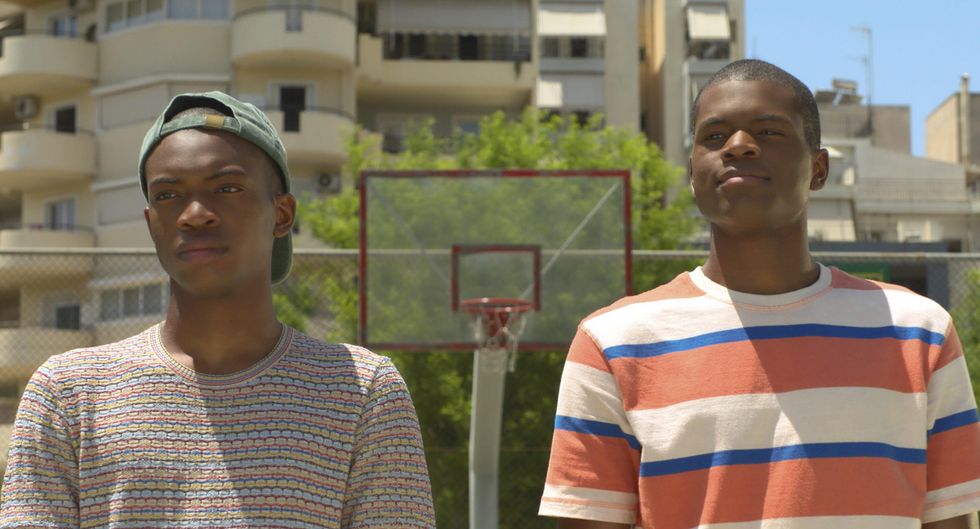 Akin Omotoso directed Ral Agada as Thanasis and Uche Agada as Giannis in Disney's Rise, which premiered on Disney+
Photo: Disney Enterprises, Inc.
You've got other projects on the go, too, with Prime Video; their first Nigerian originals, Gangs of Lagos and LOL: Last One Laughing Naija, as producer -- what drew you to those?
I'm a big fan of [Kemi] Lala Akindoju, who's a producer and we've worked together on The Ghost and the House of Truth, she did the casting on Rise, and is in Rise. She was producing [director] Jade [Osiberu]'s film. I like what Jade does, how she thinks about film and her ideas. So when the opportunity came to collaborate with them on Gangs of Lagos, and this is long before Amazon came on, I was there. Again, all these things are coming from a place of pure passion and pure excitement for the project before where they happen to end up. And people have supported me, so I want to be able to help out and support others, especially people who are passionate. So that one was a no-brainer, because both those women are dynamic; they're the leaders of the new school.
[Editor's note: After this interview, it was announced Jade Osiberu has signed a 3-year overall deal with Prime Video.]
With so many streaming options and so much to watch, do you think there's a challenge for African content to stand out among it all?
I think it's always still the same, what is the story? We haven't even started yet. Like, just think about this. In certain cinematic cultures, they've adapted books five times, six times, seven times. We haven't even adapted a lot of our books, and we have some of the greatest authors in the world. The field might be crowded, but who is watching and who feels like, 'Hey, this person is talking to me.'
Much of cinema is universal, but people don't always see themselves in the stories. We're living in a time where people are talking about what we've always said, which is you should be able to recognize yourself on screen. A lot of those literary pieces haven't been adapted yet. So we're just warming up. The only thing that matters is the story. Audiences are going to watch the story, whether they like it or not like it is not in our control, but we can control the story and how we do it.