"When I hear myself through Nicholas, I find me [sic] too radical!" French filmmaker Alice Diop jokes during our conversation, after hearing some of her words and thoughts filtered through her translator Nicholas Elliott.
Diop was responding passionately to a question about the tensions in France between holding onto assimilation policies and embracing a more modern ethos of inclusion and diversity. She is tying her argument to the radical leaning of French republicanism, which is very, very different from the conservative spirit embraced by the Republican party in the United States, where she is expected to appear in October to present her latest film, Saint Omer at the New York Film Festival.
Saint Omer marks Diop's transition to fiction after seventeen years working as a documentary filmmaker. The film, which won the Grand Jury prize and best debut feature prizes recently at the Venice Film Festival where it debuted, is a wrenching legal drama that follows a young novelist Rama (Kayije Kagame) covering the trial of an immigrant mother accused of infanticide.
Before her triumph at Venice, Diop was in New York to promote the MUBI release of her latest documentary, We (Nous), which premiered at the 2021 Berlinale, where it won the Encounters Grand Prize. The film chronicles a disparate group of people, including an immigrant mechanic and a writer from the Parisian suburbs, and places their lives in connection to the RER B commuter train cutting through the city from the north to south. Diop makes We (Nous) a personal declaration of belonging, weaving footage from her family archive and trailing her sister, a home nurse, at work as she provides care for her patients.
Diop, who is a first-generation daughter of immigrants from Senegal had a wide-ranging chat with OkayAfrica about her films, belonging to French society, and her reasons for prioritizing the stories of the marginalized.
Interview has been edited for length and clarity.
In We (Nous), you are telling these seemingly unrelated stories without obvious connections. What is the common thread linking these stories or people together?
The link is a very personal vision that I have of French society. It is a vision that is at once a dreamed vision but also something already there and not many people see. It is about what can unite people who appear to be so different in a single territory or country. And in a sense, the thread is one that I am weaving myself. It doesn't exist as such but something very subjective.
In terms of constructing the film, what was the starting point for you?
It started from the book, The Passengers of the Roissy Express published in France about 30 years ago. It is a nonfiction book in which the writer, François Maspero takes the RER B train and follows it to the last stop. This is the train that has the peculiarity of crossing all of the Paris banlieues (low-income suburbs) from north to south. Now these are very different areas that have a great diversity of populations that really express the complexity of French society. I read this book, and it gave me the framework for using the name of the train to describe these very different territories.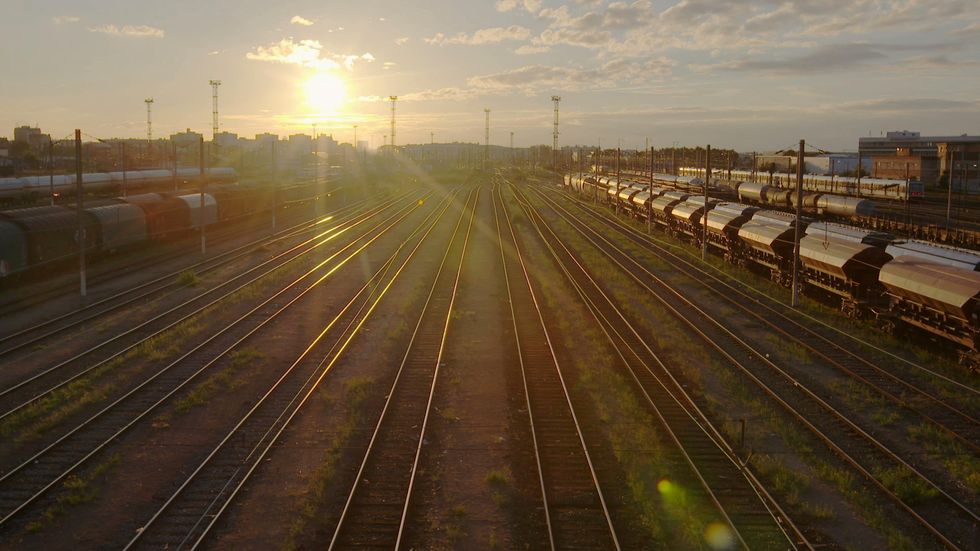 We (Nous) chronicles a disparate group of people, including an immigrant mechanic and a writer from the Parisian suburbs, and places their lives in connection to the RER B commuter train cutting through the city from the north to south.
Photo: Mubi
At what point does your family come in and how do you weave them into the narrative?
This film is a composition of the singularities of the many different people who live and work in France, and my family is part of that history. That is why I wanted to use our family archive in the film because it is a symbolic way of inscribing these traces of my family, and people like them, who are not shown in the constitution of French society. The archive, for me, completes a missing part of French history. I have so little in terms of archives of my family. I have only less than 17 minutes of images of my mother and everything that I have is in this film. That is something very painful; the lives that my parents had were not necessarily appreciated. These were lives that were not epic or did not have the right narratives. At least that was the feeling that I had because the people that I saw on television, in films and novels were not like me. They did not have my history or background, so I grew up with that absence. And I think that is why I became a filmmaker, to repair the violence of having this unrepresented life.
In a sense, this film, and your entire career has been about adjusting this narrative?
Absolutely. This question touches me because this is at the very heart of my filmmaking. I have done this work ever since the desire came upon me to do it, as a way to not succumb to the anger. My new (fiction) film, Saint Omer is focused on Black women, and is inspired by my mother, and it made me realize how much I needed to do this. I want to add up their bodies in film and in history.
Film, for me, is not a space for entertainment, it is a space for revenge and self-care. Saint Omer is not about the banlieues at all. I believe that people from the banlieues have every right to make films that are not about the banlieues. It is about maternity, and I have every right to talk about maternity because it is a question that is relevant to Black women, as much as it is to white women. I am speaking from my own body, and I think the closer I am to myself, the more likely I am to touch other people.
In the film, you talk about not paying into the family fund that ensures you are buried back home in Senegal. Was coming to this realization difficult?
Exile is not just measured in economic gain; it is also a loss that I cannot even qualify. This relationship to the land where you will be buried, I find it a beautiful thing to choose where you are going to die. But the most concrete way of saying where you belong is to say where you are going to be buried. And for me to say it publicly the way I did was for me to cut myself off. I have a 13-year-old mixed race son who was born and lives in France. I speak French, I don't speak Wolof. I go to Senegal twice a year at most. I am a Frenchwoman.
Now, I am a very particular kind of Frenchwoman; I am a Black woman with colonial history so the most concrete way for me to be French is to say I am going to be buried where my son lives, or where he is most probably going to live. And that's not a choice between France and Senegal that I am making, it is a way of saying that I am in harmony with where I am. But it does separate me forever from the place where my parents came from. It is hard to think about, even in this conversation with you. It is the entire complexity that is raised here: of the path of immigrants, of the trajectories of coming and of going, of where you are. It is something that is so complex and intense that merely signifying it is already an achievement. It is also a very universal question.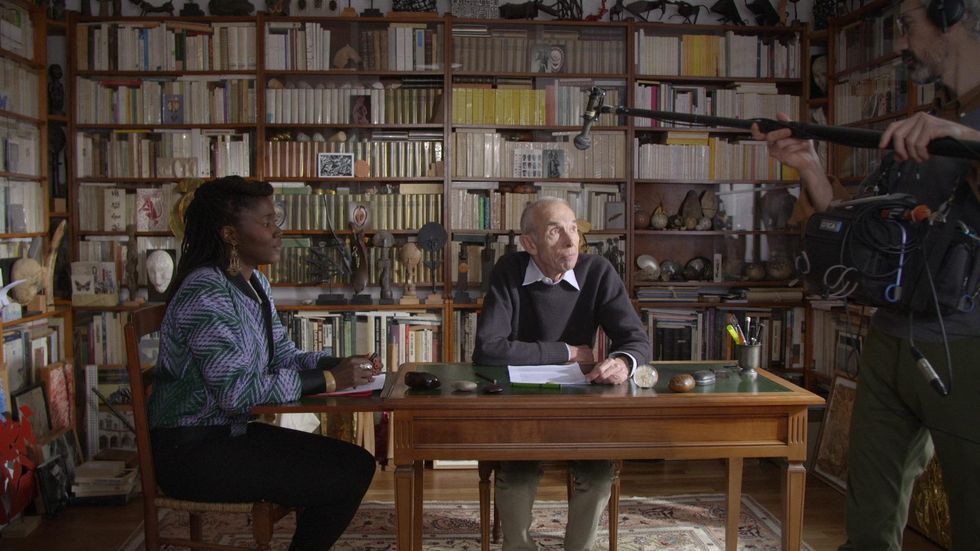 Alice Diop and Pierre Bergounioux in a pivotal moment from We (Nous).
Photo: Mubi
And when you put yourself in the frame by the end of the film, are you completing this tapestry that you are sewing?
In a sense. My appearing with my Black woman's body in the frame, next to this writer Pierre Bergounioux, in his office is a way for me to get revenge for my father for the 40 difficult years he spent working in France. There is a point in the film when I ask my father if spending these years in France has been positive or negative, and he says it's been a positive gain overall. But I have the intuition that for his daughter to be able to go to university and do things that as a working man, and my mother as a cleaning woman, never had the opportunity to do, and then to show myself in the frame next to this white writer in the film that I am making -- that I have invited the writer to -- I think that shows something about French society and what it can allow. And that repairs, to some degree, the pain that my parents experienced by coming here to offer me a life that they could not have.
Translation by Nicholas Elliott.