Video
This Moroccan Designer's Short Film Has It All: 'Couture & Bullshit', Music, Fashion & Poetry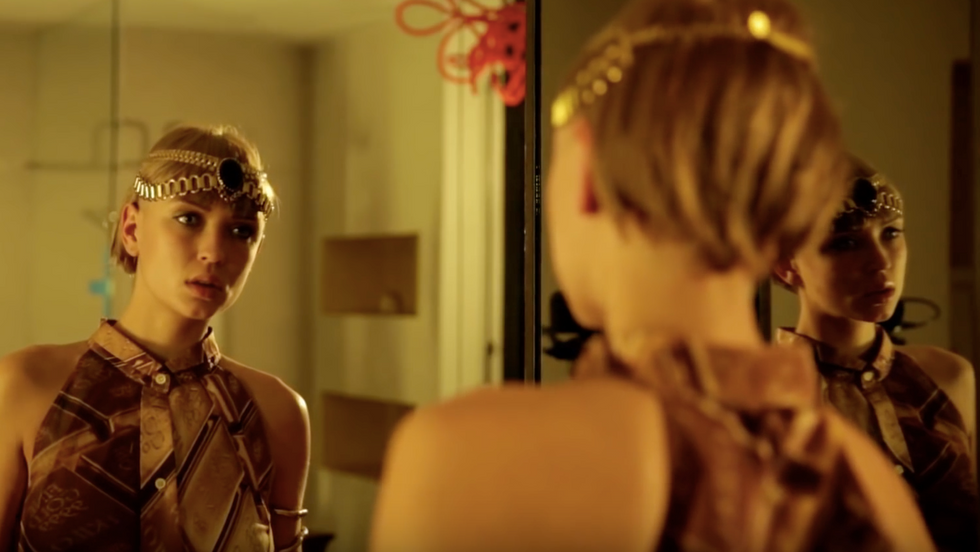 Watch Moroccan 'Couture & Bullshit' designer Amine Bendriouich's dreamlike short film, "In GO(L)D We Trust" Half Poet Half Animal.
Amine Bendriouich
is a poet, fashion designer, and founder of 
Couture & Bullshit
, a fashion label in which collections are released spontaneously and don't follow the industry's rigid season timeline. Couture & Bullshit straddles, "pop authenticity, androgyny and urban aesthetics with a hint of this certain je-ne-sais-quoi that keeps fashion going." Bendriouich brings this uniquely fresh fashion into his costume design for a new video that exceptionally meshes music, fashion, dance and poetry,
"In GO(L)D We Trust" Half Poet Half Animal
.
Bendriouich splits his time between Casablanca and Berlin. It was in Germany that he met singer-songwriter Elyas Khan, a happenstance meeting that led to a collaboration, with Khan composing the hypnotizing musical accompaniment that matches Bendriouich's dark and hazy visuals.
---
The clip, the first installment in what is to be a trilogy, explores stereotypes of Arabs and the almighty dollar. Money, in the video, is worshipped and elevated to a religious type pedestal, evoking the feeling of a fantastical hallucination, yet one that is strikingly similar to reality. Bendriouich's poetry, "Nisf cha3ir nisf 7ayawan" (Half poet, half animal), mesmerizingly hangs over the video, fading in and out.
The clip goes from haunting, evoking a sort of Hitchcockian suspense, before switching up the music and getting trippy with frenzied cuts between characters, an effect that mimics stop motion while meshing the individuals together. It looks crazy but in a really good way. "Je-ne-sais-quoi" indeed.
The clip is deeply rooted and informed by Moroccan culture and Bendriouich's hometown of Tamegroute in the south-east of the country.
The clip stars Berlin-based model Caro Cult as the Golden Girl, Elyas Khan as the Gold Djinn, Bendriouich himself as the Half Poet/Half Animal, Youseef Bennaddou as The Corridor Keeper and Zineb Andres Arraki as The Carpet Spirit.
Towards the end, the piece pays homage to Abdeslam Akaaboun, a music lover and philanthropist who founded the first jazz club in Tangier back in the 1960s.
Watch below.