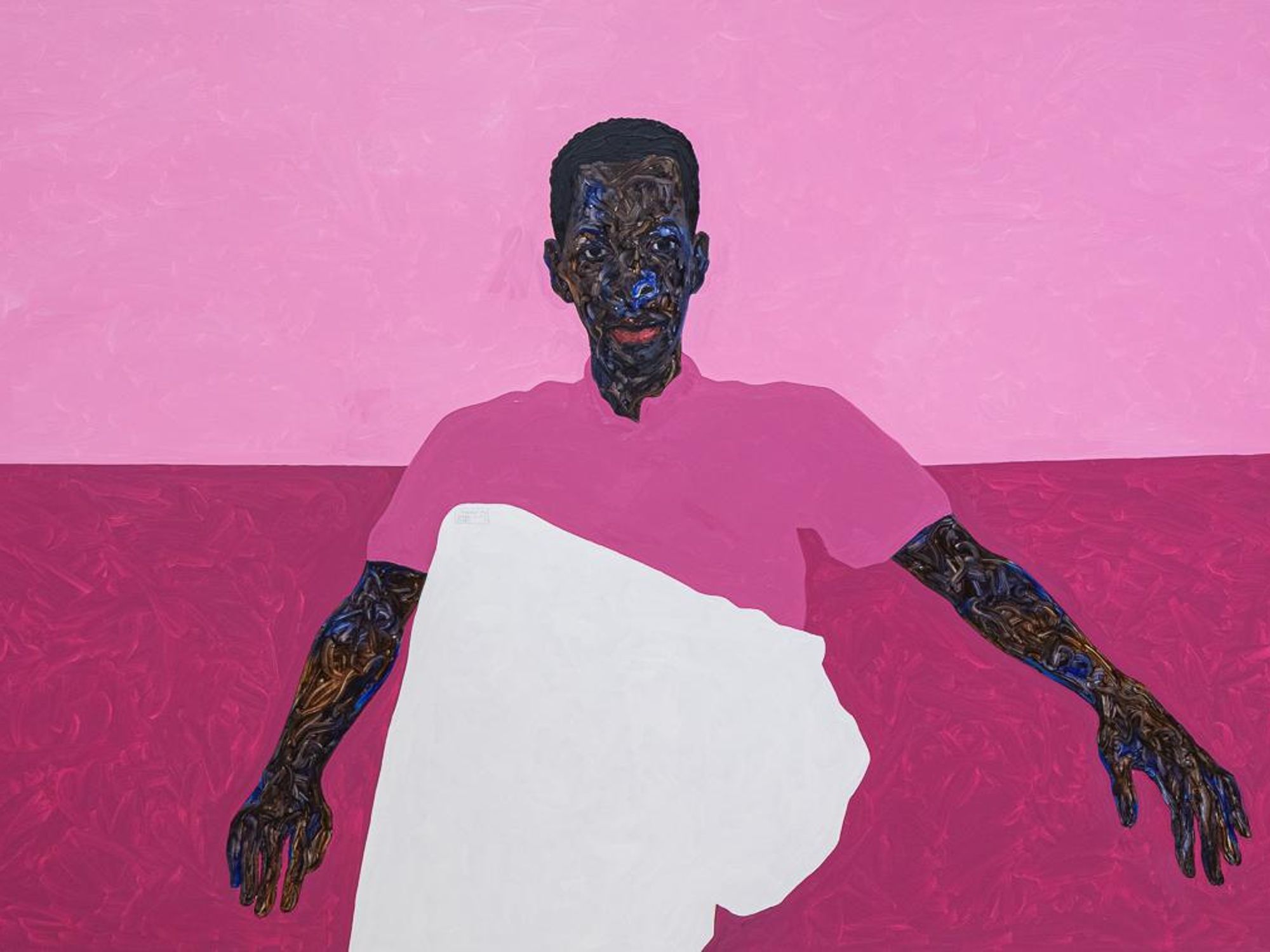 Photo: CAMH
The Ghanaian artist uses his latest exhibition, a debut museum solo show, to spotlight his place -- and the place of African art as a whole -- in the world.
In recent years, African art has become very popular in galleries and museums, and across the global art market. For his solo museum debut, Amoako Boafo wanted to interrogate the space African artists could -- and should -- occupy, so he created a site-specific work that responds to the questions that get raised over hype about art from the continent.
'Deep Pink Sofa' shows a crossed-legged individual with a calm and confident look staring into what can be said to be a camera. Once Boafo's exhibition at the Contemporary Arts Museum Houston, (CAMH) where it's currently on view closes, the artwork will be disassembled, never to be featured again. Created for the moment, it has a lasting message.
"I think a lot of people talk about tables, chairs, and sofas and I think they all have the same idea about sitting and relaxing, joining the table," Boafo tells OkayAfrica. "Whatever is happening to African contemporary art, most people think that it's just a wave and it will just vanish. But I think making that painting, for me, makes me feel like I have arrived."
He continues: "Yes, I will talk for myself first, but I also think that we've been around for a long time. But now, we have a couch where we are comfortable. We are around, and we are not going anywhere."
The piece is one of 30 paintings created by Boafo between 2016 and 2022, featured in his exhibition at the Contemporary Arts Museum Houston. It's an expansion of the show that opened at San Francisco's Museum of the African Diaspora earlier this year.