In recent years, African art has become very popular in galleries and museums, and across the global art market. For his solo museum debut, Amoako Boafo wanted to interrogate the space African artists could -- and should -- occupy, so he created a site-specific work that responds to the questions that get raised over hype about art from the continent.
'Deep Pink Sofa' shows a crossed-legged individual with a calm and confident look staring into what can be said to be a camera. Once Boafo's exhibition at the Contemporary Arts Museum Houston, (CAMH) where it's currently on view closes, the artwork will be disassembled, never to be featured again. Created for the moment, it has a lasting message.
"I think a lot of people talk about tables, chairs, and sofas and I think they all have the same idea about sitting and relaxing, joining the table," Boafo tells OkayAfrica. "Whatever is happening to African contemporary art, most people think that it's just a wave and it will just vanish. But I think making that painting, for me, makes me feel like I have arrived."
He continues: "Yes, I will talk for myself first, but I also think that we've been around for a long time. But now, we have a couch where we are comfortable. We are around, and we are not going anywhere."
The piece is one of 30 paintings created by Boafo between 2016 and 2022, featured in his exhibition at the Contemporary Arts Museum Houston. It's an expansion of the show that opened at San Francisco's Museum of the African Diaspora earlier this year.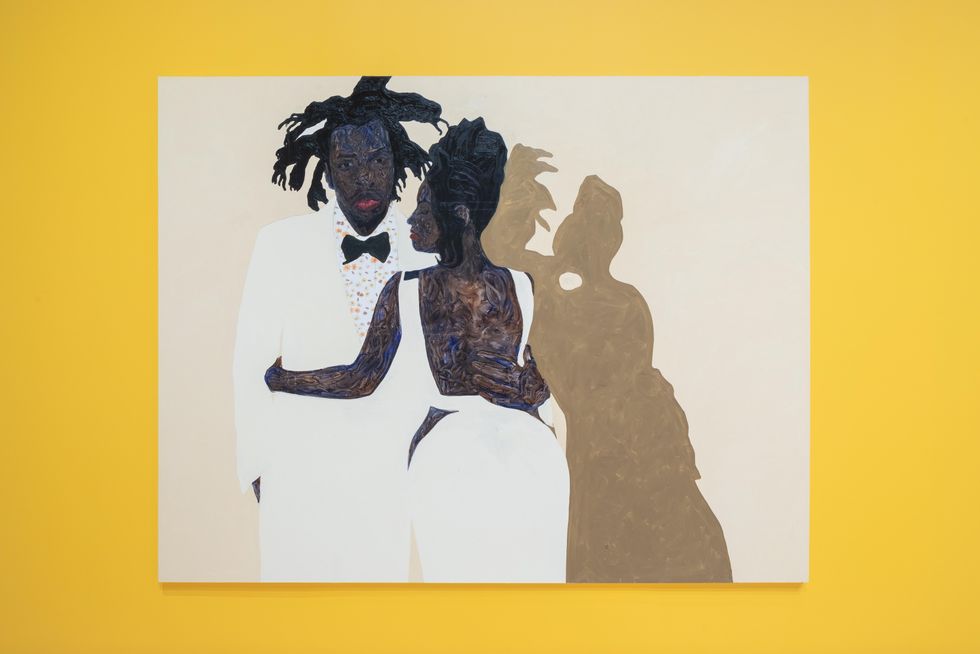 The title of Amoako Boafo's exhibition is a spin on Pan-African civil rights activist W.E.B. Du Bois' 'The Souls of Black Folk.'
Photo: CAMH
Titled 'Soul of Black Folks,' the show is curated by cultural critic Larry Ossei-Mensah. The selected works highlight topics of concern that interest Boafo, including constant resistance against systemic oppression, the active combatting of anti-Black rhetoric, the commodification of Black bodies in the media, and COVID-19.
The exhibition's title is a spin on Pan-African civil rights activist W.E.B. Du Bois' 'The Souls of Black Folk,' the seminal book that contains several essays on race, and examines how Black people view themselves and how the world views them. Boafo tells OkayAfrica, Ossei-Mensah "wanted to connect what [Du Bois] did as a scholar and what I am doing now as a visual artist." Of note, the American sociologist, socialist, and historian is buried in Osu, a neighborhood in the capital of Ghana, where Boafo was born and raised.
The current exhibition adds to the growing list of career milestones for arguably one of the most sought-after artists internationally.
Amoako Boafo says the exhibition shows that the depth, consistency, and maturity, as much as the color palette of his work has grown.
Photo: CAMH
The Accra-born, Vienna-based artist, who left a career in tennis to pursue art professionally, is known for his vibrant use of color and thick improvisational gestures, focusing on the complexities of Black life globally, Black joy, and the Black gaze. His Black Diaspora portraits, which consist of accentuated and elevated figures often isolated on single-color backgrounds, have made him a favorite in the art world. His paint-dipped finger's signature style -- of friends, family members, and celebrities -- crafts these works.

In 2020, he made history as the first African artist to collaborate with French Luxury house Dior on their 2021 Men's Spring/Summer collection. Three paintings of his were also launched into space aboard Jeff Bezos' rocket ship in 2021. Adding a solo museum exhibition to his resume only solidifies his place in the art world and further fans the flame for what yet is still to come. "Having that is an amazing thing, and to be alive to experience that," he says, "but I think one museum show is not enough."
There are more spaces where Boafo wants to show and share his work. "A lot of work has to be done to have more spaces and not just institutions in Europe, but I also think showing in institutions here on the [African] continent is also something that I am looking forward to do."
The themes of Boafo's practice stem from a personal place. One of his most notable works is 'Body Politics.' It details his experiences of discrimination arising from his nationality and race when he first moved to Vienna, where he attended the Academy of Fine Arts. "I think the thing with discrimination and stereotype is that people have a position of what Blackness is for them, and they have a box for it" he says. "A lot of work has been done to change that perception, so I needed to do it differently because most of the time people be screaming and shouting. And I don't see anything wrong with that because that's the way they want to maybe explain or deal with the situation. In my case, I wanted them to know what I am talking about instead of complaining about how they see me. I wanted to show them how they should see me."
'Body Politics' inadvertently marked the beginning of his ascent in the art world. Some three years after his relocation to the capital of Austria, he was awarded the jury prize at the 2017 Walter Koschatzky Art Award.
Boafo is also a Ghanatta College of Art and Design alum in his home country. He won Best Abstract Painter of the Year and Best Portrait Painter of the Year in 2007 and 2008, respectively.
A 2018 discovery of Boafo's work on Instagram by African-American portrait painter Kehinde Wiley (known for, amongst other things, his portrait of the former American president, Barack Obama) kick-started the mainstreaming of him and his craft. Wiley bought a painting and became an advocate of his work by introducing Boafo to his galleries.
He has since won the STRABAG Art award International in 2019, and his works are in private and public collections, including the Los Angeles County Museum of Art, Solomon R. Guggenheim Museum, Rubell Museum, and the Albertina Museum in Vienna, where he lives.
In the light of presenting works created over the past five years in his museum debut, how would he say his craft has evolved over the years? "I think one thing which is very clear in my work is the depth, consistency, and maturity. As much as I will say that my color palette has grown," states Boafo. "My way of playing with the tones and details have also changed. There's more abstraction in that figuration. That's also another growth that I am looking forward to exploring."
"I think in general, it's not just figuration or portraiture. It's like, you know, all the elements – figuration, portraiture, landscape, abstraction. They are all in one element," Boafo adds.
He will be in Ghana in December to open his artists' residence, where he will collaborate with many artists for a group show as part of its opening. The space is for "artists to come and experiment, explore and grow with their work," says Boafo. The Deep Pink Sofa may not be there but he envisions it to be a welcoming space, nonetheless.