---
We spend An African Minute with Zimbabwean self-taught artist, graphic designer, activist and contemporary illustrator Sindiso Nyoni aka Riot. Okayafrica contributor Kate Bomz shoots the questions.
You have described your work as Guerill(art), could you explain this concept and how it is reflected in your art pieces?
Guerill(art) is a graphic style and design aesthetic that combines traditional and digital media. It's a mixture of old school drawing techniques and new school techniques, while reaching into history and social issues to create a subversive African 'street' style. Guerill(art) is also the nature my artwork takes which draws from the literal term of an independent, small entity going up against a much larger one – guerilla.
The style uses protest and dissent to communicate messages via the use of art. I feel that as creatives we have a duty to contribute to our communities using art that addresses social issues, advocates awareness and change, which can ultimately open minds to act towards making a difference. The style is primarily illustration based. The use of traditional media or illustration reminds the viewer of the connection that exists between an artist and his subject/message. This gives the work a raw, personal, hand-made, human quality, which I feel is important in evoking emotion.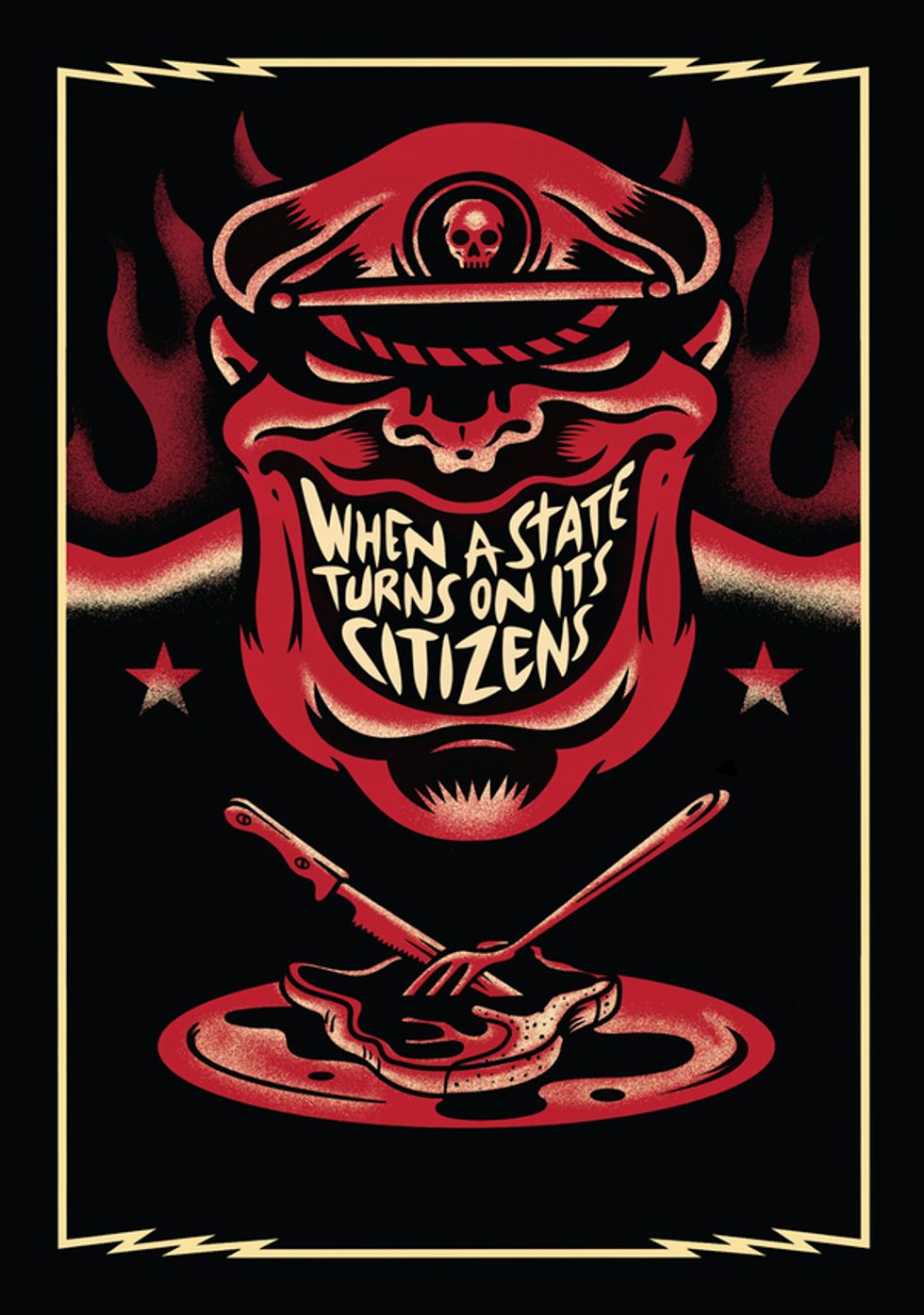 There is a strong sense of political critique within your work — in pieces such as the poster on xenophobia produced with the Artists Against Discrimination in South Africa (below) and the illustrations produced for the book When A State Turns On Its Citizens - 60 years of institutionalized violence in Zimbabwe (above). It's evident that you are reflecting on the repressive nature of nationalism within Southern Africa, how do these portrayals figure within your overall work and activism.
The link to social activism is what denotes my "African" design aesthetic (which is heavily influenced by protest poster art, stemming from liberation movements in Africa and the third world). By combining images and text to inspire people out of placidity my work attempts to tackle some of Africa's most pressing issues in the form of visual art. My culture and origins play a a significant role in my overall work and activism.
Zimbabwe is widely reputable for its unique craftsmanship in the arts, from sculptures, masks, traditional ornaments to music and drama. As well as being a 'once' booming African economy, this allowed for me to be exposed to abundant forms of art and popular culture as a 4-year-old in the late 80ss. I was so inspired from all these surroundings, and it was then that I developed a love for drawing and I haven't stopped since.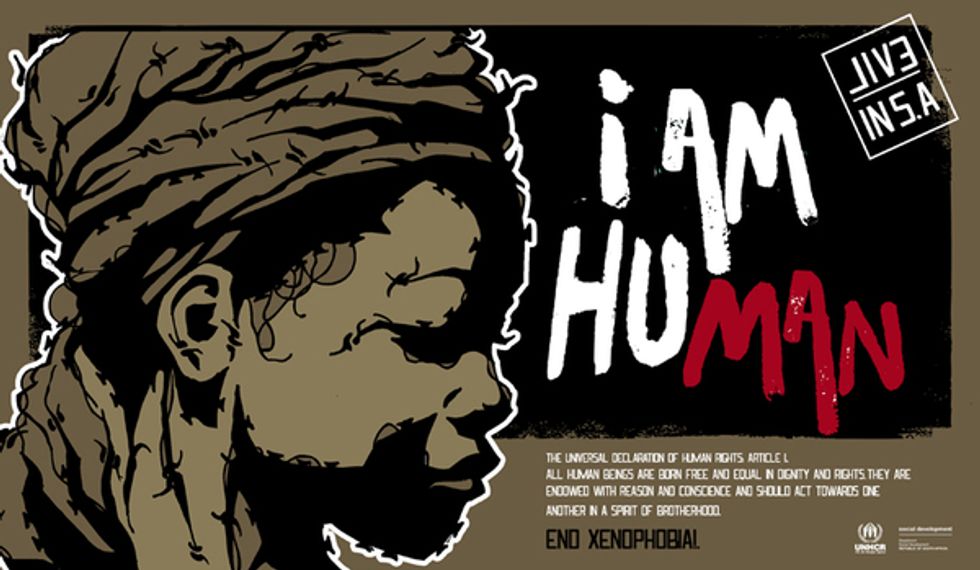 However being a member of the minority Ndebele tribe in the country also meant that I would eventually be subjected to discrimination, from which my social activist roots erupted. Growing up in the turbulent times of Zimbabwe inspired my artwork which reflects the social wounds left by a bitter struggle against colonial repression and of course the internal conflicts of the Shona and Ndebele factions.
Due to my extremely different views to the militant ZANU party and because of these views I feared for my own life and relocated to Johannesburg, where I have undergone a forced exile for the past 7 years. Citing the words of the philosopher and martial artist Bruce Lee "I believe that everyone is a citizen of the world." He articulated something that had been an abstract belief of mine for years and the multi-layered statement still carries a lot of resonance with me today. The belief that we should all be free to live and work where we choose despite your birthplace, race or creed, that we all share a planet and not separate regions, that humanity is one big ball of a community and we need to carry each other along to thrive. Why then is there such trouble with immigration? This and experiences in my new adopted home are what have influenced the subject matter of some of my artworks.
You've cited the influence of film on your work and your pieces have a vivid cinematic quality, could you discuss which films have had the most palpable visual influence on your work?
The arts and the various branches of creative activity have always been a love of mine, with early memories of comic book art, vintage animation and particularly film as influences. As a visual artist I have quite a few influences that cover many disciplines but it's cinema, (via the art of story telling and message conveying) that always leaves a profound impression on me prompting me to create art.
I respect and admire many unconventional and mainstream visionaries such as the likes of Melvin Van Pebbles, Spike Lee, Emir Kusturica, Guillermo Del Toro, Lars Von Trier, Martin Scorsese and even the surreal work of Alejandro Jodorowsky: but the film which has had the most palpable visual influence on my work has to be Fernando Meirelles and Kátia Lund's City of God. It's colorful and often energetic cinematography accompanied by gritty, bold story telling remains a pivotal influence in the development of my artwork over the years.
What are your thoughts on the current state of animation as an industry within the continent, how do you feel the industry can be propelled and what are the current constraints?
Although still in its infancy (I believe), the animation scene in Africa has definitely been shaping up in positive directions in the past couple of years. With acclaimed experimental veterans such as South African artist William Kentridge paving the way, this has given rise to the development of talented individuals such as Kenyan Kwame Nyong'o, Nigerian Kenneth Shofela Coker as well as the work of Cape Town's Black Heart Gang. All in all things are looking up in the industry from its experimental beginnings in the past to a more mainstream approach currently.
As you have produced both activist art as well as work commissioned for corporations such as the illustration for Adidas before the World Cup in 2010, how do you straddle between the two worlds, what are the commonalities and differences?
Sadly most of the time our industry promotes commercial products rather than issues that really matter. This is compounded by the fact that as an emerging creative on your career path, in order to get noticed you have to have some big name brands in your portfolio. In the professional creative industry, there is seldom any room for social communication. Briefs and concepts are often commercially driven, creating a dilemma faced by creative's today, "work for charities is cool but doesn't pay the bills." I personally feel that it's a great value for creative's to know that they have tools and the ability to effect massive change, and not always within a "for-profit" organization which is why I don't use my skills to support brands or companies that I feel have a negative impact on the world we live in.
Highest moment in your career?
In 2009, I joined Cape Town based illustration studio Am I Collective as an intern and was part of the illustration teams on some Cannes Lion winning campaigns. The following year I was involved in the "Voices in Freedom"poster exhibition/collection alongside activist artists Chaz Maviyane-Davies (Zimbabwe) Alain Le Quernec (France) as well as Yossi Lemel (Israel). The exhibition which was launched in Mexico, went on to exhibit around the globe including Japan, Poland, the U.S, parts of the South Americas, and in 2011,South Africa.
I joined Advertising agency Blackriver FC in 2011 where I currently work as an Art Director/Designer, but the highest moment in my career came in 2011 when I formed part of the Piñatarama 2.0, (Art piñata) exhibition, alongside Dr Alderete (Argentina), Alberto Cerriteño (Mexico/Canada), Team-O (Mexico), Junko Mizuno (Japan) and 34 other artists at the Museum of Modern Art in Mexico City.