There's always been a special musical conversation between West Africa and the Caribbean. This newly-released album sees two legends from opposing of the Atlantic ocean come together for a striking marriage of afrobeat and salsa.
The recently released record follows Beninese diva Angélique Kidjo as she pays tribute to one of her lifelong musical idols, Celia Cruz. The album sees Kidjo expertly stripping down, covering and reinterpreting ten songs from Celia's legendary catalog to showcase the vast array of African influences on the salsa classics.
Below we spoke with Kidjo to learn more about her new tribute record, Celia.
---
What made you want to start covering Celia Cruz?
Well, it started with the BRIC Celebrate Brooklyn! Festival three years ago. They asked me to play and I said I have a project, I would like to pay tribute to Celia Cruz.
Celia has been one of those artists in my life that really makes the stage the paradise of happiness. It's amazing to see her on stage with her smile, that constant smile with that gap in those teeth. It's just beauty on stage. It's life.
So I decided was going to pay tribute to her because I'd been having this conversation—"should I? shouldn't I?"—with my friend Dianne Reeves. And Dianne kept on telling me, "you've got to, because there's so many things you have in common with Celia, your joy of life,I think you should do it." So I was like, okay, to hell with it I'm going to do it.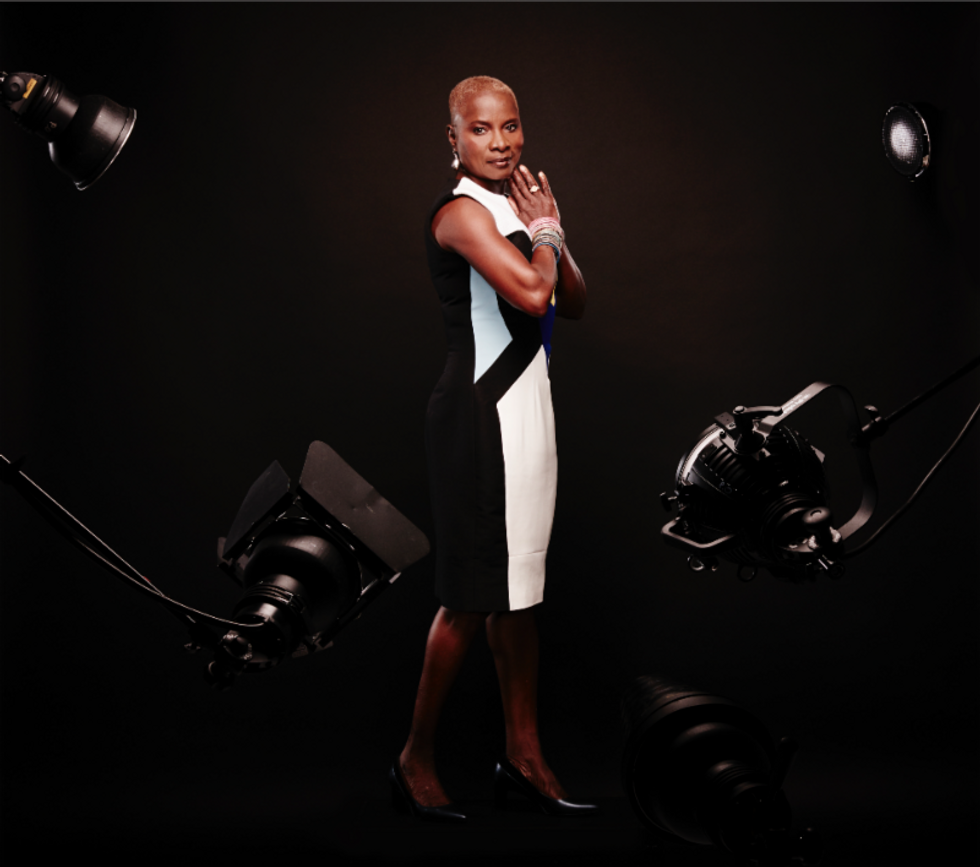 Image courtesy of the artist.
I read that you first saw Celia Cruz play when you were young in Benin.

Growing up in Benin, salsa has always been a huge thing, you know? [It's] big in Africa. But even the local salsa band was only made up of men. Sometimes, if they couldn't find guys to sing the backing [vocals], they would get girls. But they are way back there [on stage]. For me to witness a female salsa superstar on stage was a game changer. I was like, "Women can do that? There's nothing I can't do then."
I was 14 or 15 years old at the time, just looking at her like, "Is this for real?" Her costume, the way she moved on stage, the way she had the public... and I'm like "Pinch me, what is going on?" It was an experience, really, to see her on stage.
For me to witness a female salsa superstar on stage was a game changer. I was like, "Women can do that? There's nothing I can't do then."
Then you two eventually met in Paris years later and you ended up on stage with her?

Yeah, in the late '80s or early '90s a friend of mine from Radio Nova called me up one evening to say "Celia Cruz is playing in Paris, you want to see her?" I was like, if this is a joke mate, it's not funny. He said "It's not a joke, she's really here. Stop talking and get dressed. She's at the Mercure of Montparnasse come." I'm like, say no more. I jumped, I don't even know where I was. We drove there and I think my friend had called ahead, because she was waiting for us in the dressing room, while all her musicians were already on stage, with her husband Pedro Knight, who has always been the musical director.
I can't speak Spanish so I'm like, "How am I going to speak to this woman?" Then a journalist introduced me as an African singer. She looked at me and said, "Oh my African sister!" I'm like, really? Oh this is cool, I like this.
And then I said "Quimbara?" and I start singing. She goes "okay, okay, que bien, are you going to come on stage and sing?" And I'm like, "oh fuck, Angelique shut up, what is this?" She invited me without telling anything to her husband or the musicians. She call me to come on stage, "My little sister from Africa, t'es ou?"
Her husband starts playing "Quimbara" and I start singing, it was not Spanish, I don't know what the hell I was singing. I just made up my own words ... And she was laughing like crazy. She was behind me, she put me in the front and she was cracking up laughing. At one point I'm like okay enough with this nonsense man, just let the person that knows how to sing, sing the damn song. I gave her the microphone and I walk off. She was cracking up laughing so hard, she could barely say a word out of her mouth for a second.
So, that's how I sung with Celia on stage.
Angélique Kidjo - Bemba Coloráwww.youtube.com
What elements from Beninese music did you bring to these Cuban songs?

First of all, we have to give the credit to Celia who never shied away from her African heritage. Never. She started in the '40s, whatever it is, way back, singing to the Orishas and the rhythm of Africa. So for me, when I grew up and start listening more to Celia Cruz music apart from "Quimbara," that was, I'm like "For real? She's singing to all those Orishas that I know, and I can understand the Yoruba she was singing in." So, it was an absolute no-brainer that I had put the African rhythm bare. Bare naked there.
So, you stripped down the songs?
I just put the rhythm more bare and have the band from Benin for percussion and horns. I've been on the same page with the producer from the beginning: it's not replicating salsa. There's no one that can beat Celia, never. And no one can play Cuban music better than the Cuban musicians, so what's the point of replicating that? The point is to bring back the core of African music that has always been part of salsa, always, for a long time.
"We have to give credit to Celia who never shied away from her African heritage."
You have afrobeat pioneer Tony Allen playing on the record. Are there a lot of afrobeat elements in there?
Of course. Tony, growing up in Nigeria, knew about salsa. He knew exactly what to do because, if you listen to salsa, basically all the clave comes from the 6/8 time signature. We subdivide that clave, the 6/8 clave, you can put it anywhere. So for me it was easy to bring an African rhythm to it, because it's already there.
It's the same rhythm that traveled across the sea.
Exactly.
Angelique Kidjo – "La Vida Es Un Carnaval" (Celia)youtu.be
Were you intimidated at all to kind of take on Celia's songs?

Oh yeah. When you're touching such iconic stuff, you don't want to mess it up. You gotta try first and see the public's reaction. But after that first BRIC show, every single person came to me and said "Angélique, you gotta do an album." I was doing Remain in Light while I was doing this one also, I was working on both of them. For me it was a bridge, I started building a bridge.
Where did you record the album?

I start doing all this in my studio in Brooklyn. Going through the songs and listening to them, and just doing the voice alone with percussion. When I started working with David Donatien, the producer, I asked him "what do you need?" and he said "just send me the voice." He himself was a percussion player, he's the husband of Yael Naim. So we worked together on the rhythm. As a percussion player from the French West Indies, we had the same kind of thinking: why replicate salsa? Let's start with the forefront: the African rhythm. So that's how we did it.
"The point is to bring back the core of African music that has always been part of salsa, always, for a long time."
How did you make your song selections?
It was difficult man, the repertoire of Celia Cruz is vast. But I always chose based on my guts. There are a couple of songs that we play on stage... "Toro Mata," "La Vida es un Carnival," "Quimbara," "Cucala." For all the rest I wanted to go back real deep to the '40s, '50s. Those few songs with Matancera that she was doing with an African rhythm. I wanted to bring in different instruments also. There's a Tinariwen style guitar for a song where she's talking about the desert. There are udus, sounds of nature, a lot of stuff that I bring in to create the atmosphere of when we played the music in Africa, basically.
You worked with Shabaka Hutchings & Sons of Kemet on the album?
Oh yeah. I think that David Donatien played me a song from them. I said "Can we have them on the album?" They came all the way from London, and then we sang.
Angelique Kidjo - "Bemba Colora"www.youtube.com
You also have a group from Benin, Gangbe Brass, on the record?

Gangbe Brass Band is a band of young Beninese musicians. Most of them are farmers. The first time I worked with them was on the album Djin Djin in 2006. I saw them playing in Paris and I'm like this is impossible. This is so great. There is a drum in my country, that I love, that we call djembe.The body of the percussion instrument is on red clay. At the bottom you have straw... the center is like a woman's waist... and then on top you have the skin, I don't remember which animal skin. Every part of the drum has a different sound. So I asked them, in 2006, when I asked them to come work with me, to bring that drum which we used here.
Was it a challenge for you to sing in Spanish?

Actually it was difficult when I did the show at Celebrate Brooklyn, and after that, I wasn't afraid anymore. I'm doing it. I'm going to have my accent and I'm going to do it the way I want.
Have you been to Cuba?
Oh yeah, I went to Havana when I was doing my Trilogy albums, tracing the roots of slavery through music. The first part was in America. The second part took me to Brazil and the third part took me to Caribbean, including Cuba. It was an experience. I felt like, under the communist dictatorship, everybody was spying on you, it was a very weird feeling. You get out of the house people are looking at you, every move you make, everybody knows.
And at the same time I went to a salsa party and started dancing, and everyone is looking at me like where are you from? Because I am from West Africa, they say "You dance salsa?" I responded: "You don't even understand how big salsa is in Africa. We do dance salsa, we do it different."
Angelique Kidjo's 'Celia' is available now via Verve/Universal France. Tour dates below.
TOUR DATES

May 9 –London, UK – Southbank Centre (Lodger Symphony)
May 11 – Stavanger, NO – Stravanger Konserthus
May 12 - Trondheim, NO - Byscenen
May 14 – Paris, FR – Bataclan (Celia)
May 17 – Aix-en-provence, FR – Grand Theatre de Provence (Celia)
May 22 - Luxembourg - Philharmonie Luxembourg (Sings! symphonic show)
May 25 - Coutances, FR - Jazz sous les Pommiers
May 28 - Bergen, NO - Grieghallen (Remain In Light)
Jun 1 – San Antonio, TX – Jo Long Theatre
Jun 8 – Los Angeles, CA – Hollywood Bowl (Celia)
Jul 6 - Kongsberg, NO - Kongsberg Jazz Festival (Sing The Truth)
Jul 9 – Stuttgart, DE – Jazzopen (Sing The Truth)
Jul 13 - Northampton, MA - Green River Festival (Remain In Light)
Jul 14 – Lowell, MA – Boarding House Park (Remain In Light)
Jul 19 – Pori, FI – Pori Jazz (Remain In Light)
Aug 2 – Crozon, FR – Festival Du Bout Du Monde (Celia)
Aug 31 - Toronto, ON - Harbourfront Centre
Sep 6 – New York, NY – Madison Square Garden (supporting Vampire Weekend)
Feb 14 - St Louis, MO - Sheldon Concert Hall
Mar 14 – New York, NY – Carnegie Hall - Stern Auditorium