Almost a decade ago, Angélique Kidjo was present at a New York concert hosted by Ibrahim Maalouf. She'd gone there as a fan but left a prospective collaborator, after they mutually agreed to explore ideas. Emerging from countries with distinct storytelling traditions—the Republic of Benin and Lebanon respectively—a strong narrative was the gold standard they held themselves to. "I wanted to find out what was the link between Africa and the Middle East," Angélique revealed in a recent conversation with OkayAfrica. "So we said we'll meet again when we find the idea. I did some research and I came up with the riddles of Queen of Sheba to King Solomon and Ibrahim said, 'oh yeah, that's a great idea'."

From that initial premise, and during a recording process that would take the next seven years, the duo's Queen of Sheba was finally released in 2022. As expected of an alliance between two virtuosos, the album is a product of love and intentionality. While the lyrical direction was provided by Angélique, its robust interpretation of a symphony orchestra was the idea of Ibrahim, whose richly layered trumpeting has recreated the conventions of Jazz. "We wanted to make it sound timeless," says Ibrahim, explaining the album's fusion of different instrumentation. "It could be made anytime [and not] belong to any specific period of time. I started like this conceptually, and then Angélique sent me the lyrics. I asked her to send recordings of her reading them and I started composing the music based on the way she was saying them."
---
Interestingly the project wasn't ideated as an album. It was to be presented in concerts, and building such records from scratch wasn't something Ibrahim had done before then. Seeing how beautifully it came together, both musicians promised themselves they would record sometime in the near future. Queen of Sheba advances the sonic relationship between the worlds of Africa and Middle East, but it also offers wisdom into contemporary issues through Angélique's careful selection of seven riddles from a choice of over thirty.
The Queen of Sheba is a figure present in all major religions, thus the importance of her story cannot be overstressed. The meeting with Solomon was the sole biblical account of her existence but that hasn't limited its appeal to generations of creators. From film to art, literature and music, its material has been tested for relevance and comfort, and Queen of Sheba seems destined to become the definitive musical piece on the personality. Angélique's poetic writing is amplified by the powerful breadth of her voice. The opener "Ahan" explodes into soaring heights by the time the song is over, Angélique's famous vocals stretching to touch history. "Tell me, Solomon, everything separates us now," she sings in its chorus, referring to him as "the most powerful of white men" whose "whole generations have come from the West, waving a Bible [that] will now subjugate what's mine."
With the song's title translated as "the tongue," Queen of Sheba explores the power of narrative. The universal desire to use art to construct a better understanding of the world. "No other queen under the African heaven can resist the curiosity of discovering a greater wisdom than that of Solomon," she sings of Sheba's sojourn in the somber "Omije." As the project advances, it follows the account's turn into a romantic affair. On the penultimate song "Ife" which means Desire, there's no underplaying the emotions: Angélique referring to Sheba in the alternate name of Makeda pronounces that she's "secretly in love with [Solomon]" and "has succumbed to [his] desires."
Angélique muses on the album's significance. "It's the beauty of the meeting of two powerful people that comes together to tap into each other's intelligence and wisdom," she says. How do you put that in music in a way that will open up endless possibilities? We have to stop putting people in boxes; it's fear. When you divide, it's fear. When people come together, the beauty that is created is so overwhelming, that every power seems dim in front of it".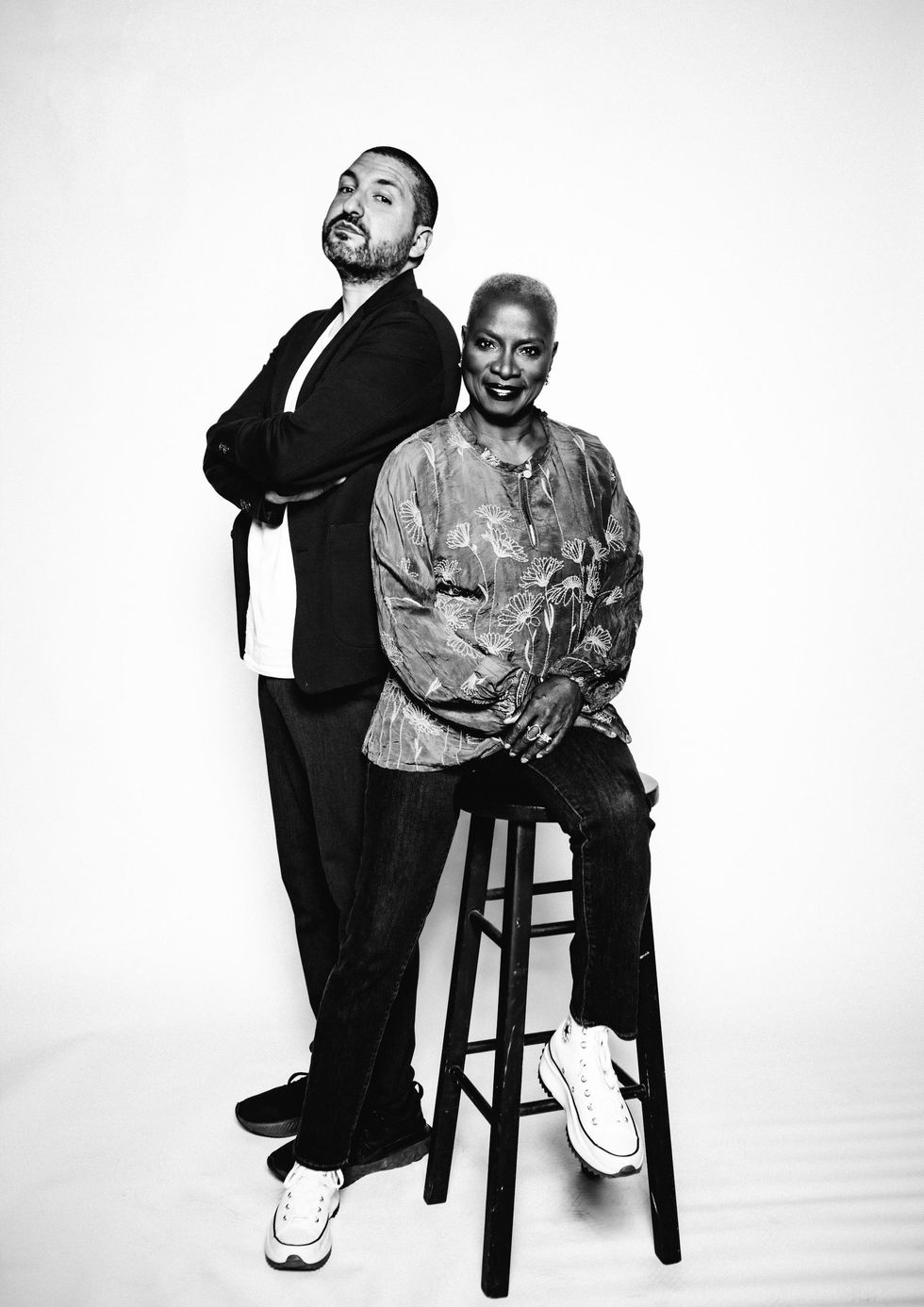 Ibrahim Maalouf and Angélique Kidjo.Photo: Brantley Gutierrez.
In a way, Queen of Sheba references the lives of its creators. The featured characters consist of a female and male duo, with their distinct perspectives burnished through mutual respect. Initially played in 2018 at the Jazz a Vienne festival in France, Angélique and Ibrahim have performed together before then and many times after. A lifelong taste for the arts is another thing they share. Both their fathers are performing artists; Naasim Maalouf's innovative addition of the quarter-tone brought Arabic cadences to Jazz for the first time. On the other side, Angélique often went on the road with her mother who worked as a choreographer and theater director.
"I grew up in a household where music was played everyday," responds Angélique to the question of her early influences. Ibrahim inserts a cheeky "same here" and for seconds laughs with his friend before she continued, "You know, when a kid is exposed to music, it does something to the brain that we don't understand immediately. When you start your life listening to music, you learn faster and better; music really develops your brain. For me it was like, I would be sitting down listening to music and it was like I was traveling within that music. It brings me far. I just have so much imagination; music has allowed me to free myself from any constraints that society would want to bring on me".
Ibrahim also speaks for the similarity in their backgrounds. "We grew up in families where music saved us," he affirms. "It helped us to grow up in a very specific way, that today helps us communicate through music that is not only based on harmonies and rhythms and melodies, we have something else to tell. What we try to say through music is completely inspired by the way we grew up. The fights we've been through in our lives. Every time we had to struggle in something, the answer was always music".
Angelique Kidjo and Ibrahim Maalouf - Omidje - Basilique Saint Denis - Festival de Saint Denis 2020www.youtube.com
It's interesting that before Queen of Sheba, both artists released highly collaborative projects. Capacity to Love was Maalouf's love letter to American pop and hip-hop, featuring talented superstars such as Charlie Charplin, D Smoke, Sharon Stone, De La Soul and JP Cooper, among others. His trumpet floats into pockets of beat and out, coloring his evocative tones into the linguistic framings of his guests. Released in 2021, Mother Nature responded to the dangers of climate change in Africa and was an extension of the humanitarian work Kidjo has done for much of her legendary career. Wanting to curate a discourse, her choices of African artists and producers included Salif Keita, Burna Boy, Yemi Alade, Shungudzo, Kel P, Sampa The Great and Rexxie among others. "It was all about social justice," she explains. "If we don't have justice for human beings, how can we decide that there's justice for earth?"
With the 65th Grammy Awards forthcoming in a couple of days, a lot of eyes would certainly be on Queen of Sheba. It is nominated in the Best Global Music Album category alongside four great projects, most notably Love, Damini from Nigerian superstar Burna Boy. Kidjo has immense precedent though: all except one of her previous five albums have been awarded, and her overall total of five makes her the most decorated solo African artist in Grammy history. Could this be the sixth?
"Nobody knows what happens with the Grammys," she responds lightheartedly. "Whatever happens, happens. Queen of Sheba is a beautiful album and it's up to people that vote. And most times the voters are musicians, producers, they are people from the industry that knows what is going on. There is every taste in the world, people just choose what they want to choose."
Maalouf makes history as the first Lebanese instrumentalist to be nominated for a Grammy Award. "I'm so happy about it," he says, "but really, this music was composed for concerts and we decided very naturally to record it. Honestly, just the nomination is a huge win for me and for us because it wasn't the purpose of this. We were already happy to play it live."
Such dedication to the pristine elements of music making doesn't come overnight. Like her collaborator, Angélique's long term approach to her projects sharpens her experimentation which is, in turn, backed with astute research. Whether it's Logozo, Eve or Celia, the music often aims to evoke an entire era. "For me, without music I don't think I would breathe easily," she says. "Writing music, creating music with people, I'm always excited to do something new."

Kidjo's influence on an entire generation of African musicians has been the motivation to cultivate artistic excellence. "I believe I have shown them from my example," she says, "my discipline [and] unwavering commitment to produce every album to be as spotless as possible. When you're an African woman it's a double-edged sword of judgment and penalty. People expect you to fail. People expect you to do things that are not right; they already prepared a box for me to fit in. And I said no: my image is mine. I know who I am, I know where I come from, I know what I wanna look like and nobody gonna put anything on my back that I can't sustain. It's a fight for me."