News Brief
Uganda Passes a Law Making it Illegal to Identify as LGBTQ+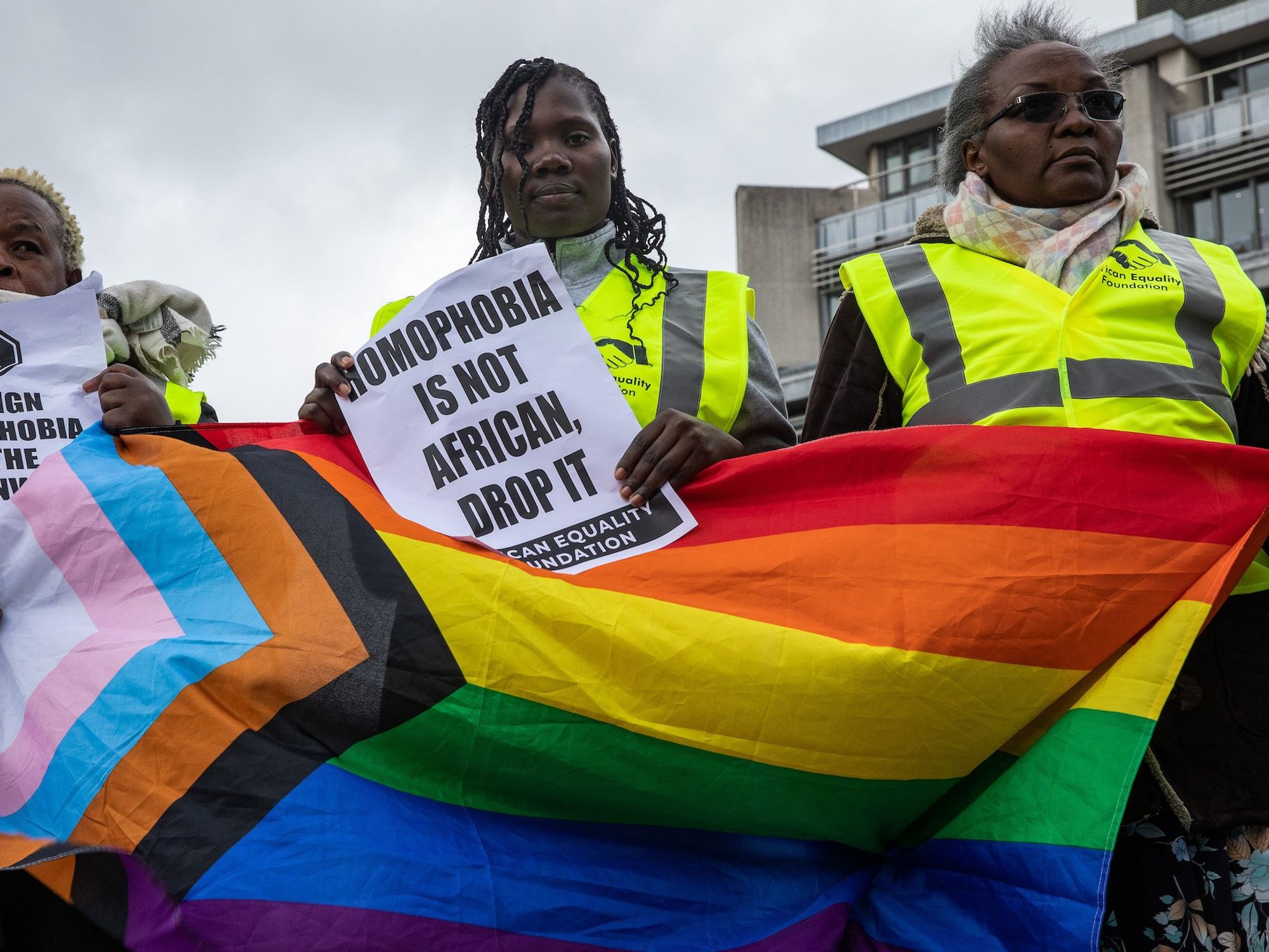 Photo by Mark Kerrison/In Pictures via Getty Images
Uganda's parliament has passed a law that makes it illegal for Ugandans to identify as members of the LGBTQ+ community. People who are found to be gay can face the death penalty if caught.
Uganda's parliament overwhelmingly approved a law that makes it a crime for Ugandans to identify as members of the lesbian, gay, bisexual, transgender and queer (LGBTQ+) community. Additionally, the legal body gave authorities the permission to target gay Ugandans; according to the bill, which was passed on Tuesday (March 21), people who are found to be gay can face the death penalty if caught.
"A person who commits the offense of aggravated homosexuality and is liable, on conviction, to suffer death," the amendment states.
Of the nearly 400 representatives present, only two voted against it. Ugandan President Yoweri Museveni is expected to sign it into law.
Same-sex acts were already deemed unlawful in Uganda. And although Uganda joins a number of African countries that have taken strict stances against members of the LGBTQ+, this new law seems to be the first to carry such heightened consequences. Mutasingwa Kagyenyi, a member of the parliament and a co-writer of the bill, told the chamber that the law was meant to "protect children from homosexuality."
"We want to shape the future of our children by protecting them from homosexuality," Kagyenyi said. "Sexual relations are between a man and woman. Those are our cherished values and culture, and we shall protect them jealously."
On Wednesday, The United Nations (UN) and United States expressed outrage over the passed bill. Volker Türk, UN's High Commissioner for Human Rights called the Anti Homosexuality Bill 2023 "draconian" and urged Museveni not to sign the bill.
"The passing of this discriminatory bill—probably among the worst of its kind in the world—is a deeply troubling development," a statement from Türk's office stated.
"If signed into law by the President, it will render lesbian, gay and bisexual people in Uganda criminals simply for existing, for being who they are. It could provide carte blanche for the systematic violation of nearly all of their human rights and serve to incite people against each other," the statement added.
The United States Secretary of State Antony Blinken also spoke out against the bill. On Wednesday (March 22nd), he tweeted: "We urge the Ugandan Government to strongly reconsider the implementation of this legislation."
White House National Security Council spokesperson John Kirby did not rule out some economic "repercussions" if the legislation is implemented.
Uganda has had a long history of enacting strict laws against homosexuality. In 2014, the country passed an anti-gay law that authorized life imprisonment for "aggravated homosexuality.'' The law prompted several of Uganda's donors in the west to halt aid payments to the East African country until it was annulled. That annulment happened after its constitutional court determined that the law was passed without the appropriate number of people present.