In August 2020, the New York Post published an article about Afrobeats, claiming that Beyonce's endorsement of Burna Boy made the music genre gain international recognition. This statement generated opposing views from Nigerians, who insisted that Afrobeats has been on the world map for decades. Fu'ad Lawal was one of such Nigerians who corrected the notion heralded by the New York Post.
Posting on X (formerly Twitter), Fu'ad Lawal shared a Nigerian Observer article published in September 1951, which highlighted "How Afrobeats Swept London." Fela Anikulapo-Kuti and Benson Idonije, Burna Boy's grandfather, were pictured together in the article. This singular post helped debunk the narrative that Afrobeats had been obscure until Beyonce's attention.
Lawal had been inadvertently prepping for this moment since 2019, after developing an interest in archiving Nigeria's history. While working as Zikoko's editor-in-chief then, he quickly realized that finding things about Nigeria's history wasn't easy. Eventually, he became determined to unearth pieces of Nigerian history that had been lost. Lawal spent his free time looking for old newspapers, writing about his thought process, and working together with friends to get his hands on newsprints.
"I was driven by curiosity. It was mostly like, 'Oh, why can't I find stuff from Nigerian history?' Interestingly, a while later, I visited the Sokoto Museum and was amazed to see old newspapers. Every library in Nigeria keeps them. Then I asked myself, 'What if?'," he says.
With a mission to digitize 18,627 pages of old Nigerian newspapers from 1960 to 2010, Lawal formalized the process by creating a non-profit organization, Archivi.ng, with about 300 volunteers who are spurred by their desire to change the narrative that history is dead in the country.
Four full-time volunteers, whom Lawal refers to as the core team, manage the daily operations at the Archivi.ng office in Lekki, Lagos, Nigeria. The Archivi.ng website officially launched to the public on September 30, and also involved many volunteers playing active roles in sourcing newspapers and ensuring a hitch-free launch.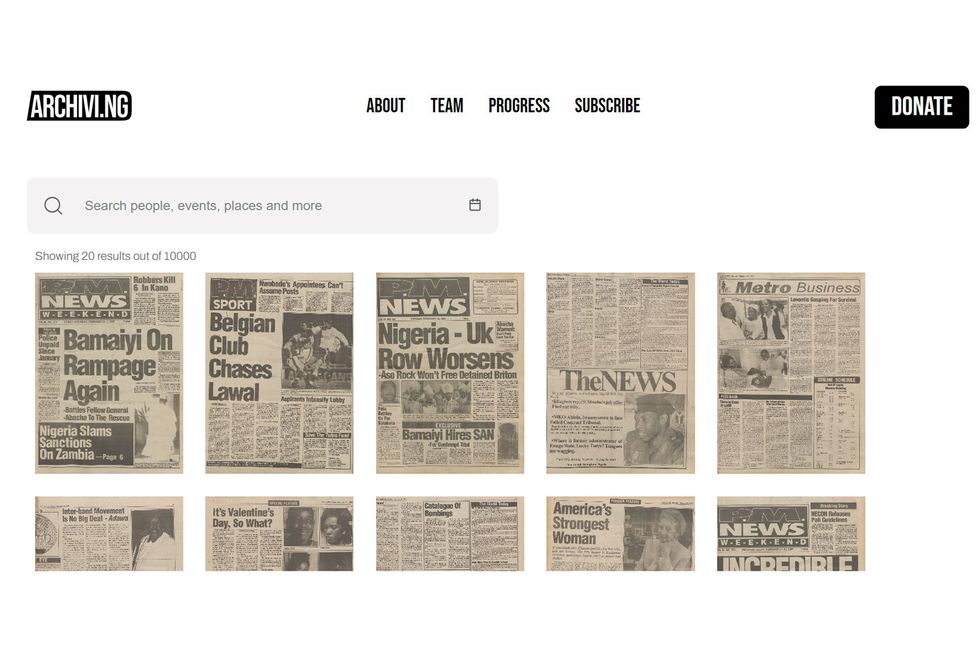 Some Archivi.ng search results.Image credit: Screenshot from Archivi.ng, Gabriella Opara.
For Ify Ogbue, joining Archivi.ng's in-house operations team is her way of helping Africans start asking the right questions. "Archivi.ng will start important conversations that need to be had not only in Nigeria but across Africa. Who are we? What have we done? How did we do it? How can we be better? Now that we have the framework, we know what happened. The stories we see are about every community in Nigeria, even the marginalized communities. With these stories available, we can start changing things effectively," She says.

Similarly, Lawal believes that lost history is a continental issue that must be fixed for Africa to advance in research, innovation, communication, the arts, and other fields. "Europe and America have figured out, or are in the process of figuring out, how they solve these things for themselves. But in our case, it's still a very critical problem. So inevitably archiving is about recapturing lost African history to change our view of ourselves and the narrative shared about us," he says.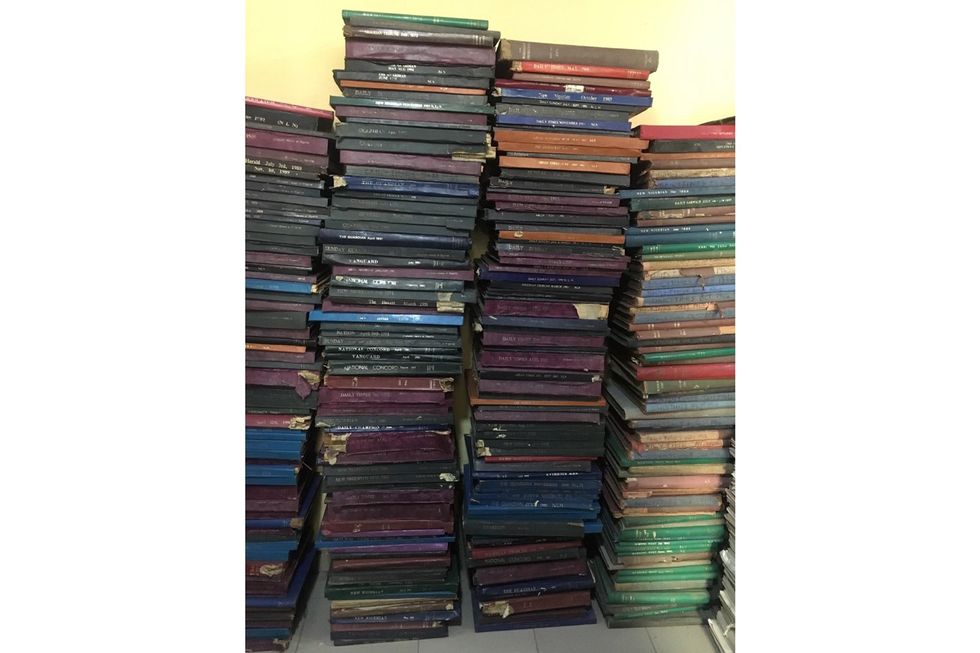 Stored newspaper print archives.Photo by Gabriella Opara.
Indeed, this is a sentiment shared by other Africans. Chao Tayiana Maina, a Kenyan historian, decided to fill this information vacuum after noticing it. In 2019, she founded African Digital Heritage (ADH), a nonprofit organization. Through media, archives, 3D renderings, and audio-visual content, ADH preserves Kenyan history and African stories for historical restoration.

By having easy access to stories that happened decades ago, a film director can make a period film that accurately depicts clothing in that era because they've seen pictures. An artiste can draw inspiration from certain words and chants that were once popular, and make it the new pop-culture slang through their songs.
"Even in politics," Fu'ad Lawal says, "You hear a politician named a budget 'XYZ'. But, that's not new. Shehu Shagari's last budget, before he was overthrown by the coup that brought in (Muhammadu) Buhari, was named the Budget of Restoration. One hill I'm willing to die on until someone proves me wrong is how a (General Yakubu) Gowon policy in the 70s influenced the 'Jollof wars'. Due to that policy, we started importing foreign rice and began cooking rice at scale without picking rice the way we pick beans."
According to Lawal, the history of travel and fashion in Africa can be understood by observing what he terms the "Jollof Road Corridor." This showcases the unity between African countries.
"If you go back five decades in history, you'd realize there's a lot of travel along the Jollof road corridor. If you grew up in Lagos, you've probably heard of Senegalese as the name of a fabric. Most of those things arrived here by road from Senegal. So, you start to realize there's a lot of opportunities to even begin to capture our connectedness as a region, as a continent," he states.
Digitizing Nigeria's history has not been without challenges. It involves many parts that make the process slower than what Fu'ad is used to. Coming from a media and technology background where everything is fast-paced, the lack of speed in the world of archiving can be frustrating.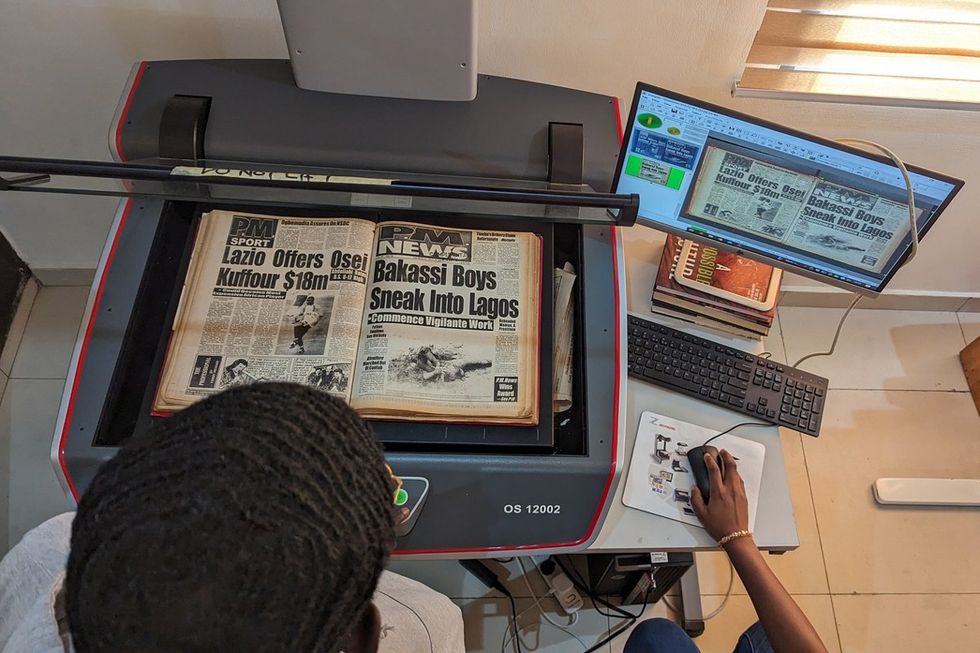 Old newspapers being scanned at the Archivi.ng officeImage credit: Archivi.ng.
However, he's undeterred by the process; from fundraising, getting publishers approvals, collaborating with libraries and the National Archives, to the 13-month wait for an industrial scanner. Ultimately, it's dusty, stressful work that's nevertheless fulfilling, Lawal says.

So far, Archivi.ng has raised $40,000 through donations and hopes to raise $100,000 by year's end. Having scanned over 50,000 newspaper pages, the website is now freely accessible to the public.