Afrofuturism looks at the past, present and future. It springs forth from a community whose past was removed and yearns for a future reminiscent of this past. It is complex. It calls blacks to reconstruct and deconstruct who they are. It calls them to decolonize themselves. They enter the imaginative space. It addresses the African diaspora's needs through the lens of science fiction. Black concerns are disregarded as they enter the realm of space and transcend the confines of time.
---
Afrofuturism accepts the weird and unconventional. It celebrates unapologetically thriving in one's blackness. It juxtaposes the diaspora's african heritage and western culture to aid in defining who its' individuals are. It can be seen in powerful imagery that calls to mind spirituality, outer space, tribal motifs, metallics, and fantasy.
Despite the diaspora's progress, museums and galleries still fail to fully represent it. Today, there's a push for the Afrofuturist aesthetic to be positioned in art. Dennis Osadebe is a Nigerian mixed-media artist whose vivid pop art lends itself to this movement. He also defines himself as a "Neo-African." The term attempts to break away from the exclusive idea of "African" art and the limits such geographic terminology places on artists. It shatters the confines of the box that is "Africa" and goes beyond the continent. It recognizes that there is diversity in contemporary art and there's a global perspective.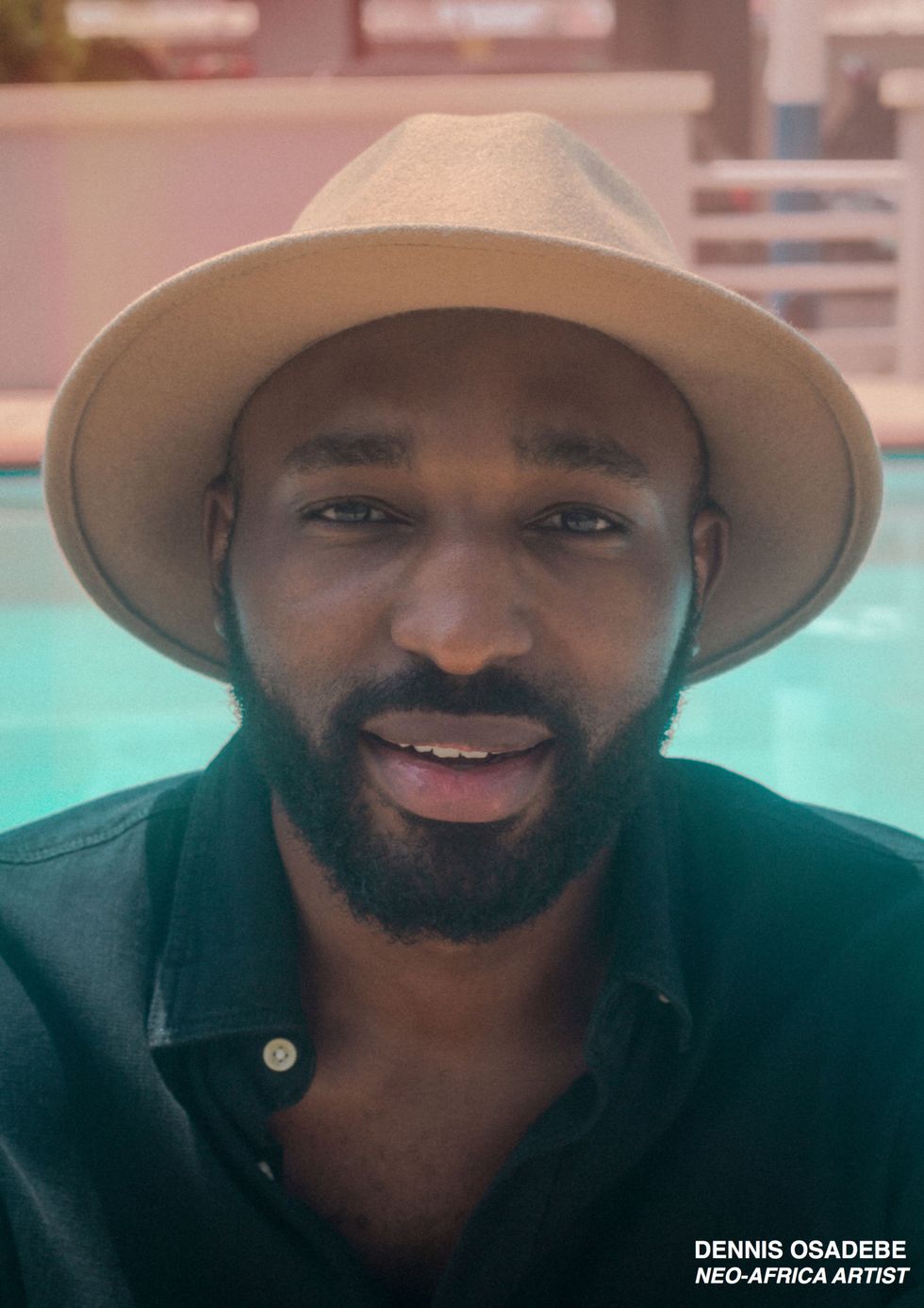 Courtesy of Dennis Osadebe.
Osadebe's most recent exhibition, "Remember the Future," poses questions about individuals in Nigeria. His first solo show he presented at Red Door Gallery in Lagos examines class, power, gender and looks to the country's future.
Read our conversation with him where he goes more in depth on Afrofuturism, his artistic inspirations and more below.
Audrey Lang for OkayAfrica: What does the term "Neo Africa" mean to you?
Dennis Osadebe: Neo Africa embraces the idea of deconstructing the notion of contemporary African art and questions what exactly this means. When we call art, "African art," it creates an expectation that the artist will create something "African," for the collector to collect something "African" and for the institution to be "African." This limits the artist in the sense of creating and Neo Africa wants to break out of that box and out of the expectations projected on to us as creators, as artists on the continent.
How many mediums do use to create? What exactly are they?
My style is a mixture of traditional materials with new media. The images and layout are created using a digital process, which are then overlaid with acrylic paint. While the digital process technically allows for an infinite amount of reproductions, this secondary use of paint makes each artwork a unique object.
Which artists inspire you? What about their work inspires you?
I am inspired by Jean-Michel Basquiat. His approach to art and his message are what resonate with me the most. The way he expresses himself and the energy his works possess, you can tell the personality of the artist and almost peek into his soul.
Courtesy of Dennis Osadebe.
Tell me about your first solo exhibition. What inspired "Remember the Future?"
"Remember the Future" is a visual journey into Nigeria's analogue past and its digital present. The Exhibition explores the idea of mixing traditional materials and crafts with technology and new media. The aim is to question the realities about Nigeria's contemporary society, including those of power, class, and gender whilst suggesting possibilities for the future.
It started off in April 2016 after I heard the news of the Nigerian space program on CNN. I thought it was interesting and I researched more into it and saw that it was actually not a joke and steady progress was being made.
This inspired me to create a visual representation of what "Nigeria in space" would look like using the context of today's happenings. For example, in a country without constant supply of energy, one wonders if Nigeria can truly make history and become the first nation on earth to create a generator-powered rocket?
What do your audiences connect to?
To be honest, I make art for myself. It really has to posses the type of energy that I want to share with the world before anyone else can connect with it. So, I'll say they connect to the spirit of the artist.
What roles do colors, space and helmets play in your work? 
Unity and togetherness are themes I try to explore and highlight its beauty. I find that in the end all colors complement each other, so I like using each color to bring out the qualities of each other.
The symbol of the helmet ranges from protection, technology and spirituality. It binds the diverse characters from the works together. In one sense, the helmet is a form of protective gear, shielding the harmful effects of the outside environment. The helmet also creates a sense of anonymity, disguising the identity of its user.
There is also an inherent sense of isolation associated with the helmet, which parallels the isolation created by the technologies that we consume. As the technologies of our world advance and offer a new level of global connectivity, they also transform our experience and the way we interact with others. We become detached and enter a virtual environment, blocking many of our basic senses.
The subjects' helmets can also be viewed in relation to the role of the mask in Nigeria tribal traditions, which are used as ceremonial objects that communicate with the unknown.
[oka-gallery]
Is your subject matter always Nigerian?
No, it is not. The reason why "Remember The Future" is focused on Nigeria is because, I wanted my first solo exhibition in Nigeria, where my career was launched to be relevant to the Nigerian experience and situation. I believe it was my duty as an artist.
What are you currently working on? What is your next project?
Currently I am working on new products inspired by my art, for the people. It ranges from tees to shorts to lighters, basically all mediums. All of this is inspired by my art and will be will be dropped on my website. I mean if my works cannot be shown at Art Basel tomorrow for example, my tee can be worn there and that is my work being present there, you know?
I am also working on a number of projects but I signed an NDA so I don't think I'm allowed
to say anything about any of them.
You did a collab with Orange Culture, are there any other fashion collaborations you would like to do in the future?
Yes, I did and it was a very organic collaboration because we both identify with the same values and our aesthetics are very fresh, vibrant and futuristic.
Definitely, ideally I would enjoy working with Billionaire Boys Club on a collection inspired by "Remember the Future." Just putting it out there into the universe.
What do you want people to take away from your work?
I would love my work to leave you feeling like you can be a better version of yourself because art is what your own possibilities are as a human being, it is about your own excitement, your own potential and what you can become.
What is your definition of Afrofuturism?
Afrofuturism to me is The Next Generation.
How do you view your work from the lens of Afrofuturism?
Having a futuristic vision of the world isn't about daydreaming an unrealistic, year-to-come fairytale. It's become a matter of critically thinking long-term developments, debates and initiatives that can create wider inclusive politics, on a global scale, beyond genders, races, species. "Remember The Future" has us looking forward to the future as a greater end, while reminding us that the present is always a good place to begin.
To keep up with Dennis Osadebe, follow him on Tumblr, Instagram and Twitter.
For more on 'The Artist Is Present' series, click here.