The ConIFA World Cup, the global football tournament for unrecognized nations, and football associations not affiliated to FIFA, is about to begin its third edition. The championship will kickoff on 31 May in Sutton, Greater London, where the Barawa FA team will act as host.
Barawa FA, named after the port city of Barawa in southern Somalia, represents the Tunni and Bravanese people who live there, but it also represents the wider Somali diaspora in the United Kingdom. So, even though the tournament will be played in England, this will be the most African ConIFA competition to date, with not only an African member hosting and heading the organizing committee, but with two other African teams taking part in the competition: Matabeleland and Kabylia.
This will be the largest edition of the ConIFA World Cup so far, with 16 teams playing in 10 stadiums—seven in Greater London, two in Berkshire and one in Essex. In contrast, the previous edition, held in Abkhazia—a separatist region of Georgia—in 2016, featured 12 teams in two stadiums; while the inaugural edition, held in Lapland—a region encompassing parts of northern Sweden, northern Norway, northern Finland and north-western Russia inhabited by the Sami people—in 2014, only featured one stadium and 12 teams. It will also feature the largest number of African teams so far, as only two participated in 2014 (Darfur and Zanzibar) and 2016 (Somaliland and Chagos Islands).
The tournament has also raised its profile. Irish bookmaker Paddy Power announced it will be sponsoring the tournament, probably seizing the opportunity to take bets on the tournament, which will occur between the end of national European leagues and the beginning of the FIFA World Cup in mid-June.
---
ConIFA also secured Mark Clattenburg, who served as a referee in the English Premier League for over a decade, as main referee. Clattenburg will oversee the inaugural game (between Ellan Vannin, the team representing the Isle of Man, and Cascadia, the team representing the U.S. states of Washington and Oregon and the Canadian Province of British Columbia), and the final game, to be played on 9 June in Enfield.
Clattenburg and the other 24 referees in the tournament will also debut a green card sponsored by Paddy Power. This card will be shown to players who dive or who protest the referees' decisions, and who will have to be substituted immediately.
But who are the African teams in the tournament and how did they get here? Learn more about them below.
Barawa
Barawa, as mentioned, are a Somali team based in London, and their players come mostly from the semi-professional non-league divisions in the English football pyramid. However, they will be fielding Kingsley Eshun and and Ode Alfa, both of which play for Queens Park Rangers' – a Championship team – youth sides, as well as Aryan Tajbakhsh, who plays for League Two side Crawley Town.
The team joined ConIFA in June 2016, and have never played in a ConIFA competition, though they did play in the World Unity Cup in Sutton that same year, a competition in which Tamil Eelam – the team representing the separatist Tamil region of Sri Lanka – qualified for this year's World Cup.
But Barawa didn't have to worry about qualifying matches for long. They were selected hosts in June 2017 and qualified automatically for the 2018 World Cup, despite being ranked 11th in ConIFA standings, one of the lowest of all members.
In the World Cup, Barawa will face Ellan Vannin, Tamil Eelam and Cascadia in Group A.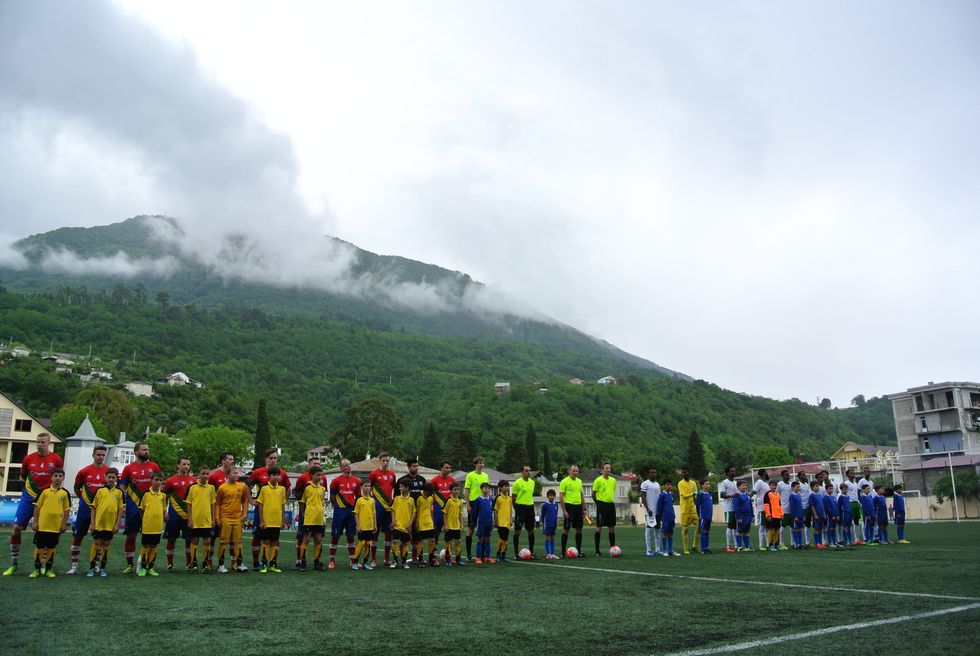 Sampi vs. SomalilandPhoto by Kieran Pender
Matabeleland
Matabeleland is a region in southern and south-western Zimbabwe inhabited mostly by the Northern Ndebele people. Matabeleland was the stage of a series of massacres –– known as Gukurahundi –– committed in the 1980s by the Zimbabwean National Army, during the government of former president Robert Mugabe, who is part of the Shona majority. Even now, there is an independent movement in Matabeleland lead by the Matabeleland Freedom Army.
However, the Matabeleland Football Confederacy was created by the Save Matabeleland Coalition with the official purpose of promoting soccer in the region as a way to foster development, and to give local kids a sense of identity and purpose.
Matabeleland joined ConIFA in 2016 and their team is made up mostly of local kids who participate in Save Matabeleland Coalition programs. They are coached by Englishman Justin Walley, and both Bruce Grobbelaar –– who played for the Zimbabwe national team and Liverpool FC –– and Matt Perrella –– a professional U.S. goalkeeper –– will work as goalkeeper coaches. However, due to political concerns, they did not announce their roster publicly.
They qualified to the 2018 World Cup after playing many regional friendlies, and then being selected by ConIFA to participate in the competition But they ran into finance financial problems. They sought $35,000 to help pay for visas and airfares through various crowdfunding efforts, which included a contest, sponsored by Paddy Power, to design Matabeleland's kits.
However, they have yet to play their first official international game within ConIFA. That will change in later this month when they face Padania –– a team representing a separatist region in northern Italy ––, Székely Land –– a team representing the Hungarian diaspora in Romania, and Tuvalu –– the island nation that is part of the UN, but has not been admitted as a FIFA member due to their lack of facilities –– in Group C.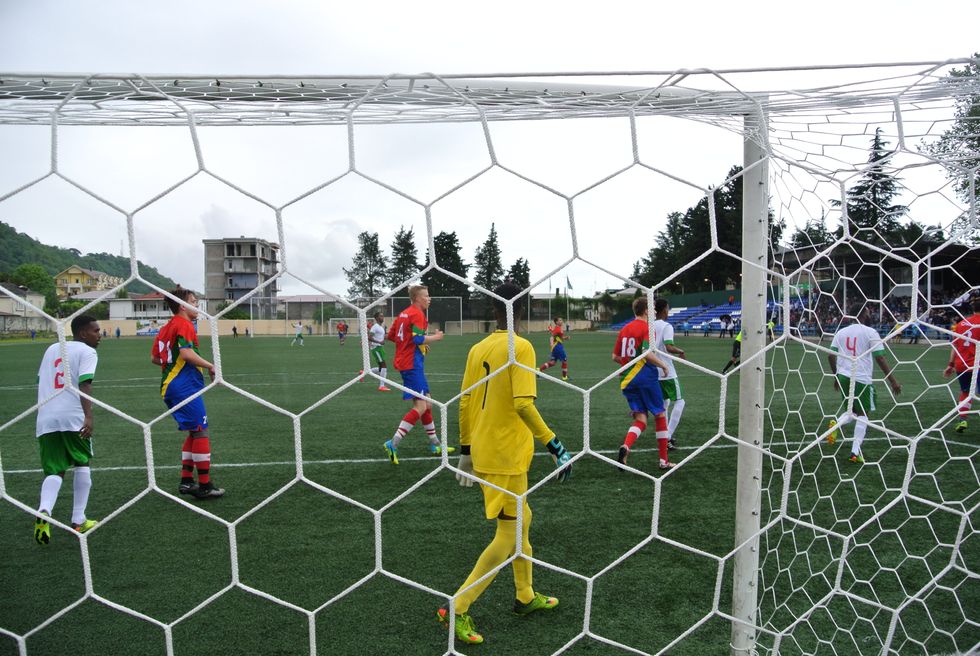 Sampi vs. SomalilandKieran Pender
Kabylia
The Kabylia football team represents the Kabyle people, a Berber ethnic group who inhabit northern Algeria. Since the Algerian independence from France in the 1960s, the region of Kabylia has been fighting for greater recognition, as many there feel that the new nation has tried to "Arabize" them. For example, Algeria only recognized Berber languages as official in 2016.
Because of this, many Kabyle emigrated to other countries and some famous French footballers are of Kabyle descent, most notably Zinedine Zidane, Samir Nasri and Karim Benzema. Zidane has even had to correct the record in some interviews, noting that he did not grow up speaking Arabic in his Algerian household in Marseille, as some interviewers assumed, but Kabyle.
In 2001, the Movement for the Autonomy of Kabylie (MAK) was founded by folk singer Ferhat Mehenni as a non-violent movement seeking to obtain self-government rule for Kabylia. MAK has endorsed the Kabylia football team, which joined ConIFA barely last year and, like Matabeleland, qualified after playing various regional friendlies.
However, the scene in Kabylia was not as celebratory as in Matabeleland. According to the Kabylia-based news agency Siwel, after qualification, the Kabylia manager Alex Bellabacci was arrested by the Algerian authorities and held for questioning.
Because of the animosity of the Algerian authorities towards the Kabylia team, is hard to get info on who their players will be –– like Matabeleland, they did not announce their squad publicly. However, it is expected that they will bring a mix of local players, and players from the diaspora.
In any case, they will be part of Group D, where they will square off against Panjab –– a team representing the Punjabi diaspora in the United Kingdom ––, United Koreans in Japan –– a team comprised of both people of North Korean and South Korean descent living in Japan –– and Western Armenia –– a team representing Armenians living in what is officially recognized as the eastern part of Turkey.
Somaliland goalkeeper. Photo by Kieran Pender