Baloji had been trying to make a feature film since 2012. "The problem is I'm a musician," he tells OkayAfrica. "But I'm not a popular musician, so it's more difficult to get funded. People say, 'What does he know about that?' or 'He's a rapper; rappers don't make films.'" In 2018, after constantly finding himself rejected by film commissions, Baloji started self-funding his film projects. From Kaniama Show to Peau de Chagrin/Bleu de Nuit and 2019's Zombies, he began building his cinematic portfolio; a resume of what he could do if given the chance.
Now, with his feature film, Omen (Augure), premiering at the Cannes Film Festival this week, there is sure to be no doubt in anyone's mind that Baloji is a director with a capital D.
Not that he ever needed any approval or permission. As someone who's always wanted to use the full box of crayons to color outside the lines of his imagination, Baloji has channeled his creativity into poetry, rap, acting, painting – any form that suits the shapes his ideas take.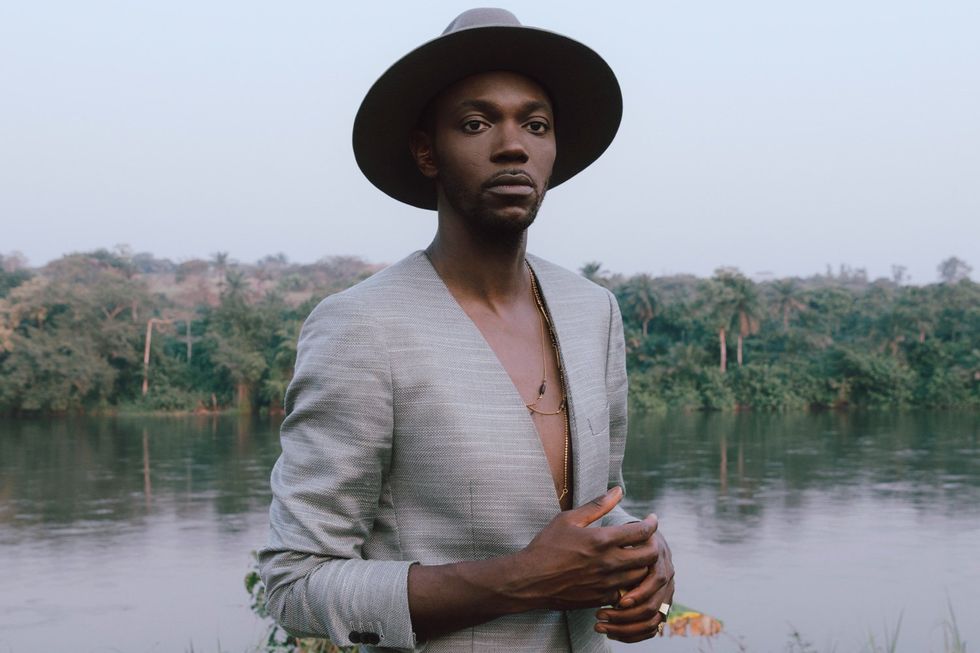 Baloji has been trying to make a full-length feature film since 2012, and now makes his debut at the Cannes Film Festival. Photo by Kristin Lee Moolman.
Born in Lubumbashi in 1978, having grown up in Ostend, Belgium, Baloji made his name known as MC Balo with the group Starflam, before going the solo route in 2004. As his music career developed, so did his artistry, and playing within the short film format helped him figure out a visual language to accompany his sonic work.
"I'm obsessed with symbolism in art," he says. "I'm obsessed with surrealism and with magical realism in the narrative. I really learned to work on my framing and cinematography. I've been working for a long time to have something very established." The language he's crafted is one that aims to give visual reference to the kind of oral tradition he grew up with in the DRC, combined with the many other influences that fill Baloji's affluent mind.
Omen can be seen as a culmination of his efforts over the past six years, since he started funding his film projects. It's a fantasy that's grounded in very real issues, namely the impact of patriarchal society. Through the intertwined stories of four distinct Congolese characters, Koffi, Paco, Tshala, and Mama Mujila, the audience is shown four different experiences of being labeled a sorcerer or witch, and how burdensome the weight of other people's expectations can be.
Baloji's own name is a play on sorcery – determined by which side of colonization you are on, it could be taken to mean 'devil' or 'men of science.' "I'm obsessed with the social assignment you can put on somebody," he explains further. "And how the culture can shift."
From debt to the darling of film festivals
It hasn't been easy to get others to see what Baloji sees, imagine what he imagines. Hence the difficulties in securing funding. Omen started with initial support from Belgian producers, and became a co-production between Belgium, the Netherlands, and the DRC. "Six months ago, we were in debt of 400K," he says. "It was a nightmare. It was difficult to get funding because people just didn't want to believe in something that doesn't follow the industry rules, that just follows one character."
Indeed, on the surface, Omen starts with the story of one man, ostracized from home, returning to the DRC before it splits into parts that take the audience into other emotional territories. "We live in a society that tells us that a narrative is about one character, and we have to be naturalistic, and we have to be close to the real situation," says Baloji. "And so, when you say there is a scene of women entering a room and they start crying and wailing halfway into the film, they're like, 'Oh my God…'"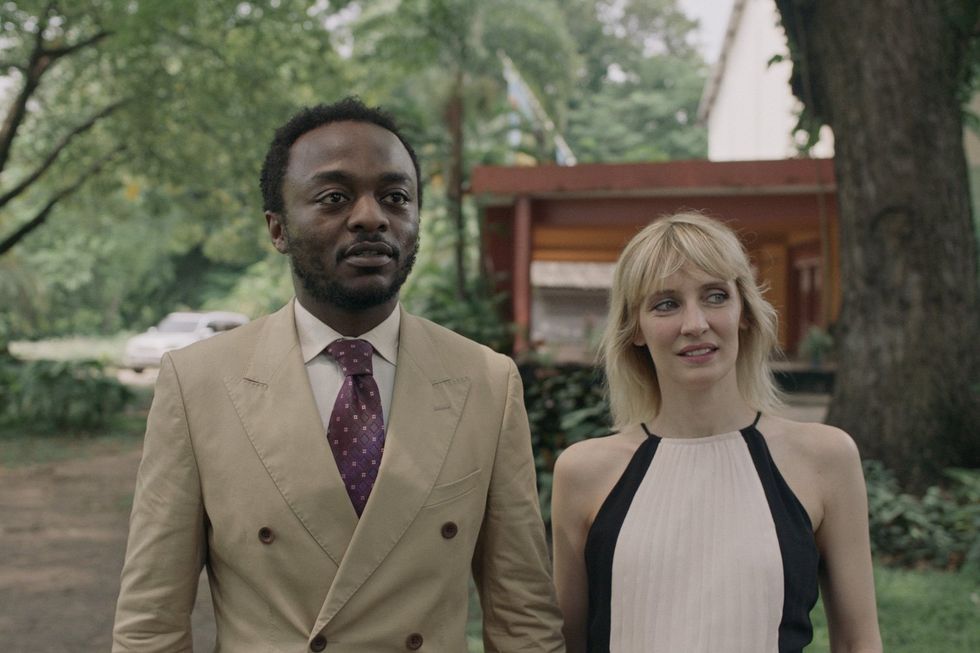 Marc Zinga and Lucy Debay play Koffie and Alice in Baloji's 'Omen.' Photo courtesy Wrong Men.
Despite the obstacles, the production began filming in April last year and now the film will debut in the Un Certain Regard section of the Cannes Film Festival, a program at the esteemed film festival dedicated to must-see new voices. Reaching this point has been quite the whirlwind for Baloji. "It's been a full-time job!" he chuckles. "I think I had three weeks off, but we cannot complain because it's a beautiful job and because you know you're working with a team that wants to tell your story, which is fantastic."
While Baloji isn't quite sure what convinced funders to support the film in the end, he believes it has to do with point of view. "We need to see different angles, different perspectives. It's crucial," he adds. "It's what creates empathy." And he's surprised by what they were able to pull off, including creating elaborate masks inspired by New Orleans and the parades that take place from Congo Square there, linking the two places and their rich histories together on celluloid.
Connecting time and space
Although no existing town is named in the film, Omen was shot in both Lubumbashi and Kinshasa. There is no road connecting one city to the other, and Baloji says they couldn't be further apart in socio-economic status either. He likens it to filming in Cape Town and Pretoria: "Cape Town is quite rich and has beautiful geography, and Pretoria is more labyrinthe and more of a mess." Going from one to the other underscored the disparity of wealth, he says, despite shows of unity that might exist between the Congolese people. This, too, became another theme he incorporated into the film.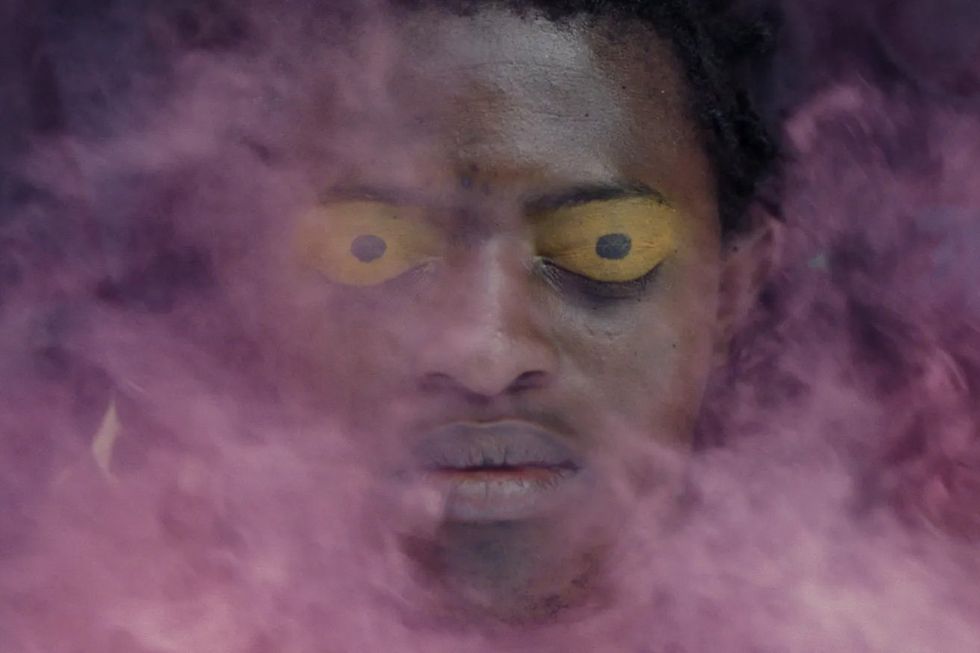 Baloji's 'Omen' ('Augure') will make its debut at the Cannes Film Festival. Photo courtesy Festival de Cannes.
Omen is the kind of film that would reward multiple viewings, and Baloji is aware he might lose some viewers who won't give it the attention it deserves. After all, this is the man who made a short film about our collective phone addiction and called it Zombies. "I'm fighting against it myself, that's why I love to go to the theater," he says. "I need this moment where I'm disconnected from my phone and social [media]. We need this, we need a break," he says. "The beauty of cinema is that you accept you're going to watch something for two hours, or one-and-a-half hours, in the case of Augure (Omen)."
The film features music that Baloji composed. Yet not all of the compositions made it to the screen. He recorded four separate albums of music, each one existing as a backstory for each main character in the film. Though we may not hear it all, the music still informs what we see on-screen, building these characters' lives as they play out before us.
It may seem like a lot of extra work, but it helped teach Baloji – who fell in love with filmmaking when he lived above a video store and learned the craft from watching a lot of movies – how to develop characters and their points of view. It also gave him the space for his synesthesia to lead the way. "I associate sounds with colors and locations so it really helped with the staging of the movie, and working with my DOP to get the rhythm and structure of the movie," he says.
All of the work it took to get to this stage, to be at Cannes, is worth it. But Baloji doesn't revel in it for too long. "I see the next challenge," he says. "We are shooting a short film this winter, and I'm working on my second feature film, obsessively, which will probably happen in South Africa, because it's talking about race. It's between South Africa and Congo. It's also talking about patriarchal structure and the impact on it." It's taken Baloji this long to get his foot in the door, he's not about to close it anytime soon.