The first thing you notice when you begin to listen to The Messenger—the new investigative documentary podcast following the rise of Ugandan singer, businessman and revolutionary political figure Bobi Wine—is Bas' rich, paced, and deeply-affecting storytelling voice.
Whether he is talking about Uganda's political landscape, painting a picture of Bobi Wine's childhood, or drawing parallels between the violence Black bodies face in America and the structural oppression Africans on the continent continue to endure at the hands of corrupt government administrations, there is no doubt that Bas (real name Abbas Hamad) has an intimate understanding of what he's talking about.

We speak via Zoom, myself in Lagos, and him in his home studio in Los Angeles where he spends most of his time writing as he cools off from recording the last episode of The Messenger. It's evident that the subject matter means a great deal to the 33-year-old Sudanese-American rapper, both as a Black man living in America and one with an African heritage he continues to maintain deep ties with. The conversation around Black bodies enduring various levels of violence is too urgent and present to ignore and this is why The Messenger is a timely and necessary cultural work.
Below, we talk with Bas aboutThe Messenger podcast, Black activism, growing up with parents who helped shape his political consciousness and the globalized body of Black pain.
This interview has been edited for length and clarity.
---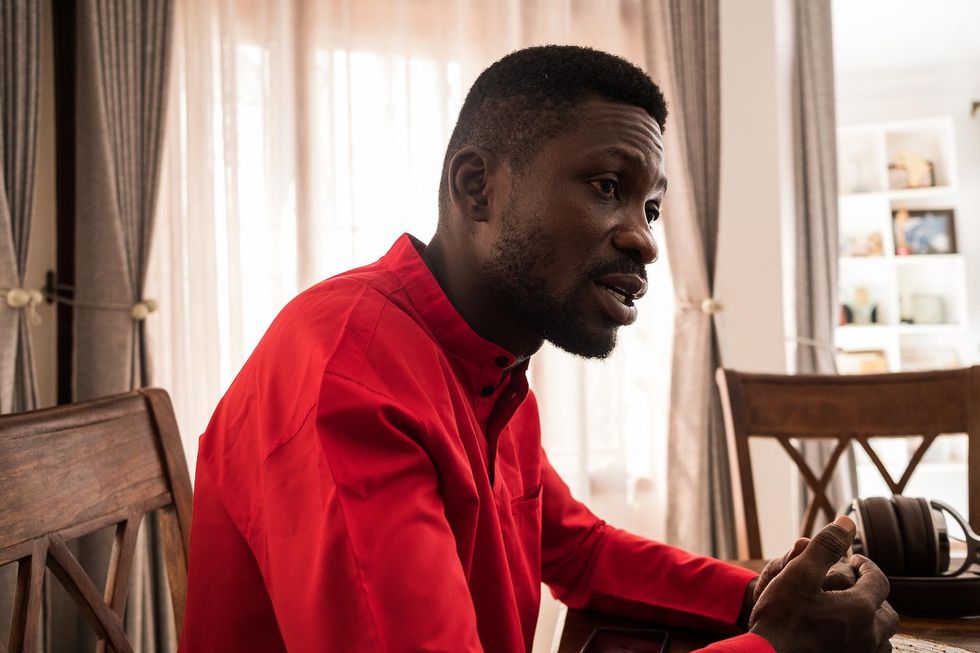 Bobi Wine.Photo: Kibuuka Mukisa.
The storytelling in The Messenger is so rich and layered while providing a strong mental picture of Uganda's current political landscape amongst other subjects, what was the process behind that?

I have to tip my hat out to Awfully Nice, the team really did the work to put the production together. They had a journalist on the ground over there and over here as well.Because they have been doing this for a long time, they were really able to support our team at Dreamville studio and held our hands through the process. And you have to know your audience, from the feedback I have received, the majority of the people who are listening to this would benefit from finding things that resonate with the people we are speaking to. The goal is to make it relatable and to put it in context with things they care about, so whether we are talking about Kanye's visit to Uganda or exploring my album's political nuances, the goal is to make the story accessible.
What drew you to Bobi Wine's story?
Being Sudanese, we just ousted Omar Al-Bashir very recently, and that was very close to home. I had family who were put in grave danger during that time and being neighbors with Uganda, I understand what it feels like for one man to rule your country for a long time. With Yoweri Museveni it's been over 30 years. I saw and understand what that does to people and to see someone like Bobi Wine who has so much comfort and yet is willing to give that up to champion a youth-led movement, it was just something very inspiring that I wanted to amplify.
"Being Sudanese... I understand what it feels like for one man to rule your country for a long time."
What would you say informed your political consciousness?
First off, growing up with politically-conscious parents was very helpful as they helped expand my worldview. My dad was an ambassador and we moved around a bit. Another event that helped would be going down to Ferguson, Missouri during the Black Lives Matter protests that happened after Michael Brown's murder. I was there for a couple of days with J. Cole and a bunch of other guys from our label and we spent most of the time just walking in protest with the people of Ferguson. At the end of the day, we would all go to dinner to talk and try to figure out what we can do to help. I will always be grateful to Cole for bringing all of us out because that experience was a real awakening for me as an African-American. Also, our plights as Africans and African-Americans are one and the same and the time I spent in Ferguson made it more obvious.
What do you think is the place of media in covering Black lives?

The media helps to shape perspective and that matters. While we were at Ferguson, one of the things we really thought about was how to find our place in ensuring that Black lives are covered with truth and nuance. For example, while we were at Ferguson, the march was made up of people from all races, you would find people loving on each other and providing support, but the media would rarely cover that. But when I would get back to my hotel room to watch the news, I would find coverage of violent breakouts often started by the police at these protests and nothing about what happened before that.
"Our plights as Africans and African-Americans are one and the same and the time I spent in Ferguson made it more obvious."
How do you feel in regards to how things played out in the Ugandan elections?
I'd like to remain cautiously optimistic in the sense that I feel like the election was rigged and I am not alone in this opinion. I don't think he was given a fair chance or that the voices of Ugandan were reflected in the election results. One thing we touched on in the podcast was how Fela Kuti's story ended tragically for going against the Nigerian government, but while that might serve as a cautionary tale to many not to stand up to powerful institutions, it only ignited a fire in many Africans and that's what I see happening with Bobi Wine. To me, I don't think this is the end for Bobi Wine, I also just feel like with Uganda being the youngest population in the world, Bobi Wine has sparked a significant flame in the minds of the younger generation of Ugandans who are paying attention to him. And that is really one of the biggest achievements he has made to date.
What do you hope that The Messenger does as the cultural statement that it is?
I just want the Ugandan people to know that we hear their stories. Even if nobody does, at least somebody cares about what is going on. And this is also for the African Diaspora, and being a part of that community, we are always talking about ways to use our platforms and access to give back and be of value to our home continent. You know, living in America and having a certain degree of privilege, financial security, and popularity, it is important that we continue to use that in meaningful ways. And another thing I am hoping to see is encouraging other people who are not necessarily of African descent to take the Ugandan cause up and to speak out on the oppression going on and it is very inspiring to know that through hip-hop, or through works like The Messenger, we can make people tune in and start paying attention, we can make them care.