Bebe Zahara Benet is three things: fierce. fabulous, and a force. For avid followers and fans of the reality show RuPaul's Drag Race, you may remember Bebe Zahara Benet as the winner of the inaugural season of the program back in 2009. Since then, she's gone on to star in TLC's Dragnificent and more recently, has been back in the recording studio working on her upcoming EP, Broken English.

Last week, she dropped "Banjo," the first single o the EP. It's a fun, energetic and uninhibited number that likens romantic pursuits to the sweet harmonies of the stringed instrument. Naturally, the accompanying music video is just as vibrant and light-hearted.
The Cameroonian drag artist moved to the United States when she was 19-years-old and has grown to see herself as belonging to two homes. She's put out a ton of music including including the EPs Face and Kisses & Feathers, as well as a number of singles including "Fun Tonite", "Get Fierce (Lose Yourself)" and "Starting a Fire." Currently based in Minneapolis, Minnesota, she says that it's been two years since she's put out original music and it's time to give her fans what they've been asking for.
We spoke with Bebe Zahara Benet on lockdown from her home in Minneapolis, and got to hear more of what went into creating her upcoming project, the challenges of being an alternative artist from a conservative African country and how she's navigating the world of music during the coronavirus outbreak.
This interview has been edited for length and clarity.
---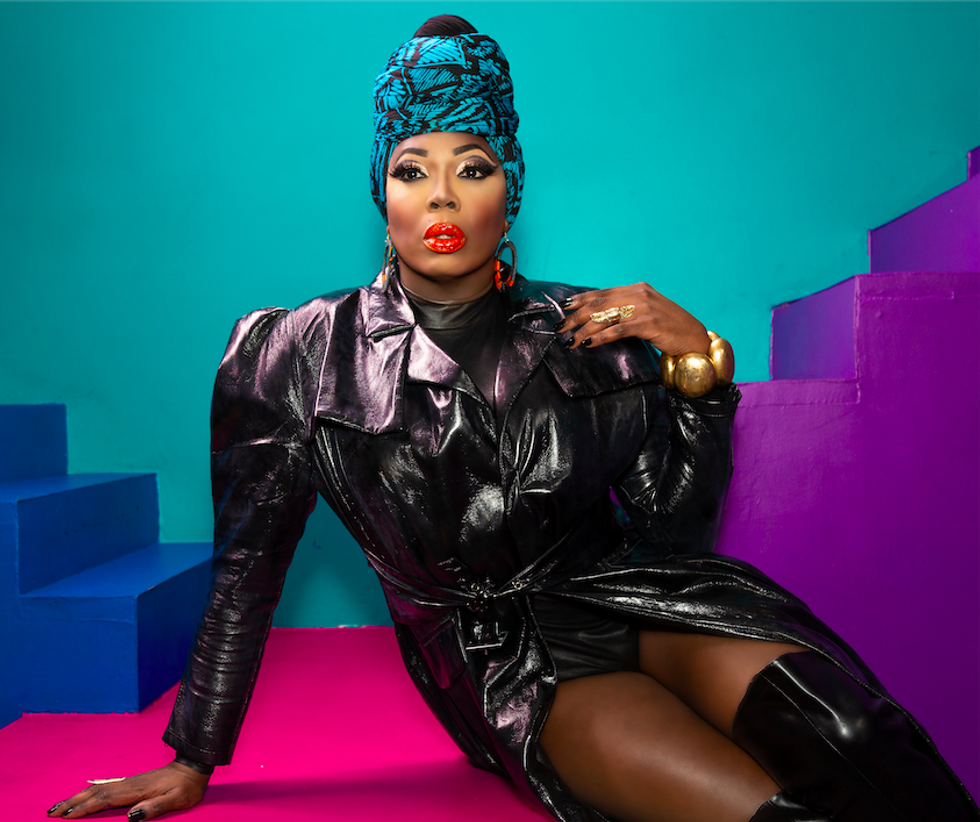 Bebe Zahara Benet pictured above. Photo by Bird Lambro
You're set to drop your debut EP Broken English. In light of the coronavirus outbreak, how are you navigating that space as an artist who still needs to put out music?

Many of us artists have been negatively impacted by the coronavirus. And many of us make our living from performing live shows and from touring. It's definitely presented a challenge to our livelihoods. And I can say that personally, but I think a lot of artists would say the same thing. What I always say though is that we are not strangers to hardship or adversity. We are banded together and we have managed to still make meaningful connections with our fans while sharing our art with the world. The internet now is becoming our best friend. There's always a way that we work on staying connected with the fans, and the supporters, and just spreading the love and positivity, until things get back to the norm.
How would you describe your state's response to the outbreak as well as the broader response from a national government point of view?
Well, I don't know if enough is ever enough when you're dealing with a crisis because there's always a new development every day. There's always something new, so I don't know. But one thing I would say, especially with Minneapolis or Minnesota, the state in general, they are doing everything to take precautions, to follow the rules––we are quarantining ourselves. They're really putting things in place. We're actually on a lockdown as well too where you can only go to essentials which would be the grocery stores, and the pharmacy, or the doctor, and that's just open for a certain amount of time. So, all the precautions are still being taken and we are very aware as well too.
Back to the EP. When did your love affair with music begin?
Music has always been part of my DNA. Growing up as a child, music was always part of my life. I sang in choirs, I directed them when I started getting older, and later on, I started teaching music. I would say it's a thread that has continued throughout my life. It's in my veins. And to be very honest with you, I'm very hands-on with all the songs that I create. All the musicality, the songwriting process, the mixing, and my background is what makes me so passionate about it. I always tell people that I've always been a student of music. I remember growing up my dad played the guitar and my mom [sang], they were not always the best singers, but the West they love to sing. And sometimes it's not about hitting the notes, it's all about how the music moves you. It's what makes you want to sing and the joy that it brings.
BeBe Zahara Benet - Banjoyoutu.be
Do you feel that your individuality and the kind of music that you're making right now, especially coming from a conservative country like Cameroon, contributes to more diverse voices being heard?

It's been challenging, but it should not be challenging. I feel like my culture has a huge part to play with who I am as an artist, and I want people to be able to see it, and celebrate it, and love it, and be aware of it, be aware of where we come from, the richness of where we come from. But I think that when it comes to the culture itself, because it's so conservative, there are a lot of artists like us that are scared of even being who we are and being the kind of artists we want to be. But as an artist, you don't stop being what your gift is that God has given you to do. You don't stop living your purpose regardless of the challenges, because even being here in the US, it doesn't mean that I don't have my own challenges as the kind of artist that I am. You don't stop spreading, or creating beautiful art, beautiful work and raising the flag of wherever you are coming from.
You recently released your single "Banjo." What inspired that song and how did you connect it to the visuals that we see in the music video?
"Banjo" is the first single of my upcoming EP Broken English. I wanted to flip the standard-issue love song on it's head. "Banjo" is about someone who isn't impressed by cliche pickup lines, flashes of wealth or smooth talk. I wanted a song that was a feel-good song about knowing who you are, being confident and dismissing anyone who's not willing to approach you on your own terms. People always want to give you the sweet talk, and you're like, "No, no, no, no, no. Don't give me the sweet talk."
A banjo is a West African guitar. You create such beautiful music when you play the instrument. And that's why you juxtapose that as the people that come with the "sweet music" and then you're like, "You want to play me like a banjo?" When you look at the visuals, it's a fusion. It's very colorful and very bright. It feels as much as the lyrical content, it's about what we're saying, but it feels happy. It does something to you that just instills more confidence, and it definitely makes you want to move and dance.
"You don't stop living your purpose regardless of the challenges."
What went into the naming of the EP, Broken English, and how do you feel it stands out?

It's been two years since I released original music. What inspired me, it's like I wanted to create a body of work that represented the two homes that I have, which is my birth home, which is West Africa, as well as my chosen home, which is America. So, I wanted to create this fusion of where you felt like it was a melting pot. It involves Caribbean melodies and afrobeats rhythms with pop sensibilities.
Broken English is a body of work that represents all my experiences like that, but also things like, "Hey listen, we all come from different places, and we all speak differently and I will speak like this. I'm going to pronounce this like this and that is that." If people who don't know anything about BeBe Zahara Benet, when they listen to the work, they are just going to love it. My fans and supporters will discover new things about the work; something fresh.
In terms of the process of making this EP, what would you say was one of the highlights and equally, some of the challenges?
I set out to create a project that really spoke to my love of global music. I wanted to create something which was feel-good and authentic to me, while relating to my audience. I partnered with a Nigerian producer based in Minneapolis and we worked to create such an eclectic set of tracks. I worked with a few songwriters to help me capture the stories that I wanted to tell, and the creativity just took over. It took a few months to complete it, and to be very honest with you, I'm so thrilled about how it turned out.
In terms of the challenges, I think one of the biggest challenges was time. Time was the biggest challenge for me I would say because at the same time I was working on the EP project, I was also shooting a reality television show with the network TLC. So, I would have all these long days I would have to travel and shoot, and then have to come back and go right into the studio to record.
What are some of the artists you'd like to collaborate with in the future?
I would love to collaborate with people like Tiwa Savage and Yemi Alade. I would love to do work with Angelique Kidjo. When I was growing up, Yvonne Chaka Chaka inspired me. I grew up listening to her music. There are so many artists that are up-and-coming and that are established that I would just love to work with. Davido is a good one as well too. I would love to collaborate. Why not?