In 1988, 27-year-old South African Oliver Schmitz was a first-time director whose debut film ended up being banned by the apartheid government's censorship board, for "communist" reasons. A Trojan Horse of a film – an attack on apartheid disguised as a gangster thriller – Mapantsula, with its political rallies and toyi-toying, highlighted the indignities and injustices Black South Africans were experiencing. And yet, it showed that all around, life still continued; there was vitality, even as the struggle for freedom drew on.
---
At the time of its release, the film was only ever screened once in public before being banned, but now, a new opportunity for it to reach a greater audience exists. Schmitz has spent the past few months working on restoring the film, to a version that he says is even better than the original. Considered the first to kick off a wave of anti-apartheid films, Mapantsula played at the Cannes Film Festival (also the first South African film to do so) and showed audiences outside of the country just what was happening within its borders.
Led by the late Thomas Mogotlane, who died in 1993, and co-wrote the screenplay with Schmitz, the film tells the story of Johannes 'Panic' Themba Mzolo, a small-time thief who comes to a political awakening. Mogotlane was supported by a stellar cast, which included the late singer Dolly Rathebe, who died in 2004, and Thembi Mtshali-Jones. Mapantsula also showcased the music of the time, known as 'township jive,' and featured the likes of Nana "Coyote" Motijoane. Now, 35 years since it first was screened, Mapantsula will return to a film festival, this time the Berlinale, where it hopes to find a new audience.
Schmitz, who went on to make more films since Mapantsula first played, among them the acclaimed Life, Above Allin 2010, which was nominated for an Oscar, spoke to OkayAfrica about the challenges of restoring a film and why it's important that he did.
Interview has been edited for length and clarity.
How big of a task has it been to restore this 35-year-old film?
It is an incredible task! I've been wanting to do this for years. I have a partner [Aaryan Trivedi] and a small company in London called What The Hero Wants (WTHW), and he pushed me, and I said, "Okay, let's do it." And he called the Berlinale, and on the strength of a very bad pirated copy on YouTube, they said yes [to showing it]. I'm so glad we're doing this. It's a huge process because those cans were starting to rust. It's 35 years on. I had no idea what happens but film stock is a living entity. It's chemicals in movement – it doesn't stop. So you've got scratches, you've got dust, you've got blotches of color that develop, you have shrinkage of the negative, grain changes. So it's like this thing, and you think, Where's my film? But you can bring it back, and it's an amazing process.
Where has it been stored all this time?
I have one copy downstairs in the basement [of my home], and the other original negative was in London, and this is the one we used for the scan.
You said you've been wanting to do it for a while, so why now?
The financial issues scared me off, at first. We got it scanned in London, and we got a good deal from a great company in Canada called Purple Dog Post Productions, and they invested a huge amount of time and effort into bringing it back. The dialogue about color was a long one, and, in some ways, I'm happier with this than with the original. It sounds weird, but when I was 27 years old, sitting in Technicolor in London with this old colorist called Alf, who was in his 70s and it was his last job, and he'd say, "A little bit more green, a little bit more red, a little more blue," and that was it. I'd go, "Okay, well, we can try that." But this is much more specific and sophisticated. And I always wanted the film to be vibrant because it's about resilience and it's about an unbroken spirit. Despite everything that apartheid threw at people, it's about spirits that refuse to be broken.
Photo: Oliver Schmitz
You mention people who are no longer with us, like Dolly Rathebe and Thomas Mogotlane – what do you remember about working with him?
We became friends before we made this film, but this solidified our friendship. It was kind of a merging of his knowledge of this character and what it was to survive in a South African township – he infused all of that into the character in such a wonderful way. He worked with Gibson Kente, the famous theater director, before then, and he knew a lot of the actors who came out of that school of acting, so he was also a casting director on the film. He would sit on set with the actors adapting the text to make it more organic, into the vernacular, to make it move. He would also help calm the other actors down, as well, who were nervous doing a project like this.
He also paid me a huge compliment towards the end, because I was green behind the ears. This was my first project and sometimes teens give you a hard time when you do that, they sort of say, "What does he know?" But he said, "It doesn't matter because you know what you want," and this was a great compliment from him at that stage. I'm just really sorry he didn't live long enough so that we could have made another project together.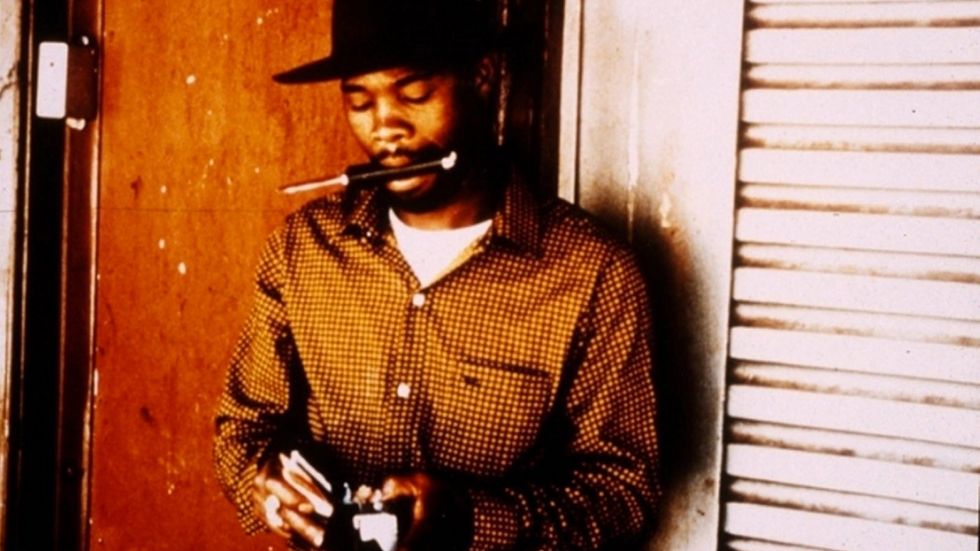 Thomas Mogotlane co-wrote the screenplay and also played the lead role of Panic.
Photo: Oliver Schmitz
What kind of relevance does the film still have for South Africans and the world at large?
I think it is more relevant. Not only is it a pretty good reflection of the times and a voice to those times, but it speaks to younger generations, and as a litmus test I know this from young South Africans, who through the generations, continued watching and enjoying the film and feeling it's relevant to their lives. Because there's just a discrepancy between social hierarchies, and being on the outside and being oppressed. Even if it's financially oppressed. It's still very much there.
The legacy of apartheid hasn't healed and young people are experiencing the trauma indirectly through what their parents went through, so they get it. We are looking forward to reintroducing the film properly to South Africa, because all they've seen is badly pirated YouTube copies, which we now are trying to take down. One had about 500,000 clicks, so there is an audience.
One of the things that people always talk about is the music from it -- had you known that you were onto something there?
I was a DJ before, and I played a lot of South African music from that time, like Soul Brothers. [Before making the film] I spoke to some bands, I spoke to a band called Sakhile, who were quite famous back then, and Stimela, who had Ray Phiri and became quite famous, especially after working with Paul Simon. The lead singer of Stimela, Nana Motijoane, he became the singer in the film. Some of those musicians played on the soundtrack, as did Dolly Rathebe, she sang on the soundtrack -- she was such a musical icon in the '50s. All of this talent came together in the film.
We are looking to re-release the soundtrack with the musicians. I've approached some young musicians to say, How do you feel about doing some of these tracks? So this is close to my heart, and I'm seeing how it can live and continue to grow in some sort of way.
teaser MAPANTSULA.mp4
What is the value in having these titles available and you know, out there for people to be able to rediscover or discover for the first time?
Well, I think regardless of whether it's 35 years old or not, it's not just a document, it's a work of fiction. It's a movie it has something to say. It's really about somebody who has no moral stand in the world and no interest in the wellbeing of other people, and what happens if that person goes through a spiritual crisis and a conversion where they understand that they're not alone; that they have a voice that makes a difference to the wellbeing of everybody else. This is pretty universal, whether you lived in apartheid times or not. I don't think the world has necessarily become a better place. It has its ups and downs. Right now, we living in very uncertain times. So yeah, I think that there is a good message in there about how not to be broken by a bad situation.