African fashion had its moment this year — you cannot deny it.
Titi Adesa's shoes have yet to leave the feet of the highly fashionable, while Nigerian high-end fashion brand Orange Culture's designer garments have taken the global fashion village by storm. And, as it stands, the combined apparel and footwear market in sub-Saharan Africa is worth a cool US$ 31 billion, according to data from Euromonitor International.
Fashion during the start of COVID-19 had been heavily muted, loungewear and utility wear becoming a matter of convenience and comfort. As the world slowly emerged from lockdown into a familiar routine this year, so did people's desire to dress with freedom. Fashion weeks around the world staged its return to bolder, physical formats. Colors returned. This has been a year for the everyday fashion lover to turn looks out, too. The creativity, innovation, and passion for fashion displayed this year makes one realize that the moment where African fashion takes over the global market has arrived.
With South Africa's Cape Town and Johannesburg Fashion Week and Ghana's own fifth celebration of designer wear still to come, we know that the rivers of potential from Africa's designers and innovative stylists are yet to run dry for this year. Earlier this month, Niger hosted the 13th biennial International Festival of Fashion in Africa (le Festival International de la mode Africaine - FIMA), while Ghana hosted a host of South African designers at their Mzansi Goes West fashion showcase in Accra this month. The killer fashion shows no signs of slowing down, but we wanted to celebrate the amazing work we've already been introduced to this year.
Here's our list of this year's most fashionable moments from the continent.
---
Kenneth Ize's Capsule Collection with Karl Lagerfeld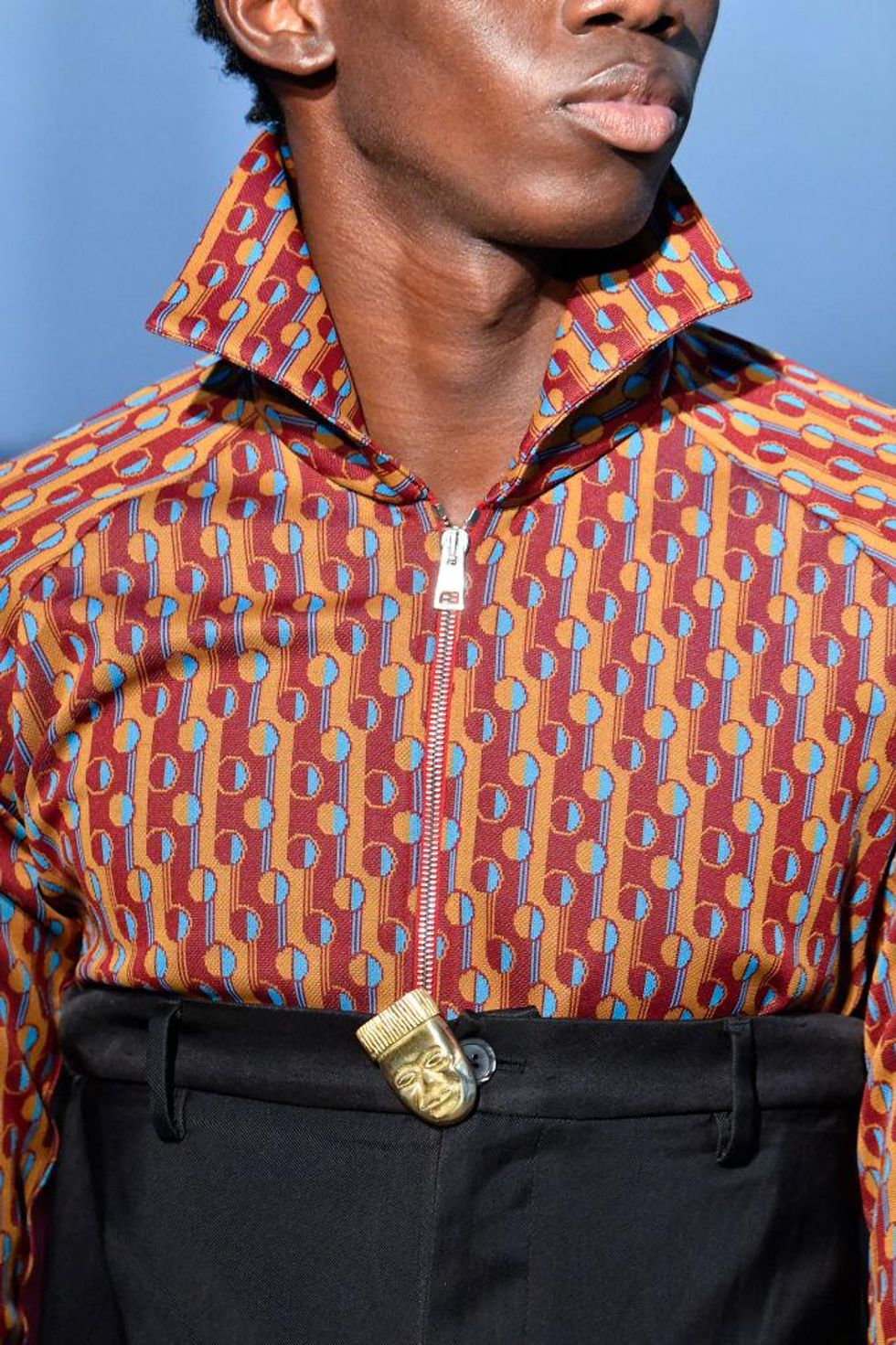 Photo by Victor VIRGILE/Gamma-Rapho via Getty Images
​Kenneth Ize's rise in fashion has been meteoric, leaping from Lagos Fashion Week in 2013 with his fledgling namesake label to becoming a buzzing presence on the global fashion stage. At the core of his design sensibility is fostering community around local craftsmanship in Nigeria. He's made a marvel out of aso-oke, tinkering and adapting the Yoruba fabric to his quirky vision and individualism while paying attention to modern tailoring updates.
This year, Ize partnered with the fashion house of late immeasurable talent Karl Lagerfeld for a capsule collection. Receiving fashion laurels like being an LVMH Prize 2019 finalist, the interesting parallel between Ize and Karl Lagerfeld is the Woolmark Prize, for which Lagerfeld himself emerged as the first winner in 1954. Ize is a Woolmark Prize 2020 finalist. Arguably this sets the tone for the spring/summer 2021, ready-to-wear collaboration between the esteemed Lagerfeld label and Ize, releasing together a capsule collection that counts as a major stride for the Nigerian designer. Co-created with Lagerfeld design director Hun Kim, the collection honors the heritage of both labels in an interesting array of genderless offerings. Casual and utilitarian, the best looks are the silk, button-up shirt with flamenco ruffles, rendered in hypnotic, black-and-white swirl print with matching pants, and the interstitial merino wool sweater.
Imane Ayissi's SS21 and FW21 Releases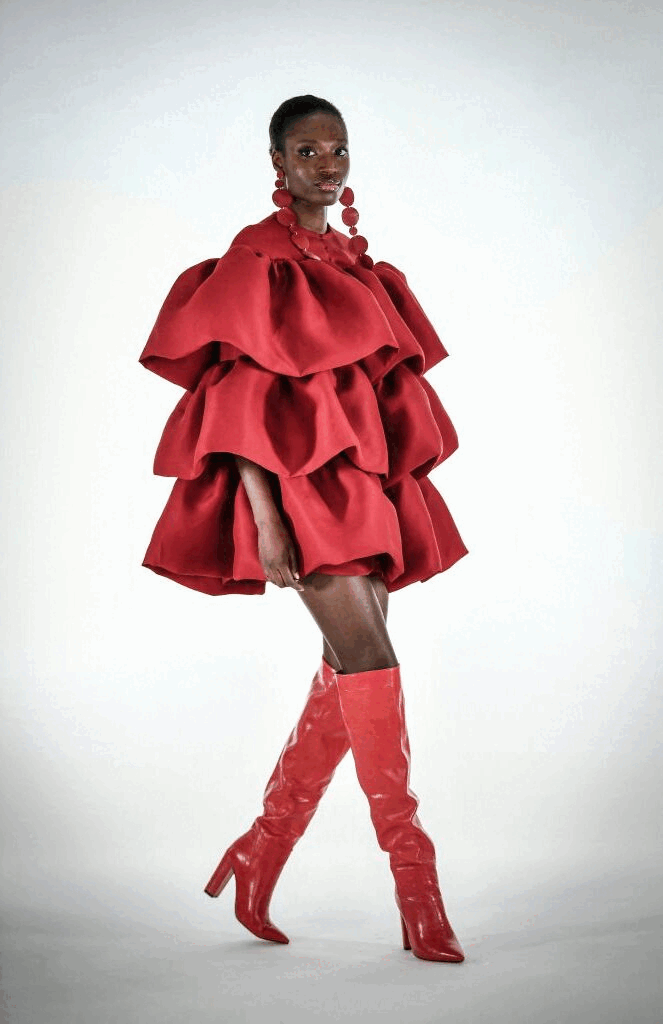 Photos by STEPHANE DE SAKUTIN/AFP via Getty Images
This year, Cameroonian designer Imane Ayissi gave the fashion world two successful collections: his spring 2021 collection, titled "Tseundé", and his Fall 2021 collection, 'Madzang'. The son of a champion boxer, and a former Miss Cameroon, the haute couture fashion designer made history as the first African designer to debut on Paris's couture runway in 2020. And Africa's representation in Paris's big-league has certainly done the continent justice, as global celebrities like Zendaya rocked his garments and carry his name to greater heights.
Thebe Magugu's Spy Inspired "COUNTER INTELLIGENCE" SS21 Collection 
South African export Thebe Magugu spent the year relishing the success of his SS ready-to-wear 2021 collection release. The collection was inspired by the glamor that has been assigned to espionage. The line was inspired especially by noted South African spy Anne Marie Forsyth, aka agent RS407, to the point where Forsyth's fingers are masked and blended among polka dots in one of Magugu's skirts, Magugu told Vogue.

Since his debut in 2016, Magugu has kept his South African heritage, and the inspiration it provides close to him, with notable influences and use of local resources. His upcoming collections follow the same suit. During a conversation at the Metropolitan Museum of Art in New York City, Magugu said: "The current menswear collection for spring/summer 2022, 'Doublethink,' explores how corruption debilitates the country and widens the inequality gap. These modern African stories that can't be explained by just slapping a print on a textile."
Melodia's Viral Alexis Dress
Virality in the Nigerian fashion industry isn't an everyday occurrence, so when the Alexis dress from Melodia went viral on Twitter in mid-2020, the phenomenon warranted a closer study. As an under-the-radar, womenswear label with an origin story in making aso oke occasionwear before venturing into functional, practical pieces, Melodia deserved this kind of windfall. The Alexis dress is a playful, flirty iteration of the tea dress and, regardless of the color or print, or length, offered women both a literal and figurative unhinging from months of hunkering down due to COVID-19 restrictions.
It had a reasonable price point, and with internet culture and the boom and bust trend cycle these days, the dress scrambled traditional marketing strategies. In other words, its virality was organic. For Melodia, there are lessons to be learned on quality control and perfecting for itself a design detail, technique or pattern that can't be copied elsewhere. For the Nigerian fashion industry at large, the implication here is cultivating a culture of originality and innovation.
Rich Mnisi's Line of Furniture with Southern Guild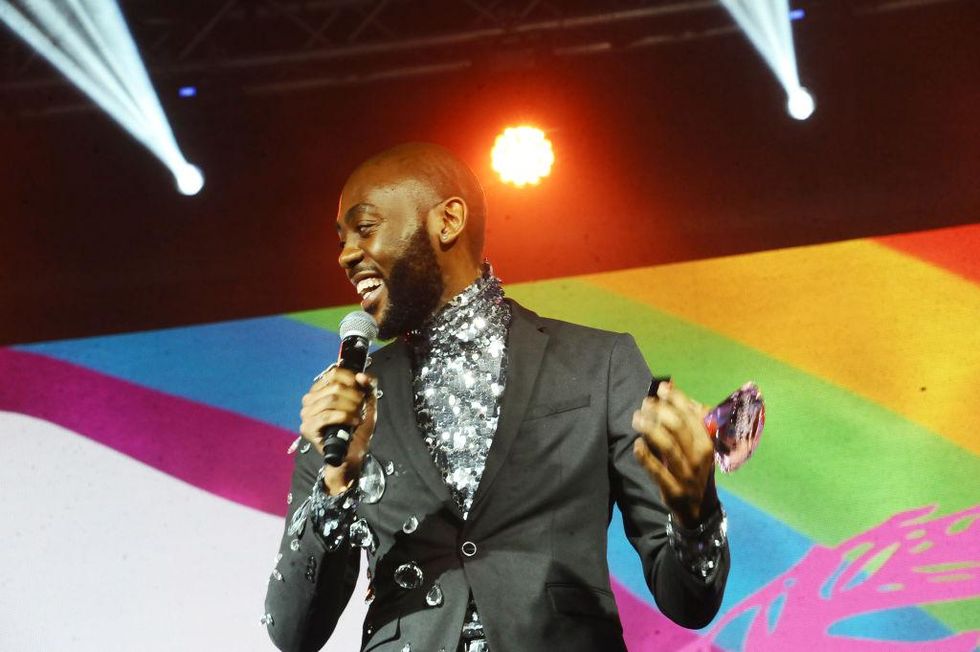 Photo by Oupa Bopape/Gallo Images via Getty Images
South African design phenomenon Rich Mnisi spent the year working hard, but also serving as his own model during home-styled photoshoots. The Johannesburg-based creator posed in his Lil Nas X-inspired garments online, and caught the attention of the right people, as he was named GQ South Africa's Best Dressed of the year.
Besides turning his home into his runway, Mnisi turned his designer eye towards furniture and shoe designing. His furniture line, a solo exhibition at Southern Guild, was titled Nyoka — meaning snake in Xitsonga — and unveiled a different manifestation of the designer's keen eye for innovative and bold compositions. The collection of bold furniture pieces came as a personal responsibility for Mnisi. In a conversation with Times Live, he said: "Promoting craft and South African handwork has long been a passionate interest of mine, so it was a natural decision to enlist the talents of local artisans in bringing my vision for Nyoka to life."
Off-Site Shows at Lagos Fashion Week
Marking a decade in 2020, Lagos Fashion Week has not only been instrumental in showcasing Africa's crop of talented designers, but also an incubator for these designers to launch themselves into international spheres. Adjusting to COVID-19 realities from last year that saw the fashion week experiment with digital pathways, 2021 was a triumphant return to the runway, where mainstay labels like Orange Culture, Lisa Folawiyo, Sisiano, Iamisigo, and the gender-abolishing manifesto of Lagos Space Programme were taken to elaborately curated spaces. It was, on the whole, a pleasant development.
While there are a few kinks to iron out obviously, it was beachwear brand Andrea Iyamah that arguably stole the show. Staging its spring/summer 2022 collection at a beach with an encroaching drape of sunset, bathing suits and bikinis registered as staples, cut sensuously to expose chest and midriff, popping with shades of orange and brown. In the wind, maxi print dresses flapped. Label founder Dumebi Iyamah is keenly aware of the women she's dressing, executing the collection with sublime perfection.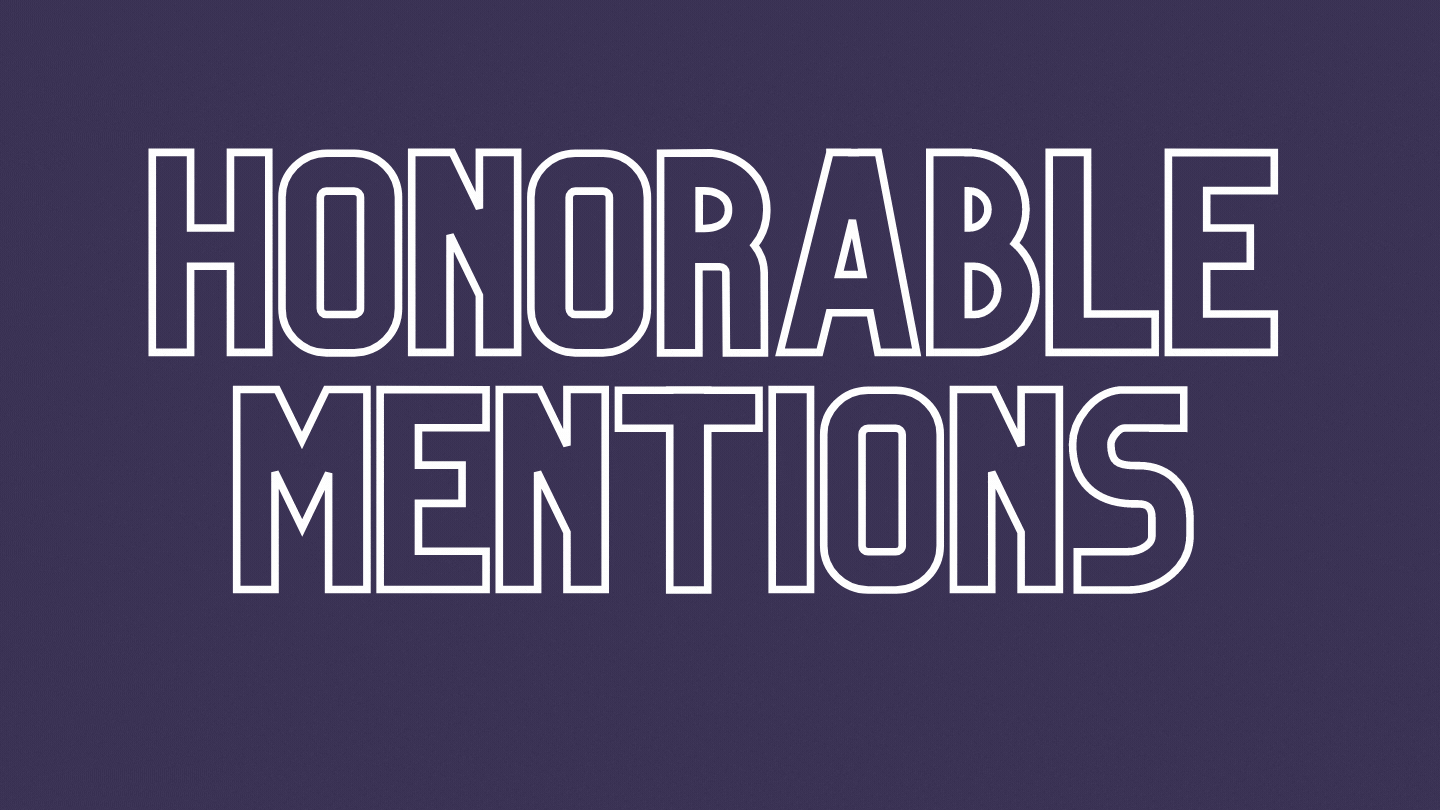 South African clothing brand MAXHOSA at "Mzansi Fashion Goes West" in Accra, Ghana 2021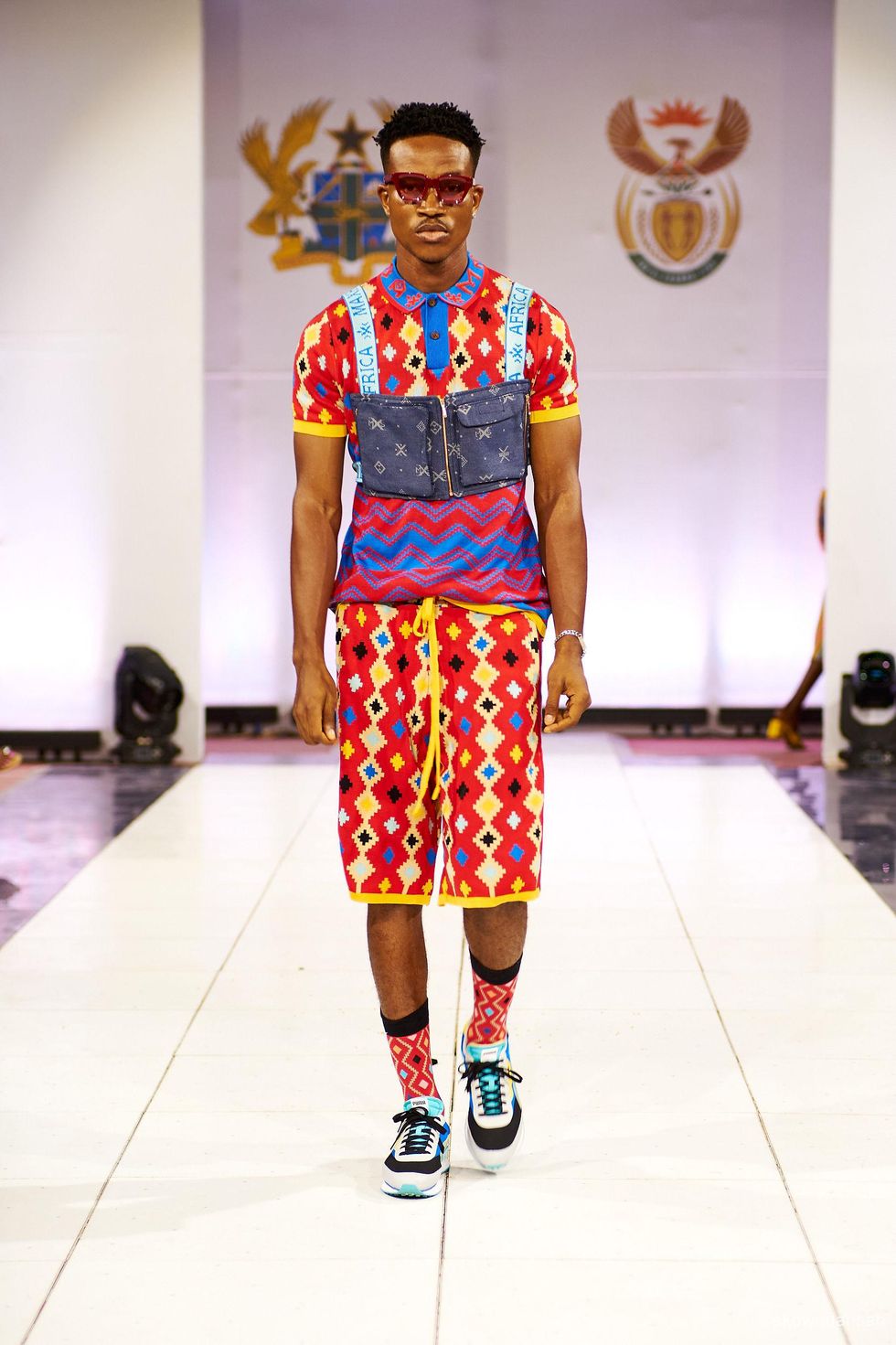 Photo by Ekow Quansah (@ekowquansah_)
A Look From Nigerian Designer Cynthia Abila's Runway Show at Lagos Fashion Week 2021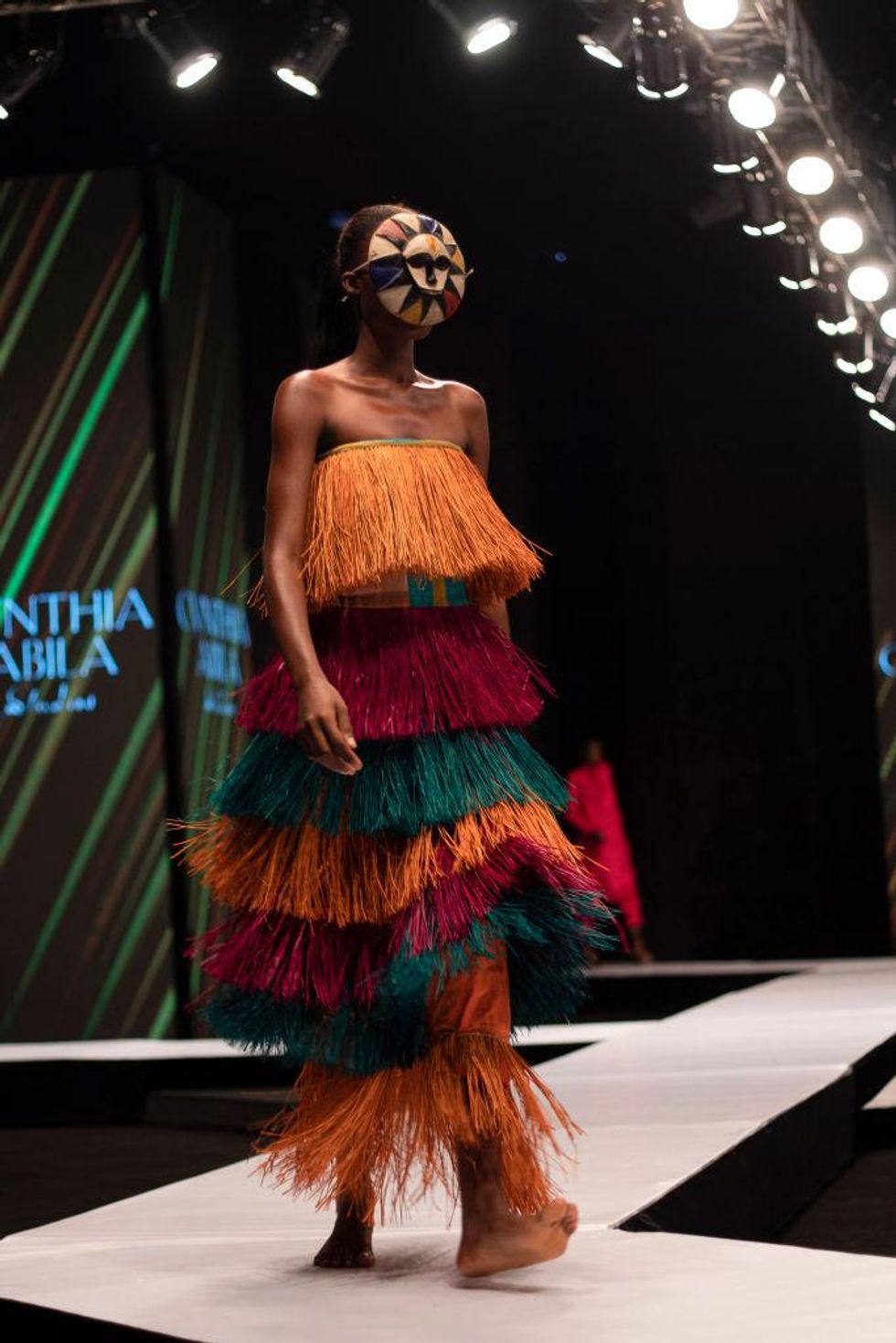 Photo by Emmanuel Obianke/Getty Images
Zizipho Ntobongwana's South African Collaborative Shoot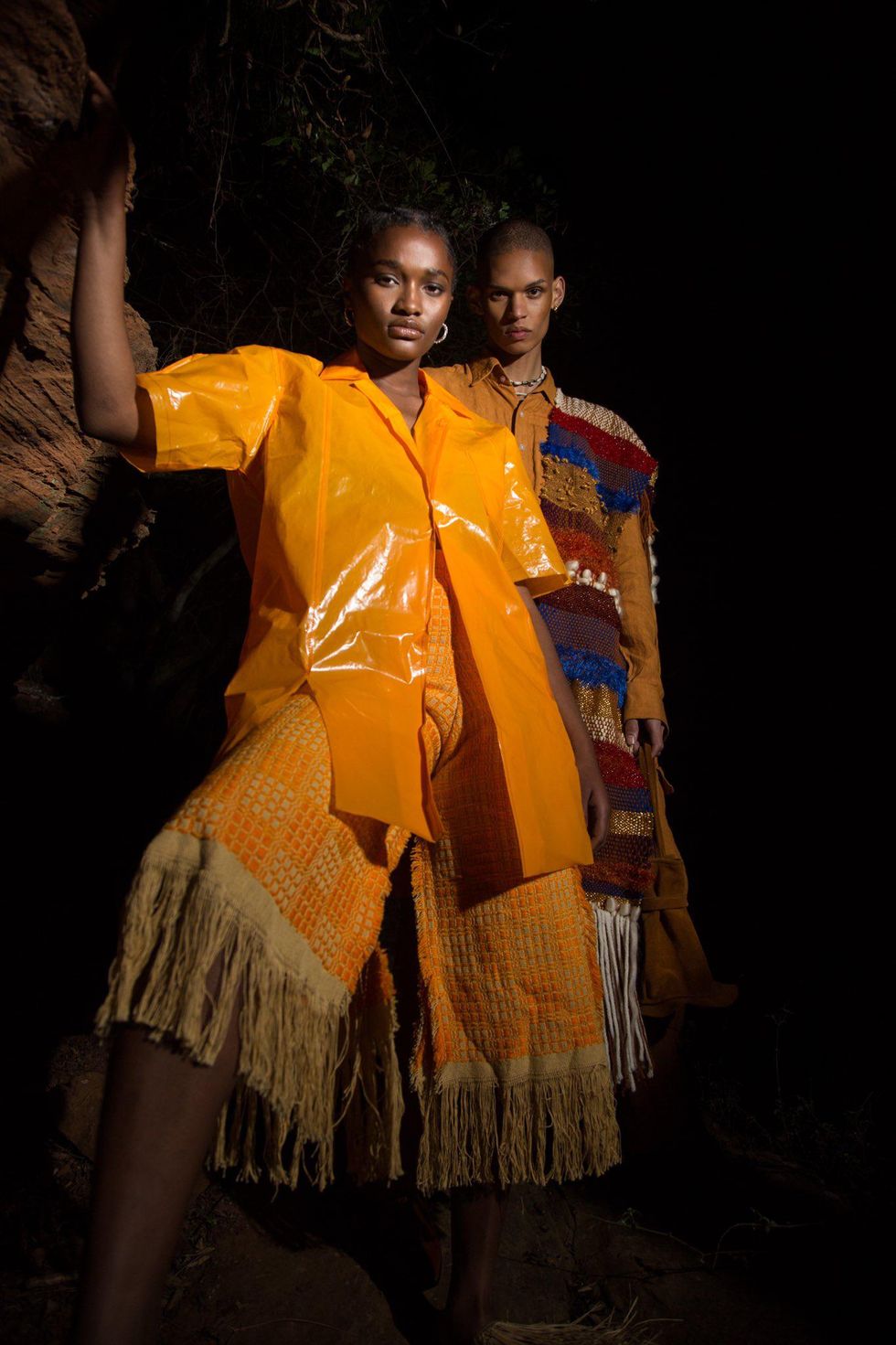 Photo by Zizipho Ntobongwana (@zizi_ntobongwana) via @St_Reign
South African Clothing Brand Thula Sindi at 'Mzansi Fashion Goes West" in Accra, Ghana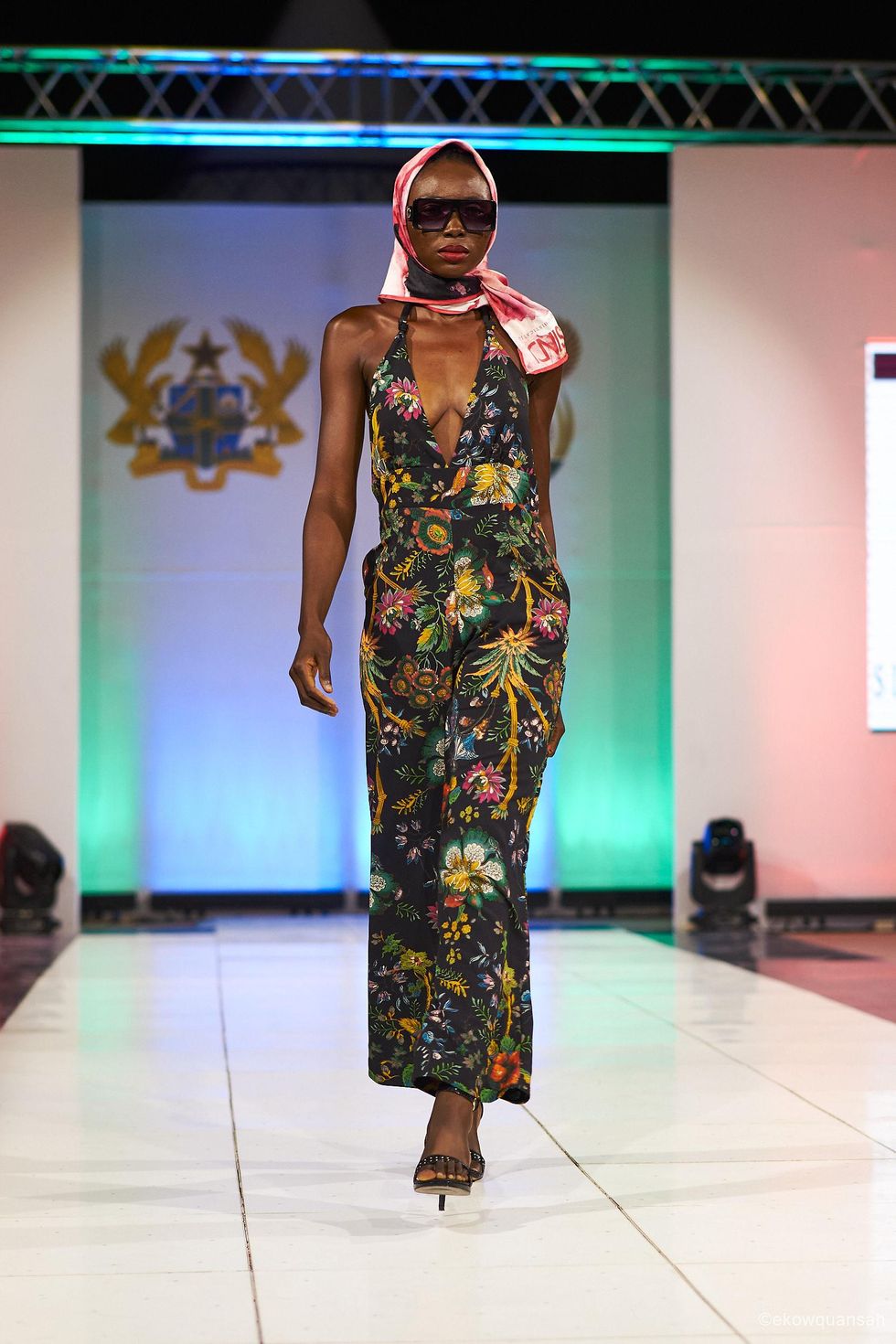 Photo by Ekow Quansah (@ekowquansah_)
This Look From Lagos Fashion Week 2021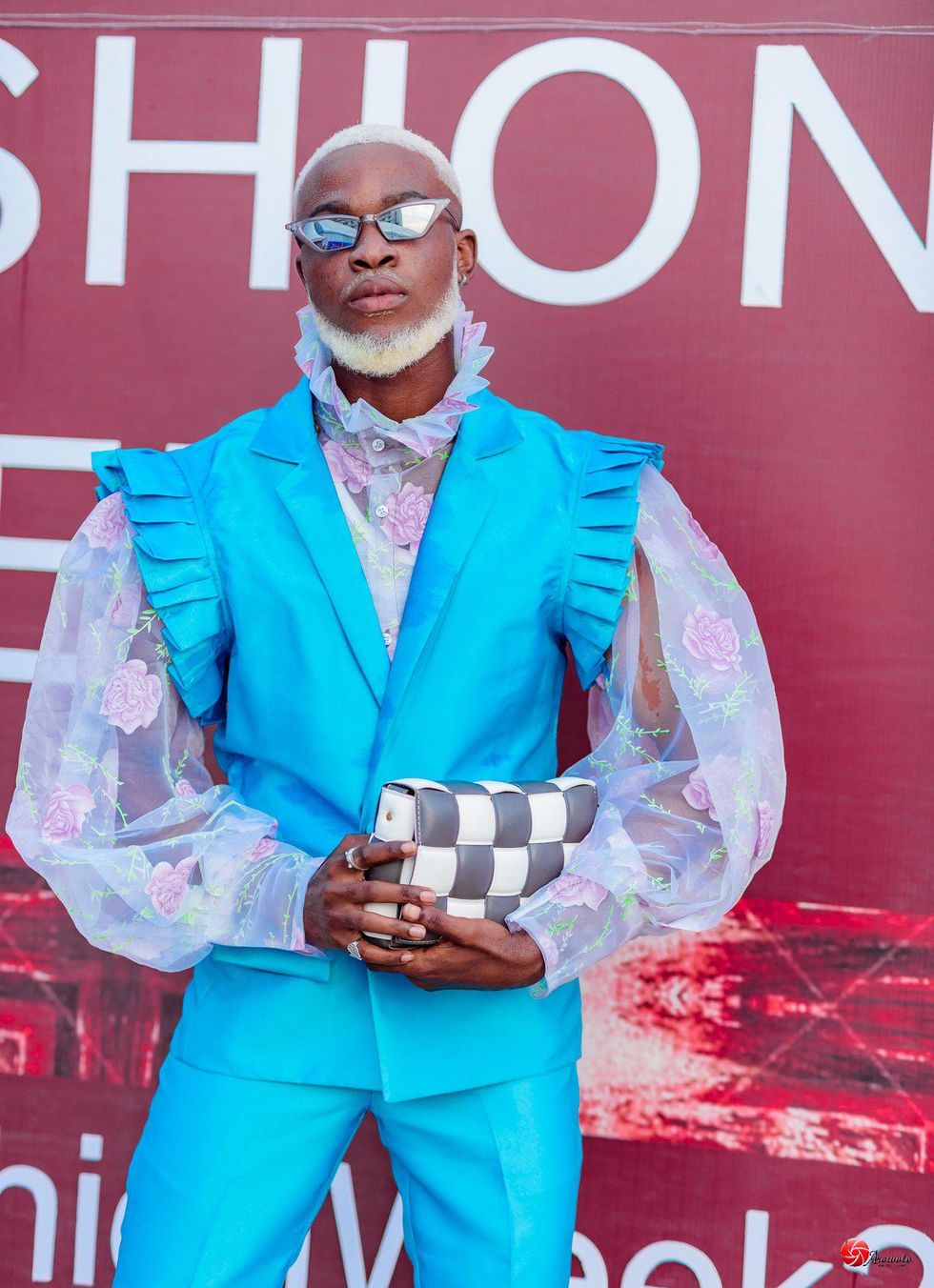 Photo courtesy of insta @fataiarowolo_
Ghanaian Fashion Brand DUABA SERWA at "Mzansi Fashion Goes West" in Accra, Ghana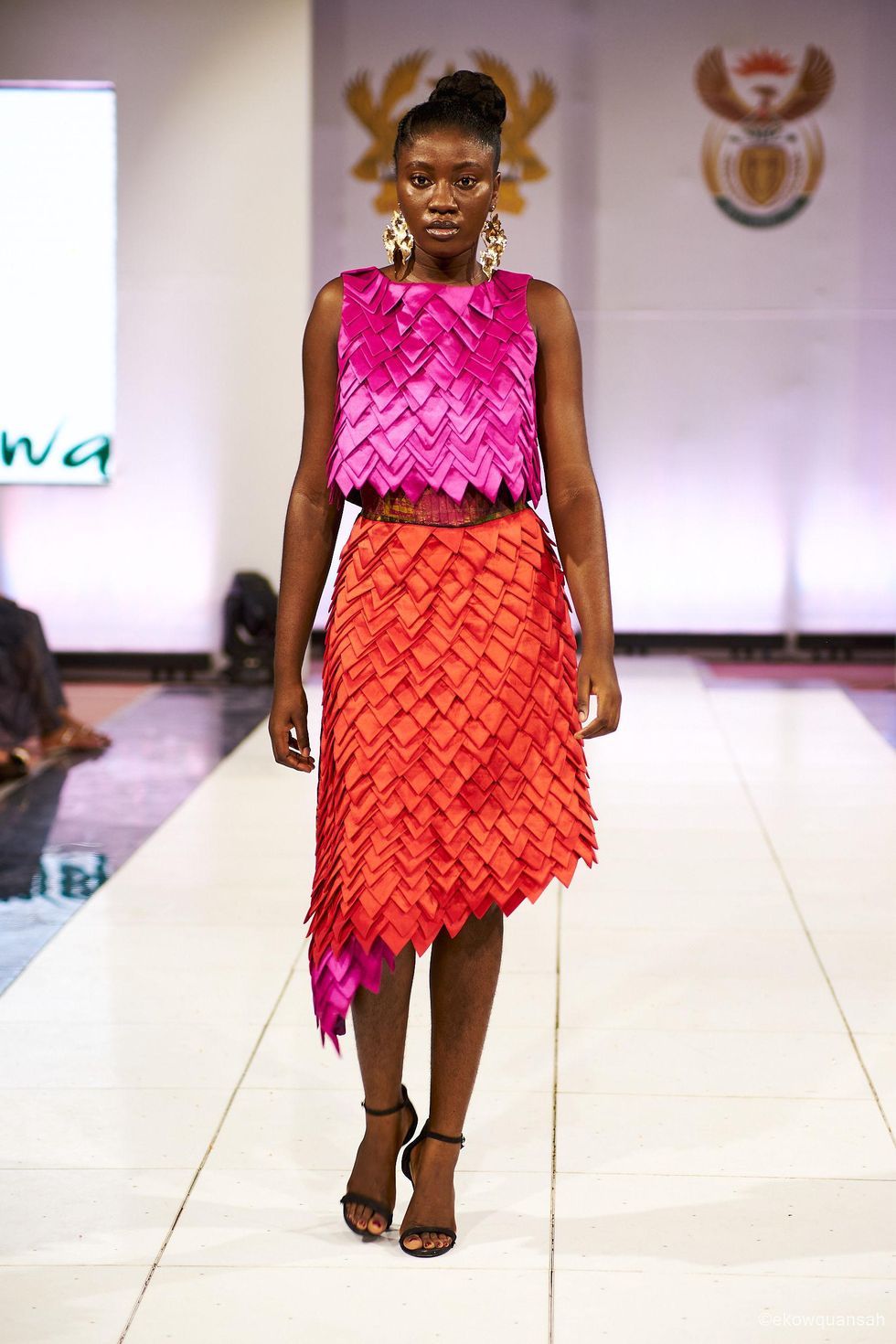 Photo by Ekow Quansah (@ekowquansah_)