In Lagos, Nigeria—a city home to more people than New York and London combined, where there's always a party around the next corner—your outfit does all the talking. From Friday to Sunday, Lagosians step out in their weekend best, determined to outdo their last look. No matter where you look there's no shortage of ankara, agbadas, suits, colours and fascinating silhouettes and striking new hairstyles for ladies and men. This energy was everywhere during Lagos Fashion Week 2019 which ended on Saturday the 26th.

---
The four-day event featured runway shows by some of Africa's finest designers who managed to arrest the crowd's attention with well-timed celebrity appearances, dramatic entrances, choreography, and fascinating Afrocentric outfits. However, like fashion week every where in the world, some of the best looks aren't found on the runway but rather in the street, where the attendees take advantage of the event and the platform it provides to use fashion to express and explore their identities.
Within the grounds of Lagos Fashion Week—which this year is the Balmoral Hall, Federal Palace Hotel—conventions are suspended, gendered expectations forgotten and drama, flair, and execution become all that matter. We grabbed a camera and headed to Lagos Fashion Week to capture some of the best looks. From shimmery hair on men to a mask made of beads, to colourful braids and bantu knots the street style of Lagos Fashion Week wasn't short of standout looks. Check them out below
90's Homme Fatale
Photo: Michael Oshai
Writer and editor Keside Anosike wears a black mesh crop top from Orange Culture. He's wearing it to show support for Orange Culture who is showcasing that day, he tells OkayAfrica. Paired with bluejeans it cuts a rather interesting figure. He tells us that "while people do express themselves outside fashion week, what fashion week does is that it creates an umbrella, gives a reason to express yourself. Fashion week collects these people, collects all of us who are very expressive with how we dress and just puts us all under one umbrella. Think of it as a stage''
The Incognito Fashion Queen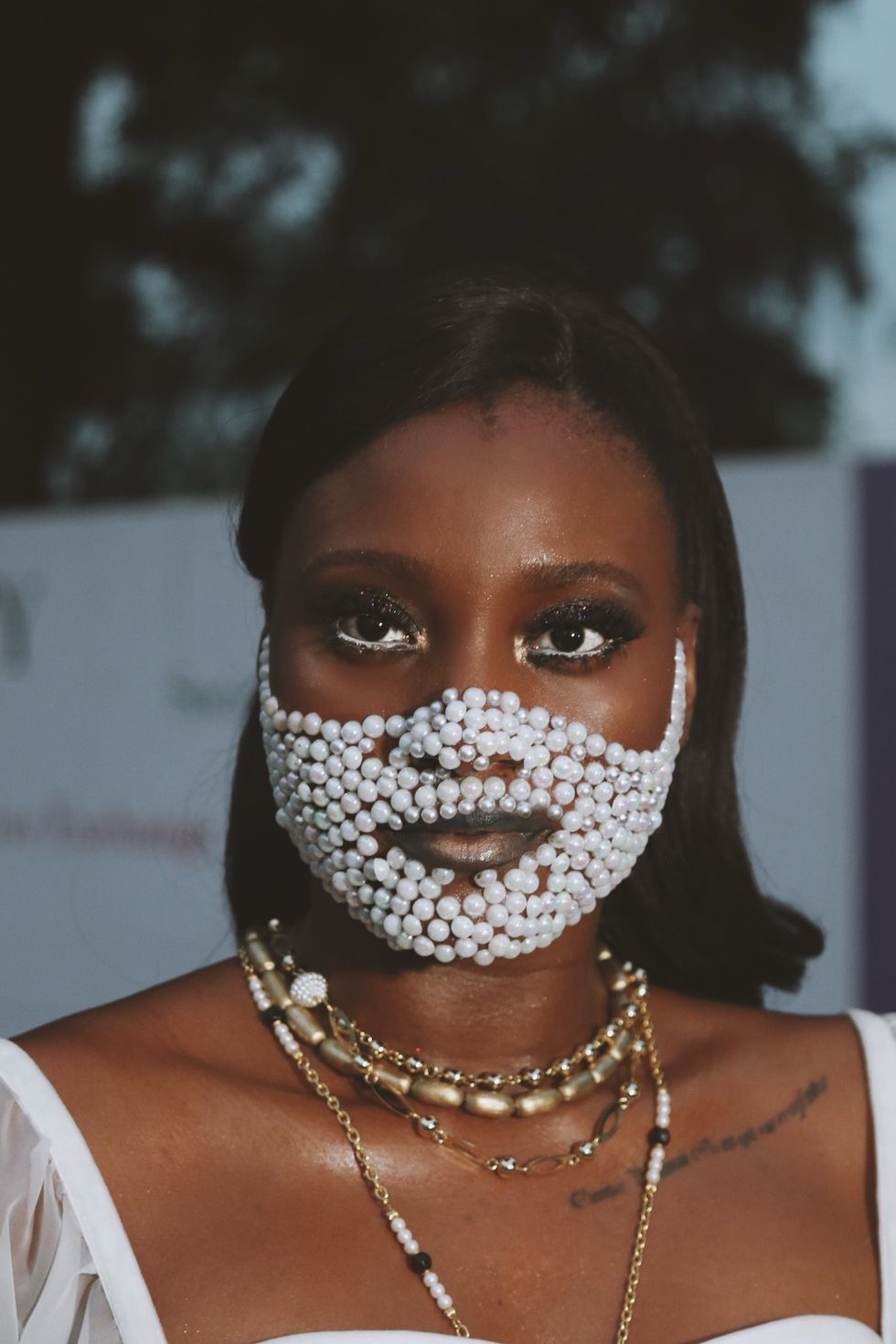 Photo: Michael Oshai
Dressed in a pair of leather pants, a mask made from pearls, and dramatic sleeves which play on the underwear-as-outerwear trend, fashion blogger Onyii Bekeh is easily one of the best dressed attendees. As people walk past, they invariably turn their head to catch one more glimpse of her outfit while street style photographers rush to take pictures. Onyii whispers to us through her bead mask that she can't really talk, even as she poses for yet another street style picture. "I just wanted to go about my day without getting recognized, it gets tiring" Onyii tells us when I catch up with her later before laughing. "Actually that's a lie, I was just accessorizing and everything else seemed basic, so I did my face instead. Plus the other reason"
The Adventurous Beauty Aficionado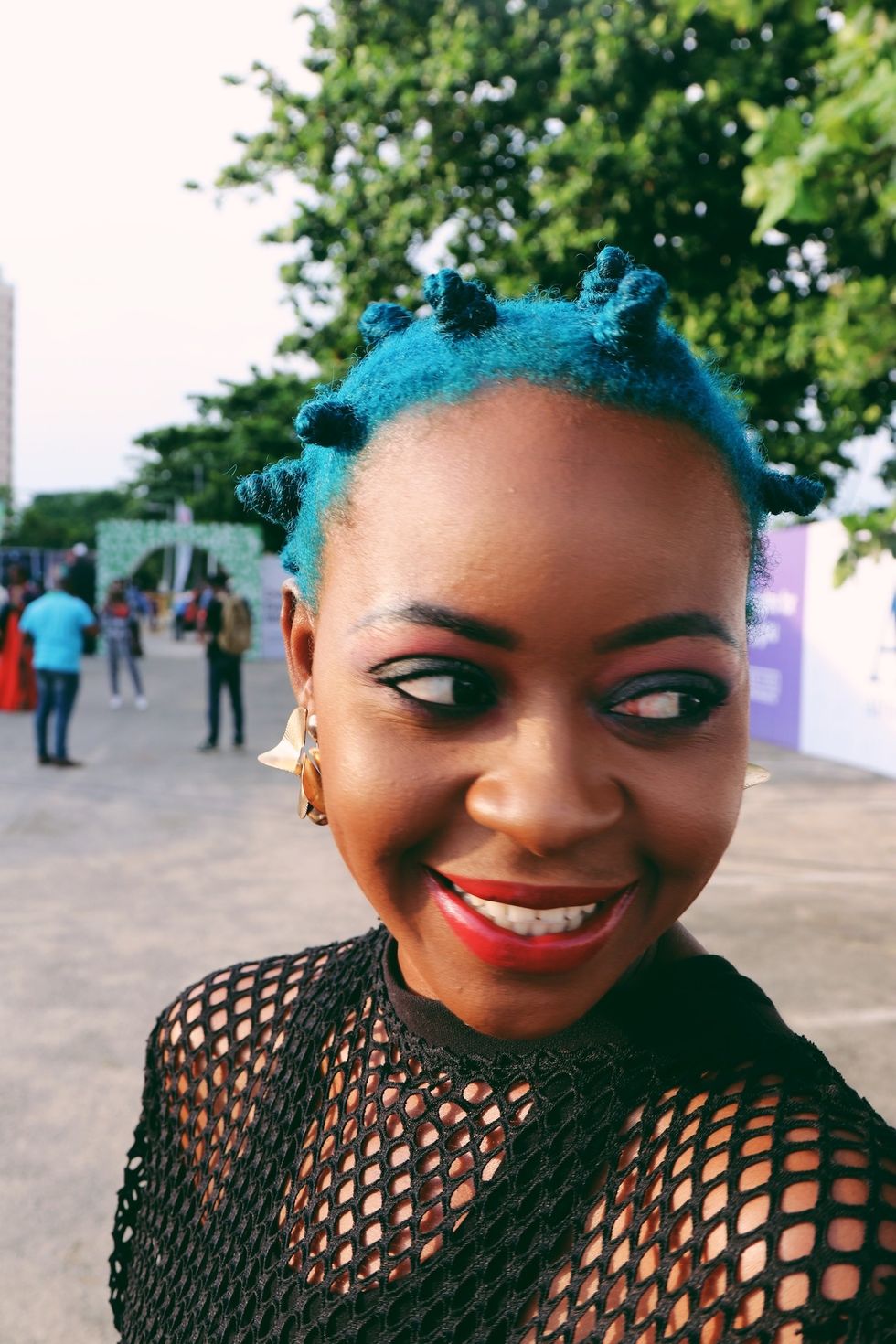 Photo: Michael Oshai
Lagos Fashion Week also had beauty industry insiders pulling out all the stops with colorful hair, bright makeup and more. Beauty and lifestyle blogger Deola Adebiyi was a vision of perfection in a black mesh dress and bright purple bantu knots. "I wanted to dye my hair a couple of my months ago and I wasn't sure which colour I would go with. And when I got to the saloon, I just said blue and that was the first time I had ever said it out loud that I wanted to dye my hair blue. I also love bantu knots, if you've ever seen my instagram you can tell—so I decided to go with both.' Deola tells OkayAfrica, "I knew I was going to wear all black because black is my favorite colour so I was looking for something that was edgy, fashionable and sexy."
The Shiny Futurist
Photo: Michael Oshai
Quirky hair however wasn't just reserved for the girls as the boys more than got in on the action. Fashion insider Fola Francis made quite the statement with his glitter-infused hair and prismatic amethyst tracksuit. "When I saw the theme for this year's edition—'Beyond Creativity, Shaping Fashion's Future'—I knew I had to come up with an outfit that best translates the theme and stays true to my aesthetic" Fola says. "It was inspired by my love for shiny things, and also inspired by Lil Nas X's panini video. I just wanted a futuristic look."
Retro Carrie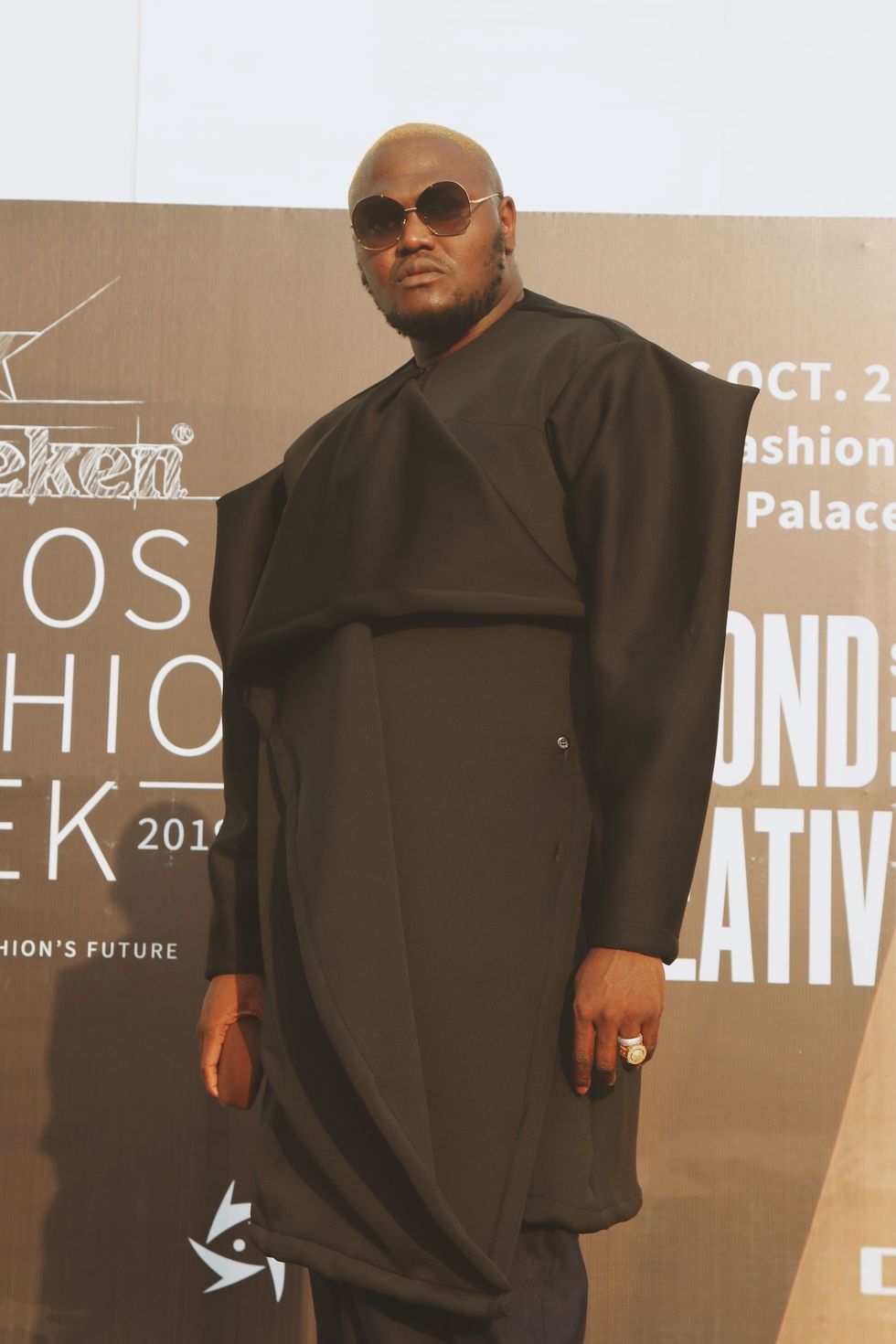 Photo: Michael Oshai
Celebrity stylist Oluwatosin Ogundegbe played with proportions and textures with his fit, cutting a rather distinct figure in the sea of fashionable people. When I asked him what inspired his outfit, he references a number of celebrities and eras who influenced his outfit. "My eternal love is for my biggest fashion inspiration, Carrie Bradshaw from Sex and the City," he begins. "I also love retro, the iconic rappers of the 90s, Will Smith from Fresh Prince of Bel Air, Andre Leon Talley and theatrics—they all inspired this ensemble."
The Style Storyteller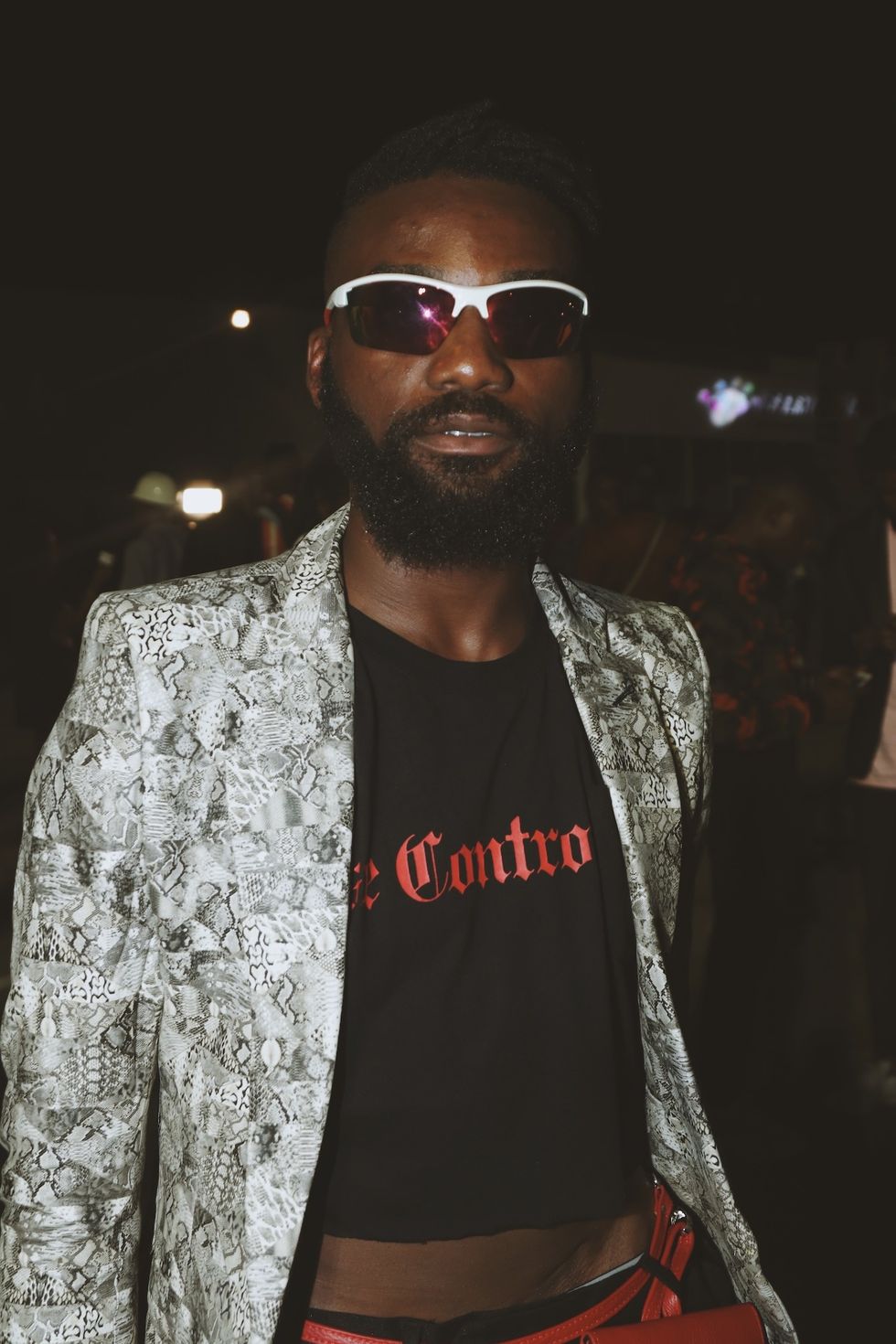 Photo: Michael Oshai
Like Keside, stylist Aize Paul wore a crop. "Putting that look together I had to bear in mind that it was the last day and a lot had happened," says Paul. "Hence my easy take on that day to express just my truest form of style. I wore a crop like I did the previous days to continue whatever story I was telling but still kept it minimal. The snake skin jacket layering was a last min touch. My nephew advised me to throw it on and it banged''

​Madam Blanc Comes Alive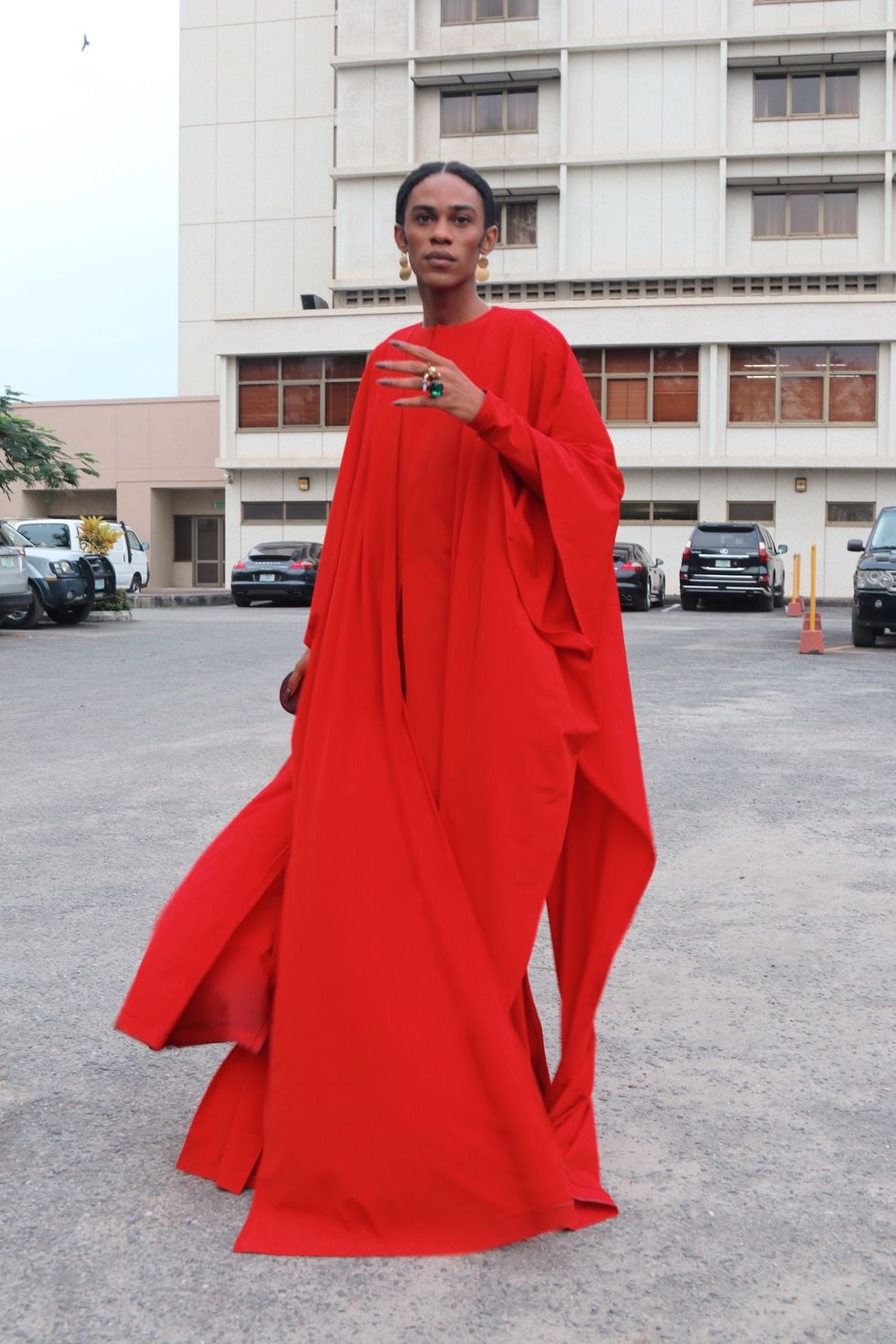 Photo: Michael Oshai
"Madam Blanc" from Suspiria and "the Handmaid" from Handmaid's Tale model Uche Uba tells me, citing his style inspiration for his outfit on the final day of Lagos Fashion Week 'I wanted a somber yet visual electrifying look. Like a bright yet dark force. Almost ritual'

The Androgynous Style Editor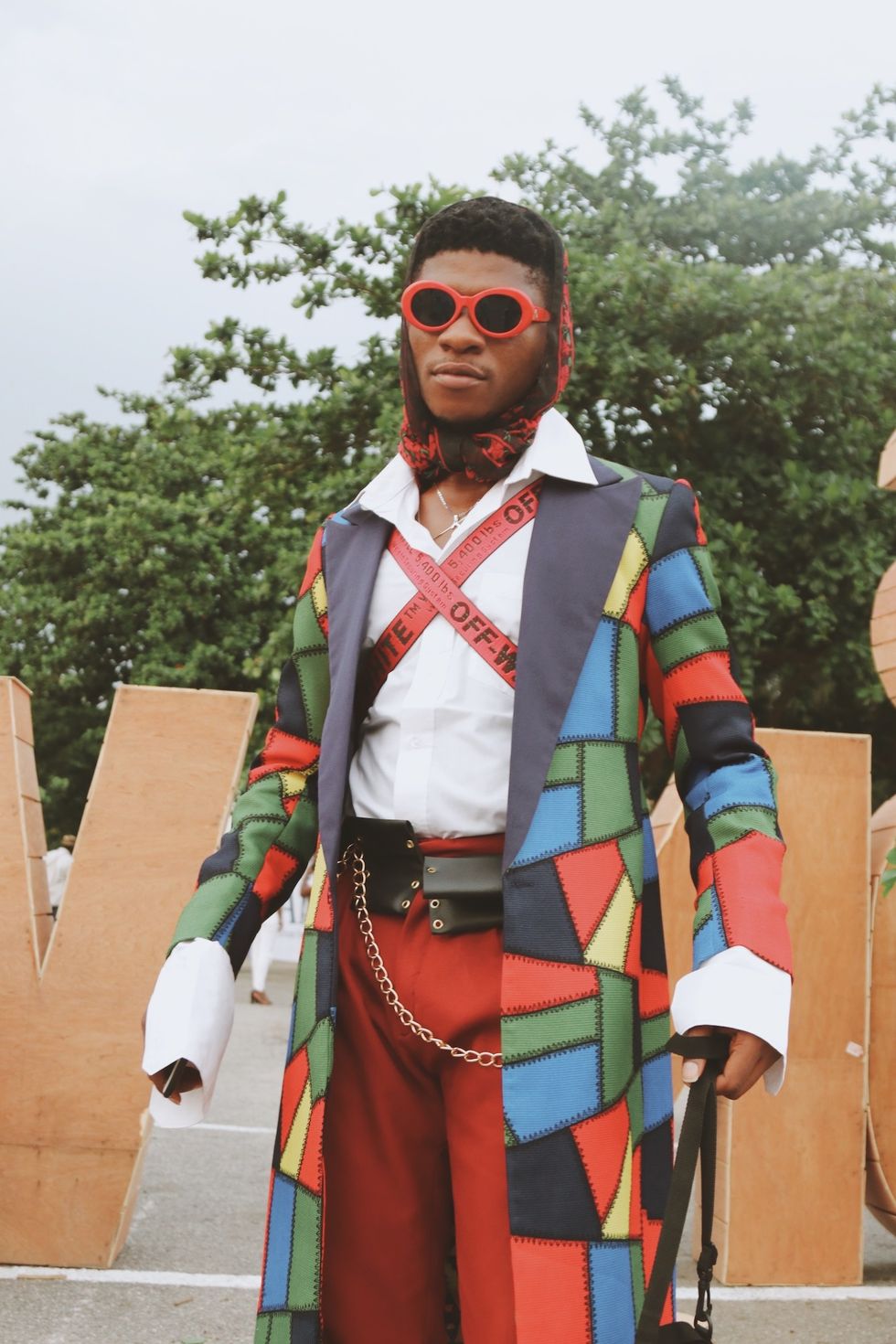 Photo: Michael Oshai
"Androgynous and some retro vintage look" are how style editor Ezeonye Ozic describes his outfit—one of the more visually arresting look that could be spotted during fashion week "Most of what I'm wearing is thrifted" he tells us laughing "but the shoulder straps are from Ruban Clan."

See more looks from Lagos Fashion Week 2019 Below
Photo: Michael Oshai
Photo: Michael Oshai
Photo: Michael Oshai
Photo: Michael Oshai