The meteoric rise of Nigeria's burgeoning music industry over the last few years is definitely one for the books. From high profile collaborations that have graced international charts to appearances on American late night TV and a Grammy nomination, the Nigerian sound is sitting at the epicenter of a global conversation that the world—including Queen Bey herself —seem to scrabbling to get a piece of the action.

However, way before this global infiltration and westernized conflation of Africa's assortment of genres into one Afrobeats, Bizzle Osikoya was studying Music Business in England and plotting for a way to be a part of what he knew was inevitable. "I remember going to clubs in school and they would always play Jamaican music but rarely Nigerian songs. I knew we made good music here but I knew I couldn't sing. So I was motivated to come back, go behind the scenes, and see how we can make that crossover possible," he tells OkayAfrica.
More than a decade after making the intrepid decision to venture into A&R, helping artists find and develop their sound, Bizzle's creative genius has cascaded across different musical generations, from the piracy rife CD mix era with artists like Naeto C, Wande Coal and Dr. Sid to a streaming era populated with hits from Reekado Banks, Tiwa Savage and Davido.
Following the success of his latest project, Oxlade's Oxygene, we caught up with the A&R expert and co-founder of the Plug Management—a talent management company that has managed Davido, Peruzzi and DJ Obi—to talk about what it takes to break out as an artist, the fast-rising demand for Nigerian music, and how "alté" is not the same thing as alternative music.
---
The Nigerian music industry is diverse. However, a lot of people are unaware of the wide range of opportunities the industry has to offer behind the scenes. With this in mind, can you tell us what A&R means?
So, A&R means Artists and Repertoire. What we do is we discover and develop talent in the music industry. If you work with a label, you get to discover and develop talent for them. But when you're independent, you discover new musicians, develop them and market them to labels that might be interested.
Who are some of the artists you've been able to collaborate on over the years?
Man, that's a long list. I've worked with Naeto C, Ikechukwu, Oxlade, Dr. Sid, Wande Coal, D'banj, and a lot of other artists. I did Solar Plexus and Reekado Banks' first EP for Mavin Records. I also came up with the idea for Boj and Ajebutter's Make E No Cause Fight.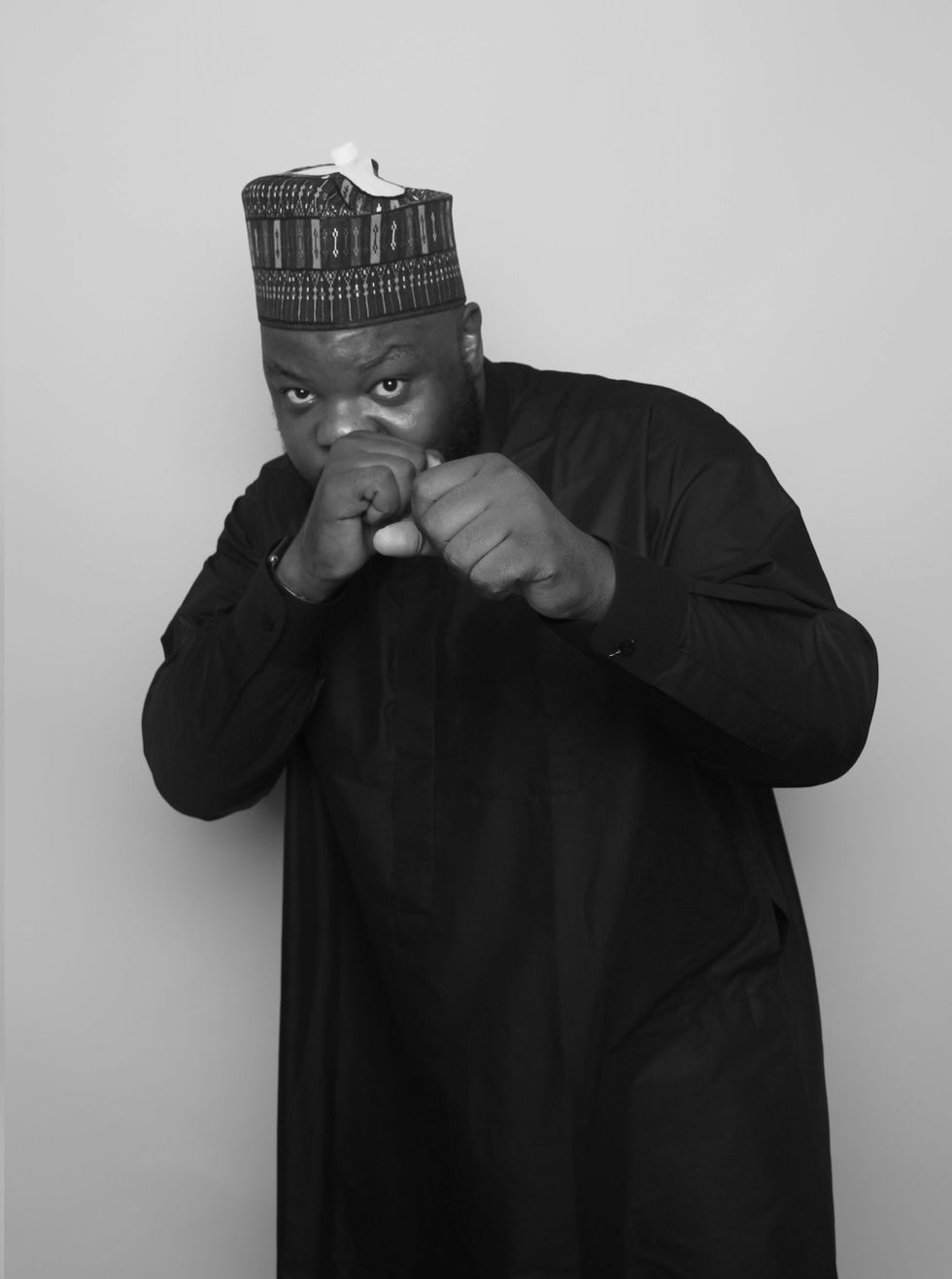 Photo: Sunmisola Olorunshola
How did that happen?

I remember coming up with the idea for an EP, so I called up Boj and Butter, and I told them, "You guys make a lot of good music together. How about we do a joint project?" So they worked on the first one and then the second one with Falz.
Social media and streaming has made it easier for upcoming artists to record their work and share them with the world independently. How does this affect the A&R part of the industry specifically? But most importantly, do you think it might become redundant with time?
As you said, the internet has made our music global. You drop your song and everyone immediately has access to it from everywhere in the world. This, however, doesn't threaten A&R because while you can record and upload a track, it takes a lot more to reach a wide audience. Do you know how to market and push the music? No. There's a lot more that goes on behind the scenes.
How do you creatively collaborate with upcoming artists who already have an existing fanbase to ensure they maintain their original community but still crossover to a wider audience?
These are the best type of artists because they already know who they are. It also makes the job easier for us, because now, our focus isn't on building, but expanding. Reaching a wider audience is why we have features. We look for artists with a much larger fanbase and work with them.
Still on the topic of collaborations, musicians across the board seem to be hopping on projects with alternative acts. We had Odunsi and Davido, Boj and Tiwa Savage, and now there's a Tems and Wizkid joint on the way. Why do you think the alte scene is having its time in the sun after years of bubbling underground? Also, is there any chance that it might stop being an influence and eventually get swallowed by pop music?
There's a common mistake we all seem to be making. Alté, does not necessarily mean alternative music—it's more of a lifestyle than a genre of music. While Boj might be alternative, I don't think Tems is. A lot of people in the alté scene are making Afropop, but they're seen as alté because of the aesthetics they use. With regards to collaborations, Wizkid working with Tems is because he finds something interesting in her sound. Growing as an artist means you start to change the direction of your music over time because you have the luxury of an army or family—not just fans—who will support you no matter what. You're able to take risks. Also, they listen to good music and know these guys are talented. The alternative scene is gaining popularity because people are beginning to appreciate good music. Back in the days people just wanted to dance, but now, people actually want to listen. Will it get drowned out? I don't think so. There's more diversity in our industry now, unlike before. Also, artists like Joeboy, Fireboy, and Oxlade are making music that cuts across these genres.
Oxlade - Away ( Official Music Video)www.youtube.com
Looking at some of the young artists you're working with at the moment, how do you stand out as an artist in an almost monotonous-sounding industry, where we have new talent with similar sounds popping up every day?

Building a solid fanbase is very important. There's a line on "Sing" by Oxlade and Fireboy that says, "My followers no be one million, but my fanbase always strong gidi gan." As long as you can connect and build a fanbase of people who like your sound for what it is, and not because you do giveaways on social media, then you'll be able to go far. Brand identity is also important. It's one of the things I look for in an artist—outside their voice, of course. There has to be something that allows people pay attention to you. Look at Blaqbonez and Tems, they have built a unique brand for themselves. Can we build something around you? There are a lot of talented artists, but then their branding is off. That's why some artist might have hit after hit but no endorsement to their name, and it's because people find it hard to either identify or connect with your brand. You can't influence people outside your music.
Now, Oxlade's "Away" is shaping itself up to be one of the biggest songs of the year. How did the EP come about and why do you think people connect with his music?
I met Oxlade through a guy that used to work with The Plug, called Levi. The guys in my office were always playing "Mamiwota" and I liked his voice, so, I told them to invite him to the office. We started talking, I felt a strong connection with him, and I just decided to develop him. Spax and I worked on the EP for like 7-8 months. "Away" was the last song we recorded. People connect to Oxlade's music because of his voice and the melodies.
Working across the board from artists to record labels and also event promotion, what do you think about the landscape of Nigeria's music industry? What are we missing and how can we be better?
The key thing we're missing is musical business education! A lot of people don't know about publishing, a lot of artist managers are not managers but Personal Assistants or booking agents. Artists also need to get intentional when it comes to learning about the business side of music—Licensing, distribution, and the works. When this happens, a lot of them will be able to avoid getting cheated, and the record label fights will stop.
What are your thoughts on the global demand for African music, how do we export our sound without pandering to an international audience?
Look at Wizkid, Davido, and Burna, some of it (sound) will change. But just like Sean Paul in his prime working with Beyoncé, you bring your own sound to the table and find a way to merge everything together. Right now, Nigerian music is the hottest thing on the globe. All the record labels are trying to come up here and sign people. All the DSPs, Apple is here, Deezer is here and Spotify is coming soon and everyone is trying to tap into the market because we are the next big thing!
What are you currently working on?
There are couple of projects I have to keep on the low for now but I just wrapped up Jinmi Abduls' EP and it will blow your mind! I've been playing it for some people and they love it.