Earlier this week, the Black Panther franchise released a set of 13 emojis featuring main characters from the upcoming sequel which has been dubbed: Black Panther: Wakanda Forever. The lineup also included a rollout of character posters.
For Twitter users, the emojis appear when they hashtag the name of a character. Following the release of the emojis, Disney also showcased a new batch of character posters for Black Panther: Wakanda Forever.The posters feature bold, up-close shots of the 12 main characters who will carry the sequel's story. Although there has been heavy speculation about the direction of the story, sources have affirmed that the 12 critical characters from the sequel will each contribute a unique angle to the film. Following the massive success of the 2018's Black Panther, this continuation will ultimately wrap up MCU Phase 4.
Film critics have said that Black Panther: Wakanda Forever is expected to highlight the kingdom of Wakanda, following a great loss as it mourns losing King T'Challa, who was played by the late Chadwick Boseman. They say it will show the nation of Wakanda navigating day-to-day life and operations following the loss.
In recently-released behind-the-scenes footage of Wakanda Forever, cast members paid tribute to Chadwick Boseman. In a memorable and heartwarming clip featuring director Ryan Coogler, Angela Bassett (Queen Ramonda), Letitia Wright (Shuri), Lupita Nyong'o (Nakia), Danai Gurira (Okoye), Winston Duke (M'Baku), and Tenoch Huerta (Namor), the actors paid their respects to the deceased actor.
Although the original cast members of the movie will remain, the franchise will also introduce new characters to the story such as Namor (Tenoch Huerta) and Riri Williams (Dominique Thorne), both of who are also expected to play significant roles in the film. The highly-anticipated sequel will no longer have a worldwide debut of November 1st. Instead, production has bumped the world premiere of the movie to October 26th, which is about two weeks before the film enters theaters.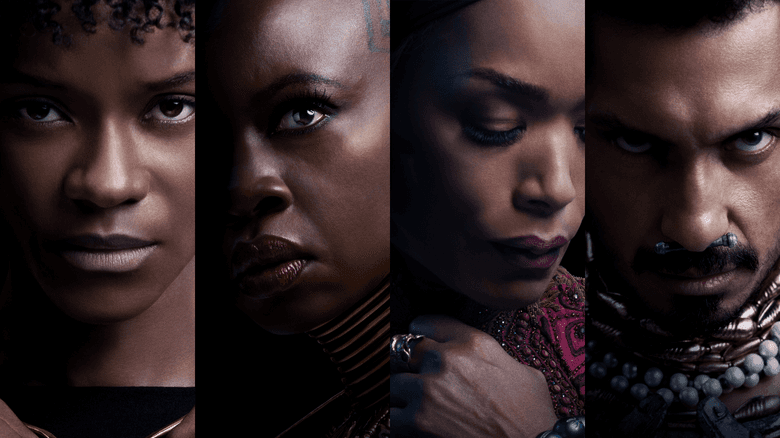 Wakanda Forever! New 'Black Panther' Character Posters Debut
\u201cCheck out brand-new character posters for Marvel Studios\u2019 Black Panther: #WakandaForever, only in theaters November 11. Get tickets now: https://t.co/CjWieDC3pu\n\n#Shuri\u201d

— Marvel Entertainment (@Marvel Entertainment) 1665502201
\u201c\u00a1Hashtags con emoji de #BlackPantherWakandaForever!\n\n#WakandaForever\n#Shuri\n#Nakia\n#Namor \n#RiriWilliams\n#QueenRamonda\n#Aneka \n#BlackPanther \n#EverettRoss \n#Namora \n#Okoye\n#Ayo \n#Attuma\u201d

— Geek Zone \ud83c\udf7f #Andor #HouseOfTheDragon #BlackAdam (@Geek Zone \ud83c\udf7f #Andor #HouseOfTheDragon #BlackAdam) 1665487787
\u201cNew character posters of Mabel Cadena as Namora and Alex Livinalli as Attuma for \u2018Black Panther: #WakandaForever.\u2019\u201d

— Pop Crave (@Pop Crave) 1665498757