The first Black Panther film in 2018 saw Africans both on the continent and around the world show up -- and show out -- with pride to mark the historic moment. New Yorker Ibraheem Basir was one of the millions who went to see it, and experienced something he hadn't ever before. "They created this fantasy setting while being grounded in reality and celebrating the African continent in a way that I had not seen in cinema before," he told OkayAfrica. Basir, the founder of 'A Dozen Cousins,' a range of ready-to-eat meals influenced by African food knew that if there was a sequel, he had to get involved.
---
Basir grew up in Brooklyn, a melting pot of ethnicities, where from a young age he was exposed to different cultures. As there were many Nigerians, Ghanaians, and Senegalese residents on his block, one of the foods he grew fond of was Jollof rice. He always knew he wanted to work in the food industry and spent years working on several brands before focusing only on natural items. "I fell in love with the concept of food as a force for good; a business having a positive social impact. Ingredients matter, quality matters," he says.
For Basir, who grew up in a working-class Black and Latino community, food has always been about culture, joy, and taste. He noticed that there was little representation of the dishes and tastes he grew up with in the greater food industry. Seeing a void in the market for authentic ethnic cuisine that was also nutritious motivated him to create 'A Dozen Cousins,' a line of comfort food products inspired by classic Creole, Caribbean, African and Latin American dishes.
"I used all I learned about food quality and natural components. This is my endeavor to bridge the gap between the two worlds in which I've been living; I wanted the brand to be cultural and authentic for the food to have a homey feel," says Basir.
His first daughter, the family's 12th cousin, led him to land on the company name of 'A Dozen Cousins,' and family has always been the center of his small business. Growing up with many relatives around him, food was a very big deal. "That's how we celebrated holidays and get-togethers, marked milestones, and showed love to one another," Basir says.
After watching Black Panther in 2018, he became inspired to do something more with 'A Dozen Cousins.' "I knew I wanted to take part in the movie because I liked the film and enjoyed the process, and made a mental note to myself that if the opportunity comes around to work on the next iteration, I'd love to do so."
Once the timing of the sequel was confirmed, he took a leap of faith and got in touch with the Marvel team, and "shared the idea for a collection of seasoning sauces that celebrate the foods and flavors of the African diaspora." The response was encouraging: "They were just as excited by the idea as we were."
Product development for the Black Panther: Wakanda Forever range began last year, and he and his team started bringing the items to life. The result is 'Flavors of Wakanda,' a collaboration with Disney to commemorate the hotly anticipated sequel by acknowledging the contribution of the African and Caribbean diaspora through some of the region's most common dishes.
The exclusive limited edition set contains three rice seasoning sauces: 'Wakandan Jollof,' 'Jamaican Jerk,' and 'Coconut Rice,' all packaged with characters from the classic film. In addition, customers who purchase the three-flavor variety pack will receive a free limited edition vibranium spoon made of stainless steel with unique patterns and engravings inspired by the mysterious and unique metal native to the fictional nation of Wakanda.

"Jollof is one of the most iconic rice dishes in the world to me," says Basir. "When it comes to cuisine, it has impacted dishes such as Gumbo and Jambalaya in the United States and the South, as well as being popular in West Africa, where it originated. "Coconut rice is popular in many different Caribbean countries and West Africa. Jerk chicken is a significant component of Jamaican cuisine, and has influences of various West African cooking methods enslaved Africans utilized in the Caribbean as well," he adds.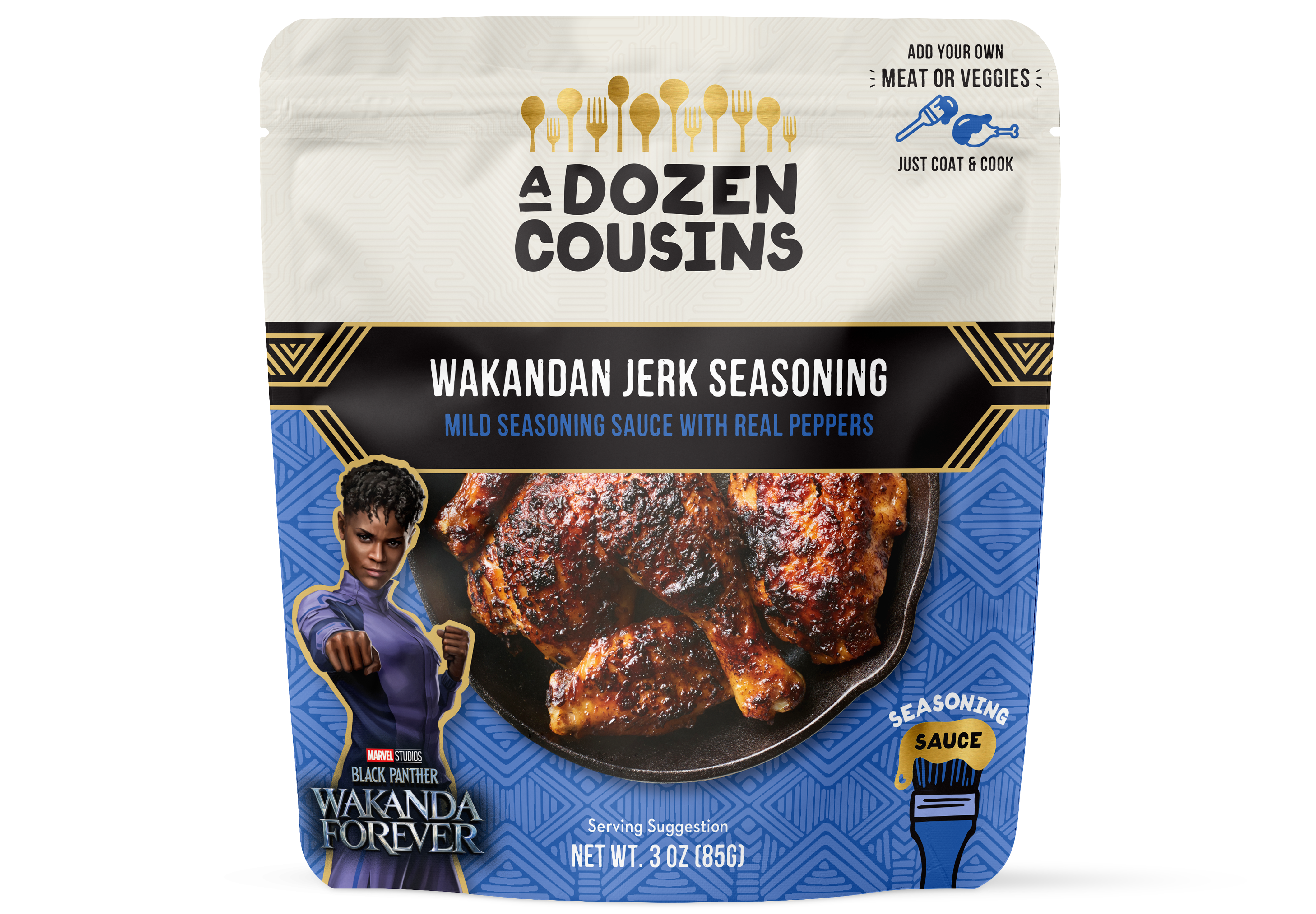 'A Dozen Cousins' has integrated narrative in its branding to illustrate how much influence West African food has had on other meals people recognize and love to connect to the diaspora. "When you look at Creole, Caribbean cuisine, or Latin American meals, many of those flavors and cooking processes were brought to the Western hemisphere by enslaved Africans," he says, noting that food can play an important part in teaching this knowledge.

The collab is a sign for Basir that his life's work is on the right track. "It's an honor for us as a brand that celebrates culture," he says. "It's surreal for us to be in a position where we can collaborate with a business as renowned as Marvel to work on this, because we're big enough to come to the table and provide value to a company as large as they are."
Basir, who studied food history and anthropology as an undergrad, hopes this collection will further his aim to introduce people to new meals and flavors, while telling the stories of how interconnected the African diaspora is.