There's an African proverb that says, "If you are threatened by a man, sleep at night; if it is by a woman then stay awake." Director Ryan Coogler's second trip around the Marvel Cinematic Universe, Black Panther 2: Wakanda Forever, the highly anticipated sequel, may just provide some weight to that saying, as it features an all-star cast of women calling the shots. The film sets its focus on the only living members of Wakanda's royal family, Queen Ramonda, once again played by the inimitable Angela Bassett, and Princess Shuri, which sees Guyanese-born actress Letitia Wright reprising the role. Together with Lupita Nyong'o's Nakia and Danai Gurira's Okoye, the film sees them grapple with how to steer their country towards victory and stability, and reimagine Wakanda's future.
---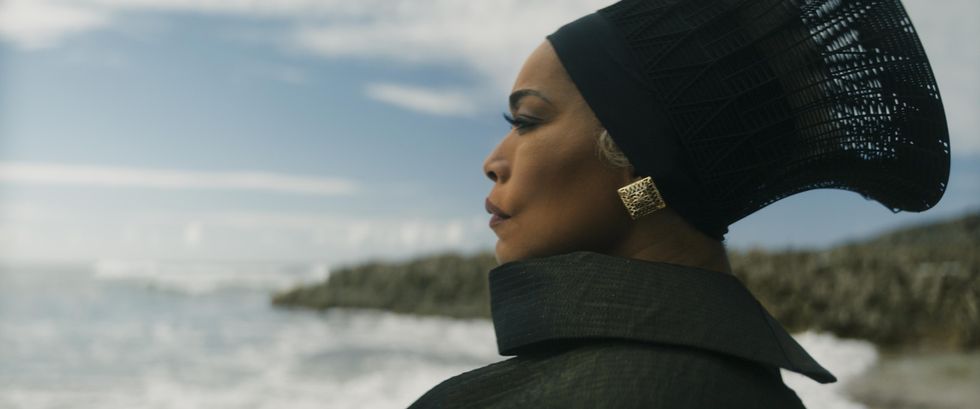 Queen Ramonda, as played by the inimitable Angela Bassett, must grapple with her new role in 'Black Panther: Wakanda Forever.'
Photo: Marvel Studios
In Black Panther, fans were given a sensational first look into the wonder that is Marvel's Wakanda. Much of the film focused on male leadership, and the relationships and acceptance needed in order to take on the role of the MCU's strongest leader on land. Late actor Chadwick Boseman will always be known as King T'Challa, the first Black Panther. However, the excitement surrounding the mystery of who is up next cannot be denied. Going into the second film, there are a few plot lines that we can, contextually, expect to see. The film's two-minute action-packed preview begins with what seems to be a Wakandan celebration of the late King's life and ends with our first look at the next Black Panther. In it, Queen Ramonda puts on a stately form as the expected heir to the throne, as she and her mourning daughter wrestle with their loss and new power.
Now, we get to experience a Wakanda led by women – what does the strongest nation on land look like when it's run by a matriarchy? Well, if you have an African mother, then you know we're in for a fierce treat.
"We know what you whisper," Queen Ramonda is heard spitting out to an audience of global leaders in the trailer, "They have lost their protector, now is our time to strike." For the majority of its existence, Wakanda has kept its true powers and capabilities hidden, and the culmination of the first film saw King T'Challa change that. The West's obsession with being the most powerful means it's only a matter of time before they're desperate to have some -- if not own -- Wakanda's prized resource.
Wakanda is as powerful as it is because it recognizes the strength in 'we', versus the 'I' that Western culture is often centered on. The Wakandans' ability to recognize the power and value in their community is their true power. And there are real-world lessons to be learned here.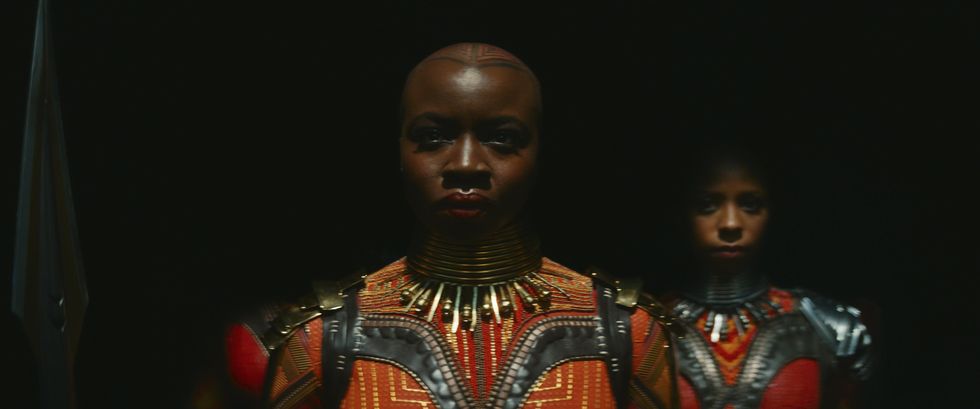 As Okoye, devoted leader of the Dora Milajie, Wakanda's elite army of female warriors, Danai Gurira is fiercely dedicated to protecting her country.
Photo: Marvel Studios
When asked what she imagines African communities and leadership could learn from the fictional world's willingness to embrace a nation run by matriarchal systems, Gurira insists that we already know the answer. "African communities know, everyone knows, that women are equally capable, and can do tremendous things with leadership," the American Zimbabwean actress told OkayAfrica. "It's a question of when the barriers [will be] finally broken down around that happening, in ways that we can see and identify just as much as we can with men. I think the irony of it, is that we as Africans know the power of feminine leadership, and we know we need more of it."
Gurira returns to the big screen as the devoted leader of the Dora Milajie, Wakanda's elite army of female warriors. The Dora Milajie's strength is never questioned and manifests in ways far superior to physical strength, as was displayed in Black Panther when Michael B Jordan's Erik Killmonger initiated a civil war among the Wakandans. Okoye and her army's loyalty to the throne did not waiver, even while looking into the eyes of her love, W'Kabi (British actor Daniel Kaluuya), as the revenge he sought out led him astray.
The sequel highlights Okoye's loyalty and quiet affection towards the late King, as her desire to protect the crown and its bearers reach new heights. As the steadfast leader of the MCU's strongest army, Gurira's character is faced with unprecedented circumstances that force Okoye to explore different parts of herself. If we were talking about any other character, one might heed caution, but this is Okoye, after all.
"It's good for her," says Gurira. "It's important that a character shift, and that they go through things that shift them, and they have to adjust to a different existence. The power of doing the sequel is that you're able to see Black women characters have their humanity stretched, expanded, and worked through. We've seen white characters get to do it, but we don't get that. And it's really important to allow her to go through that sort of shifting."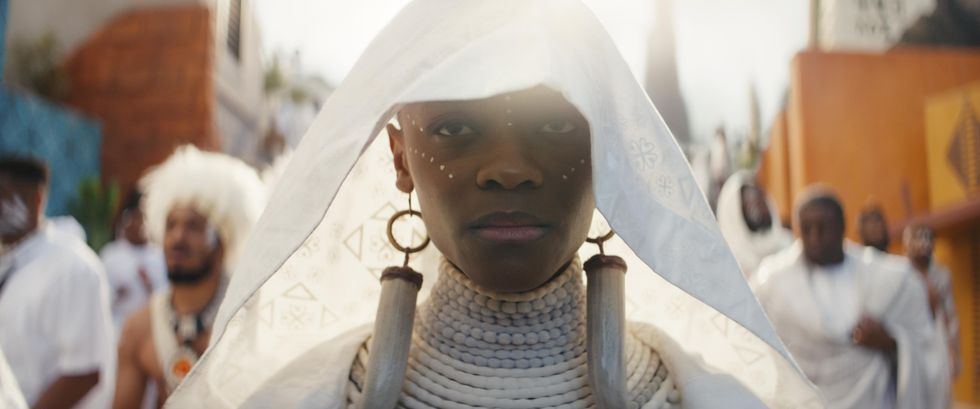 Letitia Wright reprises the role of Princess Shuri, one of the only two remaining members of Wakanda's royal family.
Photo: Marvel Studios
Adjusting to the shifting foundation that is current-day Wakanda seems to be the order of the day, as we anticipate Nyong'o's character having to deal with the loss of the King. The Kenyan Mexican actress's Marvel homecoming is drenched in mystery, as we are given mere glimpses of what Nakia gets up to in the second installment. In Black Panther, Nakia's independence, courage, and persistence toward peace introduce her before we even hear her speak, as it's explained that she is a spy on a mission to save enslaved young women in the West African jungle. Nakia's humanity is given even more room to expand as she liberates a young boy dragged into a life of thuggery instead of denying him the chance to start over. Her selflessness continues to show as she later lets King T'Challa know that staying with him in Wakanda would be lovely, but that there's more for her to do outside their world.
One could argue that selflessness, loyalty, and the ability to kick anyone's butt on sight are character traits that can be attributed to the idea of African matriarchy. And while the idea of a nation run by women may seem outlandish to the conditioned human mind, the film highlights how conventional it is.
"For Wakanda, it's not remarkable at all. The women are in charge" Nyong'o told OkayAfrica. "It's remarkable for us, but I do believe that there can be a time when it's not remarkable for women to be in charge. When it's the norm. And that the expectations are the same for women as it is for men, in terms of leadership and holding power." For Nyong'o, it's less about convincing men than it is about empowering women. "The chief thing that we can take away from the film is that women are beyond capable of running things," she says.
Along with the push to bring in more female perspectives, Black Panther 2: Wakanda Forever also looks into the idea of how Black and brown indigenous communities can co-exist and potentially support each other. Gurira believes the storyline could lead to more necessary dialogue. "I think there's a beautiful narrative there," she says. "I'm very thankful for that narrative being explored in this because it is a conversation I think we need to have more of. Can you imagine if Black and brown communities came together? Can you imagine the impact?"