10 Black Punk Bands You Need To Listen To
Punk's not dead, and these 10 black punk bands prove it. South Africa punks, Zimbabwe punks, Kenya punks, Mozambique punks & more bring it.
40 years ago, punk rock spread around the world with bands like The Clash and The Ramones gathering a cult following and creating a scene in which kids who didn't fit in found a community.
---
Punk rock started in the U.K. and the States as a movement against the establishment—a way for working class kids to fight back through music and culture, no matter their lack of technical skills or financial means.
Today, most of the remains of that period can be found in museums and it seems like most people have forgotten what the movement was all about.
Black punks stand out like a sore throat and their presence can be questioned. In reality, they've been present from punk's heyday with artists like Bad Brains, National Wake and Poly Styrene making history.
Black punks, if anything, are some of the last vanguards of a punk movement that's been co-opted by the mainstream. They fight two battles: to create their own space inside their punk communities, as well as inside black culture.
Black punks have to reconcile these cultures, and are thus more authentic, rebellious, bold and not afraid to be involved politically.
Punk's not dead, and these 10 black punk bands show it.
Stream our extended Apple Music playlist below and read about the individual selections underneath.
Big Joanie
(UK)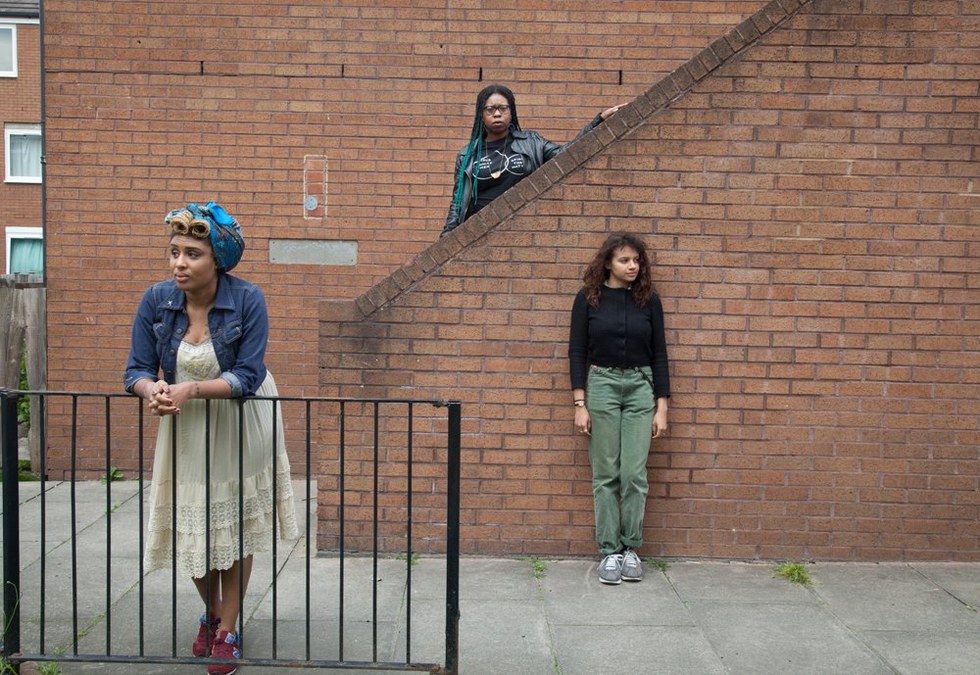 Big Joanie. Image by Roman Mandrake via the band's Facebook.
Big Joanie is an all-female riot grrrl and afro punk trio from London. They recently released their single "Crooked Room" on their own label Sistah Punk Records and are currently touring in the UK.
Formed in 2013, by Stephanie, Kiera and Chardine, these girls don't shy away from their number one objective: making music for black punk kids and creating a space where they can be represented. Chardine is an activist and recently dud a TED talk on the rise of the alternative black punk scenes, "How Punk music can turn you into a Black Feminist."
Punk was created to fight against the establishment. Yet, ironically enough, racism is pretty well established in certain areas of the punk scene. By fighting against this racism and creating more visibility for black rockers, Big Joanie is one of the most punk bands around, in the original sense of the word.
Listen to "Dream Number Nine" above.
TCIYF
(South Africa)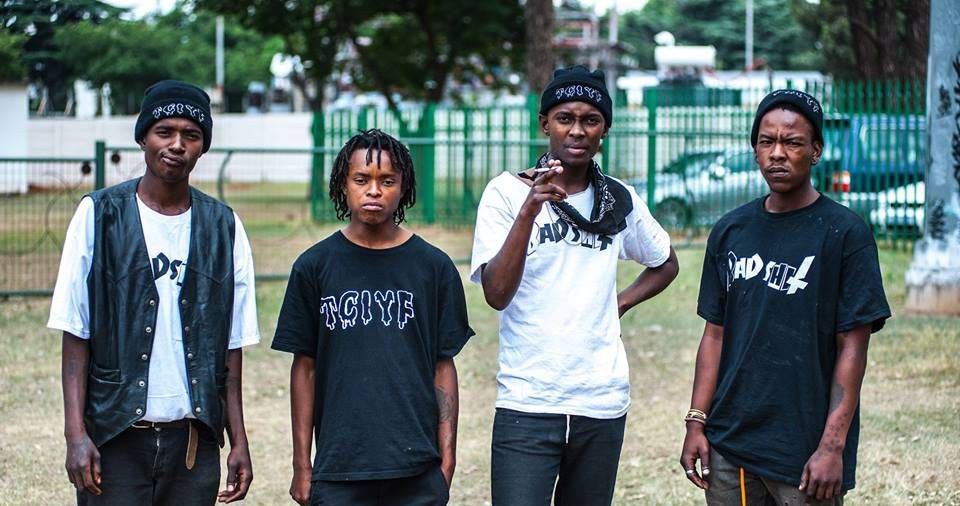 TCIYF. Image via the band's Facebook.
You'd never guess what TCIYF stands for: The Cum In Your Face. If that alone didn't give you a hint, this thrash punk band from Soweto is even more hardcore than its name.
The four members are part of a skate collective called Skate Soweto Society. They created the band as a rejection of popular South African music genres like hip-hop or kwaito, which they felt didn't represent them. TCIYF had things to say, a system to reject, and forming a punk band was the best way to do it.
TCIYF play some of their gigs wasted. Their music videos, like "Church Wine," openly mock South Africa's heavy Christian culture. Their lyrics are as raw as they are are brutal and the band seems to always stays true to their spirit. They don't surrender, they don't compromise, and that's all the beauty of TCYIF. We're still waiting on the band's first album.
Check out their latest video for "Tupperware" above.
Generals Of Monrovia
(Canada)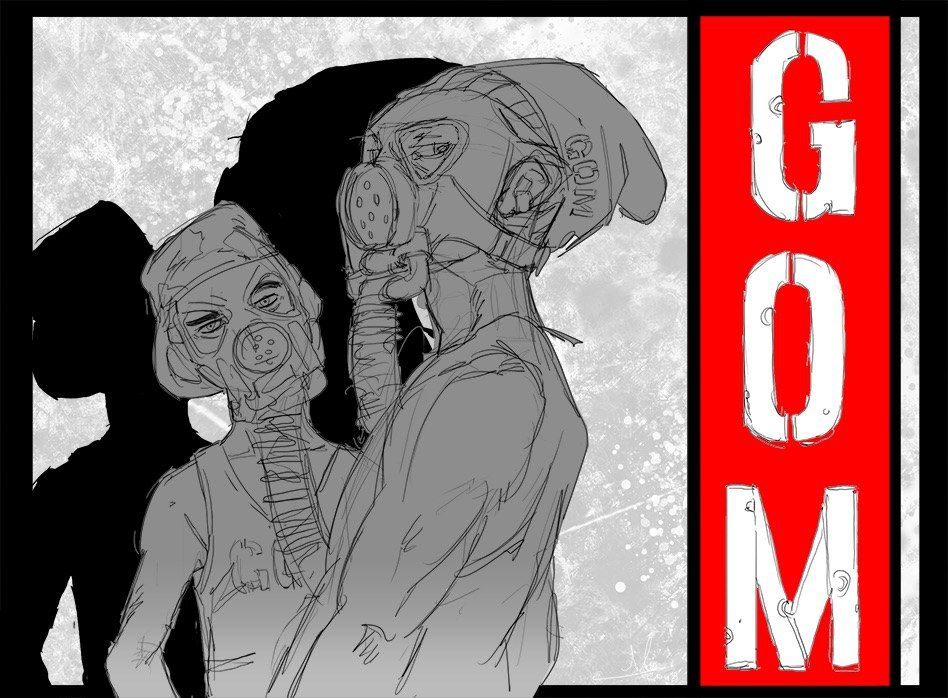 Generals of Monrovia. Image via the band's Facebook.
Formed in 2015 in New Westminster, Canada, the Generals Of Monrovia might be the babies of this list, but they're probably the ones that stand out the most for their visuals and concept (think of an indie punk version of the Gorillaz).
The concept of the band is that, after being granted immunity, the last three surviving Generals of Monrovia—represented by band members General Sokah, General Fee and General 55—have dedicated their new-found freedom to recording and performing punk rock. Sounds like a rad program.
The Generals released their first self-titled EP last year and have been touring in their home country since then. Their music belongs to the alternative punk category, as do their lyrics, which call out the fake-ness of the music industry and hipsters.
Listen to "And I Follow" above.
The OBGMs
(Canada)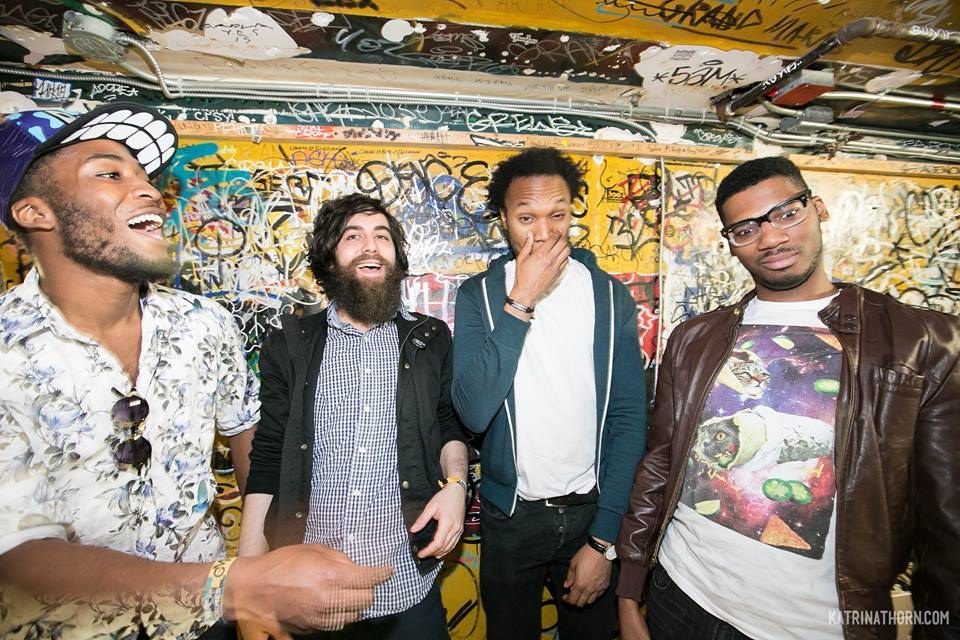 The OBGMs. Photo by Katrina Thorn via the band's Facebook.
This self-proclaimed garage party punk band's name stands for the oOohh Baby Gimme Mores.
Founded in 2007 in Toronto, The OBGMs released their first EP, Interchorus, in 2009 and a self-titled debut album in 2014. The OBGMs make the perfect music to mosh and jump on people to. That might explain why Budweiser used their songs in a commercial, getting the band a surge of popularity in their native Canada.
The band members are pretty close to their fans, and their live sets are known for their disorganized choreographies. They're currently touring in Europe and just played at Afropunk Paris. Catch them if you can!
Listen to "King Stay the King."
340ml
(Mozambique)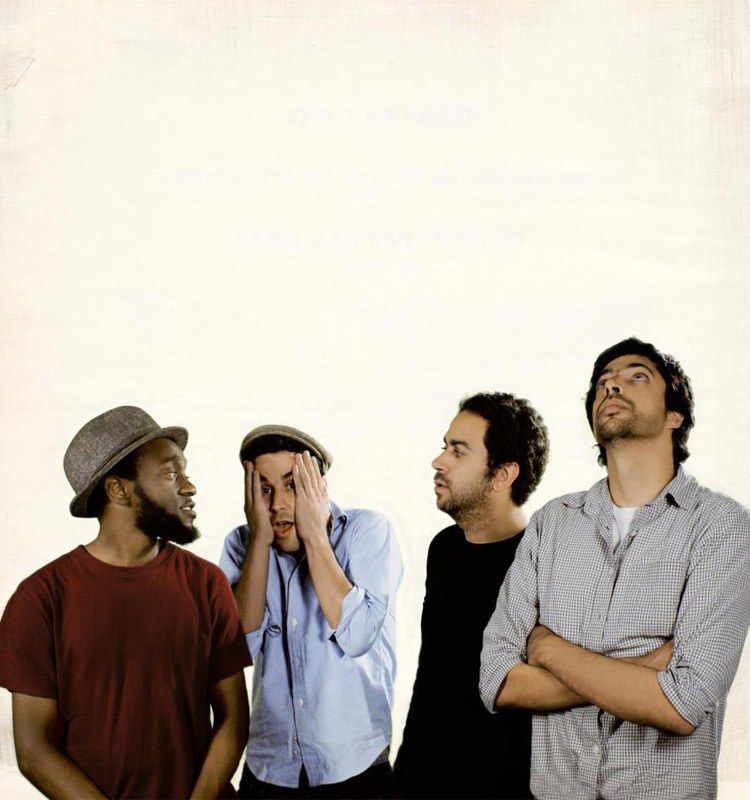 340ml. Image via the band's Facebook.
340ml is one of the most popular Mozambican bands. The quartet started inp 2000 in Maputo and has since moved to South Africa. They created their own record label to distribute their music and have now signed artists like Bongeziwe Mabandla.
The band has released two albums, 2004's Moving and 2008's Sorry for the delay. They've also been featured in Keith Jones and Deon Maas's documentary Punk in Africa,which retraces the history of punk bands on the continent.
340ml's music is a mix of ska punk, jazz and reggae with an exquisite feel-good vibe that makes you want to forget about your problems and jump around (which is also pretty punk).
Watch their video for "Fairy Tales."
Mona
(Mozambique)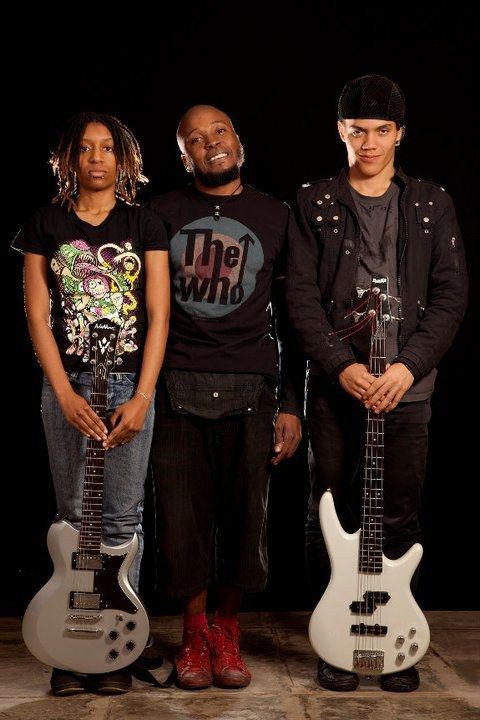 Mona. Image courtesy of the artist.
Information on the pop punk band Mona is scarce. We know that the trio hails from Maputo, Mozambique and is composed of drummer Goro, singer and bass player Mel Vicious and Monace, the group's female guitarist.
They sing pop punk songs in Portuguese and English. The rock scene, let alone the pop punk scene, in Mozambique is small. As a result, Mona has created a record label to promote rock bands such as White Monkeys.
Mona openly sings about the "depressing state of the Mozambique" music scene and how they aim to shake things up.
Listen to "Zaida (A Mamana)."
Chikwata 263
(Zimbabwe)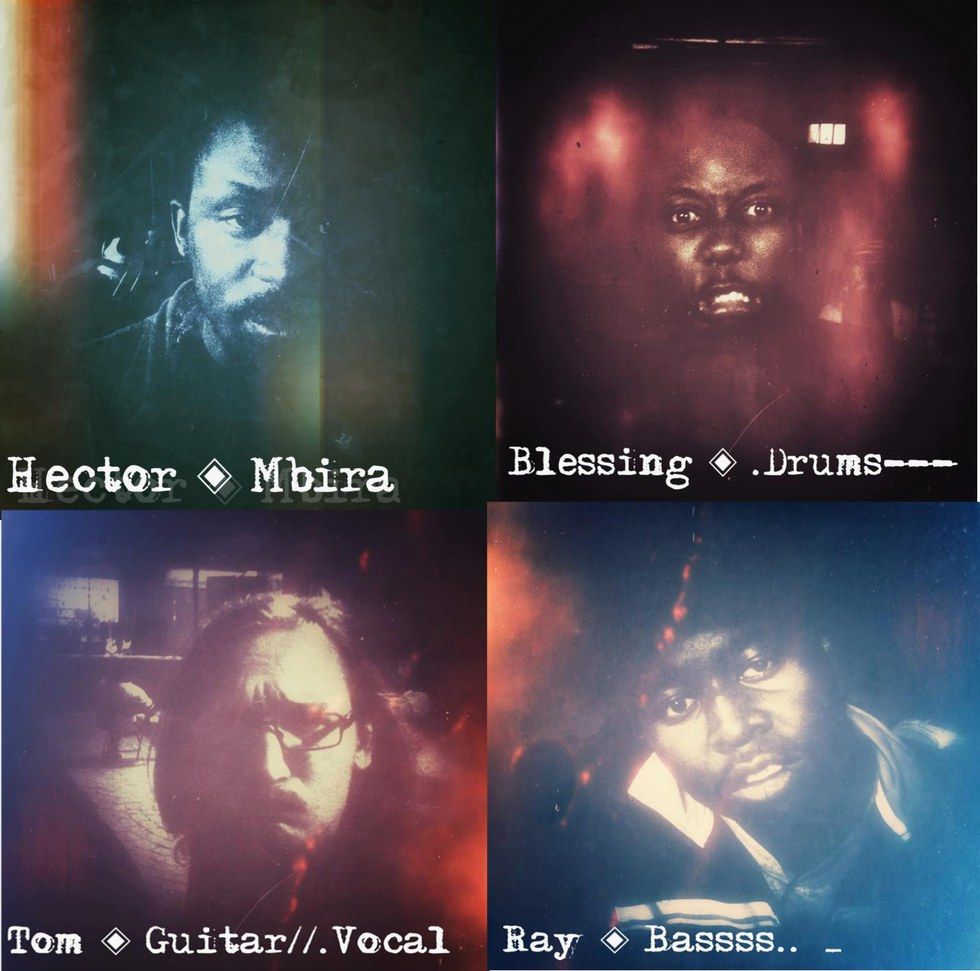 Chikwata.263. Image via the band's Facebook.
Chikwata 263 was formed in 2013 in Harare. The quartet is one of the first mbira punk bands, incorporating the traditional African instrument into their guitar-infused music. Their music defies Zimbabwean conventions, creating an interesting mix of culture. They released their first album, Chauya, in 2015 and hope to tour abroad soon.
Check out "Bhutsu"
Project Black Pantera
(Brazil)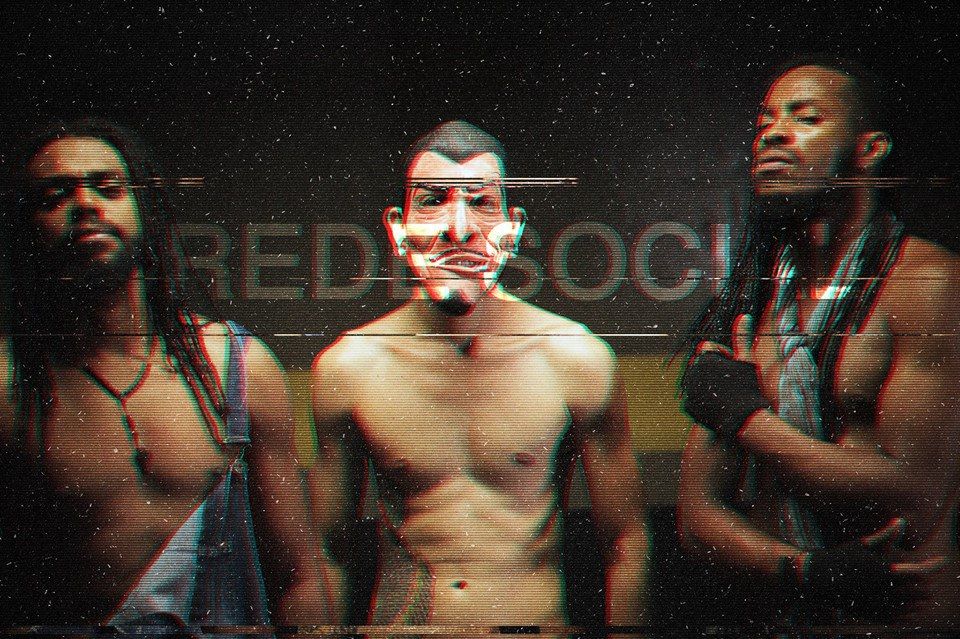 Project Black Pantera. Image via the band's Facebook.
Project Black Pantera is a relatively young band, formed in 2014 in Uberaba, Brazil and distributed by Tratore Digital. Their first self-titled album was released in 2014.
The trio is composed of Charles, Chaene and Rodrigo, the drummer, who has the interesting particularity of always wearing a mask during their set or promo pictures. A quick glance at their Facebook would be more than enough to reassure you that he's not actually an alien.
Project Black Pantera is crossover band: they mix thrash metal with hardcore music and punk.
Watch the video for "Rede Social" above.
The Brother Moves On
(South Africa)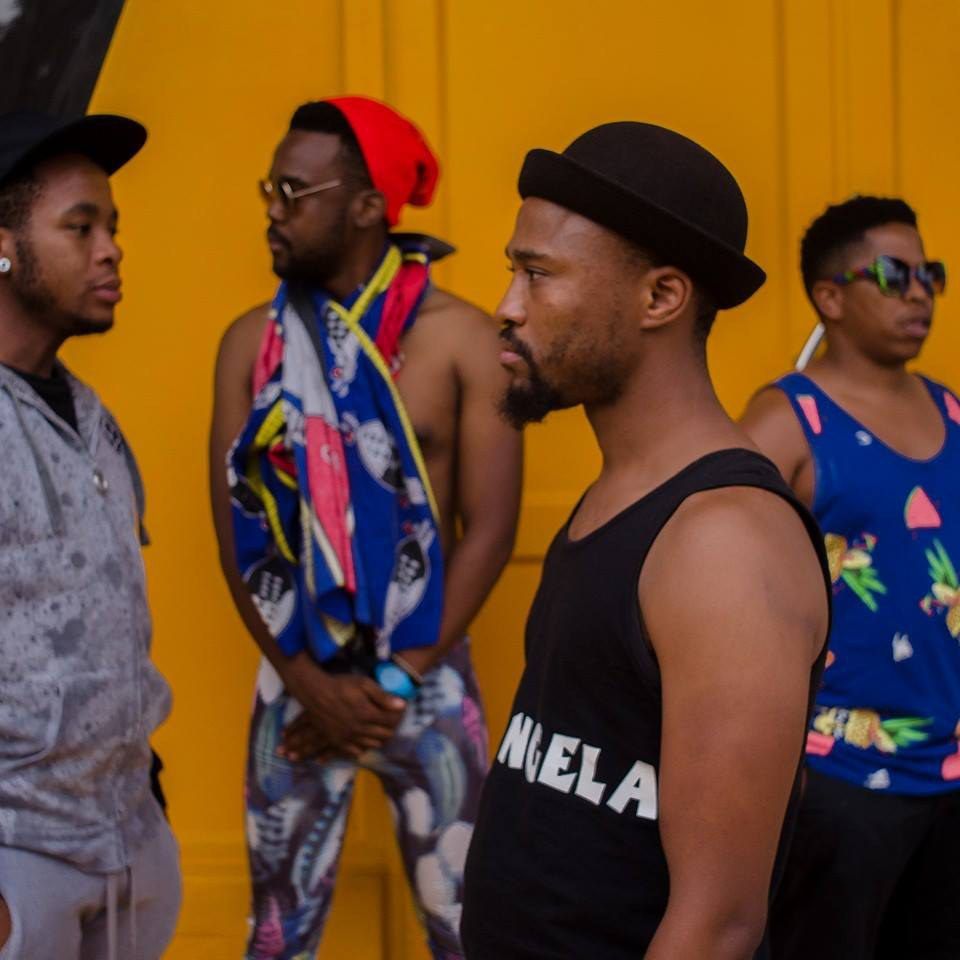 TBMO. Image via the band's Facebook.
The Brother Moves On hails from Johannesburg. Formed in 2009, their music is an intricate mix of " Electronique Maskandi, Ninja Gospel, Afrikan voodoo pop" with a dash of punk.
They use performance art during their live gigs to spread their message and aren't afraid to tackle economic and political issues in their music. In their conceptual EP, Golden Wake, the members staged a funeral to address the meaning of personal value and South African society's obsession with money.
They're touring in Europe this summer so, once again, catch them if you can!
Listen to "Tela Umoya."
Crystal Axis
(Kenya)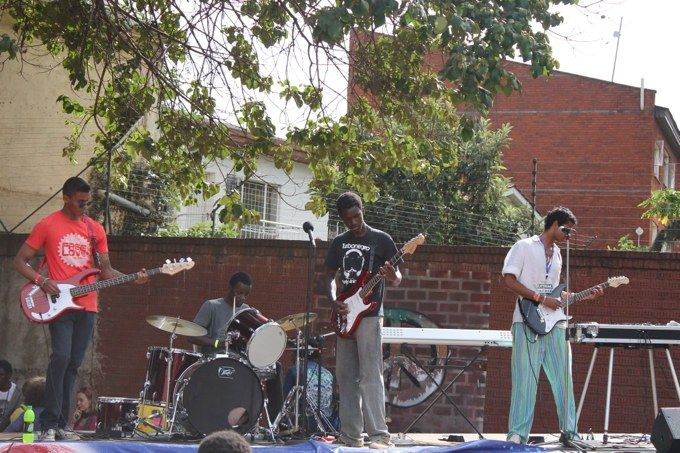 Crystal Axis. Image via the band's Facebook.
One of the first Kenyan punk bands, the Crystal Axis quartet was formed in Nairobi in 2009 by a group of teenagers. They released their EP State of Unease back in 2012 and have gone off the radar ever since since.
Very little is known of this cult band. One of their members, Neel, has been spotted in Mexico while the others remain dormant in Kenya, despite pleas by their fans to release more music.
Their alternative punk music is dark and energetic, and the band strictly follows the DIY ethic of punk, from mastering and making their own music and visuals, to recycling their instruments.
Crystal Axis might be gone but not forgotten. They were part of a scene that gave birth to a new wave of Kenyan punk bands.
Listen to State of Unease.