"Ghana is hot," is a saying you'll hear a lot while in the West African country. Whether you're talking literally or in the local dialect more generally: ingenuity, creativity, the economy, frustrations, dreams – they're all boiling over. At the Black Star Square, where the nation announced its independence in 1957 and became a beacon for the rest of the continent, Accra, Ghana is once again in everyone's sights. This time around, the year festival Afro Nation sprawls across the historic site, bringing together Africa and the world to observe the scale and power of African music. What we're saying is that this doesn't just feel like a music festival. Ghana is the gateway for a golden age of African music. On the ground at Afro Nation in late December, OkayAfrica spoke to three Ghanaian artists forging new grounds in terms of sound and commercial success.
Stonebwoy, KiDi, and Black Sherif couldn't be more different. Ghanaian music as it stands today has broadened to include a number of factions from KiDi's radio-friendly Afrobeats to Stonebwoy's far-reaching Afro-dancehall to Black Sherif's urgent ghetto gospel. But what this generation of Ghanaian artists all have in common is that they are notorious vibe providers and seamless blenders. "It feels amazing to be a part of something greater than myself," KiDi tells OkayAfrica. "So everywhere I go, wherever I take this, I just have to remember that I'm not just KiDi from Ghana. I'm representing a pack of amazing cultured people with rich heritage and a lot to give the world."
Afrobeats has exploded around the world in recent years. And Ghana has positioned herself as one of the movement's strongholds, with Ghanaian musicians as a crucial part of the story. Accra has become an amicable host for this new African zeitgeist. And with a festival bill flaunting a full range of beloved acts from all over the world, Afro Nation tapped into the source for its return to the continent.
It's early evening when KiDi takes the stage on the second and final day of the festival. Just like on day one, he's one of two Ghanaian opening acts tasked with priming the crowd for what's to come. It's a home advantage, he tells us. He knows his audience. "There's an obvious difference when I perform [outside Ghana] compared to at home," says KiDi. "Ghanaians come with the mindset to have a good time, but you have to put in effort to get them to this point." When we speak to the Accra native, he's just got off the stage and still radiates the crowd's energy.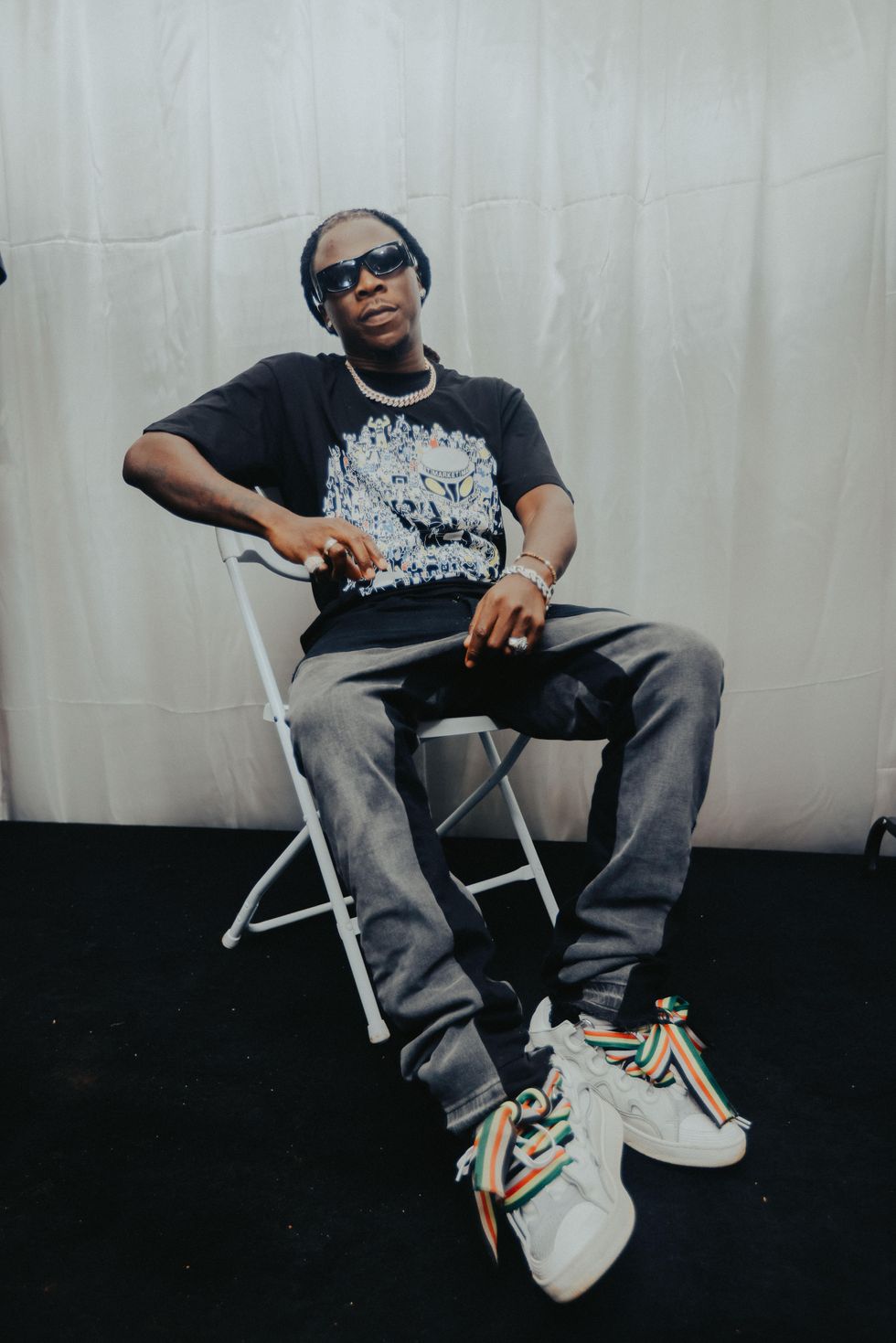 "My inspiration comes from within, comes from a mightier purpose," Stonebwoy tells OkayAfrica.Photo By Adedamola Odetara for OkayAfrica
That's not to say that Ghanaian audiences are closed off to new sounds. On the contrary, musically the country has thrived on a blend of invention and tradition since the '70s, when an amalgamation of West-African funk and imported jazz birthed Highlife, culminating in the hip-hop and R&B derivative Hiplife in the 2000s. Early and devout acceptors of Amapiano and proud savants of African drill, Ghanaians have a proven track record of giving innovation a chance. Now more than ever, Ghana's artists get to push into new and unexpected territory.

Stonebwoy is a powerful reminder of the arc a career can take here – one that isn't defined by adherence to labels or a sound, but to versatility and metamorphosing constantly. "I only allow myself to be used by the spirit of music," the artist tells OkayAfrica. "So I churn out everything that comes naturally. And fortunately I'm not boxed. I'm grateful and privileged to be banging on the dancehall hits — I'm doing Afrobeats, highlife, reggae hits and that gives me a lot of weight. But I manage to spread my inspiration across, that keeps me unpredictable and still very refined and defined." When he takes the stage it sounds like the whole audience is singing along, phones in the air. There's an anthemic quality to Stonebwoy's Afro-dancehall – his blend of Afrobeats, dancehall and reggae that has captivated the local music scene and fans globally for over a decade. His listeners seek both spiritual resonance and swinging grooves. He delivers both.
"I appreciate the love from the family – we usually know them as fans, but these are family to me," says Stonebwoy. "Because from the moment the music chose me 'til today, they have been there for me. And I think the reason they sing every word back to me is that I speak what they speak. So when I'm on stage and they're singing with me, I know that 'yes, they can relate, they're feeling the love and we're sharing it in this moment.'" Now having experienced a score of record-breaking professional achievements and creative turns, Stonebwoy sees the bigger picture.
"What inspires me is the inner source. And that inner source is relatable to everybody. We all have it," says Stonebwoy. "There's a huge presence inside of all of us that is a source that we all breathe from. That's where I come from and that's what I share. That's how everybody can relate to African music, because they connect it to the same source inside of them. So my inspiration comes from within, comes from a mightier purpose."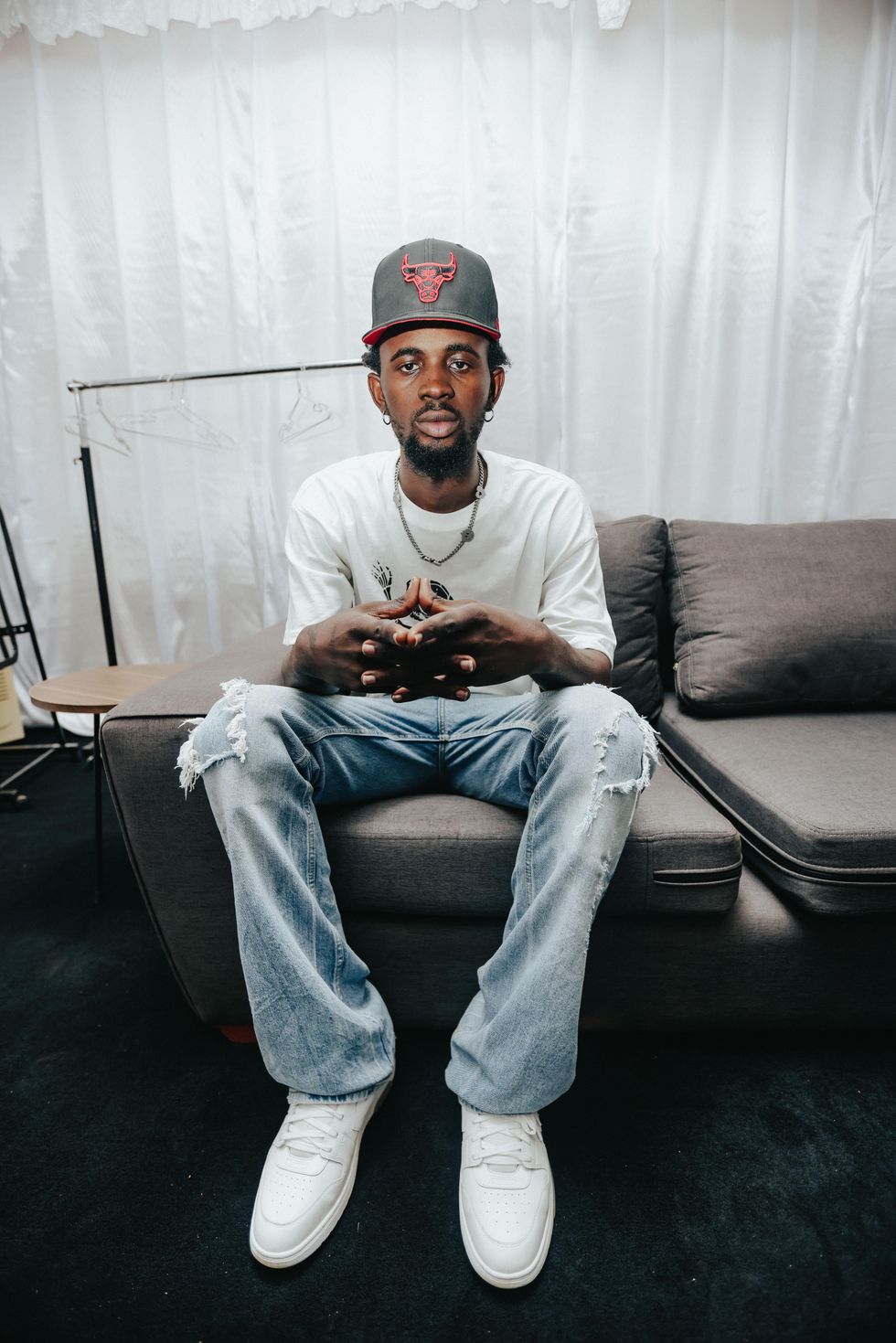 "I learn so much on stage from people's energies," says Black Sherif. "Now I get to travel and see how different people think. So I have more perspectives in my ideas, my thoughts."Photo By Adedamola Odetara for OkayAfrica
And at Black Star Square, a lot rests on the shoulders of a 20-year-old. Black Sherif is one of the most hotly anticipated acts on the festival bill. Blacko posseses an intrigue and anomalous staying power well beyond his brief career. In a time when being young in Ghana feels particularly bleak—amidst spiraling living costs, worsening corruption and unemployment—his passionate and volatile lyricism has the ability to bridge divides between critical and commercial appeal, the streets and radio listeners. There's a sense of nervous expectation when he's due to perform. He answers with a stirring rendition of Bob Marley's "Redemption Song."
"I learn so much on stage from people's energies," he says post-show. "Now I get to travel and see how different people think. So I have more perspectives in my ideas, my thoughts. Because I meet [so many] people and I love to ask questions." A truly singular artist, Sherif wields his compositions like prayers over clubby drill beats. It's the sound of someone relentlessly questing. "I see the growth in what I do and I'd love to see where I can get my writing to. The impact. Where I can get in life too."
Blacko insists on carving a hopeful path for young people in Ghana. In our conversation, the Konongo native laments how one-sided Ghana's cultural boom is becoming. "That's actually what's on my mind right now. Because everything is only happening in Accra, this has been going on for years," says Black Sherif. "People don't even know there's a bigger Ghana out there, but that's where the richness and everything is. Yeah, things need to change, we'll see to that."
As African music takes over the world, Afro Nation's Ghana edition highlighted its indispensability at home. With the world at their doorstep, Ghanaian artists aren't resting on their laurels. This is a movement of artists relentlessly honing their craft to become the purest arbiters of life for their generation. Going beyond foreign accolades and approval, KiDi, Stonebwoy, and Black Sherif are all fighting for their art to mean something at home. Stonebwoy said it best: "Music is what I've been blessed with, and I give it right back to my people."