A year ago, 16 French actresses of African descent walked the red carpet at Cannes to talk about a new project they authored, Noire N'est Pas Mon Métier (Being Black Is Not My Job), where they shared their experiences with racism and sexism in the film industry.
In an era where the movements #MeToo and #OscarsSoWhite gained global momentum and led to some change in the Academy Awards, it was a first considering that outside of Aissa Maïga, French actresses seldom get any visibility and speaking out against racism put them at risk of being blacklisted, like the actor Luc Saint Eloi's unfortunate experience 20 years ago.
The red carpet moment was generally well received in France and in the rest of the world, with the main actresses getting large media coverage with features in Le Monde, Le Figaro and even Vogue U.S. The presidents of the Cannes Film Festival welcomed the actresses. No promises were made by any of the gatekeepers in French cinema, but the actresses were hopeful.
Since the book's release, the actresses have been busy working, some of them lucky enough to be able to portray fully fledged characters, others being reduced to play the "black woman" stereotype over and over again. Recently, one of them, Karidja Touré, well known for being in the film Girlhood, mentioned that she was pretty good at mimicking an "African accent." Semantics aside—and the fact that there is no such a thing as an African accent, as Africa is still not a country—it is pretty revealing: despite the wonderful coverage these actresses had, has the movement contributed to any change?
---
French cinema is a dinosaur refusing to die and change—still longing for the glorious days of the new wave to come back. The industry makes the same films over and over again, ripped with tired racial stereotypes and boring stories about emotionally stunted middle class thirty-something Parisians, films that can't even be successfully distributed outside of France.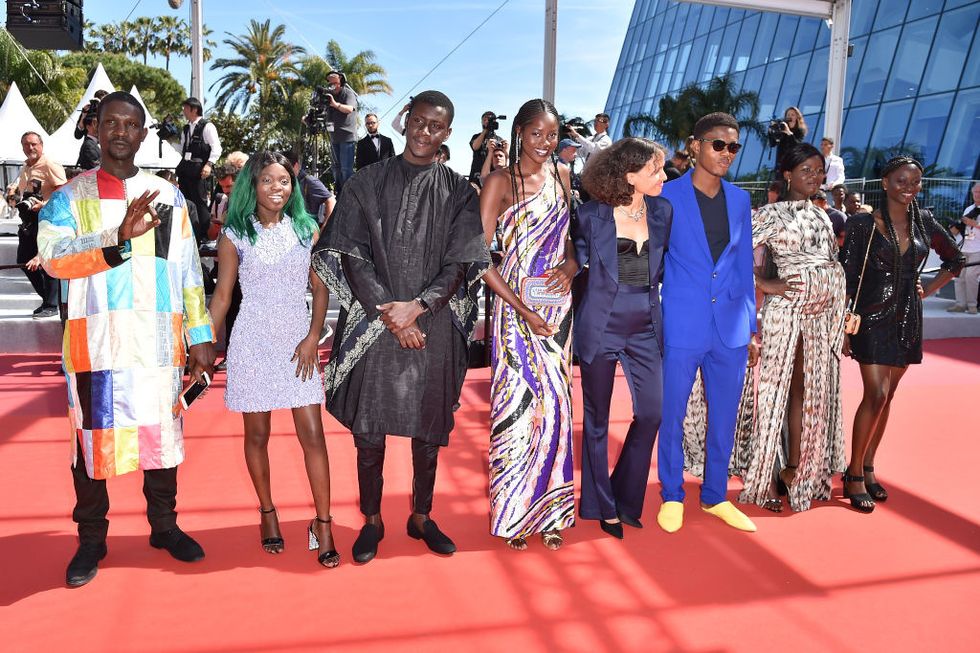 Mati Diop and the cast of 'Atlantiques' attend the screening of during the 72nd annual Cannes Film Festival.
Photo by Dominique Charriau/WireImage via Getty Images.
French movies portraying Black people neatly fit them in three categories: either drug dealers or thugs from the banlieues (the projects), illegal migrants or, a special category invented for Black women: desperate prostitutes. All these categories fit into showing Black pain as trauma porn for non Black audience, who, no matter how much they might struggle in their lives, will at least feel better about the fact they are not suffering like Black people. Even the blockbuster Les Intouchables, featuring Omar Sy playing the trope of the magical negro (a "nice" surprise since it avoids the aforementioned tropes) couldn't be made into a viable American remake because the racism and ableism in it makes the film look like it belongs to the 80s. The rest of the world is moving, but French cinema is not.

It explains partly why so younger audiences and in general many Black French people would rather watch films on Netflix than supporting a homegrown industry so adamant in misrepresenting them in any way, shape, or form. And also why this year, the Cannes Film Festival has been adamant in stopping the platform from submitting films. In addition, France's President Emmanuel Macronhas asked European countries to unite to fight against Netflix and Disney by setting up a 225 million euros fund for the creative industries. It's worth mentioning that his own documentary about his winning campaign during the 2017 elections is on the platform—a documentary that contributed to improve his popularity. Netflix has since then decided to release their first French film. In the war between the French film industry and Netflix, the latter will win. It's only a matter of time. The only question that matters is: why is the industry not trying to reshape itself, write inclusive stories representing all kind of French people, including the Black ones? Why not being more diverse to beat Netflix? Is it so hard to admit that the films they make are boring and racist and thus, reshape them?
Maybe.
In that aspect, the Cannes Film Festival is the epitome of French cinema, many of the films selected having the same self-absorbed, boring stories. It is worth noting that Cannes itself is part of the Provence Alpes Côte d'Azur, an administrative region where the far right party Rassemblement National (formally known as the National Front) is popular. Cannes is a city so racist that Black people walking to clubs or bars with a party of more than one are routinely being denied entry as if the city was an idyllic version of Alabama in the 1960's. Some clubs even have a quota of non-white people they accept. The only ones that are always allowed are—the security. Yet, for the past few years, the Cannes has decided to embrace diversity—like including Maimouna N'Diaye, a Senegalese actress and director, to be a member of the Jury at the festival.
Mati Diop'sAtlantiques is the first film made by a woman filmmaker of African descent to be selected at the Cannes' Competition program. It is worth noting that the Diop is mixed race and has gotten some backlash for saying that she doesn't identify as Black or white but as a French woman. The one drop rule is a universal concept in every country where whiteness has found ways to sustain itself, but its impact is lessened in France—where the notion of being mixed is just as valid as being Black. Thus, many people who have partial Black identity will rightfully so, like Diop, identify as what they are: bi or multiracial. It doesn't mean that she is rejecting one's identity, but rather accepting both. She was disappointed and perplexed to learn about the milestone she has hit, but hopes that things will change.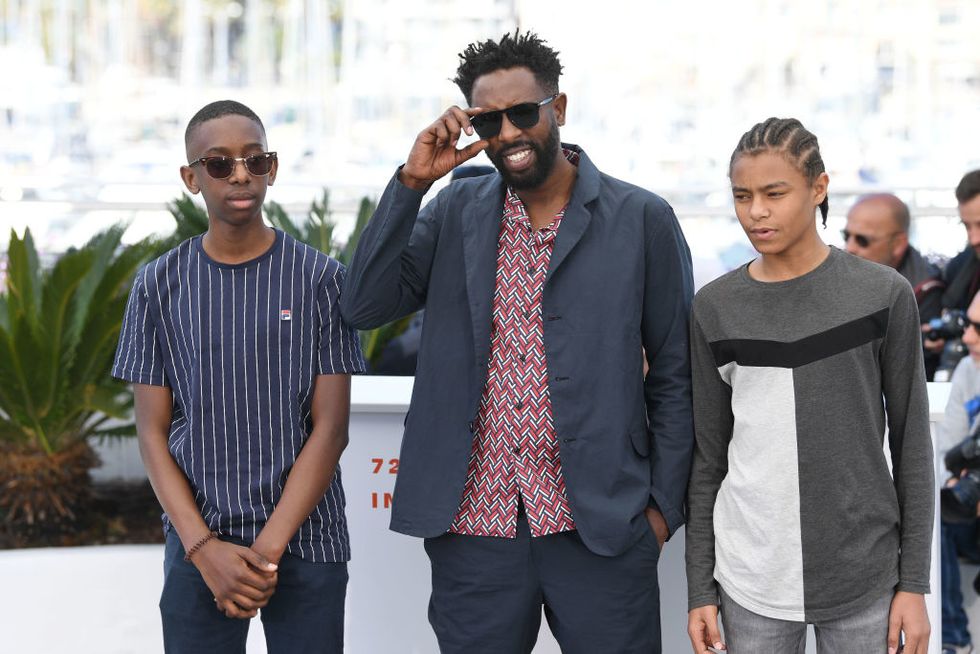 Al Hassan Ly, director Ladj Ly and Issa Perica attend the photocall for 'Les Miserables' during the 72nd annual Cannes Film Festival.
Photo by Daniele Venturelli/WireImage via Getty Images.
Atlantiques is about a young Senegalese woman longing for a lover who is risking his life migrating to Europe for a better life. Another film, Les Misérables, by Black French filmmaker Ladj Ly is about the tensions between police officers, gang members and the people living in a French banlieue (projects). Ly has said, "French cinema nowadays is a bore, and there is no Black or maghrebi people on screen...they're always reduced to harmful stereotypes."

At first glance, both LesMisérables and Atlantiques might seem to fit into the idea that Black people on screen have to deal drugs or be illegal migrants, but Atlantiques, however, is a warm, beautiful movie that avoids the usual clichés, telling a wonderful, bittersweet coming-of-age story about a young woman learning to be comfortable with herself, her choices and her sexuality.
Having these stories on screen is a nice move, but many have noted that compared to other international festivals, Cannes' progressive pace is incredibly slow, but pales in comparison to what Netflix and even Youtube offers to Black people yearning for content that truly represent them and gives them a humanity often denied.
Will the diversity seen this year at Cannes have the same impact as Noire N'est Pas Mon Métier? Will more films made by French filmmakers of African descent be made?
Only time will tell. And it's ticking.