Popular
Watch Blood Orange's Dreamy Tiny Desk Concert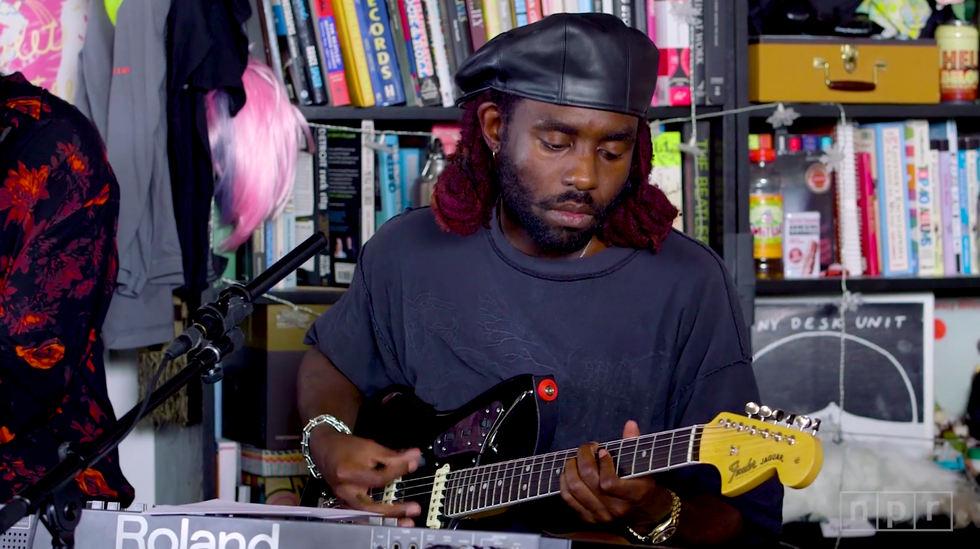 Still from NPR's Tiny Desk Concert Video.
The singer preforms tracks from his critically acclaimed 2018 album 'Negro Swan" for the NPR concert series.
British-Sierra Leonean singer and songwriter, Dev Hynes also known as Blood Orange is the latest artist to bless NPR's Tiny Desk.
The artist released the critically acclaimed album Negro Swan last August, which explored themes of "black depression, black existence and the ongoing anxieties of queer/people of color," said the artist.
The artist took his unique talents to the popular concert series, performing a calming 20-minute set backed by singers Eva Tolkin and Ian Isiah as well as Jason Arce on saxophone.
---
The many highlights of the session include a soulful cover of the gospel legends', The Clark Sisters' "Holy Will" about halfway through the set, and a passionate spoken word performance from Ashlee Hazeabout feminist thought and falling in love with herself through the music of Missy Elliot, which she delivers at the end of theopening track "By Ourselves," from Hynes' 2016 album Freetown Sound.
The set list also includes the tracks "Jewelry" and "Dagenham Dream"—the final song the sees the multi-instrumentalist hop on the organ to close out an incredibly ethereal performance.
Check out the dreamy performance below. Negro Swan is now available everywhere.