Folake Olowofoyeku is an incredibly talented actress who is also keenly aware of the inevitability of her own success. "I'm not surprised at my successes in whatever I do, she says confidently. "I know I will be successful as long as I'm dedicated." Olowofoyeku, a Nigerian actress who has had training in theatre, has starred in several productions including Law & Order: Special Victims Unit, Westworld, Transparent and several others. Born to traditional parents who wanted her to pursue a more conventional profession, Olowofoyeku continues to cement her place in the industry as a successful, committed and versatile actress.

Olowofoyeku's role as Abishola Adebambo in CBS's Bob Hearts Abisholahas been an authentic performance portraying the life of an immigrant trying to live the American dream in tandem with her own culture.
Recently, the 37-year-old actress was nominated for an NAACP Image Award for "Outstanding Actress in a Comedy Series"—a testament to her genuinely relatable and endearing portrayal of Abishola. Also nominated in her category are Issa Rae (Insecure), Tracee Ellis Ross (Black-ish), Regina Hall (Black Monday) and Yara Shahidi (Grown-ish).
Bob Hearts Abishola is another hilarious production by the talented Chuck Lorre. Having premiered in 2019, and been renewed for a third season just last month, the comedy series follows the lives of a Nigerian nurse Abishola Adebambo (Olowofoyeku) and Bob Wheeler (Billy Gardell). The latter is a recent divorcee who runs his family's sock business in Detroit but finds himself at the Woodward Memorial Hospital after suffering a heart attack. It is there that he meets Abishola and is immediately smitten with her.
What makes Bob Hearts Abishola stand out is how it not only keeps its audience thoroughly entertained but does so while offering an alternative perspective of African immigrants, their culture, their hopes and dreams—minus the tired stereotypes.
And so we caught up with Olowofoyeku, who is based in Los Angeles, to speak about how comedy has given her her biggest break yet, what she has learned from her character Abishola and her recent NAACP Image Award nomination.
This interview has been edited for length and clarity.
---
What were your initial thoughts when you first read the script for Bob Hearts Abishola, and what was that casting process like for you?
I didn't read the script until I'd been cast in the show. You have to realize that as a working actor, you go through tons and tons of auditions. At a certain point, I started just saying that I auditioned for a living because that's what I did. The ratio of auditions to actual jobs, in the beginning, is not balanced at all. So I thought it was a very well-written script and usually a good indication of that is, it's easy to memorize. It just flows like water. It's natural. It's written like a natural speaking pattern.
I knew it was Chuck Lorre's pet project, but I didn't know much about anything else. I just approached it like every other audition, focusing on the character's life. What is this character, Abishola, up to in this particular scene? And sometimes, it warrants creating a backstory, to be able to properly execute that audition. In this case, everything just seemed so natural; the character, her experience and accent. It was everything that was very familiar to me, the sort of woman she was.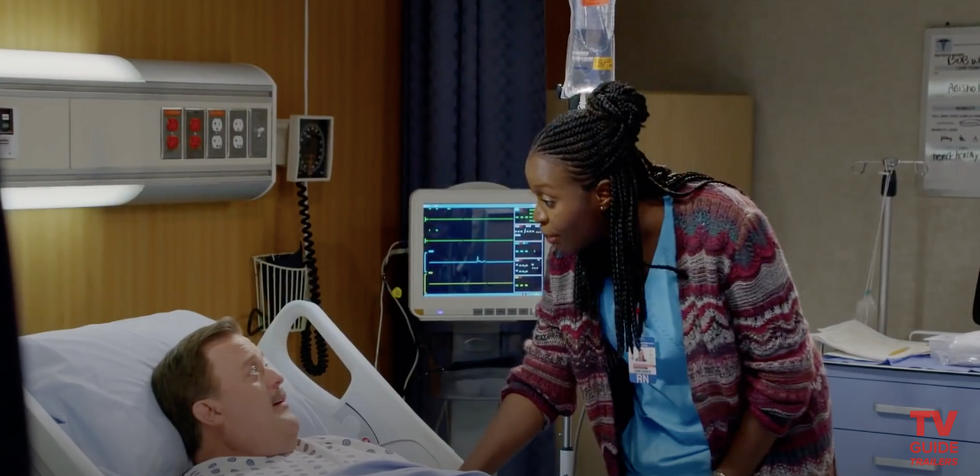 Bob Hearts Abishola TrailerStill taken from YouTube.
Perhaps not so much in television but certainly in a number of films that have African characters, were you surprised that you, as an African, was actually cast for an African character?

I'm not sure I was surprised as much as I was glad. I think, within the whole culture recently, and our people have been very vocal about the fact that we want authenticity in the portrayal of our stories. I've noticed the change in the past few years, and I was glad that they were actually doing their due diligence in making sure to cast this character authentically.
I'm not a firm believer that as an actor, you have to be the character that you portray, but I think that it shouldn't just be disproportionately people who are not of a particular heritage and background playing and portraying certain characters. I think everyone should have an equal shot.
In what authentic ways would you say that you as a Nigerian, you relate to your character Abishola? If at all.
In so many ways. Sometimes it's kind of like a mind fuck, because we have the same background, but then it's a mind fuck because she's actually doing to her kid what was done to me. So, it's interesting because I wanted to be in the arts, and everyone in my family was against it and I was considered pretty much a joke for a very long time. So, having her go through that experience with her son, telling her son not to go into the arts, I mean, she's definitely a lot more lenient than my family was with me. Yeah, so it's sometimes emotional for me.
It was something that transcends this world in this character for me. Abishola's mother's name is actually my mom's name as well. There are a lot of parallels; even the stroke that Abishola is helping Dottie through. That was my experience as well with my father, growing up. So, it's pretty interesting, but a lot of her experiences are mine, a lot of the things that she endures with her son are experiences that I had in Nigeria while growing up. Obviously, I grew up in Nigeria, I was raised there. I didn't move to America until college. I'd never visited America until I moved here for college.
So, even in creating the character, I didn't have to do too much research. She was already embedded in me: the way she walked, the way she talked and her mannerisms. It's a part of me and it's what I grew up around. I went to an all-girls boarding school in Nigeria, the Vivian Fowler Memorial College for Girls. And just in that, between our teachers and the matron that took care of us while we were in boarding school, there's a lot to pull from. So, I researched Abishola for almost 20 years.
"So, I researched Abishola for almost 20 years."
Do you ever find a difficulty in discerning between Abishola the character, and you as Folake?
I wouldn't say I have difficulties, but there's a couple situations where they melt together. Remember, I studied theater. I learned all the different methods of acting so I'm able to portray a character and walk away from it at the end of the day without it affecting me or influencing my daily life. But there are certain emotional things that Abishola has experienced and to be able to portray that authentically on television, I need to actually go there personally. So, those would be the only incidences, because to get the visual representation of what Abishola is experiencing, I, Folake have to dive into some of my personal experiences and draw from that.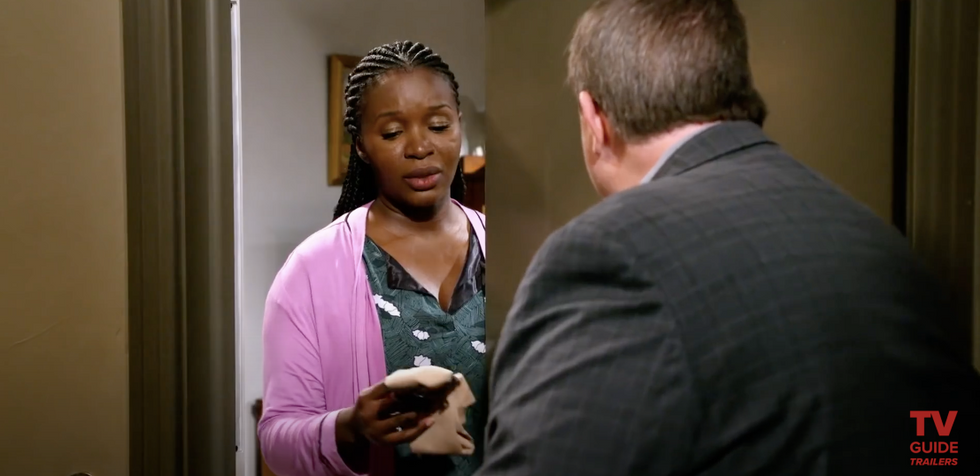 Bob Hearts Abishola TrailerStill taken from YouTube.
In a previous interview with us, you've said that you're not inherently a funny person, but you can be funny. On that note, are you surprised by your success in a comedy sitcom?

I'm not surprised at my success in it. I'm surprised that it was the launching pad. I'm a very versatile actress. That's been my staple since I started acting in college. I can do pretty much anything from action to drama—I love versatility. It's one of the things that drew me to the craft. I didn't want a redundant life. I appreciate the opportunities acting gave me. So, I'm not surprised at my successes in whatever I do. I know I will be successful as long as I'm dedicated and all that. And so, I'm just surprised that this was the medium that introduced me to the majority of the population.
You've spoken about how you were born to quite traditional parents who wanted you to pursue more conventional avenues professionally. In light of your success in Bob Hearts Abishola, would you say that their views changed?
My parents passed away many years ago. My mom had an opportunity to come and see some of my shows in New York. She saw me play Sally Bowles in Cabaret, which, if you're familiar with, it's a lot of singing and a lot of dancing in scantily chosen outfits. She enjoyed it a lot and she also came to a bunch of my Broadway shows too. She would always go back and report to my dad and tell him how it was all going. She told me she used to reenact the runway walk and all of that for him, which was really warming to hear.
Before they each passed away, they gave me their blessing. My dad passed away first. It was important to my mom that I go on and get my master's in acting if that was what I chose. But she supported and she was excited. And she was alive when I got nominated and won my first award for "Best Actress". So, I think she'd actually be extremely happy about this project.
"Before they each passed away, they gave me their blessing."
What would you say Abishola has taught you, not just as an actress but as a person?
She's helped me understand my parents' perspective. I mean, the whole process of playing this character on American television, first a Nigerian woman, with a Nigerian culture and Nigerian life in America. The whole journey is humbling and it's given me an opportunity to think outside of myself because a lot of my focus for many years was just about what's next. This project is having me sit down, and like Billy Gardell says, focus on gratitude for the opportunity and understand the weight of this character. It's given me an opportunity to be a lot more introspective about my journey and about what I want to focus on and what I want to say with this platform.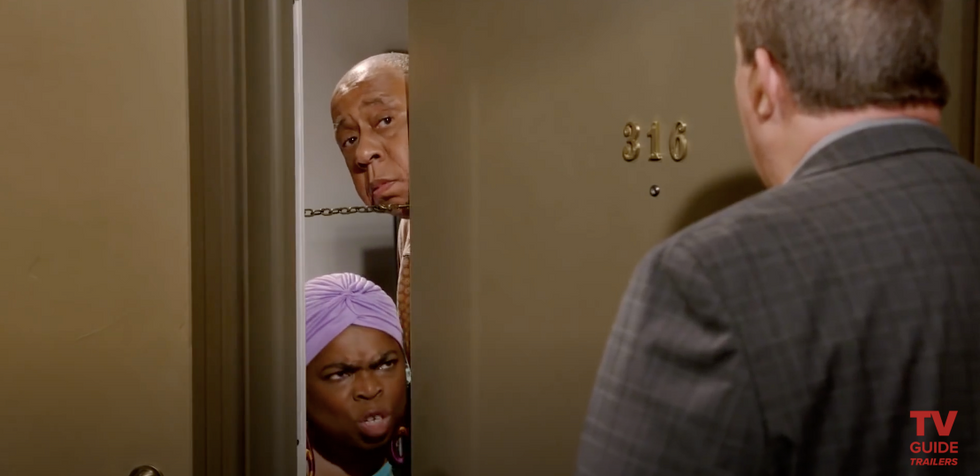 Bob Hearts Abishola TrailerStill taken from YouTube.
You were recently nominated for a NAACP Image Award. What does that mean to you, to have been nominated, and more so, what would it mean for you to actually win?

It feels like an acknowledgement of all the hard work we've all been doing; an acknowledgement that we are doing something beautiful here and something worthwhile. Not just me, the entire cast including the writers and creators of the show. We've got a great team here. I mean, we're in the Chuck Lorre universe, so that goes without saying. And that's a term that I've coined, the Chuck Lorre universe, because I'm very happy to be in it.
I think this is a pioneering show. I think we're timely, we're before our time, and that's why Chuck is the genius that he is. I see it as an appreciation for all the work that we're doing. Winning and being nominated, I'd say it kind of evokes the same feelings, and it's a celebration of immigrant people, not just us. And they're appreciative of the importance of creating imagery around immigrants that's positive and authentic. So I want to win. I have to win for the entire cast and crew.
There are always stereotypes attached to certain African immigrants. Do you think that the show has in any way shed light on that specific aspect of what it means to be an African immigrant in a place like the US?
Of course. I mean, you have to think about this because the show is made for Americans mostly in America. But the content is being spread all over the world. If we just focus on America for a second, there are tons of people who've never met Nigerians before in America. And this is network television. So, sometimes their very first introduction to Nigeria is from images that they see on screen. I'm not saying it's always wrong to portray Nigerians as villains or the negative. I'm not saying that at all. It just cannot be the only image.
It's about how you introduce millions of people to a certain culture. The fact that we are being watched on a weekly basis by six million people and counting is educating the world about Nigerians and about immigrants in general. It's almost an educational piece for folks who are not aware and familiar with the culture, from the foods that we eat to our motivation. Sometimes people forget that immigrants are literally just like them.
It's a good reminder that there's a portion of the immigrant community, of the Nigerian community, a large portion actually, that is really just focused on creating a better life for themselves. Just generally good people who want to be surrounded with love and have the ability to provide and have a stable, good standard of living.
I think if people would develop a lot more curiosity towards other people, I think it changes quite a bit. I think it's a really good first step. When you're being genuine and honest, there's no question you can't ask, especially if it's rooted in love. And I think this allows people to have conversations.