In 2018, Bobby Kolade moved back to Kampala, Uganda — where he grew up — with a dream of creating a brand that used sustainably grown Ugandan cotton. Having been away for 13 years — making a name for himself in the European fashion world working for high-end brands like Balenciaga and Maison Margiela — his first priority was to engage with and learn as much as possible about Uganda's textile industry.
But, after a little research, he found that the country's textile industry no longer had the capacity to support such an endeavor. In the 1970s, Uganda was producing 84,000 tons of cotton yearly and processing 85% of it for local consumption. Today, only 5% of Ugandan cotton is consumed by its own people, with the rest being exported in its raw form.
Chief among the reasons for this decline in industry is the large-scale import of second-hand clothing from the Global North. Each day, millions of unwanted clothes from thrift stores and donation bins in Europe and North America land in cities across Africa, Asia, and Latin America. Their low-cost and sheer abundance leaves little room for local designers in countries like Uganda to thrive. Even worse, the vast majority of these clothes are ultimately discarded, overwhelming African landfills with the waste of western nations. In Accra, Ghana, for example, 40% of the 15 million used garments that flood into the city every week are deemed worthless upon arrival.
Responding to this crisis in his local fashion industry has been at the center of Kolade's work and research since he returned home. Between 2018 and 2021, he frequented major trade points like markets and boutiques, textile mills and even worked for two different cotton processing companies.
The data that he compiled — alongside his research partner, Nikissi Serumaga — ultimately turned into a limited series podcast called Vintage or Violence.Released in 2021, the podcast brilliantly tells the story of Ugandan textile, the essential arm it has historically played in the nation's progress, and the sinister implications that the second-hand hand clothing trade has on youth unemployment, education, national morale, and Ugandan society at large.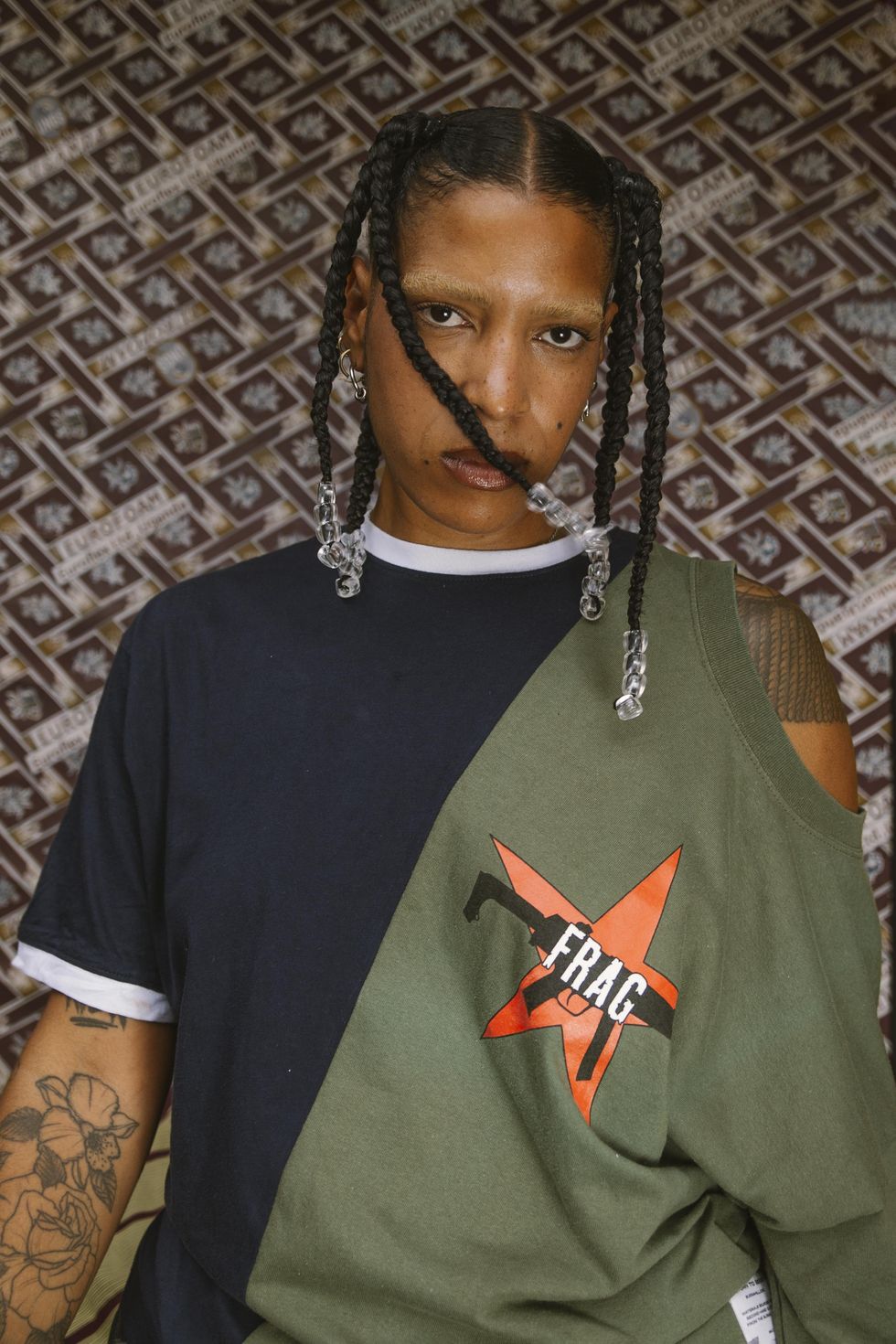 Photo Credit: Ian Nnyanzi
Alongside this research, Kolade also inadvertently found himself at the helm of Aiduke, a non-profit organization dedicated to empowering Ugandan fashion and textile practitioners. He had joined the Uganda Fashion Council as one of three directors responsible for sourcing funding for local fashion projects. But after two years of struggling to create exposure for their projects, the other two directors quit within weeks of each other, leaving Bobby alone at the reins.
As he sees it, the council failed, mainly because it was a council — a foreign concept that didn't work in the Ugandan context. He rebranded it as Aiduke Clothing Research and switched its focus to learning and experimentation. Their first project was a pop-up shop that ran from December 2021 to February 2022 in a corner of a Japanese restaurant in Kampala. It featured a mixed selection of vintage pieces with accessories and crafts by local designers.
Kolade's latest act came with the launch of Buzigahill, a brand with a mission to "return Uganda's textile industry to the peak levels of the early 1970s, when more cotton was processed than exported.'' Their first collection, Return to Sender, responds to Uganda's secondhand clothes crisis by "treating them like raw material." They source bales of clothes from markets across Kampala, then combine and reconstruct them into distinctly new garments to be sold to customers in countries like the US and UK, from whence the discarded clothing first came. The collection further illuminates the devastating effects of the second hand clothing trade on countries in the Global South and points the conversation towards accountability by making western consumers reckon with the effects of their over-consumption. Following the success of their first drop, Buzigahill just released a second collection as part of the Return to Sender series.
\u201cDROP 02 \n17TH AUGUST 2022 \n\n#buzigahill #returntosender #drop02\u201d

— BUZIGAHILL (@BUZIGAHILL) 1660600606
The collection embraces an elevated yet playful streetwear aesthetic with an emphasis on comfort. Each piece is unique to itself, but there is a prevailing spirit that all the garments embrace: multi-panel t-shirts made from pieces of other t-shirts stitched together; mis-matched hoodies; track pants partially fashioned from denim jeans; and elongated t-shirt dresses.
We caught up with Bobby Kolade ahead of Buzigahill's second release to talk about his experience working in Uganda and his perspective on industry and community.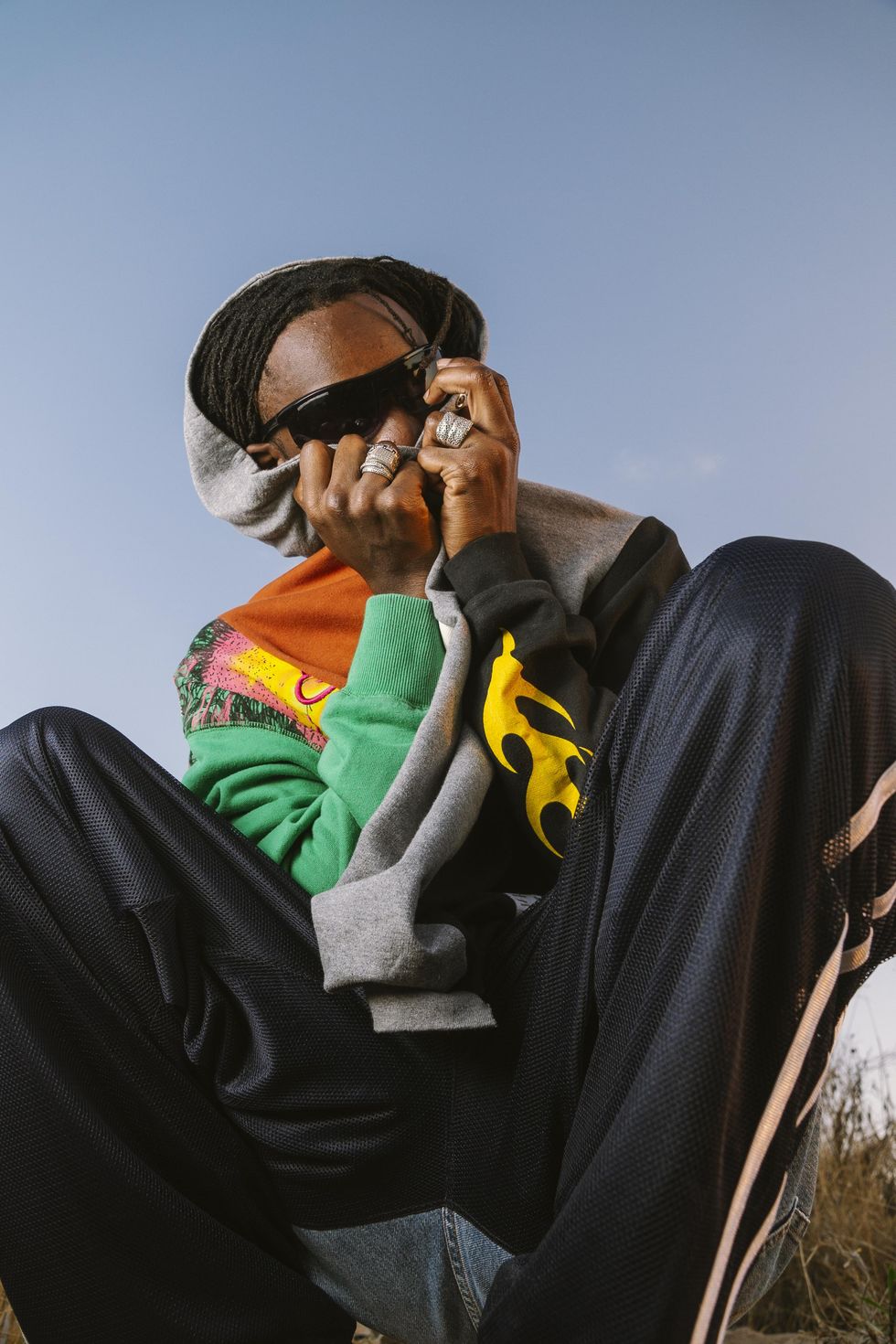 Photo Credit: Ian Nnyanzi
How has the transition been since you moved back to Uganda in 2018?
The first three years, I went through a series of disappointments because I realized that it wasn't going to be possible to do what I had come back home to do. Our industry is not as far as it needs to be in order to set up a brand with a diverse collection that can compete on a global scale. But that's life in Kampala — a series of disappointments that you make work for you somehow, especially if you are trying to set up something in a professional manner. So, the transition for me was having to adapt into a designer who repurposes secondhand clothes.
Along the way, so many beautiful things have happened and they overshadow the disappointments. The sense of community here is much stronger than I had in Europe. I feel like because of the scarcity of certain cultural activities, almost all the creatives stay on one side of town.
What is the significance of the name Buzigahill?
Buzigahill came about at the beginning of lockdown. I realized that all the people who inspire me — DJs, filmmakers, journalists, artists — all lived in this bubble that was on Buzigahill. One day, in our WhatsApp group, I joked that we all needed Buzigahill e-mail addresses. I love domain hoarding so I said, "you know what? Let me actually get e-mail addresses for everybody." So I bought [the domain name] and a couple of weeks later I registered the business.
What has shocked you most over the course of your research?
The biggest shock was the realization that we are in an industrial regression. I do not see any signs whatsoever that the cotton industry is going in the right direction. During my time here I've seen decline in industry [and] production. I've seen textile production decrease [and] cotton facilities shut down. That was bitter for me. I felt naive because I wrote so many pitches and I had this grand vision of a brand based around Ugandan cotton and it just couldn't come to fruition.
Our educational institutions are also not training people to produce clothing for global markets. There is no clear distinction between a tailor and a designer. You study fashion design for three years but at the end of the day, you end up sewing a few custom dresses for clients.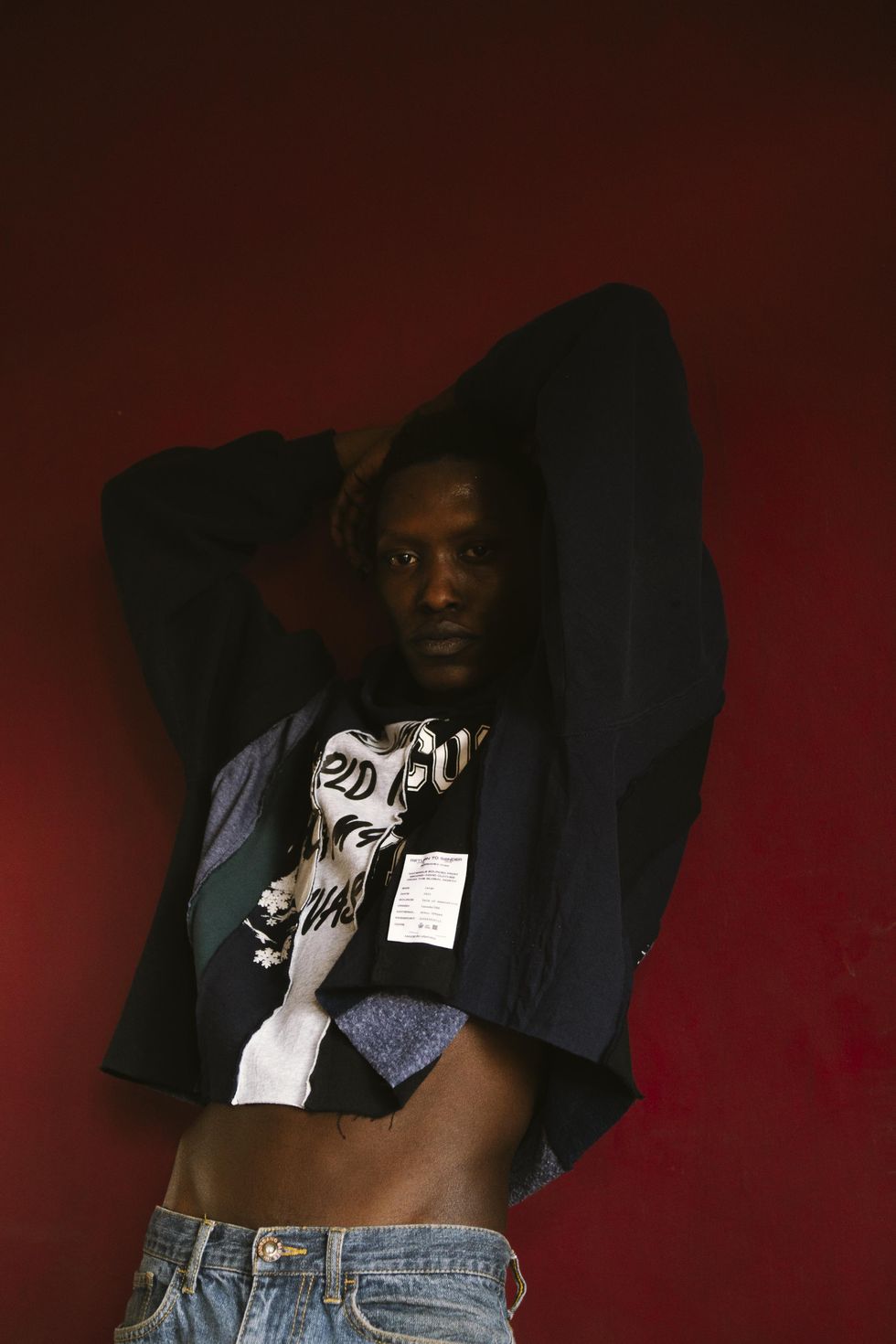 Photo Credit: Ian Nnyanzi
What is the distinction, for you, between a tailor and a designer?
A tailor is a service provider for a designer (or a custom client). It's a craft. A designer spends time thinking about form, color, function markets people, culture, and not necessarily sewing.
So you feel that so-called design institutions largely only equip people to do the technical work of creating the clothes and not necessarily the bigger picture thinking that it takes to be a designer?
Absolutely! Also our textile knowledge is not to the standard it needs to be. I visited a textile university where they were still using manual sewing machines. We need to be using the latest technology. We need labs, we need people to be experimenting. The abundance of raw materials in this country is crazy but we're not using them to the extent that we could be [because] our institutions haven't modernized.
What do you think about the rate of secondhand clothing being bought?
I don't see secondhand clothes going anywhere. There are more and more shopping malls. More boutiques are opening up, run by people who purchase second hand clothes from markets and present them better and make it more comfortable for people who are not interested in going to Owino because of the hassle. We have imported a culture of overconsumption and ultimately it will lead to a culture of over disposal. People own much more than they used to in the past because these things are dirt cheap.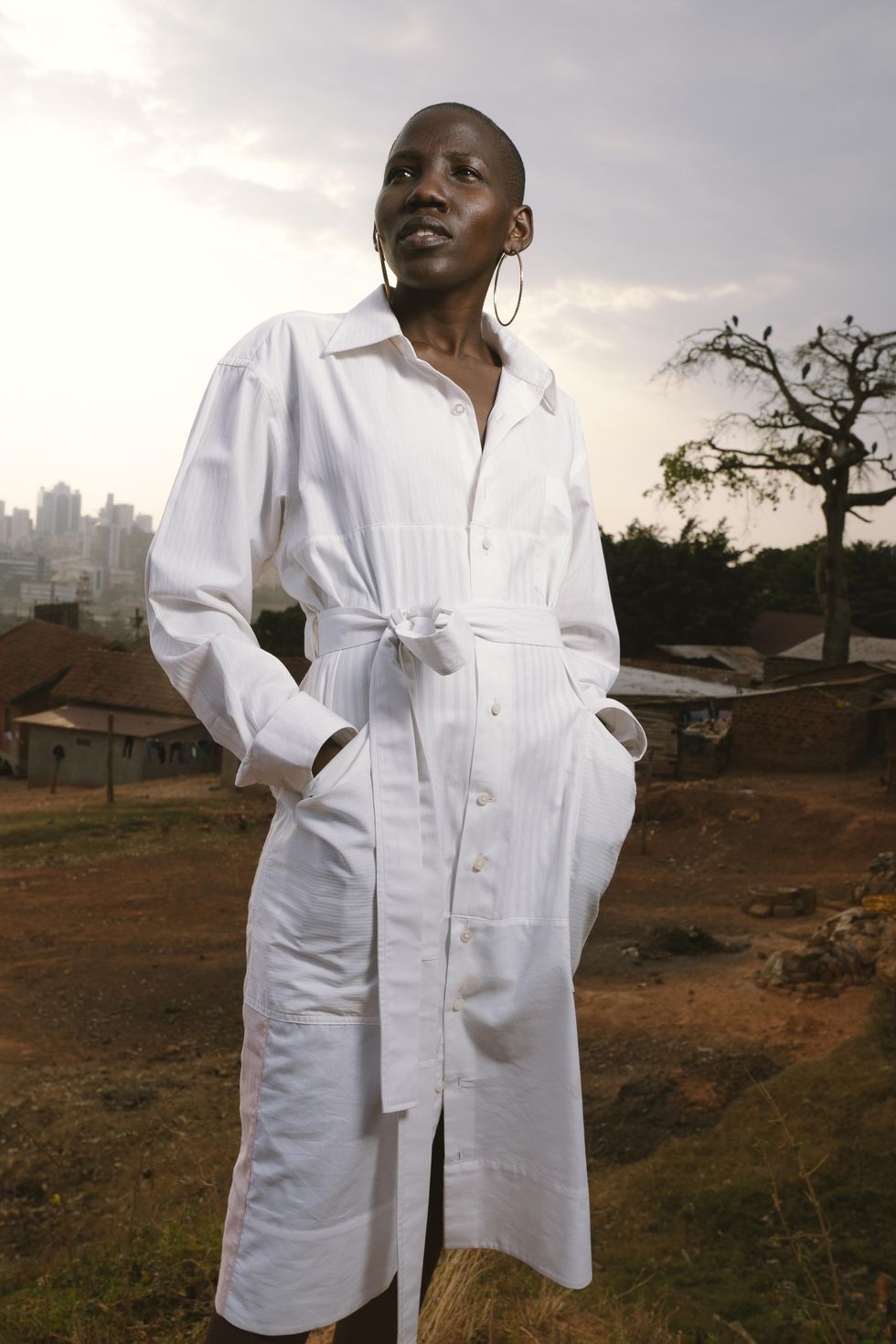 Photo Credit: Ian Nnyanzi
In 2015, the member states of the East African Community pledged to ban the import of second hand clothing, but after the US threatened to revoke the African Growth and Opportunities Act, which gives African countries duty free access to export certain products to the US, only Rwanda ultimately followed through with the ban. Though it was tough at first, their local textile industry has since grown 83% between 2018 and 2020. Do you think that Rwanda's success might influence Uganda to revisit those sentiments of 2015?
What's the population of Rwanda?
About 12 million.
So 12 million people. Uganda has 47 million people today. Think that answers the question. I don't think our local textile industry is anywhere close to being able to cater to the demands of the market right now. Secondly, I don't think we have the same strength as Rwanda does when it comes to talking to the US. What I would like to see happen more is what Buzigahill is doing; embracing the fact that we have all these second hand and treating them as a raw material to develop our industry.
If at some point raw material production, in terms of linen, silk, and cotton, does catch up and we can integrate them into the production systems that we've set up using secondhand clothes, then that is all well and good. But the key issue here is that African countries need to be treated as industrial resources, not just as a source of materials that need to be extracted.
Tell me about your experience speaking at the Global Fashion Summit.
There was a lot of talk. It was a lot of rich companies from the Global North telling us all the great things that they were doing. I went on stage and just said my truth and. It was well received but a part of me also felt like I was on stage performing a theatre piece. You kind of feel weird when people congratulate you for what you've said on stage because I wasn't performing anything. I was telling the truth. We have a serious problem and it remains to be seen if more African voices will be given the platform that I was given. Although it was the most diverse and youngest edition of the global fashion summit, there is [still] a lot of work that needs to be done and more voices need to be added to the conversation.
The highlight for me was the OR Foundation announcing the EPR fund with Shein. Ghana has the biggest secondhand clothing market on the continent and they experience the [most] devastating side effects of clothing waste disposal. The OR Foundation signed an agreement with Shein to receive funds to alleviate the effects of second hand clothing in Ghana at Kantamanto market. It's the first time that a fast fashion company has acknowledged the fact that their products are part of the problem on the African continent. It's a model that should be replicated by all the other huge brands: H&M, Nike, Adidas, Topshop, Primark — the ones that are suffocating our markets.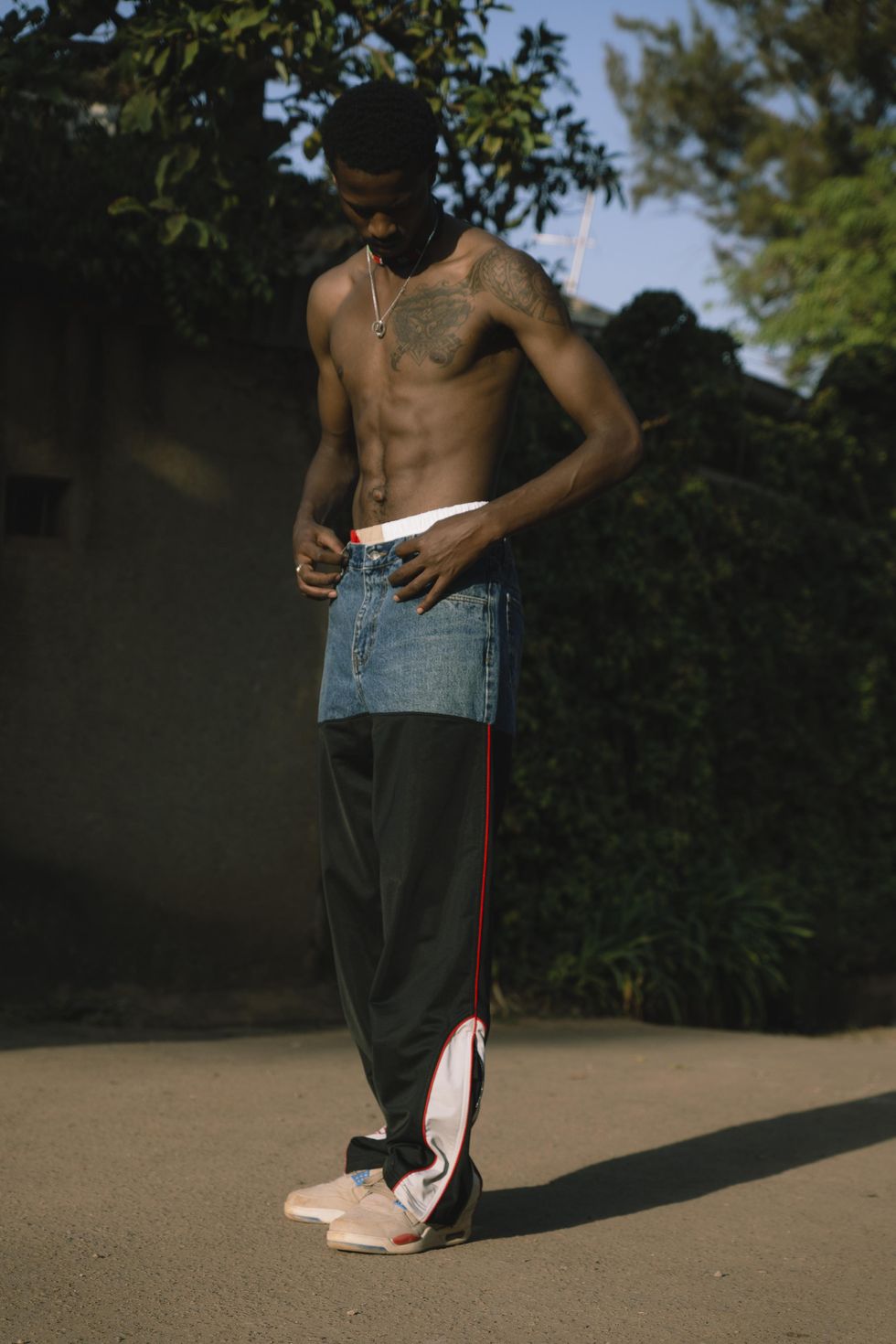 Photo Credit: Ian Nnyanzi
Other than upcycling, what ways do you think that designers can strive for sustainability in their work?
Sustainability, for me, always comes down to the raw material. The most obvious thing is using natural fibers. We need to see more designers interact with local craftsmanship. I love it when I see a designer carry something that is considered artisanal and use it to make something contemporary that appeals to a youthful market. We don't need to be using fabrics imported from other countries. I don't want to see Ugandan politicians wearing three piece suits and a tie. It's ridiculous.
How would you describe Kampala's sense of style? Do you think there is an essence that generally informs the way people dress throughout the city?
No, I don't think so. There are many different scenes which don't really mix very well. Each borrows a lot from their counterparts in the Global North. In my opinion, the best dressed people in the city are the boda boda [motorcycle taxi] drivers. They have an understated sense of swag, mixing things up unknowingly. It's innate. You can find somebody wearing cowboy boots, Adidas track pants, a beanie, and then a really cool jacket. It's all over the place, but it's special. It's unique.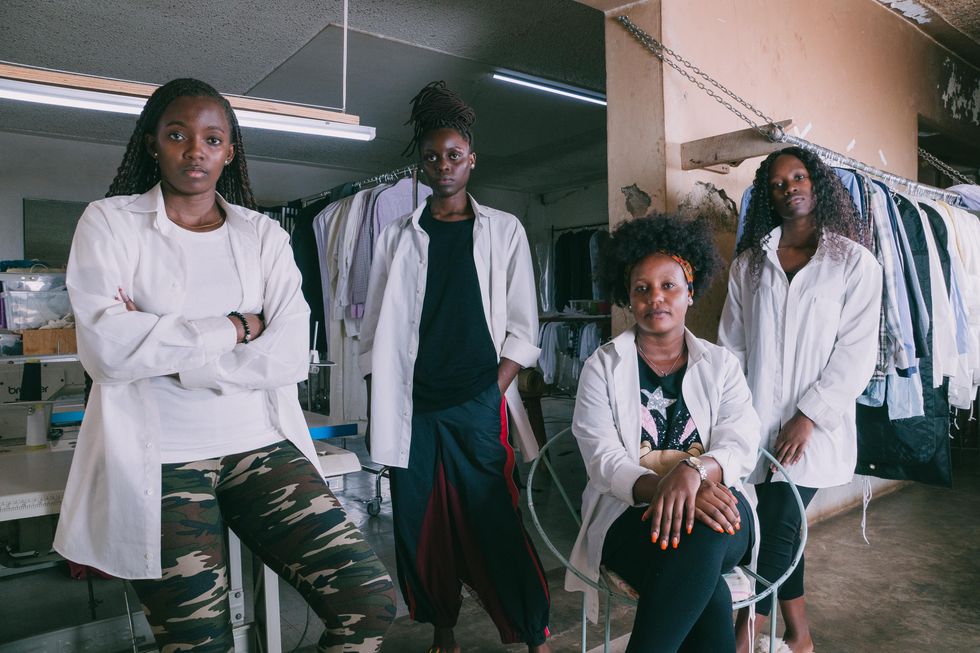 Photo Credit: Ian Nnyanzi