Boitumelo 'Boity' Thulo is a South African TV personality, actress, entrepreneur and model for the Sissy Boy brand. Her journey to stardom began when she landed a gig as a co-presenter on the educational show The Media Career Guide on SABC 1 alongside Stevie French . She has since graced South African television screens for years, acting on the local drama series Rockville and hosting the popular music show Club 808 . Last year, Boity surprised many when she released her first trap-inspired single, "Wuz Dat" featuring the lyrical maverick, Nasty C . She recently released her second single entitled "Bakae", where she spits a few verses in English but mostly pays homage to her native Sotho language.
---
In the beginning South Africans were not convinced, however, that Boity's transition into music would be all that successful or that it should even happen at all. Quite a number of them felt that she should rather "stick to what she knows" and leave music to "those who know how". However, with "Wuz Dat" having received close to a million YouTube views and "Bakae" steadily growing in numbers, they may just have to eat their words.
This interview has been edited for length and clarity.
You've released two singles, "Wuz Dat" and "Bakae". How does it feel to be able to personally add "rapper" to your resume?

It feels incredible. And now that I'm in this space, I realize only now how much I've wanted it and how at home I feel in this space. It's been such a massive chunk of me that's been waiting to be explored. It feels good.

For the longest time we've known Boity as a TV personality, a model for Sissy Boy and an actress. Is that space completely different to the music space?

Yeah, definitely. I think to a certain extent all of them require their own kind of characters I guess. I think in the other realm it's the politically correct and respectful voice that everyone knows and is used to. Not that she's not real but that she's just a part of me. I don't feel like that space would have ever given me a chance to showcase the rest of Boity the way in which rap has allowed me to.

Were you making moves to venture into the music space or did you finally get that opportunity and just said, "yes I'm going for it"?

I think it was more of an opportunity-based thing. The Boity brand is growing so organically without me having to try and push it to. But I think when the rapping opportunity came about it was just a matter of timing as well, where I felt like, "I think I'm ready to push myself a little further without the fear of the risks of doing it," you know? It was me being comfortable and secure enough in myself knowing that I'm gonna try it whether it fails or not.


In your first single, "Wuz Dat", you collaborate with Nasty C, one of our top notch and quality hip-hop artists. How was that experience?

It was fantastic. The whole experience has been brand new to me. I started questioning myself and thinking, "Is this was you thought it was gonna be?" And if so, "Do you really wanna do this?" So I went through all of that. Nasty C is a musical genius. He's so brilliant, and he's also so chilled, you know? I think it made a huge difference, having someone who is as talented, someone who is as well informed and someone who's so willing to work with me as he is. He allowed me to be scared, uncomfortable and free all at the same time.

Was there ever a moment where you asked yourself whether you should be rapping at all?

That was my first day in the studio and it was time for me to open my mouth and say something, you know? At the very beginning, I had to be comfortable with what my voice sounds like. Even now, I'm still very self-conscious about what I hear.
Do you like the way your voice sounds?

No. I'm still getting used to it and I'm still wrapping my head around it. I'm still getting comfortable in this space. And, also, just learning how my voice should sound, because I'm assuming that it's still gonna mature the more sessions I do. I'm gonna get used to what Boity sounds like. For now, obviously, we're seeing where it goes and we're testing the waters in terms of what sounds and feels comfortable, but I don't think I've discovered my voice as yet. But it takes more than two records to figure that out.

Nasty C has been welcoming to you. Do you feel like the rest of the music space, especially the more veteran female rappers such as Rouge, Gigi Lamayne and Nadia Nakai, have been as welcoming?

The reception was amazing. People were truly cheering me on. Gigi, Nadia, Rouge, all of them. They all tweeted and they were congratulating me, But, without a doubt, I think the reception I received was incredible. I wasn't expecting it. And, I wouldn't have held anyone against it if they hadn't congratulated me. It's okay. No one has to.
What would you say makes you a little nervous or anxious in this new space?

And, the only thing that makes me nervous, I guess, is before I get on stage. It's never the same because it's a different crowd all the time. It's a different space and a different time. Different energy as well.


How do you handle those nerves? What are some of the processes you go through?

Obviously, mentally, I'm preparing for this five days before the show. But, if I know that I'm about to get on stage, in like 10 or 20 minutes, I don't want anyone to talk to me. I'm getting lost in my thoughts—just self-preparation and calling on my ancestors. I just want to make sure that I give people my best at any given moment, whether it's 17 people or 17 000 people. It must be the same energy because they all just bought tickets.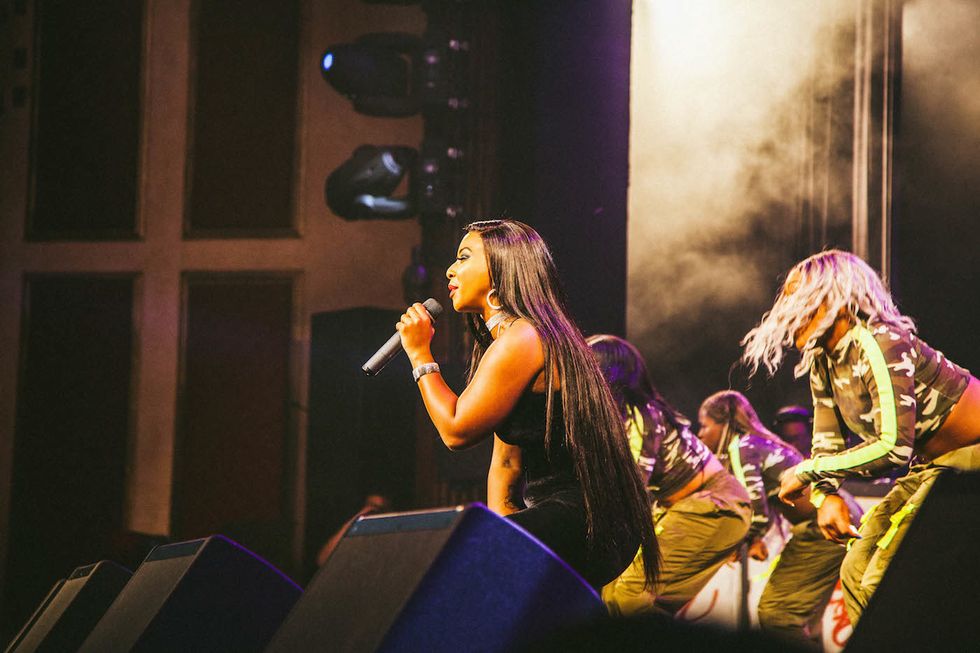 Boity performs at the South African Hip Hop Awards in 2018. Photo by Sabelo Mkhabela.
Do you channel anyone or are you just trying to focus on Boity and developing your own identity as a musician?


I wouldn't say I've stopped listening to female rappers altogether, but I've tried to lessen that so that I don't get subconsciously influenced. The last thing you want now is to hear, "Oh, but you sound like this person." I try to not think of anything or anyone. It's just me.

You're an actress, a model and now, you're becoming a rapper. What do you have to say about the "open up the industry" conversation?

Well, for me, personally, it's such a tricky conversation because I know that essentially it does lead to people thinking that opportunities are being given to the same people all the time. But people don't understand that it took ten years to get to the point where it seems like, now I'm getting everything. You had to build. Actually, trust, is more more than anything, that's the main one. Trust with producers, people who can trust you with coming, showing up on time. And they don't know how long it took for me to get a certain gig. What if I'd been working on it for three years? People don't see those things.

And so, their assumption is purely based off of the end product and also, it's a massive chunk of this conversation about "opening up the industry" should be with gatekeepers and those are the people that call us.

Perhaps there is the misconception that because of all the glamour in your line of work, you don't have to work as hard?

You don't even know how much pay and how much we work; the hours we have to put in to get to that point. It's like, again, it's you look at the end product. And, it's almost like people wanna show up to a good life. A lot of the people who want the industry to be open based on this thing that they see; this glamorous side, it almost feels like they're not willing to put in the work. They just wanna rock up and be in the dress and be on the red carpet and also be presenting.

Boity - Bakae (Audio) www.youtube.com
What kind of music do you want to make? What music would make you happy?

Well, I definitely wanna make music for, like you say, black girl magic. That would be dope. Whether it's about us getting our own money or you know, making it sound as bad bitch as possible. Just a female anthem. But, if I can create anything that resonates with a young female and it makes them feel like, "Hey man. This created some form of a shift in my mind to either do better or to step forward for myself and to put my foot down and say, I deserve more."


Are you going to keep dropping singles, getting into the feel of it? Are we expecting an album soon?

No pressure. We'll see how it goes. We're gonna go with the flow. I don't wanna make any promises to myself or to people. I think people should just know that whenever I come out with something...there it is.
Follow Boity on Twitter ( @Boity ) and stream her first two singles below.