In the north of Cameroon, on the border with Nigeria, indigenes and refugees alike live together under heavy military presence in the city of Kolofata. The village, battered by the Boko Haram insurgency and home to several relief camps, has come to represent something of a starting over point for some of the subjects of Paris-based Cameroonian filmmaker Cyrielle Raingou's debut feature-length, Le Spectre de Boko Haram (The Spectre of Boko Haram).
With this fascinating and tenderly shot documentary, Raingou offers a different narrative of the chronic Boko Haram insurgency, giving her perspective through the eyes of children who are caught up in the violence. The Spectre of Boko Haram accounts for the unbreakable will of the people and the ordinary ways in which they resist. Young brothers Ibrahim and Mohamed are clearly traumatized by the upheaval in their lives and respond accordingly, while Falta processes the loss of her father with some assistance from her mother.
Raingou won the prestigious Tiger award, the top prize at the International Film Festival, Rotterdam (IFFR) in January, and also the Paul Robeson prize in the Perspectives section at Fespaco in March, among other accolades. The Spectre of Boko Haram bows this weekend at the Encounters International Documentary Festival in South Africa, before playing at the Durban International Film Festival in July. OkayAfrica caught up with Raingou via Zoom to talk about the strength of her convictions, the difficulty involved in telling a story that no one believed in, and the volatile process of making the film.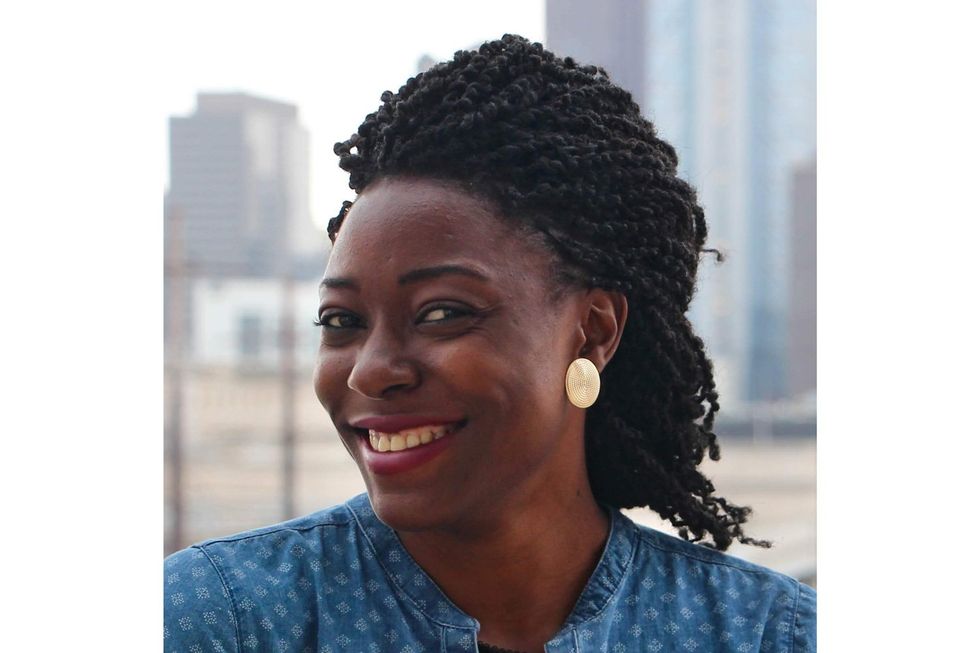 Cyrielle RaingouPhoto courtesy of Encounters Documentary Festival.
The interview below has been edited for length and clarity.

Congrats on winning the IFFR's Tiger award. How did it all happen?

I sent the rough cut to a friend who watched it and insisted I submit it to IFFR. I submitted that very first cut and it was selected for the Bright Futures section, and I was cool with that. But I kept working on the film, and when we had a final cut that wasn't yet mixed or color corrected, I sent it to them, and they upgraded it to the Tiger competition, which is their biggest [section]. The IFFR is a category-A festival that does not really program a lot of African films, and for them to accept my first feature-length – a documentary – it was huge for me.
We struggled a lot to make the film happen, and for a while I thought that I did not have a film at all, and that I was crazy, and it existed only in my head. We received a lot of no's during financing, with a lot of people asking me to change the title. But I knew that there is a story here, and that I wanted to tell that story the way I always dreamt of telling stories, from the African perspective.
'The Spectre of Boko Haram' started life as an entirely different project?
I started working on the project in 2016. I always wanted to depict life in that region, how Boko Haram atrocities were impacting the people. I started working in the community from the adult perspective. I worked for three years developing a storyline that had nothing to do with the film that you [see]. We even received some funding for that film, which was catchier I must say. But it wasn't working for me. I felt empty, as I found myself falling into a certain narrative that I didn't want to [have]. I would have a film but not one I felt connected to, and this wasn't right to me, so I had to halt production. I was very depressed at that time.
When I was doing research, I already met the brothers Mohamed and Ibrahim, so we began to explore the possibility of telling a story through the children's gaze. I felt so strongly about this, and this is what you see in the final cut. I wasn't ashamed of changing my mind when I felt it wasn't working.
Was it difficult for you changing course midway and what were the practical costs of that decision?
Absolutely. It was hard but at the same time I was so certain that I had to change. I had to hold on to the story that I felt very much connected to. Three years isn't three days or months, and for you to erase that completely and start from scratch, it is very frightening. Most people will try to hold on to the initial idea because there is a certain comfort in familiarity, but I needed to go with my feelings. Everything was against me, from funding to logistics. I just felt the harder people wanted me to quit, the harder I wanted to prove to them that they were wrong.
Le spectre de Boko Haram – trailer | IFFR 2023www.youtube.com
You are making a movie about children living in a war-affected region. What are the unique challenges?

It was quite challenging but for the first time in a long time, I felt alive. Working with the brothers was a huge risk because there was always this constant worry that they would disappear or be arrested or even be killed. Everything was in a state of constant motion. When you are in their world you are seeing things differently. It reminded me of my childhood because I grew up in the village where I was more carefree, so all that adrenaline came rushing back.
Even when things were difficult, and everything seemed like it was against me, I had these energy bursts to push through. I guess if I didn't have a subject I really liked this film would not exist. It was like a calling or destiny, even. It was dangerous even for my team, but I was blinded with love for these children and the people, and I would have gone through whatever obstacle to keep working with them.
How are you working with kids who pose a serious flight risk in a community that is still consumed by war? Seems like there were so many uncertainties?
When I decided we would be making the film from the kids' eyes I tried to become like them. I spent a lot of time in the village, first with the community, without any equipment, just hanging around and getting to know them. And then with the kids, playing with them and connecting. In the village, you have the world of the adults and the children's world, and these are quite separate. The kids were curious and excited to see this grown-up showing interest in their lives; it isn't something they were used to. We had this silent agreement between us to treat each other with respect, always.
When I started filming, I would let the cameras roll for 30-40 minutes to erase us from the background, and let them feel as comfortable as possible. Sometimes I gave them prompts just to ease them into it and get them talking. You see that sometimes they are talking about something very serious and then all of a sudden, they just go somewhere else. I was amazed at this. An adult would never process things like this. I accepted them, and they accepted me before I was able to make the film.