Growing up, Boskasie's Sundays were filled with the fragrances of home cooked Cape Malay dishes and a soundtrack of George Benson, Hugh Masekela, Abdullah Ibrahim, Gypsy Kings and the carnival sounds of "Ghoema"—sounds and flavours that still influence her music today.
Born Nicole Davy, Boskasie hails from the Cape Flats but grew up partly in the Netherlands and is now based in Johannesburg. She comes from a musical family with a trumpeter mother and a father who is a vocalist and guitarist in the Boys Brigade. While still in high school, Boskasie represented both her state and South Africa nationally in hip-hop dancing.
As a teenager she taught herself to play guitar before she began composing her own songs. Her debut EP Memoirs was released in 2016 shortly followed by her hit single, the hypnotic and silky "Weak in Love," and two other songs, all airing on radio stations across South Africa. Her talent swiftly caught the attention of the Cape Brewing Company who signed her on as an ambassador and invited her to collaborate with internationally recognised artists Spoek Mathambo and Die Heuwels Fantasties on the theme song for the company's 'Be Independent' campaign.
Beyond her artistic pursuits, Boskasie graduated university in 2015 with a degree majoring in Psychology and Anthropology, she is also a trained counselor further drawing on these everyday experiences in her art. Two years since her last single was released, Boskasie has formed her own band with whom she's about to drop her new single. I caught up with Boskasie via phone from Mexico City.
---
This interview has been edited for length and clarity
What's the significance behind the name Boskasie?
"Boskasie" means bushy hair in Afrikaans. The initial inspiration behind choosing this name, was to be an advocate for natural hair and dismantling the very harmful image that's deeply entrenched in so many minds, the idea that we need to conform to western standards of beauty to become something in this world. On a more personal level, it's also about revealing my truth, being true to my roots and my deep seeded mixed heritage which includes Khoi-san.
When I perform overseas one day, I want people to ask me what my name means or how to pronounce it, so that every person who wants to know, will know my story and my people.
You were born in Cape Town but spent most of your teenage years in The Hague before returning to South Africa to finish your tertiary studies and work. What was your experience like growing up in the Netherlands and returning to South Africa? How did this impact you personally and as an artist?
Growing up in the Netherlands was one of the greatest and most complex experiences in my life—in hindsight it helped challenge my identity. I asked myself what it meant to be African, having spent years growing up in Europe being a proud African, often feeling culturally isolated there and then having to endure the emphasis on interpretation and classification of race when I moved back to South Africa. This really affected my reintegration back home and made me question my identity as a whole.
I'm grateful for these experiences, because at such a young age, it opened my mind and my soul to certain realities. Years later, it gave me the confidence to explore my thoughts and views of the world through my writing and then through my song writing. In a sense, helping me find my place in the world.
Musically speaking—living in the Netherlands and attending an international school there, through sharing music amongst my peers, I was exposed to a range of different sounds including alternative/indie music which I've carried through and has influenced my own style.
I've read a previous article describing your music as eclectic soul. How would you describe your musical style?
My musical sound is eclectic and my lyrics are soulful. Although my style will evolve over time, I'll always maintain a fusion of sounds.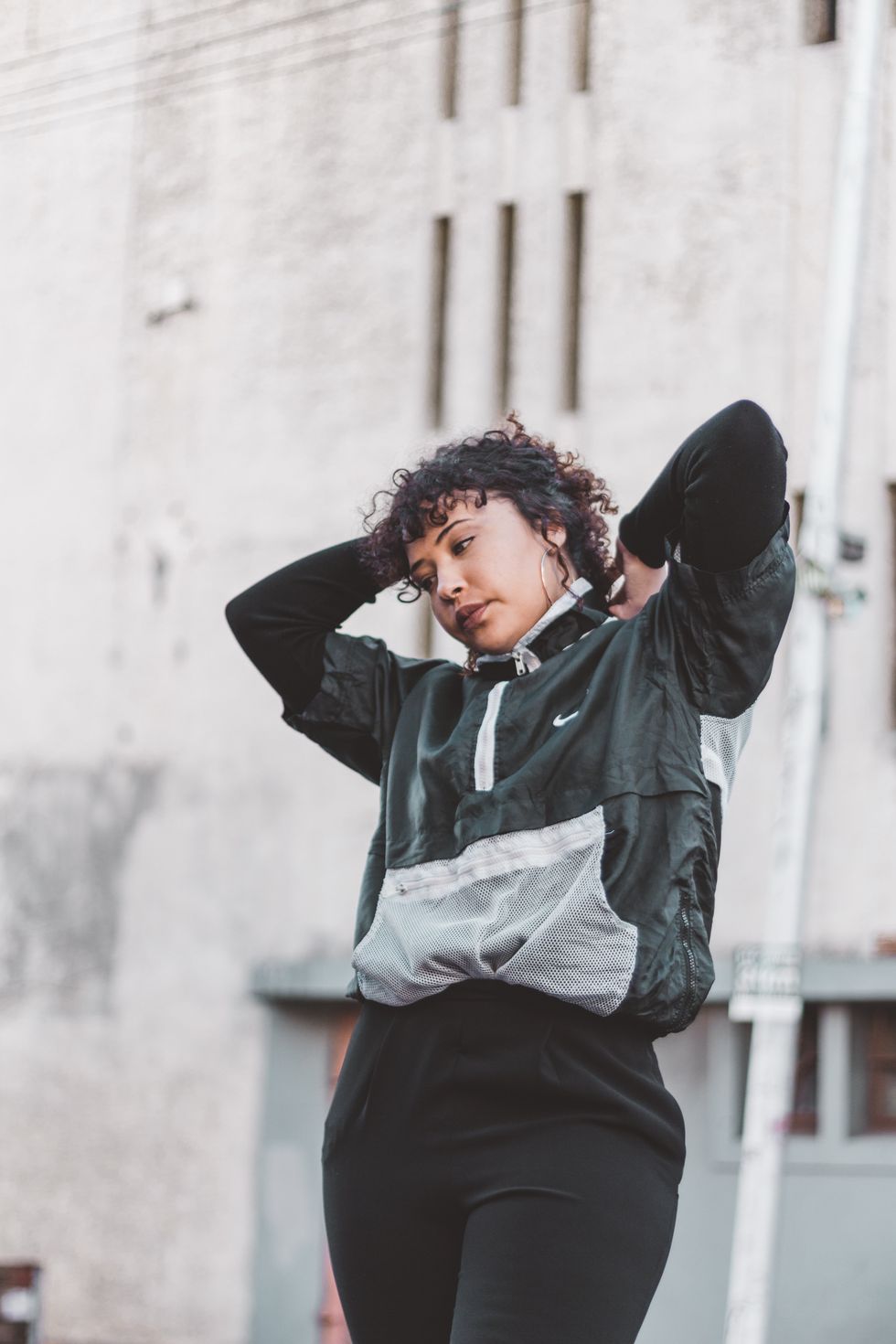 Photo courtesy of Boskasie
You write your own lyrics. Which artists have influenced your sound?
When I was younger, my parents would play a lot of Jazz music in the house. South African artists like Judith Sephuma, Abdullah Ibrahim, Miriam Makeba and Hugh Masekela were some of my favourites. Their music has had an everlasting effect on me. A combination of these early musical influences and later influences including, Erykah Badu, India Arie, Sade, Norah Jones, Lianne La Havas, Zaki Ibrahim and Solange have shaped me as an artist.
I want to take the listener on a journey, a healing experience - similar to the way my childhood musical giants impacted me. With a combination of genius melodies and precious stories told through their songwriting.
You dropped your debut single "Weak in Love" in 2016 as an independent artist. Fast forward to 2018, you now have a band and you're working on new music. How did this new incarnation evolve?
I spent my first few years of performing at open mic gigs and doing solo shows with my guitar. After a while this became lonely. I always dreamt of having a band on stage with me, sharing in the fun and energy. Eventually, I started experimenting with a DJ playing my tracks while I performed without my guitar. The experience was different from what I was used to, but collaborating with other musicians felt like a natural progression for me, which led to the addition of the band. My band adds a more dynamic element to my sound. It's allowing me to explore different depths within my music, which helps my creativity thrive. I'm excited by this new stage and seeing how it evolves over time.
What's your thoughts on the current music-scape in South Africa? What does Boskasie add to the mix?
I think the music scene in South Africa is expanding which is great to see. However, we still have a long way to go in terms of genre recognition and appreciating more than just the mainstream—all in due time though… Boskasie brings Boskasie.
What's next on the horizon for Boskasie?
My next single is about to drop in late September and it'll be accompanied by a music video. It's been two years since I've released a track, a labour of love well worth the wait. I'm not going to say much about it, it's a surprise! I'm also working with my band on refining a sensational repertoire we'll perform at festivals and shows for the remainder of 2018 and beyond.
Follow Boskasie on Instagram