A predominately white male audience witnessed a rare sight, much akin to an unicorn, at Apple's Annual Worldwide Developers Conference in San Francisco, Monday.
---
While presenting on Apple Music's major visual overhaul, which includes a new interface and a Siri add-on for Macs, Head (diva) of Global Consumer Marketing Bozoma "Boz" Saint John, who is Ghana-born, fired up The Sugarhill Gang's Rapper's Delight, signaling the black girl magic spell she was about to cast over the audience.
Saint John's presentation on the music app brought much needed zest to the staleness many have come to expect from Apple's tech-heavy conference. Remember last year? That's Apple's senior vice president of Internet Software and Services Eddy Cue showing off his less-than-stellar dance moves.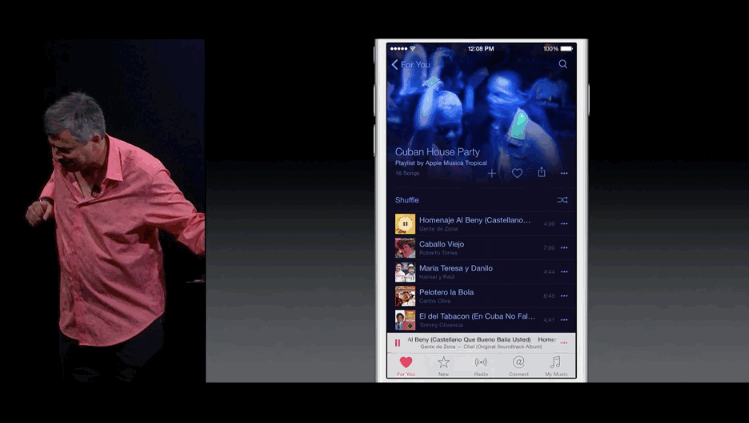 And Twitter definitely took notice.
YOOOOOO @SAINTBOZ WAS LIKE "IMA BE 1000% BLACK ON THIS STAGE!!" #WWDC2016 pic.twitter.com/2gZuGGLluh

— EricaJoy (@EricaJoy) June 13, 2016
Oh my god, just learned badass boss lady @SaintBoz went to (my alma mater) Wesleyan University. So proud! https://t.co/vrRwY2bSmI

— emily (((dreyfuss))) (@EmilyDreyfuss) June 14, 2016
We see you, @SaintBoz of @AppleMusic! Shining bright! Brava, sis. https://t.co/fZqnzD6edu

— Ava DuVernay (@AVAETC) June 14, 2016
bozoma saint john basically came to wwdc to embarrass all the white men

— alyssa bereznak (@alyssabereznak) June 13, 2016
BOZOMA SAINT JOHN IS BAE, BYE #wwdc2016

— Terron Moore (@Terr) June 13, 2016
See, you get the picture.
As cameras panned overhead, it was apparent that the melanin-deficient audience didn't know what had hit them.
"No," Saint John commands, doubling as her own hype-woman, "We're gonna pause this, because some of you guys are not rapping to the beat."
JOKES!
If you think this is the first time you're seeing the marketing executive and naturalista, who got her start at Pepsi and Spike Lee's advertising agency Spike DDB, she has already put you on notice.
Saint John is the beauty and the brains behind Apple Music's brilliant ad featuring fellow black girl magicians, actresses Kerry Washington and Taraji P. Henson and R&B superstar Mary J. Blige.
She's quite persuasive, too. Leading Pepsi-Cola North America's music and entertainment marketing group, she secured endorsements with entertainers Nicki Minaj, Kanye West and Eminem as well as sponsorships at The Grammys and the Super Bowl. Let us not forget that she reportedly convinced Beyoncé to rivet the stage at during the 2013 Super Bowl half-time show, which you might recall resulted in a pretty insane black out. Adding to her gravitas, Saint John was named one of Billboard's Top Women in Music and an ADCOLOR Rockstar honoree.
Not only is she the MVP of #WWDC2016, Saint John is a single mother (her husband passed from cancer a few months before she took her Apple gig), holding it down for her six-year-old daughter in Los Angeles.
And she reps hard for her people—Saint John played Ghana Music Awards' Hiplife song of the year Yewo Krom by Atom while closing out her thrilling demo of Apple Music's latest redesign and enhancements.
Boz proves she's a bawse, unapologetically black, and she's in good company as 2016 signals #PeakBlackGirlMagic.
Glory and honor and praise to the Most High. I'm ready. #Apple #WWDC #AppleMusic #AppleNews pic.twitter.com/z94Lr4PLbN

— Bozoma Saint John (@SaintBoz) June 13, 2016
Watch Saint John dazzle the audience below (She plays Atom's Yewo Krom at the 5:35 mark).