Music
11 Afro-Brazilian Percussionists You Need To Know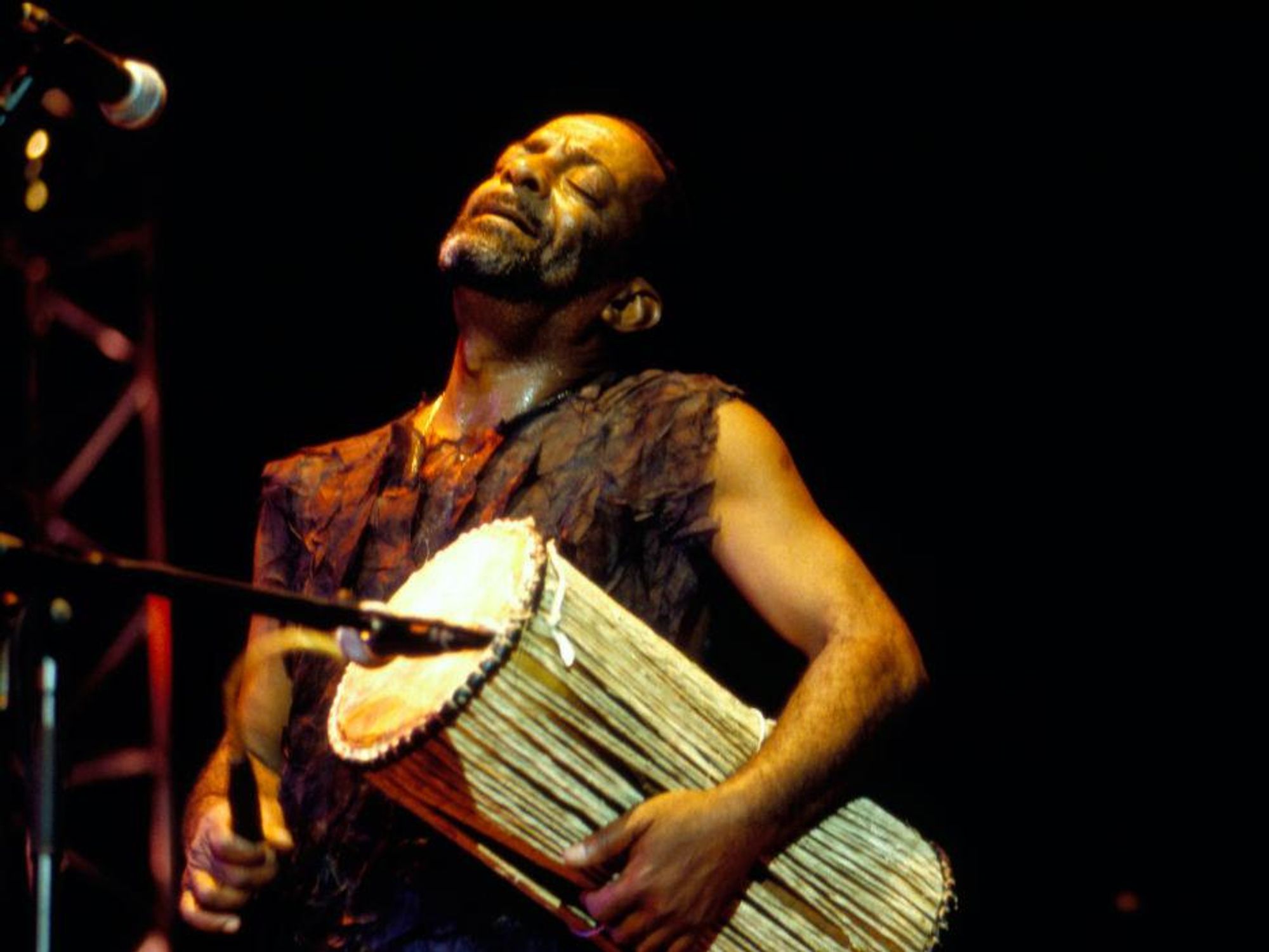 Photo by David Redfern/Redferns/Getty Images
These Brazilian percussionists have broken sound frontiers, invented new instruments and thrilled musical giants such as Michael Jackson and Sarah Vaughan.
It isn't rare to forget that excellent drummer's name. While singers, band vocalists, and even composers are venerated among amateur music audiences, percussionists very often go unnoticed. Perhaps because percussionists are not usually the protagonists on stage, their identities — or even their importance — sometimes fall from the audience's sight.

But when it comes to Brazil's African-influenced music cultures, percussion is by no means secondary. To get into the roots of Afro-Brazilian music is to understand that percussionists such as Ubirany, Naná Vasconcelos and Wilson das Neves — are on the same level of importance as internationally-famous singers like Elza Soares. The "cozinha" (or the "kitchen", how the ensemble of percussion instruments is popularly called in the samba universe) has always grounded, guided and defined the Afro-Brazilian music experience.
Below are 11 percussionists that enlighten the Brazilian and international music scene with unpaired rhythmic inventiveness and sensibility.
---
Naná Vasconcelos
Nicknamed "Jungle Man" for his ground-breaking style of playing percussion, Vasconcelos (1944 to 2016) has been named the world's best percussionist, eight times, by Downbeat Magazine. Having recorded with a myriad of artists (Paul Simon included) and participated in several film soundtracks (like Bertolucci's "Last Tango in Paris", 1972), Vasconcelos experimented with all possible music genres and percussion instruments one can imagine — from berimbau to sea waters to electronic drums. It's no wonder Vasconcelos was deeply inspired by Jimmy Hendrix's daring way of playing guitar.
Paulinho da Costa
Perhaps no other percussionist has been so prestigious in the Hollywood world as Da Costa, who played in over 150 films and TV shows. What's more, he has recorded with more than 900 different artists (Madonna is one of them) and participated in Michael Jackson's historic album, Thriller. Having learned to play pandeiro as a kid in Rio, Da Costa masters over 200 instruments. He has also been considered the "Most Valuable Player" by the U.S. National Academy of Recording Arts and Sciences for three consecutive years.
Wilson Das Neves
While he only became a professional singer at 60, Das Neves (1936 to 2017), had been a percussionist since the age of 18. He was considered Brazil's most important samba and Bossa Nova drummer. For over 30 years, the Rio-born musician was part of MPB icon Chico Buarque's band and played with names such as Elza Soares, Caetano Veloso, Luiz Melodia, Tim Maia, and maestro Moacir Santos. 50 years into his career, Das Neves had participated in over 800 albums and recorded with international names like Sarah Vaughan and Sean Lennon. Das Neves is also known for having created a new cadence in how the samba is played.
Ubirany
Now, here's a percussionist and composer lauded for revolutionizing Rio's urban samba in the '70s. During that decade, Ubirany (1940 to 2020) created the "repique de mão," now a must-have percussion instrument in most samba circles across Brazil. Along with percussionists Bira Presidente and Sereno, Ubirany founded Cacique de Ramos, one of Rio de Janeiro's most traditional Carnival blocos, and Fundo de Quintal — a group that introduced new arrangements and instruments into the samba realm.
Mônica Millet
As the granddaughter of Mãe Menininha do Gantois, a renowned Candomblé authority from Bahia, Millet has been surrounded by Afro-Brazilian drums from early childhood. This, explains why she is considered the first Brazilian woman to have started playing "atabaques" (drums) which, in the Candomblé universe, are exclusively played by men. A reference in the Afro-Brazilian music scene, she has been the master of several male drummers (such as Gabi Guedes) and played with musicians like Caetano Veloso and the Panamanian-American jazz drummer Billy Cobham. She is currently ahead of TamborAAyó, the first all-female ensemble of atabaques.
Gordinho do Surdo
Samba folks used to say he was a legend thanks to his extraordinary ability with surdo, the lowest samba percussion instrument, present both in samba circles and samba school parades. Inspired by Wilson Das Neves' playing style, Do Surdo (1945 to 2021) has participated in anthological samba albums, and followed singer Clara Nunes throughout most of her career. In the last decades, no other surdo player has been such a firm favorite among samba and pagode stars like Gordinho do Surdo.
Didá Banda Femenina
Brazil's pioneer all-black female percussion group, composed of around 80 women percussionists, plays samba-reggae — a typical rhythm from Bahia's Salvador, where the band hails. Blending music and social activism towards race and gender equality, the group is currently run by Débora Souza, the daughter of the man who invented samba-reggae in the '70s. In their 25-year career, Didá has played with Anitta and Shakira.
Robertinho Silva
A self-taught percussionist who is admittedly into "all music genres," Silva is one of Brazil's most respected percussionists these days. An author and composer, too, Silva confirms that the stigma surrounding percussionists remains strong in Brazil these days. "Percussion instruments are seen as things that make noise, instead of making music", he recently told Brazilian media outlet Carta Capital. However, 50 years in, Silva has stunned audiences — played from pans to drums, and shared the stage with names greats like Sarah Vaughan and Wayne Shorter.
Ilú Obá De Min
Founded in 2004 by Beth Beli, Adriana Aragão and Girlei Miranda, Ilú Obá de Min is the most traditional all-female, Afro-Brazilian percussion group from São Paulo. The group commemorates the sacred rhythms, canticles and dances of the Afro-Brazilian orishas. In São Paulo, it's tradition for Ilú to open the city's Carnival with a remarkable street performance every year.
Mauricio Tizumba
A multi-instrumentalist, singer and composer, Tizumba dedicates his work to the Afro music cultures from Minas Gerais (Southeastern State of Brazil). In his career, which spans more than four decades, he has released eight albums and founded a percussion group and Carnival bloco Tambor Mineiro, mainly dedicated to the "Congado Mineiro" rhythm. Tambor Mineiro performed at the New Orleans Jazz & Heritage Festival in 2014.
Djalma Corrêa
Corrêa is one of the most outstanding music percussionists and composers from Brazil's instrumental music scene. Born in Minas Gerais, and profoundly inspired by jazz and Afro-Brazilian music expressions from Bahia, Corrêa has built an acclaimed drumming career for himself in Brazil. In the '70s, he participated in the Tropicália music movement alongside Gilberto Gil, Gal Costa, Maria Bethânia and Caetano Veloso. What's more, Corrêa has already played with Alcione, Jorge Ben, Swiss musician Walter Smetak and many others.