From Bogota to Stratford to Cape Town, Buhle Ngaba is amplifying the voices of young women of colour the world over.
---
The South African actor, author, activist's first book is a mixed-media work about a young Black girl who finds her voice. Ngaba says she wrote "The Girl Without a Sound" as an act of restoring power and agency to young black girls in South Africa.
"I want it to be a healing balm for all who read it. For the black female bodies that are dismissed or violated in a white, patriarchal and racist reality," she said at the time of the book's release.
Last month, Ngaba collaborated once again with "Girl Without a Sound" photographer Neo Baepi, illustrator Thozama Mputa and designer Ryan Haynes to this time present a cartoon, "Blood Labyrinth," a vivid and turbulent tale of young black womanhood in Cape Town. The story is presented as a one-page comic strip chronicling a young Black woman's navigating of the city.
"I wrote and devised this work after swallowing the horrific reality that a young girl can be raped and brutally murdered on her way to the toilet," Ngaba writes in an email to Okayafrica. "A mundane thing like going to the toilet turns into a potential maze of horror for women."
We caught up with Ngaba over Skype to discuss "Blood Labyrinth" and what she's been up to at the Royal Shakespeare Company in Stratford, where she's been selected to participate in the esteemed Brett Goldin Bursary programme for young South African actors.
The following interview has been edited and condensed.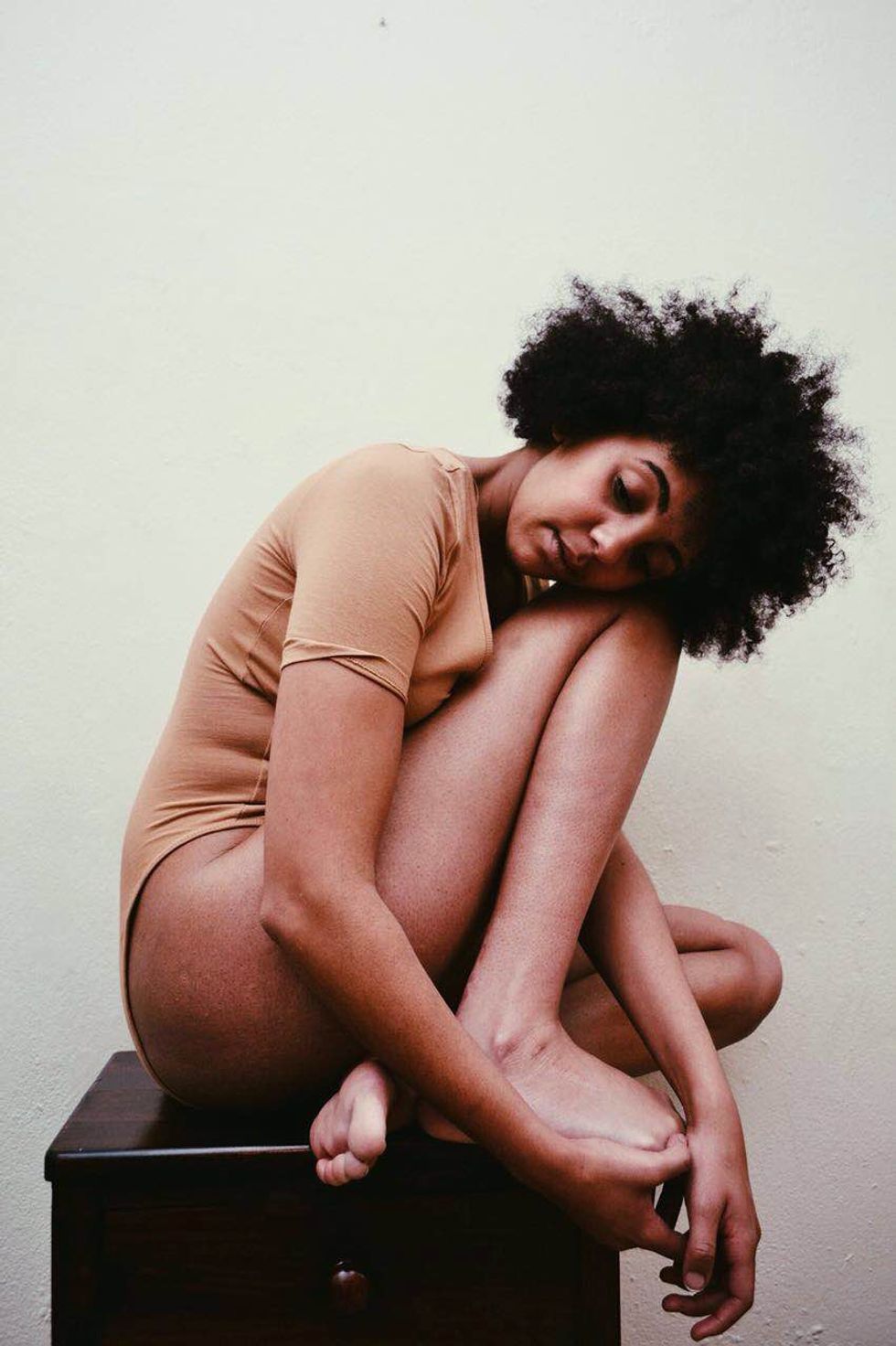 Photo by Neo Baepi.
Tell us what it's been like doing theatre in the UK...
I was obviously very anxious in coming here because the Royal Shakespeare Company is known as the top in terms of acting skills or whatever, but I was also intimidated because it was Shakespeare. And in a lot of ways, I found that even in the audition process, I cried when I saw the list of everybody who was up for the bursary because majority of them were white. I realised that I was so intimidated because I started seeing how I had never seen a black Juliet, or a black Antigone as a young actress growing up. I loved all of these roles but I never saw how I could be a Juliet.
I'd like to come home and start turning our own stories into classics because they definitely are. Shakespeare is Shakespeare because ultimately, he writes about love and jealousy and tragedy. He speaks about the human condition. That's something we could all write about, and it's about damn time that we also have our own classics.
One of the most significant things that has happened while I've been here is I had the opportunity to work with a company that was doing Hamlet, and it was a majority Black company and it was a Hamlet set in Africa, and Hamlet himself played by Paapa Essiedu who is a force of an actor. To see a black Hamlet changed my life. It wasn't an adaptation of Hamlet; it was an elevation.
What is your favourite part of being on stage?
On a stage there is enough silence for me to find a way to transform it into action of some sort. And what I've had to start to acknowledge is that just the Black female body on stage in itself is power and that's not something that I take for granted. But it's the silence. And it feels like a meditation where I no longer have to struggle to find the words because they kind of just exist there. It's a pure space. And when I walk on there, there is a potential to create worlds.
In what ways has the line blurred between actress, author and activist while you've been in the UK?
I don't think I could possibly be here without all three of those things and make a real significant mark. And what I mean by that is that there was real fear for me that as an actress that I would come in and find that I wasn't able to keep up. Then I walked in and found that hey, we can keep up. As a girl all the way from Africa all the way in the UK.
Everyday when I walk out of this room and I go to the RSC [Royal Shakespeare Company], I actively, as an activist understand that I am here not just for me, I'm here for whole group who don't get to be here. So I actively have to make sure that I am present and that I am using this time. I'm from a place where a lot of narratives aren't heard, but you get to hear mine just now, and that means that my voice has to be louder.
How did the story of "Blood Labyrinth" come about?
"Blood Labyrinth" for me was far more intentional [than "The Girl Without A Sound"] and it came about because while I was in Colombia, I was performing, and it was there that I heard of Sinoxolo Mafevuka who was brutally raped and murdered on her way to the toilet. You know we know the world that we live in, but I don't know what it was particularly about that story that really struck a chord with me. I think it was because I was in Latin America at the time, which to me, the city feels like a character of its own. Then I started to think about at home, you know, I walk through the city, how it feels exactly the same. So I decided while I was there that what I wanted to [do] was to create atmospherically what it felt like as a woman negotiating through the city.
Image from Blood Labyrinth. Illustrator: Thozama Mputa; Designer: Ryan Haynes
What effect has Women's Month in South Africa had on the women in your life?
Conversation, real conversation and real debate. Which to me is all part of the glory. The fact that all of us now are questioning what it means and why, and why this must be Women's Month. And if this is Women's Month, what [does] the rest of the year mean? Especially looking at how women are violated, what does this month actually mean? We're not excited by your pink roses and champagne brunches.
With "Blood Labyrinth" in particular, it was a response to an event that happened a lot earlier in the year. It just happened to come out just before Women's Month, it wasn't at all intentional. Which to me makes it truer, which excites me because then I'm not writing for Women's Month, I am writing for every damn month.
Do you enact the voice of young Black women in whispers or in shouts?
I try to enact them in truth, regardless of whether it's a whisper or a shout… I try to give them the freedom to speak as they want to speak, because I think that the narratives that are put on black female bodies are just too specific, and we are varying.
Chaze has got Zambian roots and is currently making the most out of a polyamorous relationship between poetry, photography and documentary filmmaking in Cape Town.