"Currency is something that for the most part doesn't exist," Sajjad tells me over a crackling phone line. It would have been hard to hear him if he didn't speak firmly. "It's all about trust. We trust that a bill is worth a certain value. That's what makes it real. It's an interesting duality play on something that's real but at the same time isn't."
This philosophy is what informs Sajjad's art. Using currency, the artist creates collages that tell ambitious stories about unifying countries. In 2019, he created the artwork for one of the best and most important albums to come out of the modern Nigerian—and African—music scene, Burna Boy's Grammy-nominated African Giant.
---
Sajjad got the idea to start using currency as an artistic medium in 2016, when stopping at a New York City bodega—"these little convenience stores on every corner that sell everything!"—where he saw that they had put up dollar bills on the wall from the first few people who had bought things there. It was at that moment something in him clicked and he realized how many powerful stories physical bills could tell and represent. Inspired by this, Sajjad began a journey of using currency and other mundane everyday objects to create art that tells a bigger story.
We sat down with the artist to talk about designing the album art of Burna Boy's African Giant, the power of currency and what the future holds for him.
Sajjad. Photo: Dan Solomito
Tell us about your journey from making currency art to making the album art for African Giant.
I had been working with currency as a medium for art about three years prior to African Giant. I was making collages out of vintage African-American magazines and I started to use currency as a medium when making them. I independently funded a show called Break Bread—slang which basically means you have an exchange, it means to share assets. I used that as a metaphor and would invite other artists into the show. A patron that came by purchased one of the pieces and the director of marketing at Atlantic Records saw it. She asked who did that and then we connected. I said if he's going to call himself the African Giant, there's no better way than to have his own currency.
African Giant is such a significant body of work and has so many vibrant songs. Did you run into any challenges trying to interpret and bring them to life through art?
There's always going to be challenges and there were certain issues around but Burna Boy and myself speak a similar language on issues going on in the continent. A lot of issues in the African continent and in the African-American community have similar parallels. I was raised in a pan-African environment so I was able to tap into that when translating the songs into the art.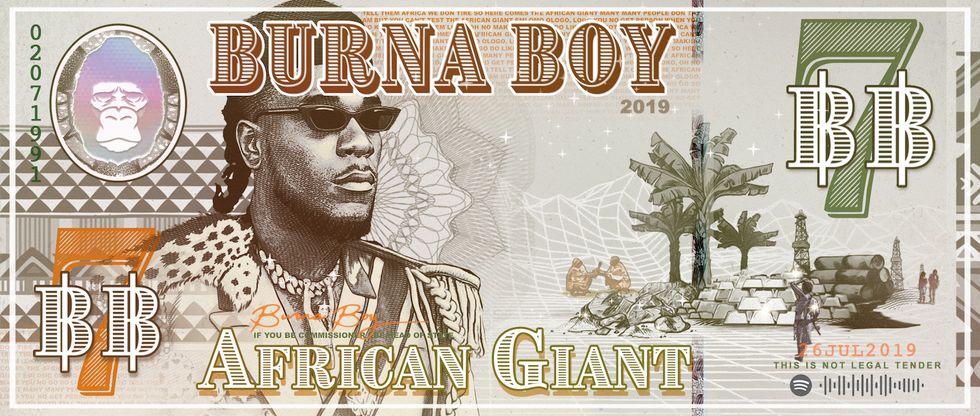 Sajjad's artwork for "African Giant." Courtesy of the artist.
What's your creative process like?

My creative process usually starts off with inspiration, whether it's from a conversation, debate or something I see on the street or the internet. I try to ask myself, how can I take this particular item or theme and add a twist to tell a particular story or viewpoint I want to get the appreciator to contemplate. I'm a multidisciplinary artist so I'm not into the idea of limiting myself to any one particular medium. I just utilize whatever resources I can to get the idea out of my head into real life.
Do you ever get approached by Burna Boy's fans about doing custom work?
A few people on social media ask but currency is only one aesthetic and medium. I'm not interested in doing another currency cover art for another. I'm not a one-trick pony and while I'm still interested in working with currency, I am not doing the exact same thing for other artists.
Photo: Dan Solomito
What's next for you as an artist? What do you have planned for 2020?

The next thing I'm working on is the fine art route. My own agenda is to use everyday objects to document our culture in the hood—which I think is so beautiful—and I want to put it in a gallery space. I've built up a cache of art throughout the years so my next move is to release some prints of my Distorted Americana collage series.
As far as 2020 I'm working on something with the UNDP, 1xRun and also planning a gallery exhibition around the Burna currency artwork. I'm also one half of an art duo called STOP1. We create fine art out of everyday objects you find typically in the street and refashion them into new items, sculptures, and experiences.
Follow Sajjad on Instagram and visit his website for more.
Photo: Dan Solomito