Burna Boy officially released his seventh studio album, I Told Them, last week Friday. The Nigerian star has been on an ascent, becoming the first African artist to sell out a U.S. stadium and making history earlier this year as the first African artist to headline the 80,000-capacity London Stadium.
While Burna Boy is known for his Afro-fusion sound that blends dancehall, reggae, Afropop, and R&B into smooth silky melodies, his latest studio album sees him expand the scope of his craftsmanship, blurring the lines between his Afro-fusion and hip-hop. With "Big 7" and "City Boys" he comes close, but he only seems to reinvent the wheel.
His larger-than-life personality fits in neatly with the braggadocio often attached to hip-hop and, on "City Boys," he flows like a rapper with a melodious approach. It's the signature style and sound that propelled Burna into the limelight several years ago, and though it's not any less exciting, it's not exactly groundbreaking.
With the release of "Big 7," a pre-album single, the audience got a hint of Burna's new direction. The music video forwas shot in NYC, and it featured the likes of RZA from the Wu-Tang Clan, Busta Rhymes, and Junior Mafia. In a recent interview with Zane Lowe for Apple Music, Burna Boy mentioned being enormously influenced by DMX, the Wu-Tang Clan, and early '90s hip-hop as a kid despite being worlds apart.
Wu-Tang and Something to Prove
The 15-song I Told Them… album sees Burna Boy pull influences from the Wu-Tang, with a spoken-word performance from GZA as well as Shaolin kung-fu samples (a Wu trademark) at the end of the titular intro song "I Told Them" — the kung-fu samples adorn the entire album.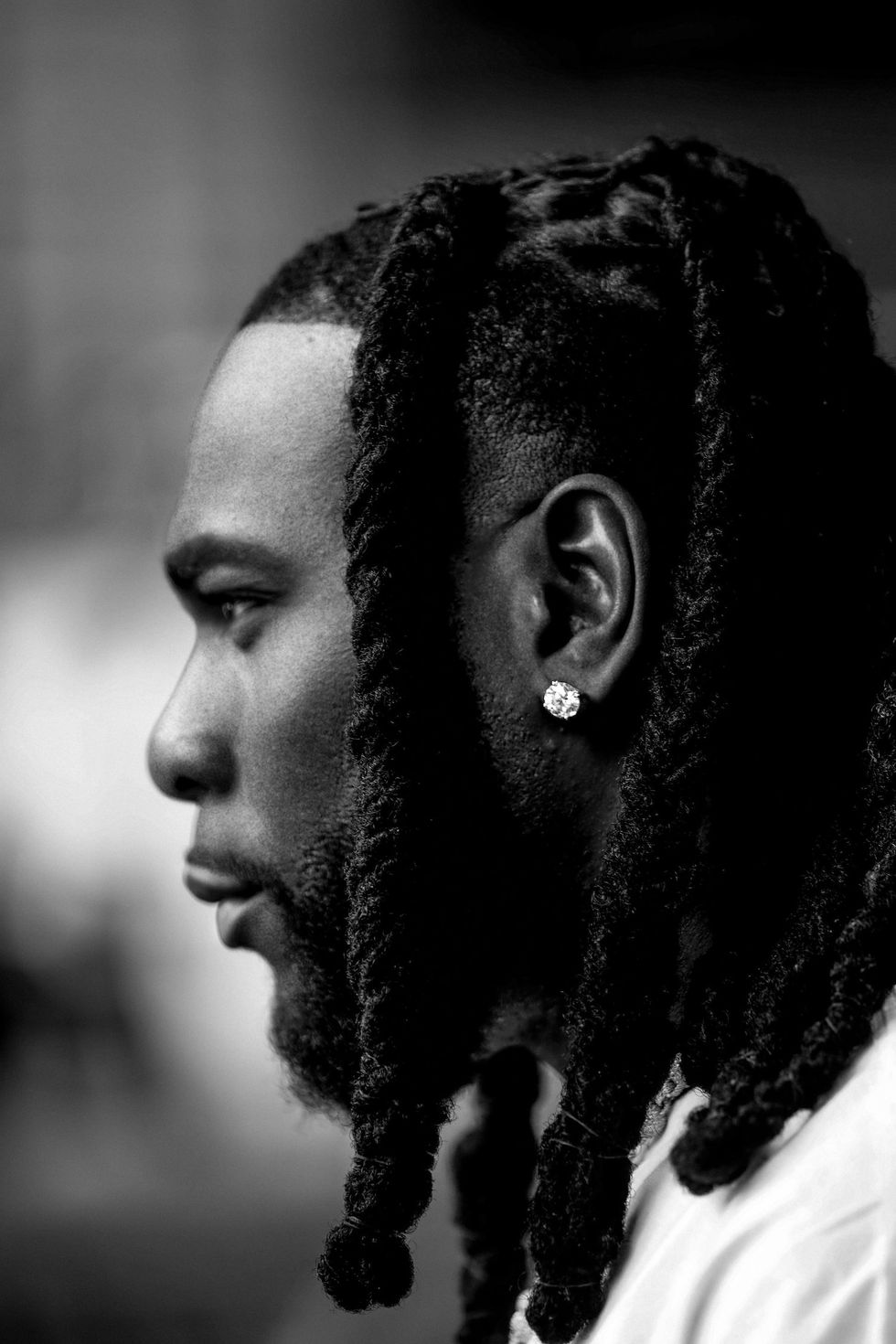 Burna Boy.(Courtesy of Atlantic Records)
Burna Boy revealed to Zane Lowe that the Wu-Tang influence perfectly embodied the energy and feelings he wanted to pass across, and the kung-fu samples exemplified his emotional state while he worked on the album.
The opening track "I Told Them" is Burna Boy's message to doubters and naysayers who at any point didn't recognise his greatness before he became a global superstar. Declaring on the song "I'm a genius/I had to show them what the meaning is," Burna Boy descends into self-appraisal, reaffirming his African giant status, and reminding everyone that he always proclaimed the greatness we're all witnessing today.
Burna Boy has indeed come a long way, having released a handful of commercially-successful albums that have earned him global recognition. He's at the forefront of a movement that's becoming increasingly popular across the globe, yet it appears as if Burna Boy still has so much to prove, especially to his doubters.
When Zane Lowe asked Burna Boy how he handles the feelings triggered by naysayers back at home, the Nigerian-born act explained that it's a major motivation for him to put those feelings on a record or an album. He went further by saying that Nigerians have no real life experiences, which is why "Nigerian music or Afrobeats as they call it doesn't have any substance." The controversial comments have put him at the end of harsh criticism on social media.
'I Told Them...' is undoubtedly a great album sonically, but topically, it fails to provoke any serious thought or feeling asides from the fact that its creator seeks validation from listeners.
Afrobeats might have a reputation for powering dance floors but it doesn't signify a lack of depth. Artists like Omah Lay, Falz, and Lojay have used their music as an outlet for profound expression. I Told Them... is undoubtedly a great album sonically, but topically, it fails to provoke any serious thought or feeling aside from the fact that its creator seeks validation from listeners.
The album is seemingly more about Burna Boy proving that he is a music genius, rather than the socio-politically conscious narrative that he pushes and claims to stand for in his interviews.
Burna Boy - Cheat On Me feat. Davewww.youtube.com
While he casually sings about Nigerians being denied visas on "Cheat on Me," he hardly makes a case for the people on whose behalf he's pleading. He suddenly switches to asking the people criticising him to show empathy.
There's an amalgamation of Western and traditional sounds on I Told Them..., yet Burna doesn't bother to sensitise the listeners in the diaspora about the social and economic condition of their cultural background. He sings mostly about his personal achievements and hedonistic indulgences.
Strategic Samples and Another Leap Towards the Mainstream
The album is strategically littered with samples, and Burna's creative approach breathes new life into them. On "Cheat on Me", a track built around a flipped sample of Kwabs' 2015 record "Cheat on Me", Burna Boy partners with Dave, longtime collaborator and friend from the UK, and their synergy is palpable. Dave raps in an alluring mix of Yoruba, English, and Pidgin, adding the necessary spice to give the track a perfect balance.
Jeremih's "Birthday Sex" is sampled on "City Boys," a record that accurately captures Burna Boy's immersion into hip-hop and black American culture. In a video clip that went viral on Twitter before the album was released, Burna was with a group of vivacious guys vibing to "City Boys," sporting a "Wu-Tang" headwear and Timberland boots.
In a conversation with Complex, Burna Boy denied ever saying that black Americans don't know their roots when the interviewer brought up his appropriation of black American culture in the viral clip of "City Boys." He claimed to be on a Pan-African mission to unify black Americans with their indigenous roots through his music.
"Normal" and "On Form" are typical Afropop records where Burna Boy sings with a street pop-laden cadence over horns and African percussion, reminiscent of songs like "It's Plenty" and "Killin' Dem." He continues in the same form on "Dey Play," and although the beat leans more toward hip-hop, his flow and cadence are strictly Afropop-centric.

Although the album may have followed the direction of '90s hip-hop, Burna Boy retains the elements that have defined his Afro-fusion sound —including singing in a blend of Yoruba and Pidgin, and incorporating different genres and cultures — indicating his desire to not boxed-in as an artist.
Although the album may have followed the direction of '90s hip-hop, Burna Boy retains the elements that have defined his Afro-fusion sound, indicating his desire to not be restricted to a box as an artist.
"Virgil" is dedicated to legendary fashion icon Virgil Abloh. The track features a recorded conversation between Burna Boy and Virgil Abloh. He also paid tribute to late Indian singer, rapper, and friend, Sidhu, on "Big 7," singing affectionately "Alright, R.I.P to Sidhu/Put your hands in the air, reach for the roof if you f- with me."
The sultry saxophone on "Tested, Approved & Trusted" syncs beautifully with the dancehall rhythms on the song. On "12 Jewels," RZA delivers a superb spoken-word performance, teaching Burna Boy the essential pillars required to live a thoroughly fulfilled life.
Seyi Vibez shines effortlessly as he takes centre stage on "Giza," deploying his signature street pop bounce that Burna Boy matches confidently. Burna sings over poignant acoustic guitar strings as he wears his heart on his sleeves on the emotive record "If I'm Lying."
But it's "Thanks" that shows Burna at his most vulnerable on the album. Featuring rap titan J. Cole, Burna Boy embarks on a long tirade, questioning Nigerians' lack of acknowledgment for his monumental feats that have helped position Afrobeats on the global map. He appears to be grappling with the abrasive comments from social media users.
I Told Them… is Burna's attempt at further penetration into the global mainstream while not deviating from the Afropop sound that has taken the world by the jugular. It's a testament to Burna's unconventional ability to experiment with sounds and redefine his artistry, and even though it's a pretty decent album, I Told Them... is not Burna's most immersive work. It's not as original as African Giant , nor as critically-acclaimed as the Grammy-winning, Twice as Tall.